2015 John Deere W260 Windrower and 500R Platform Review
Powerful windrower benefits from advanced technology
By Geof Fowler, Dec 12, 2014
John Deere's new W Series of self-propelled windrowers is comprised of four models: the 110 hp W110, 148 hp W150, 235 hp W235 (in rotary and draper variants) and the subject of this week's review, the 260 hp W260.
The W260 is powered by a John Deere 6068HE002 6-cylinder 6.8L (W110 and W150 get four-cylinder 4.5L engines) engine that utilizes both single fixed and variable geometry turbochargers, air-to-air aftercooling and high pressure common rail injection to deliver rated horsepower. Boosted horsepower can bulge up to 285, making the W260 one of the most powerful windrowers in production today. EPA Final Tier 4 (FT4) compliance comes through diesel oxidation catalyst (DOC), diesel particulate filter (DPF), and selective catalytic reduction (SCR) technologies which require a urea-based diesel exhaust fluid (DEF) additive. Depending on use, filter regeneration is passive, but if need be, the system will clean the filter through an active process using heat from the exhaust system.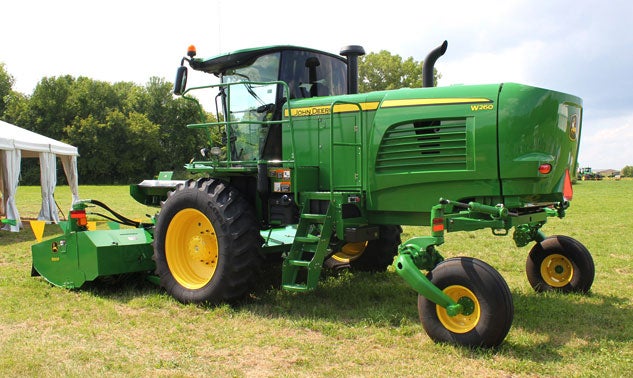 Under high load conditions, the W260 is designed to make rated horsepower at 2200-2400 rpm. When the load isn't so severe, such on flatter terrain, the operator can dial back rpm to 1700-1900 and save fuel. At the lower rpm, the power curve is unchanged, the header disc speed remains constant, and a high quality cut is still achieved.
COMPARISON: Read our review of the Hesston 1366 Disc Mower
John Deere's 994, 995 and 500R rotary cutters are compatible with the W260, but the latter is what we expect will be the most common choice and what we were exposed to at the Milwaukee New Product rollout last August. The 500R is 16' wide, has three roll conditioners and an overshot crosscut auger which combine to keep the windrow level, smooth and uniform – conditions which lead to consistent dry-down times. Roll options include urethane, tri-lobe or V-10, the latter good for extra tough crops such as Sudan, Sudex and Cane, yet still good for Alfalfa and heavy stem/tall grass and acceptable for fine stem grass. At the Milwaukee New Product rollout, we were told great cutting could be achieved at rates of four tons/acre in Timothy, two tons/acre in Alfalfa, and 20 tons/acre in Triticale. And with the W260, attaching and detaching platforms is easy so the ability to change from hay to grain harvesting isn't the frustrating experience it used to be.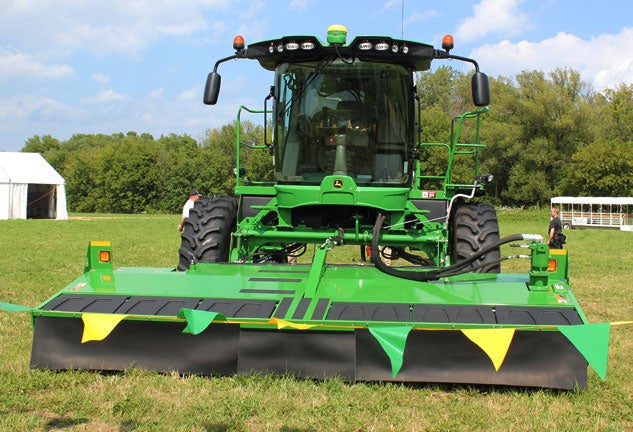 Climb up into the new 30% larger cab which comes in Economy, Standard, Premium and Ultimate configurations and into the air suspension seat, and the view through the wide-angle windshield and contoured door windows to the header is superb – helped undoubtedly by the slim cab cornerposts. The CommandARM is adjustable for operator comfort and contains functions such as speed range (field and transport), throttle (low, variable and high idles), platform engagement/disengagement, float adjustment, platform speed adjustments, display menu shortcut buttons, and switches for climate control, work, hazard and beacon lights. Choose the Ultimate cab option and niceties such as a AM/FM/WB/XM Bluetooth radio with subwoofer and armrest controls, four front halogen/four front HID lights, two-blade windshield wiper, powered, foldable side mirrors, dual tilt steering column, premium seat with lateral attenuation and low frequency suspension, front and rear sunshades, active refrigeration and a 10" GreenStar 3 (GS3) touch screen display are included.
Fingertip control over platform float, windrow merger position, full raise, lower and AutoTrac engage, toggling between two setpoints, and varying functions for a rotary head or draper come through the multifunction control lever. At a glance, the Primary Display Unit (PDU) located on the right cornerpost provides the operator with power and traction information (top) and platform specific information (bottom). And to keep glare to a minimum, the rear window is tinted by 12%. A rearview mirror, two halogen rear work lights and cabin climate control are all standard and the air intake for the HVAC system is now located on top of the cab, minimizing chaff build up and extending service intervals.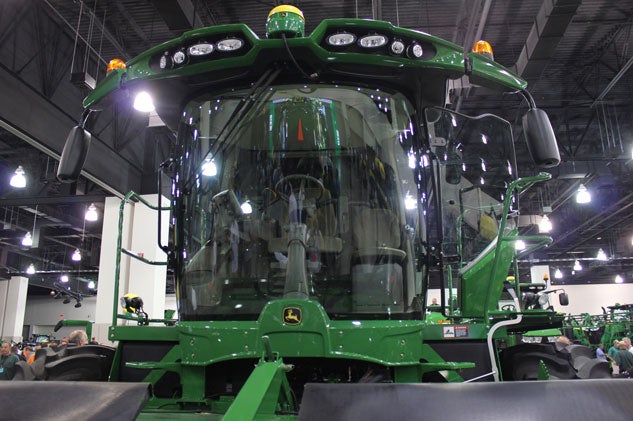 Power is put to the ground by heavy-duty Sauer-Danfoss pumps that provide flow to heavy-duty bent axis wheel motors. Planetary final drives operate at a ration of 36.8:1 and provide plenty of pulling power, but can be disengaged by the operator for towing. At speeds greater than 4 mph, IntelliAxle rear wheel steering smoothes out tough fields conditions and allows field work to take place at speeds as much as 16-17 mph (transport is 21 mph). At speeds below 4 mph, IntelliAxle is inactive and steering is by front drive wheels only. IntelliAxle sensitivity is operator variable.
John Deere Introduces New Windrower and Platform for 2015
Maintenance is also improved in the W260, with large gull-wing doors made from a durable soy-based composite and the compact FT4 mill, making for more access room. The radiator screen area has been increased by 19% over previous models and the A/C condenser and oil cooler swing out for serviceability. At the Milwaukee New Product rollout, we were told the cooling system performance was proven during testing at temperatures in excess of 100-degrees F.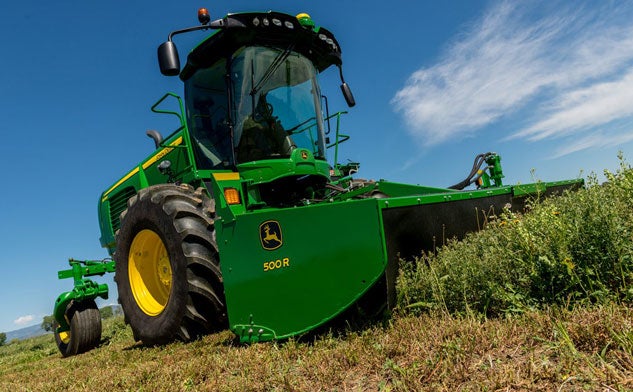 The W260 rides on Goodyear, Titan or Firestone rubber with the rear steering wheels getting 14L x 16.1 8PR ribbed standard (36.6" dia. x 13.3" wide) or 16.5L x 16.1 8PR ribbed optional (40.5" dia. x 17.1" wide) tires, the latter providing a better ride along with improved floatation in muddy conditions. The front drive wheels come standard with 520/85R38 R1 bar radials (72.4" dia. x 21.9" wide) with optional sizes including 67.5" dia. x 19" wide R1, 69.9" dia. x 24.2" wide R3 button, and 70.5" dia. x 25.6" R1W.
With 150 gallons of onboard fuel, 44.25" underframe clearance, header tilt (independent float) to run along tracks or against berms and the ability to run hands free (auto guidance), the $163,479 (base) W260 is aimed at hay and forage operations that require high quality crop, providing maximum productivity through constant header speed regardless of engine or ground speed.
Buyers Guides
Our Partners