Hesston 1366 Disc Mower Review
Versatile cutter gets the job done
By Geof Fowler, Photography by Geof Fowler, Jul 19, 2013
Last week we got the chance to
review the all-new Massey Ferguson 5609 tractor
, which was equipped with a Hesston 1366 center pivot disc mower/conditioner with a low-profile Razor Bar cutterbar. In that article we briefly touched on the cutter but felt a more in-depth review was in order.
Hesston Equipment was founded in 1947 by Lyle Yost and since 1955 has carved out a reputation as a hay and forage innovator, delivering industry firsts such as the first commercially available self-propelled windrower, the first hydrostatic windrower, the first center-pivot mower/conditioner and the first big rectangular baler.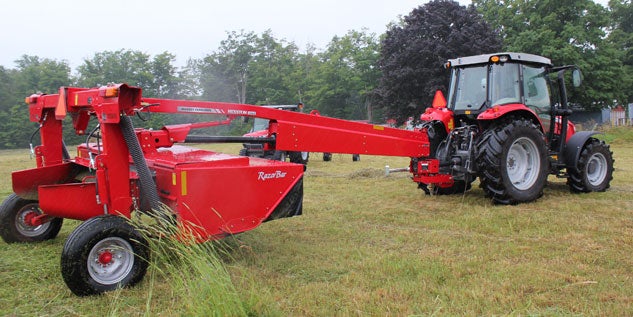 Acquired in 1977 by Fiat, a wide range of equipment including skid-steer loaders continued to be produced by the Hesston, Kan. plant. In 1991, Hesston was purchased by the AGCO group and in a joint venture with Case IH continued to produce hay and forage equipment. When Case IH and New Holland merged, AGCO took 100% ownership and soon combined the manufacturing of all combine and haying equipment in Hesston. Today, Gleaner, Challenger and Massey Ferguson equipment rolls off production lines alongside the sub-brands Hesston by AGCO, Massey Ferguson Hesston, Valtra Hesston and Agco-Allis Hesston – all in a single objective of aiding farmers in making the highest quality hay.
VIEW: Read our review of the Massey Ferguson 5609 Cab Tractor
The 1300 series of disc mowers/conditioners consists of five models ranging from the 1359 (cuts a 112" swath, weighs 3,240 lbs and requires 60 PTO horsepower) to the 1375 (cuts 184", weighs 7,010 lbs and requires 120 PTO horsepower). The middle of the pack 1366 model has a 117" cut width, weighs 5,050 lbs and requires 75 PTO horsepower along with a tractor weight of at least 6,800 lbs. And while models 1359 and 1363 are side pull designs, the 1366 and larger models bring the added versatility of being a center-pivot design. And when powered by the all-new Massey Ferguson 5609, a 70 PTO horsepower machine used to conduct our test, the 8,978 lb. tractor weight and albeit slightly below recommended PTO horsepower still proved well-matched to the 1366.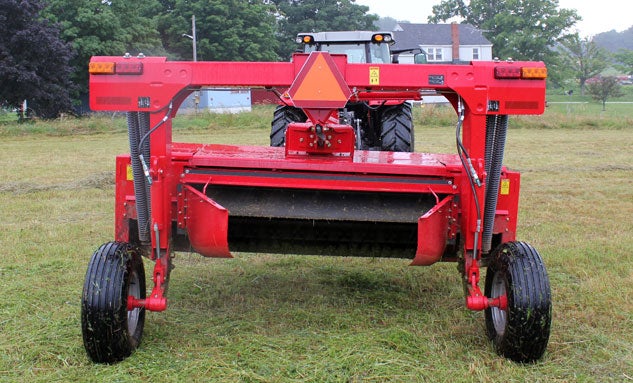 Specifications for the 1366 are that the unit is lengthy, 22' 10", with an overall width of 9' 10". The Razor Bar cutterbar is a Hesston patented design which uses (6) 24.5" diameter slimline discs to deliver a precise cut with less scalping. The design also allows each gear assembly and adjacent idler to be individually removed for service without a costly and time-consuming disassembly of the entire cutterbar. Another benefit of this design is that each module has its own reservoir of gear lube and is rated for use in slope conditions up to 30 degrees. PTO rpm can be either 540 or 1000 and the 1366 comes with a slip clutch to protect the driveline and an overrunning clutch to protect the operator and those around. Twelve-degree cutter knives are free swinging and reversible and can slice through hay at up to 176 mph and 3000 rpm. Eighteen-degree knives are an option for more lift and an even cleaner cut.
VIEW: Read our review of the Krone BiGPack 1270 X-Cut MultiBale
While the discs do the cutting, the rolls – the conditioners – increase the total value of the crop. Hesston offers several options here. When requirements dictate the plant stem be crimped for the entire length so the drying time approximates that of the leaves, rubber-on-steel is a good choice. For many commercial operations, steel-on-steel in a herringbone pattern can provide long-lasting durability while distributing crop material evenly across the width of the roll. Steel-on-steel is also usually the best choice for alfalfa. Rubber-on-rubber, also in a herringbone pattern, can provide a higher crushing conditioning, yet with less plant scuffing. Spoke conditioners force the crop against the conditioning panel, scuffing away the waxy coating and reducing the drying time. Finally, TiCor reinforced rubber tire rollers offer protection from rocks and foreign objects while still gently conditioning the stems without damaging the leaves. With so many options, our recommendation is that you speak with your dealer as to what would work best for your particular needs.
Other advantages built in are the adjustable windrow width which can adjust from 42" to 73", the roll tension which adjusts using dual springs and the replaceable skid shoes for each module that protects against wear yet still follows field contours. Bottom line of all this attention to design is that the operator can mow faster in a variety of conditions.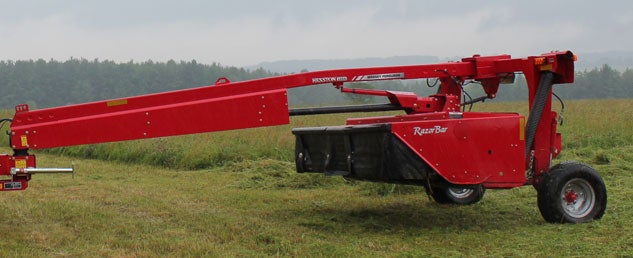 Powering up the 1366 required 17-1800 engine rpm from the 70 PTO horsepower 5609. Once the 1366 was throttled up to 540 rpm, vibration was quite low – befitting the heavy-duty box-beam frame and header construction. Our test day was under threatening skies that did not disappoint. Articulating the cutter to the tractor right, lowering it and setting off at a nice 2.5 mph clip, there was no discernable bogging as the 1366 cut through the tall wet grass.
VIEW: Read our review of the Bush Hog 296 Rotary Cutter
Moving up a gear range and then another, we decided the 5609/1366 combination could cut as fast as the operator could tolerate the field conditions. All along we found no evidence of crop stripping – important in aiding in rapid plant replacement – and at no time did the mower plug. Though conditions in the field we were haying were such that posts or stumps weren't of concern, the 1366 uses a spring-loaded breakaway design that allows the cutterbar to release and swing back if such obstacles are encountered.
Right now incentives are generous – up to 0% for 48 months. With a one-year warranty, Hesston's 66 years of design/development progression, AGCO Corp's financial stability and that nice red color, you'd be wise to check out the 1366.
Buyers Guides
Our Partners