2014 Mahindra Max 28XL 4WD Shuttle Review
Max power for the Max
By Geof Fowler, Photography by Geof Fowler, Jun 20, 2014
When we first tested the
Mahindra Max 28XL HST
flagship back in May of 2012, we came away quite impressed. The buzz then was that this new lineup of subcompacts would be game changers. While the competition cried foul – "these weren't subcompacts but small chassis compacts in disguise" – Mahindra went about raking up record sales and adding to its already extensive dealer network. Fast forward to 2014, Mahindra can be credited with adding another descriptive class of tractor, the midcompact. This, in the estimation of many, is exactly where the Max 28XL fits.
The recipe itself is simple: start with a cast iron chassis strong enough to be backwards backhoe compatible (does not have to be initially ordered as such), plug in a reliable Mitsubishi EPA Final Tier 4 (FT4) powerplant, add powerful hydraulics with full Cat I three-point hitch (3PH) capabilities, and outfit the tractor with larger tires. For the Max 28XL owner, that recipe is further enhanced by the addition of tilt steering, position control on the 3PH, and the option of a hydrostatic (HST) or shuttle shift transmission.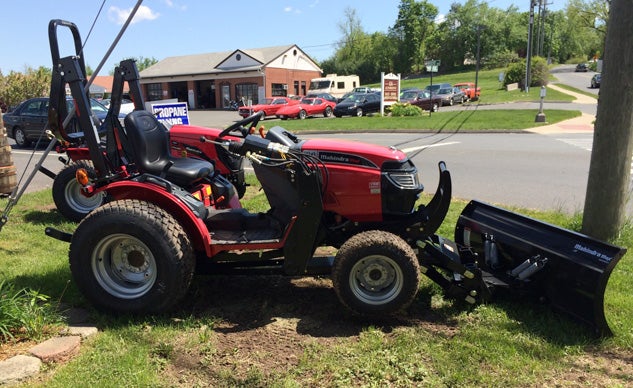 As nice a package the Max 28XL HST is, and how competent the package works for tasks such as loader work, you might ask why offer a shuttle shift transmission. True, there are those that just like the simplicity of a manual transmission. Others feel more at home with their left palm on the steering wheel, left fingertips on the shuttle, right hand on the loader joystick, left foot at the clutch pedal, and right foot on the throttle. Sound complex? It's not really, but there is a reason hydrostatic transmissions are so popular. For those not daunted by the busy hands and feet, a manual transmission gets more power to the ground. How much more you might ask. In the case of the Max 28XL, the power take off (PTO) horsepower is 1.5 more on tractors equipped with shuttle shift transmissions.
COMPARISON: Read our review of the 2012 Mahindra Max 28XL HST
And while an increase of 1.5 might not sound that much, remember, the Max 28XL is a small frame tractor with 28 horsepower. Already a capable performer, the seat-of-the-pants feel when moving from a Max 28XL HST to a Max 28SL Shuttle is like, "who dropped the steroids in?" Top speed goes from 9.7 mph forward to 10.9 mph. That is moving on a tractor of this size. And reverse speed increases even more dramatically, jumping from 5.1 mph to 9.1 mph.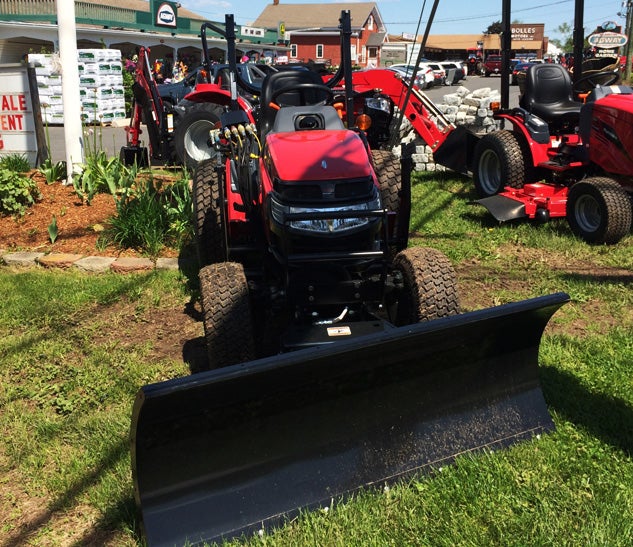 When we reviewed the Max 24 in May, the good folks at Ellington Agway thought we also might be interested in checking out a Max 28XL Shuttle. Hugh and Matt hinted that we would be impressed with the greater available power. How could we resist?
The shuttle transmission used is an 8F / 8R synchromesh setup that utilizes a left hand shifter in a traditional "H" pattern to select gears 1-4 that is positioned next to a lever with the Low and High ranges. Forward and reverse are selected using the shuttle lever positioned just below the steering wheel for fingertip use. This isn't a power shuttle like the 4035 we tested in August of 2013, so a clutch is required to reverse direction. Mahindra outfits the Max 28XL Shuttle with hand and foot throttles so you can preset the engine RPM if desired, or just use the foot throttle to control the speed within a gear and range. Not having the treadle pedal on the right side as on hydro versions allows the operator to access the split brakes without requiring gymnastics and gets our full approval. Differential lock access is moved to a right heel position.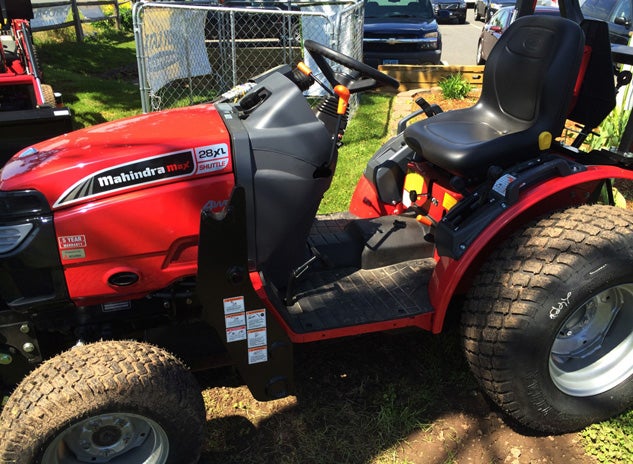 Hydraulics run through a twin-pump arrangement flowing 4.6 gpm to implement need and 2.7 gpm to power steering requirements (7.3 gpm total). This gives the 3PH a lift capacity of 2,205 lbs. As on the Max 28XL HST, the 3PH has position control so an implement can consistently be returned to an operator selectable height.
COMPARISON: Read our review of the 2014 Kubota L3301 HST
Firing up the Mitsubishi mill results in a smokeless idle we measured at 78 dBA. This was despite being adjacent to busy road where Ellington Agway is located. Our test tractor was outfitted with 23 x 8.5-12 front / 33 x 12.5-16.5 rear R3 turf tires. Prospective purchasers will have their choice of turf, industrial (23 x 8.5-12 front / 12 x 16.5 rear R4) or Ag (7 x 12 front / 9.5 x 16 rear R1) tires. Our test tractor was also outfitted with a nifty hydraulic sub frame plow, making the turf tire selection an understandable choice for use in snowy winter climates. Manufactured for Mahindra by Bercomac, the plow hydraulic cylinders were nicely hidden and protected by the fabrication frame.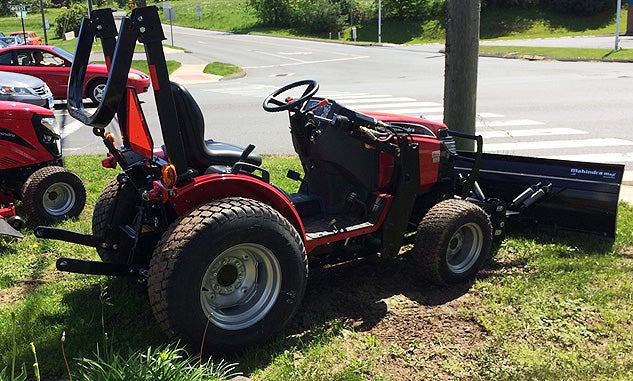 First gear low range got us nowhere fast, though it would be perfect for tough conditions with a large tiller or for spraying a field, so we quickly found second gear high range. That seemed to be a combination that would work well for general use and even light loader work. Fourth gear high range was insane, almost more gear than 28 HP can handle. Good thing the Max 28XL Shuttle only weighs 1,819 lbs.
COMPARISON: Read our review of the 2014 Kioti CK2510 HST
Other niceties include a folding ROPS, steel fenders and hood, the ability to check transmission fluid level from the operator seat (a comfortable mid-back design with full suspension), platform access from both sides, and a slick hood mechanism supported by a gas strut. Options to consider include a mid-PTO ($900), drive over mid-mount mower, and an extra rear remote. If the ML205 loader is selected, the Max 28XL is rated to lift 1,402 lbs to a max height of 82.7". Dump clearance is 67.3" so most small to mid-sized pickup trucks should be within dump capability.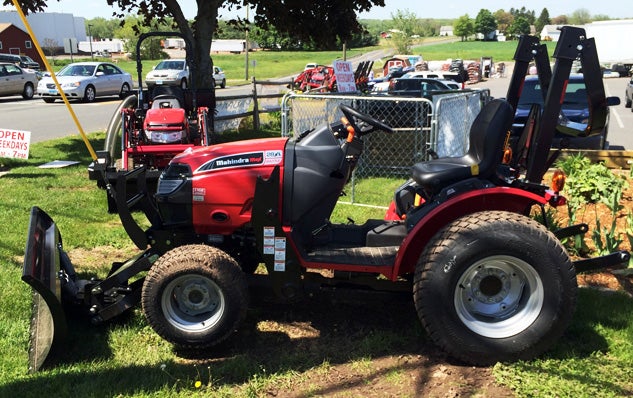 The Max 28XL Shuttle measures 109.3" L x 51.3" W and comes with a five-year warranty. MSRP for the basic tractor is $14,180, a savings of $1,115 over a Max 28XL HST. Picking up the extra power, getting a little extra speed, and saving enough for an extra implement is a combination bound to appeal to plenty. If you're in the market for a tractor of this size and class, check out the Mahindra 28XL Shuttle. And if you're in the vicinity of Ellington, Conn., make sure to stop in and visit Hugh or Matt.
Buyers Guides
Our Partners