2016 New Holland TS6.120 Open Station Review
Testing out New Holland's all-purpose tractor
By Geof Fowler, Photography by New Holland, Oct 07, 2015
New Holland's TS6 series consists of four models ranging from 110 to 139 horsepower and are manufacturer defined as all-purpose standard tractors. Available in 2WD, 4WD, Open Station and Cab configurations, Tractor.com chose the mid-power TS6.120 Open Station tractor we were exposed to at the New Holland 120th Anniversary Media Event for this article.

TS6 tractors are powered by Fiat FPT NEF 4.5L four-cylinder engines that are EPA Final Tier 4 (FT4/Tier 4B) compliant, using ECOBlue HI-eSCR aftertreatment technology. This technology delivers more power and torque when compared to previous generation TS6 Tier III engines with gross ratings of 110 horsepower for the TS6.110, 119 for the TS6.120, 130 for the TS6.130, and 139 for the TS6.140. Power take off (PTO) ratings are 90, 96, 105, and 115 respectively and rear PTOs can run at 540 or 1000 rpm.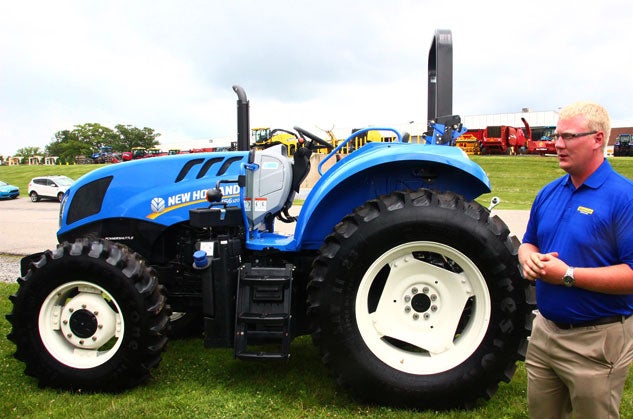 TS6 machines are available in Value or Plus packages with Value tractors getting 8F x 8R mechanical shuttle transmissions, 13 gpm main and 7 gpm (20 gpm total) power steering hydraulics, 19 mph transport speeds, and a Cat II three-point hitch (3PH) lift capacity of 3,735 lbs. Plus packages tag $3,562 MSRP onto the total cost, but come with 16F x 8R hydraulic power shuttle transmissions, 22 gpm main and 7 gpm (29 gpm total) power steering hydraulics, 25 mph transport speeds, and a 3PH lift capacity of 5,499 lbs. New Holland rates 3PH lift capacity at link ends, which results in greater lifting numbers, though it is clear TS6 tractors have powerful hydraulic systems. The additional lift capacity with the Plus package is accomplished by using a single external cylinder. Option up for the dual cylinder setup and lift capacity jumps up to 7,326 lbs.
COMPARISON: Read our review of the 2014 Kioti RX7320 Power Shuttle Cab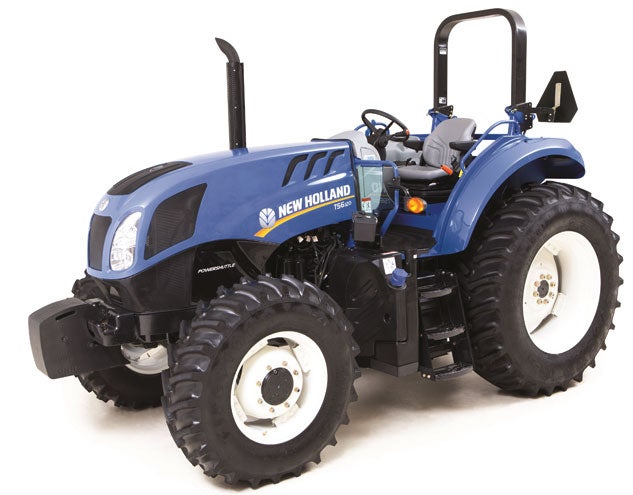 Other options TS6 purchasers might want to consider? One might be the loader-ready package which adds joystick control, mid-mount valve with hoses and couplers, TPS mounts and a grill guard. The loader ready package comes with an MSRP of $4,995. Another might be the 10:1 creeper transmission, which relies on electro-hydraulic control to reduce ground speeds to as little as 0.136 mph. And for Plus purchasers, the optional auxiliary 9 gpm hydraulic pump can bring total hydraulic capacity up to 29 gpm. The standard HD rear flange axle should appeal to those doing tasks such as mowing, raking and baling, but for row crop use, a 98" bar axle setup is available.
Climb up into the comfortable high-back adjustable seat, and the operator is treated to a spacious platform with a flat deck and ergonomically positioned controls. There is no room for an instructor seat as there is in cab variants, but there is still plenty of room in between the fenders. To the left of the seat is the parking brake lever and really not much else. To the right is a hand throttle (there is also a foot throttle), range selector, gear selector, controls for the rear remotes, switch for the PTO, and combo storage tray and cup holder. Foot pedals are suspended (making the cab variant much easier to manufacture) with the clutch to the left, and split brakes to the right. The dash is equally uncomplicated with a tilt steering wheel, left side turn signal-like stalk, right side turn signal-like light/signal control, combo digital/analog gauges, and automotive-like start key switch.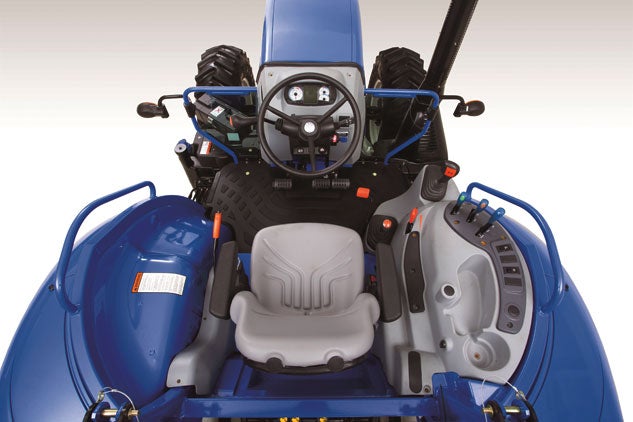 Maintenance improvements have also been incorporated into TS6 models with a new radiator fan shroud that creates a vacuum to pull dirt and debris away from the air filter. Oil changes are at 600 hr. intervals and even coolant can be added without opening the hood. Fueling is easy, with the 57.5-gallon main tank at waist level along with the 7.9-gallon DEF tank.
COMPARISON: Read our review of the 2015 Massey Ferguson 4608
Matched to TS6 tractors are the new 835TL loaders, available in non self leveling (NSL) or mechanical self leveling (MSL) configurations. Lift capacity is 3,806 lbs to a max lift height of 146" with a dump clearance of 109", meaning this combination will clear just about any truck/trailer one would expect to encounter on the farm. The 835TL is a quick attach design for simple, tool-less attachment/detachment and is skid-steer compatible. A variety of buckets from 63" to 102" are available, as well as bale spears, forks grapples, and silage attachments.
A base 4WD TS6.120 comes with a MSRP of $68,633. If we were considering a 120 hp tractor, the TS6.120 would have to be on the short list. We'd probably be leaning to the VisionView cab variant, just for the shelter from the elements it provides. That, of course, comes at a premium. If we were sticking to an open station model, the Plus package with the abovementioned niceties would most likely get a check on the order box.
Buyers Guides
Our Partners