2015 Hesston WR9870 Self-Propelled Windrower
Legendary performance that pays for itself
By Geof Fowler, Photography by AGCO, Dec 19, 2014
Hesston windrowers have been around, well, since Hesston invented the self-propelled windrower in 1955. The quality of cut and productivity of Model 100 was a groundbreaking advancement that twelve years later was further enhanced by the addition of hydrostatic power in the Hydro-Static 600.
Today, Hesston is an operating unit of AGCO, manufacturing hay and forage equipment in a modern 1.5 million square foot facility located in Hesston, Kan. And while Hesston has grown from Lyle Yost's humble Depression-era beginnings to the agricultural leader it is today, what the company is all about has not remained the same – innovative products producing quality hay.
The WR Series of high-horsepower, self-propelled windrowers was first introduced in 2011. Each successive generation since then has brought new improvements, maximizing the amount of dry, premium hay produced while minimizing fuel consumption and focusing on operator comfort. Today, the WR Series is comprised of two models, the 195-horsepower WR9860 and the 225-horsepower WR9870, both of which operate from the same-sized platform.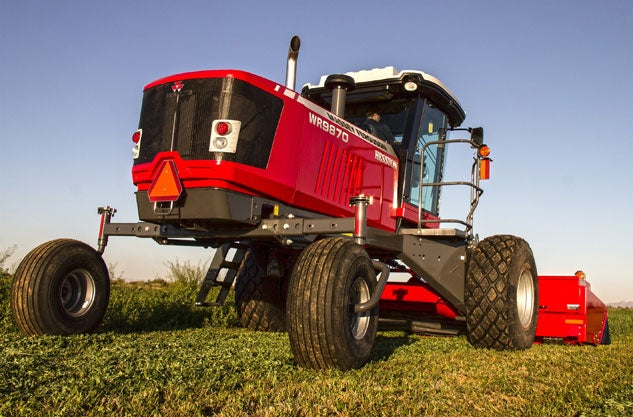 Powering the WR9860 is a 4.9L, four-cylinder QuadBoost AGCO AP49-4F engine that derives six-cylinder power by utilizing the latest technologies, including cross-flow cylinder heads, four valves per cylinder, high-pressure common-rail injection, and EEM4 electronic engine management. WR9870s come with 6.6L, six-cylinder AGCO AP66-4F mills. Both powerplants achieve EPA Final Tier 4 (FT4) compliance through Selective Catalytic Reduction (SCR) and Cooled Exhaust Gas Recirculation (CEGR) technologies. This means Diesel Exhaust Fluid (DEF) is a requirement, though the trade off the environmental package brings with it is lower fuel consumption and less engine wear (through the 2160 rpm engine speed), all-the-while while delivering more power than previous generation Tier 3 engines.
COMPARISON: Read our review of the 2015 John Deere W260 Windrower and 500R Platform
To handle cooling demands while battling chaff build up, WR Series windrowers come with AGCO V-Cooling systems. This innovative "V" shaped design provides fresh, cool air to the air conditioning and air-to-air intercooler radiators from outside the windrower instead of drawing air from radiator to radiator. With a hydraulic fan that runs at variable speeds, the system provides for exactly the cooling required independent of engine rpm. The system also goes through a purge cycle every 15 minutes, reversing to blow chaff and debris off the radiator fins and screens.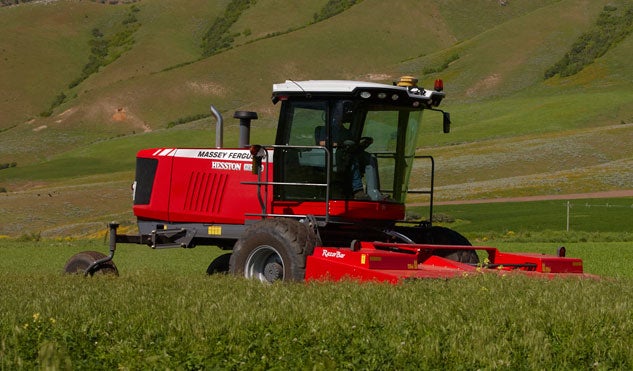 Power from the AGCO engine is sent through a double planetary gear reduction drive system that utilizes tandem Danfoss H1 axial piston pumps. This high-speed drive comes with bent axis variable displacement wheel motors that are quieter and provide more precise power application, even in the most challenging conditions. Compared to systems that utilize fixed displacement drive motors, the variable WR drive system offers up to 14% higher gradeability – meaning better performance on slopes and in rough conditions. This technology, combined with GlideRider rear axle suspension and Auto-Guide 3000 electro-hydraulic hydraulic auto steering, means the WR9870 is able to take full advantage of the up to 17.5 mph field and 22 mph transport speed ranges. The Auto-Guide system also allows the windrower to be driven at transport speeds without the need to reverse travel direction.
Climb up onto the new, larger platform, which makes for easier entry as well as more room to stand when refueling, and slip inside the spacious, deluxe cab. Immediately, the impression is that of a place you wouldn't mind spending the entire day. The leather-wrapped seat utilizes semi-active suspension to read and adjust to field conditions. Suspension movement is not only up and down, but fore and aft, and side-to-side. And for those varying climate conditions, the seat, which swivels 40 degrees to the right, can be heated or cooled as desired. Positioned in front of the large side console is the FieldMax C1000 color ISOBUS display, which is coupled with CAN BUS controllers to manage all primary windrower functions. The display utilizes four main screens and includes a fuel economy meter (more about this later), onboard diagnostics and troubleshooting, ground speed, header and engine rpm, fuel level, DEF level, coolant temperature, L/R header flotation, header tilt and height, engine oil pressure and header drive motor pressure.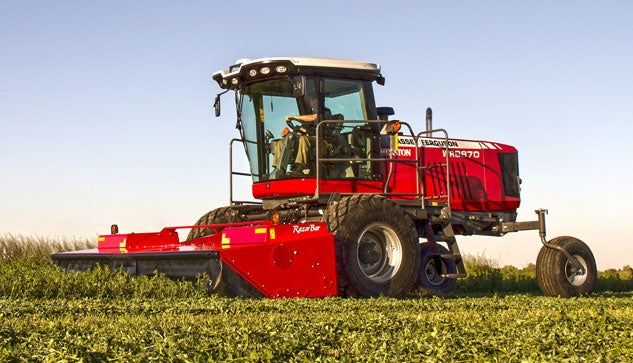 The control handle has been redesigned to be more ergonomic with a greater degree of programmability. Nine control handle thumb switches can now be configured with user-definable functions that are grouped into two A and B categories. This puts all machine and header functions in one familiar location. Three speed ranges are available – R1, R2 and R3. R1 is operator adjustable and can operate at speeds from 0-13 mph. R2 covers field operations over a range of 0-17.5 mph. R3 is used for transport and can modulate speeds from 0-22 mph. As mentioned above, the FieldMax monitor comes with a fuel meter. But unlike conventional meters, the FieldMax will display usage in acres/gallon, and allow for adjustments that will maximize fuel economy vs. operating speed. For example, if a field speed of 17 mph is possible, but the lowest fuel consumption takes place at 12 mph, the operator can use the display to dial in the most economic balance.
COMPARISON: Read our review of the Hesston 1366 Disc Mower
An ideal match for the WR9870 is Hesston's MF9196 16' low-profile Razorbar disc header. With 189 mph cutterhead knife tip speed, this cutter has one of the lowest profiles in the business, making for closer, faster and cleaner cuts. The MF9196 features TwinMax Advanced Conditioning with double crimping technology for faster drying, higher quality hay. Draper header options (high-capacity swather) come in widths of 18', 22', 25', 30' and 36', and there is a sickle header available that comes in widths of 14', 16' and 18'.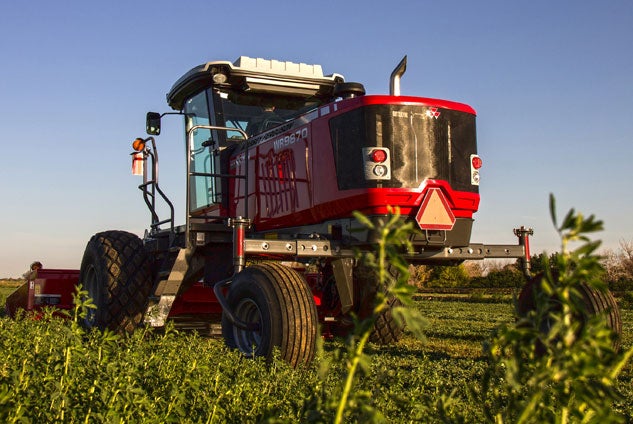 Measuring 199.7" long, the WR9870 rides on a 137" wheelbase, and is 137.8" high. With drive tires in the In position, the tread width is 130.7", while the rear tail wheels can be adjusted from 84" to 129" in 9" increments. Drive wheels come with 23.1-26 R3 (radial or bias ply) turf tires for use on pivots, borders and other flat conditions. Turf combinations create less compaction and are gentler on crop, especially with short headland turns. For hilly and rough terrain, optional 620/75R26 R1 bar radial tires can be ordered. Tail tires come in 14L-16.1 eight-ply, or 16.5L-16.1 10-ply implement rib variants.
With a base MSRP beginning at $134,670, the 11,420-pound WR9870 offers a legendary cut, enhanced fuel economy and positions itself as the windrower that cools itself, drives itself and pays for itself. For an agricultural entity looking for a windrower offering a smooth, consistent cut, along with a quiet, comfy ride, the WR9870 is well worthy of consideration.
Buyers Guides
Our Partners