2016 Hesston WR9870 Windrower with RearSteer Review
The latest from the originator of the self-propelled windrower
By Geof Fowler, Apr 08, 2016
The Hesston self-propelled windrower lineup now consists of three models, the 4.4L 137hp WR9840, 4.9L 195hp WR9860, and 6.6L 225hp WR9870 which, according to AGCO Marketing Manager Kyle Kitt, is the most popular Hesston model. Tractor.com first spent time with this model in 2014, but after a test drive at the 100,000th windrower event, thought readers would appreciate learning of the newest changes and especially how the RearSteer option works.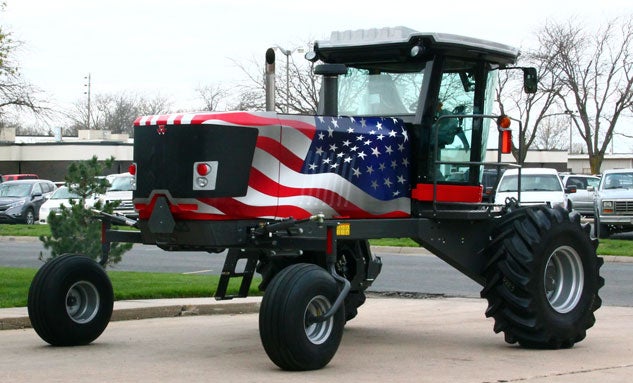 The AGCO Power engines used in WR9800 series machines are all EPA Final Tier 4 (FT4) compliant using third generation selective catalytic reduction (SCR) and cooled exhaust gas recirculation (cEGR). The system uses diesel exhaust fluid (DEF) with a consumption ratio of about 2:1 (fuel/DEF). A welcome change is the relocation of the 15-gallon DEF tank (and toolbox) for better crop clearance, especially in canola. Onboard fuel is 130 gallons, which allows a full day of mowing without refueling. The engines used in this series do not require a diesel particulate filter (DPF), saving that cost, complexity, and potential down-the-road replacement.
Celebrating Hesston by Massey Ferguson's 100,000 Windrower
Rated power output is 225 hp at 2100 rpm. As conditions demand more power, power boost engages, increasing output to as much as 240hp at 1900 rpm. To keep everything cool, rather than stacking the engine, hydraulics, and air conditioning radiators in a traditional configuration, Hesston uses a V-Cool setup that increases surface area and comes with an auto-reverse fan that automatically cleans the radiators and screens as the windrower works. The system goes through a purge cycle every 15 minutes, reversing to blow chaff and debris off the radiator fins and screens.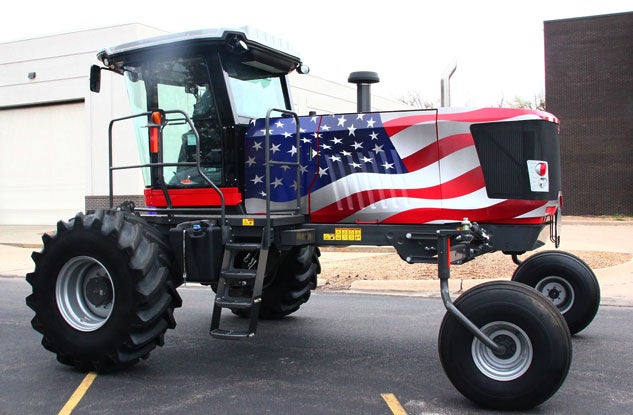 Working field speed range for the WR9870 is 0 to 17.5 mph with a transport speed of 0 to 22 mph (RearSteer models have a transport speed of 0 to 24.5 mph). Driving the front wheels is a double planetary gear reduction system that uses tandem Sauer Danfoss H1 axial piston pumps. This high-speed drive system is quieter and offers more precise power application with better performance on slopes and in rough conditions. This technology, combined with GlideRider rear axle suspension and Auto-Guide 3000 electro-hydraulic hydraulic auto steering, means the WR9870 is able to take full advantage of its field and transport speed capabilities.
Climb up the ladder, a task made easier with an added step, and onto the platform that has also been increased in size and you'll find a cab door that clicks open and closes with automotive precision. Inside, there is plenty of room with a flat floor and most windrower controls on the hydro handle or FieldMax display. To protect against inadvertent knocks, the key switch has been relocated further around the steering column which adjusts for operator comfort. The hydro handle has six rocker switches, an Auto-Guide 3000 button, a central "tee" menu button and two trigger switches used for bumping ground speed up or down. There are three preset functions and up to 16 functions that can be programmed so operations-specific control can be at the operator's fingertips.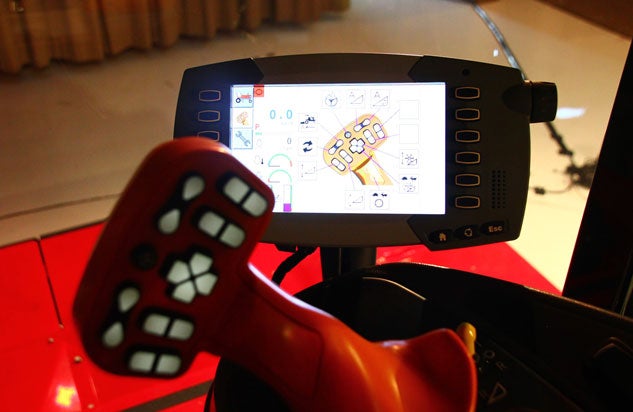 The FieldMax display uses six left and six right buttons to toggle through a variety of menus including ones that display header functions, steering system adjustments, data collection and troubleshooting information. Engaging the OptiCruise function allows for more precise speed control, especially in rough conditions. Trigger up or down in range 1 or 2 and the speed is adjusted in 0.6 mph increments without having to move the control handle. In range 3, the increment bump increases or decreases by two mph.
COMPARISON: Read our review of the 2015 John Deere W260 Windrower and 500R Platform Review
Another slick feature of the FieldMax display is Auto Load Control, which automatically adjusts ground speed for maximum torque and best fuel efficiency based on engine load and header drive pressure. The Hesston Fuel Economy Meter helps maximize fuel usage by pointing out the best speed for the operating conditions. For example, though a field speed of 17.5 mph might be possible, best fuel usage might come at 12.5 mph.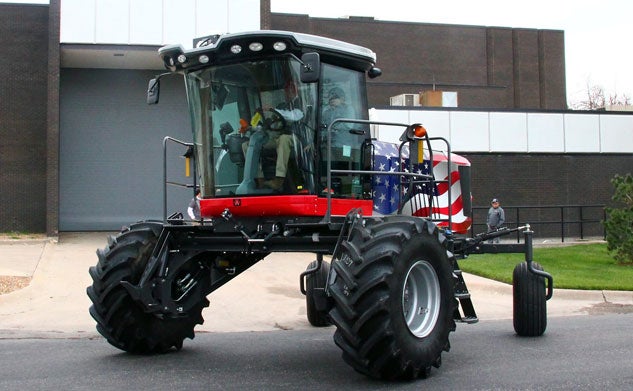 Those high speeds would not be possible without a suspension system capable of shielding the operator from the jogs and jounces. At the rear, the GlideRider rear axle suspension uses two gas shocks and a center spring to transfer load to the main frame. Radial tires, 23.1-26 turf (R3) or 620/75R26 bar (R1) help traction, increase flotation and improve ride quality. The optional cab suspension along with the deluxe semi-active air suspension seat reduces bounce, especially in conditions involving ruts and dips. We measured sound readings of 70-75 dBA at idle and 72-76 dBA at PTO speed, so operator fatigue will be at a minimum, even after a long day in the field.
COMPARISON: Read our review of the Massey Ferguson WR9800 Series SP Windrower and 2200 Series Square Baler Updated
The WR9870 is perfectly matched to the new model 5300 DynaSwath draper head, available in 20', 25', 30', 35' and 40' widths (19'-9" to 39'-9" cut width and center or side delivery styles). Disc headers (Razorbar) in 13' and 16' widths and sickle headers in 14', 16' and 18' widths are also available. Perhaps one of the biggest improvements to this series is the single point hook up system with third link and front mounted (outside) triggers for faster, less effort header hookup.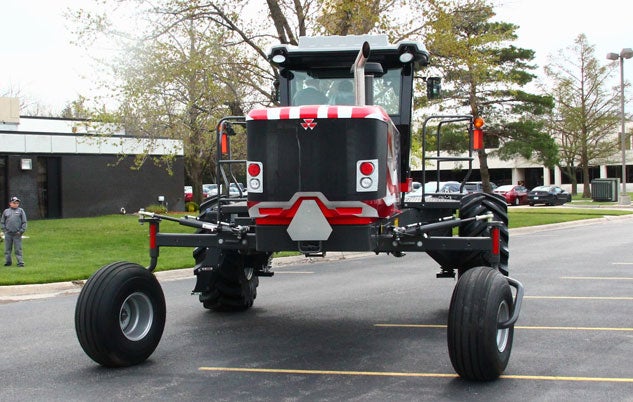 The 100,000th windrower that went to Moo Mountain Milk did not have the RearSteer option. When Tractor.com questioned Justin Robinson about this, he responded for their needs it wasn't necessary, not to mention the saving of ~ $5K. Still, we were curious as to what the difference might be and after spending some time behind the wheel of a RearSteer equipped WR9870, have a slightly different opinion. The RearSteer system uses fully active hydraulic cylinders to steer the rear wheels, rather than have them freewheel as on a traditional windrower. Not only does this allow a higher transport speed, it allows the towing of a draper head behind at speeds of up to 20 mph. Steering response and accuracy were fingertip controllable. After driving the RearSteer equipped WR9870 for a while, and liking the system more and more as time went by, we decided to disengage the system. To do so required just the press of the upper right button on the FieldMax display. What a difference this made. Granted, this Tractor.com tester has had limited windrower time, but backing up became a real chore with the RearSteer system disengaged. Reengaging the RearSteer system also proved to be a bit of a challenge, with the system requiring a fair amount of turn space for the wheels to track to where the system reengaged. Our advice: test drive a Hesston WR9800 with RearSteer and compare the difference yourself.
Windrowers are most used in North American and Canadian applications where windrowing reduces the curing time by cutting the plant stems. In more Southern climes, the cutting can usually be accomplished using combines. WR9800 windrowers measure 199.7" long and ride on a 137" wheelbase. Height to the top of the cab (with turf tires) is 137.8". A WR9870 weighs 11,420 lbs.
For an agribusiness in need of an easy to use windrower all about the production of quality hay, a machine from the manufacturer who invented the self-propelled windrower seems to make sense to at least check out.
Buyers Guides
Our Partners