Celebrating Hesston by Massey Ferguson's 100,000 Windrower
We travelled to the Hesston facility to see how its windrowers are made
By Geof Fowler, Photography by Geof Fowler, Apr 01, 2016
One hundred thousand anything is a lot. One hundred thousand dollars. One hundred thousand miles. One hundred thousand bales of hay. But one hundred thousand windrowers, or swathers as these machines that cut hay and small grain crops then form them into windrows are also known, is huge. When thought of over the course of the 60 years since Hesston first introduced the self-propelled windrower, the milestone is all the greater. That was the celebration Tractor.com was on hand for on March 29, 2016.

The event began with a tour of the Hesston manufacturing facility. Robert Ciecko, VP Hesston Manufacturing, who seemingly knew each and every one of the 1250+ employed (more about this later) in the two shift, nine building complex, led the way. On hand were members of the Robinson family, purchasers of the historic 100,000th windrower, representatives from Agri-Service, one of the largest AGCO dealerships in North America, several members of the media, and AGCO VIPs.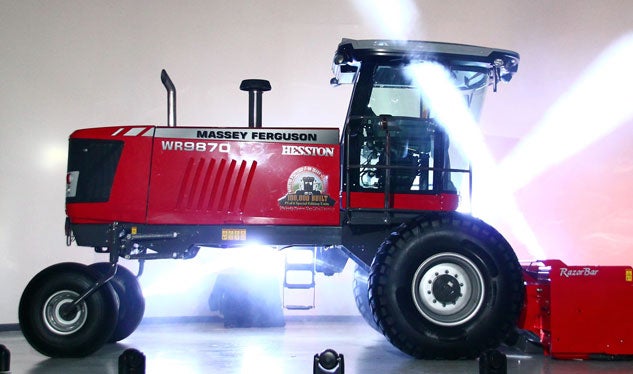 The Hesston complex covers some 345 acres and has over a million square feet under roof. Needless to say, we would not be able to cover every unit and department in our allocated hour and forty five-minute time frame. Ciecko's tour concentrated on the fabrication, painting, assembly and testing of windrowers (and balers). We were told the Hesston facility handled over 40,000 part numbers with half manufactured there.
2015 Hesston WR9870 Self-Propelled Windrower
Fabrication began with rolls of steel which were cut to panels, flattened, and then laser cut to a 2D (two dimensional) configuration. Ciecko told the group that they were in the process of switching from using CO2 as the inert gas to nitrogen, which will leave no residue at the cut edges and save the required additional cleaning. After separating the laser cut parts, as thin as 1/8" and as thick as 3/4", the material is moved to stamping presses where it can be formed into 3D (three dimensional) shapes, before being mated to other components using complex fixturing and robotic welders.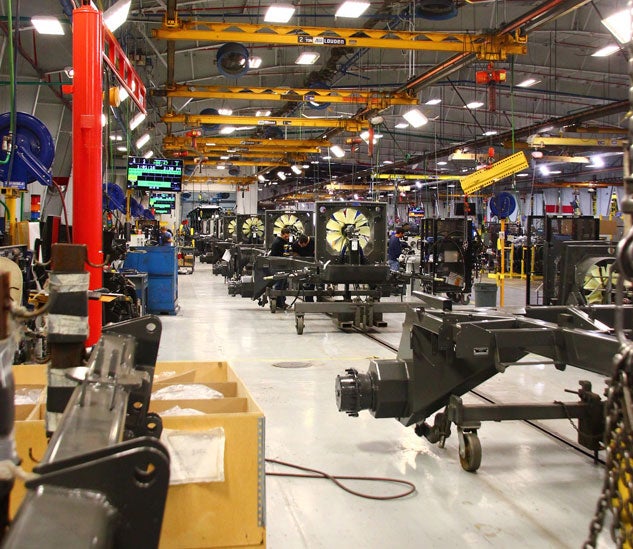 The paint facility at Hesston is automotive world class. Automotive was a word used often by Ciecko, who has a background that includes years at Ford Motor Company. Describing just the preparation prior to paint could be the subject of several Tractor.com articles, such is the care to detail, automated systems involved and quality control. We won't do that here, but after the automotive-quality surface preparation, paint is applied with 22 color recipes in use. Considering the number of adopted AGCO brand colors – Challenger, Fendt, Massey Ferguson, Valtra – we could count quite a few, but couldn't quite get to 22. It was then that we saw some New Holland yellow and blue and learned for European markets, rebranded Hesston large square balers are being sold under license. If there were other color surprises, Ciecko remained tight-lipped.
2016 National Farm Machinery Show Coverage Report
Throughout the facility, an eye inclined to the philosophies of lean manufacturing could see signs of those labor-reducing, quality-improving, cost-enhancing practices in play. Wherever possible, automated guided vehicles (AGVs) were used to transport parts from process to process and department to department. Pegboards with prescribed tools outlined in proper places were evident, as well as large screen LCD displays letting employees and management know exactly what was going on at any given time. It was here that Ciecko's firsthand knowledge of each and every employee's first name role was a perfect illustration of top down support for making the best product in the safest, most efficient way while all the while incorporating the latest technology. Lean manufacturing indeed.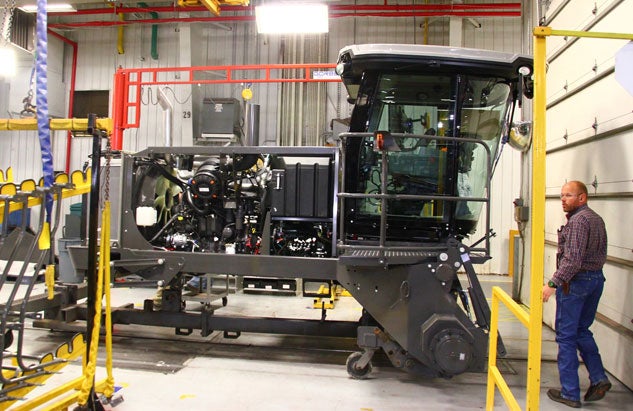 After watching the assembly of balers, including a Fendt Procut model for European delivery, the group moved to the final windrower assembly line. There we watch a completed frame get married to components from engines, hydraulics and electronics to cabs. Next step in the process was to test the skeletal but otherwise functioning windrower in a test chamber. After final adjustment, and when everything performance-related checks out, the windrower receives the automotive quality painted panels, has the decals affixed, and the tires mounted.
2015 John Deere W260 Windrower and 500R Platform Review
Completing the tour in allocated time – almost – the group was led back to the communications center where the Hesston Swather's, an a cappella choir from Hesston High School, opened the 100,000th ceremony by performing the National Anthem. Then it was onto the presentation where Hesston Mayor David Kauffman officially declared March 29th to be Hesston Windrower Day and then AGCO Vice President Sales North America Bill Hurley welcomed, congratulated and thanked the Robinson family for their brand loyalty.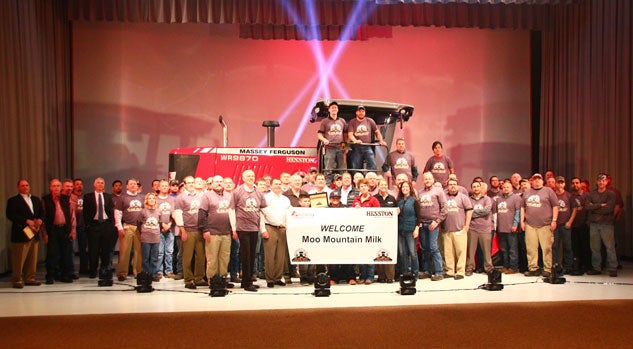 The Robinson family, father Ray, son Justin, and 11-yearold grandsons, Blake and Ryan, are from Burley, Idaho and operate Moo Mountain Milk. There, and in conjunction with their partners, they operate 20-25,000 acres of land and raise some 20,000 dairy heifers. In addition to the dairy business, Moo Mountain Milk grows hay, alfalfa and corn, and uses six – soon to be joined by the 100,000th seventh – Hesston windrowers to do the cutting duties. A favorite quality of the Hesston windrower is the double conditioner which allows the Robinsons to get to a day and a half dry time. Tractor.com asked Ray Robinson if the 100,000th windrower would receive extra waxing or care. Robinson told us that the new windrower is just another important addition to their business and would be treated no differently than any other piece of equipment they use.
The 100,000th windrower going to Moo Mountain Milk is one of six commemorative machines and is a WR9870 model without rear wheel steer. We reviewed this model in 2014, but since then some important upgrades have been incorporated. After the ceremony, there was time for a ride and drive with a rear wheel steer model. Next week we'll cover those upgrades as-well-as our impressions from behind the wheel.
Buyers Guides
Our Partners