2012 World Ag Expo Report
We check out the latest and greatest in the world of tractors
By Geof Fowler, Photography by Geof Fowler, Feb 24, 2012
Tulare, California. Farm country. Home to giants such as Sun-Maid raisins. Nurseries readying stocks for apple, cherry, peach, pear, citrus, nectarine, olive, pomegranate, almond, pistachio, and walnut growers across North America. Acres and acres of some of the largest and most productive farms and the perfect place to spend Valentine's Day—not! Well at least that is what this writer did. The funny thing was after the Mrs. got over the poorly-planned departure date, she was more upset I didn't leave a day earlier to take in the Trace Adkins show that many of the media received an invitation to. Go figure.
The World Ag Show began as the California Farm Equipment Show and was renamed the World Ag Expo in 1976. The Expo lays claim to being the world's largest agricultural equipment exposition. Impressive stats, especially since the show takes place at the exact same time as the National Farm Machinery Show in Louisville. Probably a few other disgruntled spouses there too. But I digress.
For 2012, the show began on Tuesday in grand fashion. Visitors were welcomed into the International Business Center for opening festivities where seminars on international trade, hay and forage, and beef and livestock were offered. Attendees then dispersed into the 2.5 million square feet of exposition space. After a day of dazzling displays of the latest technology full of ways to improve a farm's productivity and just plain ole' good food, attendees were treated to the abovementioned show that a VerticalScope (our parent) compadre was lucky enough to take in and who has assured me it was one not to miss. Thanks Jean, sorry Deb, way to go Trace.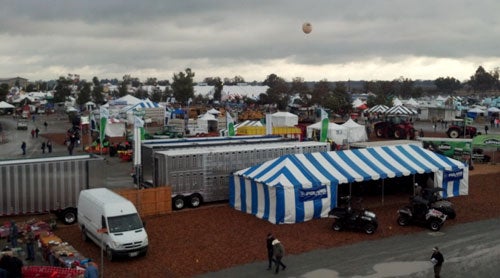 Our focus here at Tractor.com is, of course, the machinery and what we saw made the trip all the more worthwhile. Sub Compacts (SCUTs), Compacts (CUTs), Utility Tractors (UTs), Row Crop Machinery (RCM), all the way to giant Articulating tractors (ATs) and everything in-between. A veritable land-manipulating machinery cookie store, and yours truly had his hands in deep talking to manufactures and learning what was new.
AGCO
The AGCO booth included Massey Ferguson tractors from their 1500, 1600, 2600 and 5400 lines all the way up to the latest Hesston windrower. According to Dean Morrell, a haying veteran of more than 30 years, the Hesston WR9770 on display was the result of a total ground-up redesign involving input from customers, engineering, design, and manufacturing. Benefits from this partnership in the 220 horsepower Tier IV compliant windrower include easy access from all sides and an adjustable front track width. And the V-cool system, where the radiators are set side-by-side (not stacked as in conventional systems) and auto-reverse to clean out buildup in the fins and screens, was really cool. AGCO employs SCR (selective catalytic reduction) technology to achieve Tier IV requirements, using a post-combustion treatment of urea and water.
Bobcat
Bobcat brought to the Expo a line up of skid-steer, compact excavators and compact utility tractors. When asked what technology was hot, we were told of the new sonic tracer-slope sensor option that offers operators a method of automatic grade control that can be used in applications where lasers may not be suitable. Pretty neat stuff and exactly what we've come to expect of Bobcat. After reviewing the CT440 a few months ago, we came away from the booth planning to select one of Bobcat's smaller SCUT models in the near future.
Case IH
Case International Harvester also brought an impressive line up, ranging from medium-sized Farmall utility tractors all the way to their quad-tracked 670 peak horsepower Steiger 600 monster. We were told proudly how four Case IH products (independent grain tank cross auger control in Case IH Axial-Flow 30 Series combines, the MagnaCut Fine Cut Chopper for Axial-Flow combines, the Robo-Sharpener and the Steiger 600 tractor) had been chosen recipients of the prestigious 2012 AE50 awards sponsored by the American Society of Agricultural and Biological Engineers (ASABE). Keep your eyes open for an upcoming Case review; we're sure you will enjoy it.
Deutz
Deutz Fahr is a division of SAME Deutz Fahr, the largest privately held tractor manufacturer in the world. Laying claim to being the fourth largest manufacturer of tractors in the world, SAME Deutz Fahr is run by descendants of the Cassani family that have been manufacturing tractors since 1929. The Agotron X is one of its most well-known models and delivers performance niceties such as 31 mph transport speed, integrated front 3PH offering a lift capacity of 11,000 lbs, rear 3PH rated to lift 23,100 lbs, articulating front fenders, and a PowerCom S memory system that makes the most of electronic function mapping.
John Deere
Celebrating its 175th year in business, the Moline, IL-based manufacturer was out in full force with tractors as small as the D130 lawn tractor and as large as the 560 horsepower 9560RT. Like other manufacturers who are in it for the long haul, Deere was talking Tier IV technology and the advantages of its EGR (Exhaust Gas Recirculation) to reduce NOx (nitrous oxide) and DPF (diesel particulate filter) to capture particulates which is then in turn burned off through a regenerative process. Deere possibly had the widest range of equipment on display, and as expected, drew some of the largest crowds.
Kioti
Kioti didn't bring the most extensive line up of tractors when compared to some of the other manufacturers at the Ag Expo, but what it brought was impressive. Celebrating 25+ years in the North American arena, tractors from the CK, DK and RX series were proudly on display. We particularly look forward to test driving the all-new DK45SE Cab Tractor in the near future.
Krone
Krone may be one of the lesser known manufacturers despite producing tractors for more than 100 years. Headquartered in Spelle, Germany, stopping by to take a look at Krone's Big M 420 self-propelled mower was a popular Expo destination. Powered by a MAN common rail diesel developing 400 Tier IV Interim horsepower and mated to an automatic transmission that controls engine speed to match ground speed and load requirements, this is one tractor we hope to review more thoroughly in the near future.
Kubota
The Kubota display showcased tractors from their BX line all the way up to the M-series, of which we coincidently are working on a review (check back in a few weeks). As was the talk at every manufacturer we talked to, Tier IV regulations were both a concern and at the same time a sales plus. Kubota was no different and talked of its Tier IV Interim achievements. Another plus was the re-engineered arched beam in Kubota cabs, which along with relocated A/C components increases headroom and visibility. Nice.
Mahindra
Fresh off the rollout of the Max line up of CUT tractors in SCUT tractor skins, the world's largest manufacturer of tractors showcased models ranging from the aforementioned Max series to Utility tractors that can range up to 83 horsepower. Mani Iyer, president of Mahindra USA, talked proudly of customer satisfaction percentages to the high 90s, increasing market share in the U.S., and the new Max series and how that was going to be a game-changer in the SCUT market.
New Holland
New Holland brought everything from its Boomer compact tractors to the latest HS Series Haybine and the outrageous eight-wheeled T9 670 that comes with a 13L 669 horsepower powerplant. Next to the 670 was a tracked T9 615 that kids and adults alike wanted to be photographed in front of. Once anyone settled into an auto climate controlled T9 cab with its auto comfort leather seat that swivels 40 degrees they didn't want to get out. We especially liked the SideWinder II armrest and can just imagine the ease of operation it brings. And when combined with the IntelliSteer guidance package with RTK GPS accurate to +/- 1", waste is cut to the absolute minimum. We were told a T9 can be outfitted with triple tires, and the little idea light went off – how we would like to test one so equipped out.
TYM
TYM is a South Korean manufacturer that is fast developing a solid following. TYM first entered the U.S. market in 1999 branding tractors for Mahindra and then for themselves under the Millennium and Scorpion names. Today, TYM manufactures tractors ranging from 23 to 100 horsepower. A show favorite we plan to review in the future is the T353HST, a 35-horsepower compact that looked to have all the niceties a tractor of this class should.
Versatile
Versatile didn't have many tractors in its display, but what it had garnered a lot of attention. The 550, a 550 horsepower eight-wheeled articulating behemoth, comes with a plus-sized cab so impressively large that at times the line waiting to climb up and inside to check it out was longer than the nearby food booth. With 400 gallons of fuel on-board, the niceties of the abovementioned cab complete with a semi-active air-ride seat and an electronics package rivaling that of an aircraft, hydraulics up to 113 gpm and a monstrous Category IV 3PH, this is a machine that is ready to do some serious work all the while in total comfort.
Yanmar
Now separated from Cub Cadet, Yanmar showcased its range of tractors, from the 24-horsepower SC2400 SCUT to the 48.5-horsepower turbocharged Lx490, the latter powerful enough to come rated with 2400 lb loader capacity and 2700 lb 3PH lift capacity. While a couple of the designs might be considered dated by some and a throwback to the relationship Yanmar enjoyed with Deere, others will comment that these were some of the most reliable, efficient tractors made. The Lx490, though, is a thoroughly modern design that is well worth checking out.
AG Warriors Program
Wednesday evening brought the launch of the International Agri-Center's Ag Warriors program, which was headlined by an appearance by former President George W. Bush and the 82nd Airborne Division's All American Chorus. This is a special fundraiser benefiting returning military veterans and helping them towards careers in the agricultural industry. A win-win for all involved.
Closing Comments
Thursday afternoon those still in attendance were treated to a 100th year celebration by Airoso Dairy Farms, where dozens of their registered Holstein breeding stock were showcased in the entertainment pavilion. An auction followed and then dinner at 7:00 pm. Entertainment Thursday night was by Michael Peterson and Chaparral.
Though the weather at times couldn't decide if it should rain or allow the sun to come out (at least on Thursday we got more of the latter), those in attendance and those showing that we talked to all agreed that the 2012 World Ag Expo was a success, and as we exited the show gates, we even overheard talk turning to 2013. We at Tractor.com can't wait.
Related Reading
Shopping at Farm Shows
Buyers Guides
Our Partners