2016 Farm Progress Show: Part 1
Host of new products unveiled in Iowa
By Geof Fowler, Sep 15, 2016

The Farm Progress Show this year took place in Boone, Iowa, opening on Tuesday, August 30 and running through Thursday, September 1st. With markedly better weather than experienced in 2014, the last time the show was at that location, and when UTVs were needed to push vehicles in and out of totally mudded parking lots, we looked forward to seeing what was new at many of the nearly 600 exhibitor booths and getting a gauge on where attendee interest was centered. Due to the number of new product introductions and attendee interest we found, we'll be bringing you show coverage in two parts.
AGCO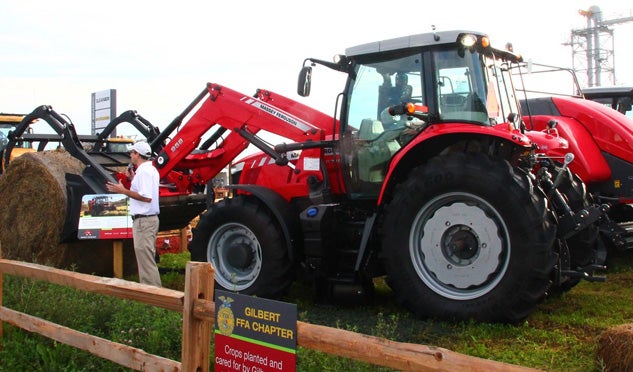 The show kicked off for the media on Tuesday with an early morning invite-only showing at the AGCO tower. Though we had an agenda prior to the event, new product unveilings can sometimes be long on rah-rah and short on details. Not so for the AGCO event, which began with the new 6700S series. This series consists of three models using four-cylinder 4.9L engines ranging from 140 to 160 horsepower. Selective catalytic reduction (SCR) technology is employed to meet EPA Final Tier 4 (FT4) compliance, meaning there is no diesel particulate filter (DPF). Three transmissions are available, including the Dyna-VT constant velocity transmission (CVT). With the new multi-function joystick, which has directional and loader controls combined for one hand control, these big, mid-range tractors are ideal for running a large round baler or mower conditioner, or pulling mid-size planters and tillage equipment. We are definitely looking forward to getting behind the wheel of these tractors as they become available.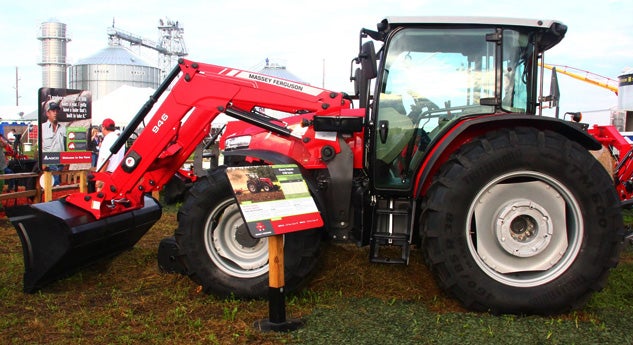 Next up was a segment on the new global series of midrange utility tractors. Ranging from 70 to 130 horsepower, the global series reflects AGCO's largest new product investment to-date and is the result of some six years gathering input from farmers and contractors from around the world and seeing those suggestions put into production. 4700 series machines will range from 75-100 horsepower and carry a MSRP of $35,700 to $62,800; 4700 series machines will be powered by three-cylinder 3.3L engines and have a lift capacity of 4,850 lbs. 5700 series machines will range from 100-110 horsepower and carry a MSRP of $51,700 to $70,300; 5700 series machines will be powered by four-cylinder 4.4L engines and have a lift capacity of 7,710 lbs. 6700 series tractors will range from 120-130 horsepower and carry a MSRP of $67,000 to $78,600; 6700 series machines will be powered by four-cylinder 4.4L engines and have a lift capacity of 9,390 lbs.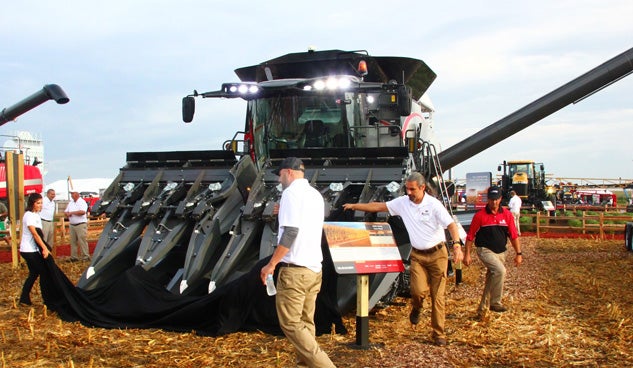 The third stop was at a Gleaner combine outfitted with an all-new 3200 series corn head. Available in six-row fixed and 12-row folding, both with a chopping option for better residue management and less trash injection into the combine, the 12-row folding model will allow growers to move from field to field using narrow roads without having to detach and road the head separately.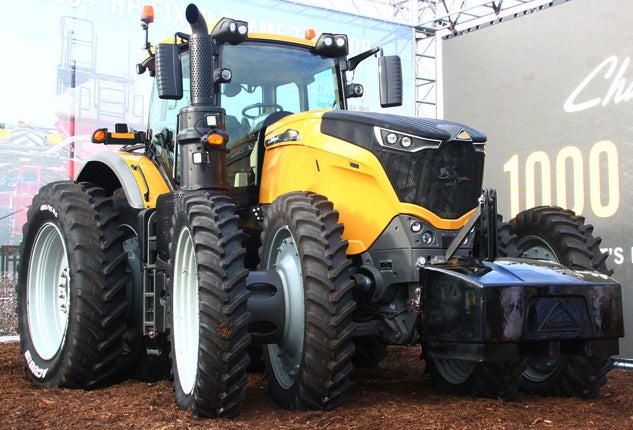 Lastly, the all-new Challenger 1000 series covered by a black drape was introduced in a literal unveiling. The new series will consist of four models, 1038, 1042, 1046, and 1050 with 396, 435, 476, and 517 horsepower respectively. Torque ratings range from 1401 lb-ft on the 1038 to a whopping 1770 lb-ft on the 1050. Speed range forward is as slow as 65 feet per hour to 31 mph transport. With an MSRP of $369K to $404K, these largest fixed-frame tractors in the world can, in many applications, replace the work of two tractors.
Tribine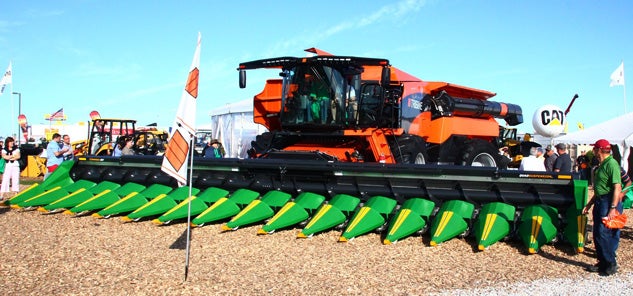 New products and products that are a natural progression of an older design are always interesting to see, but true innovation leading to a whole new way of accomplishing a task, though rarer, yields true excitement. The Tribine harvester falls into the latter category. A 20-year vision of founder Ben Dillon, the Tribine combines all the functions of a combine, only better and faster. Beginning with the threshing and cleaning system, which is touted to be the world's largest, throughput is up to twice that of any other harvesting machine. Using a large diameter rotor with 270-degree concave wrap and feeding a wide cleaning system with advanced pneumatics, the Tribine achieves a superior balance of separation and cleaning capacity. And while the threshing and cleaning system is a major efficiency improvement, it is the incorporation of a 1000-bushel grain bin into the harvester that is really a whole new way of thinking. Just consider the need for a separate grain cart and tractor running parallel being done away with. Then consider how the reduced soil compaction a single machine on one trail could change the game and increase yields. And to go along with the better, faster motif, the 1000-bushel tank can be completely unloaded in less than two minutes. Carrying 500 gallons of onboard fuel, the Tribine is really tailor-made for around-the-clock operation. Manufactured in Newton, Kan., and shipping now, the Tribine is no longer a vision, but a reality.
Case IH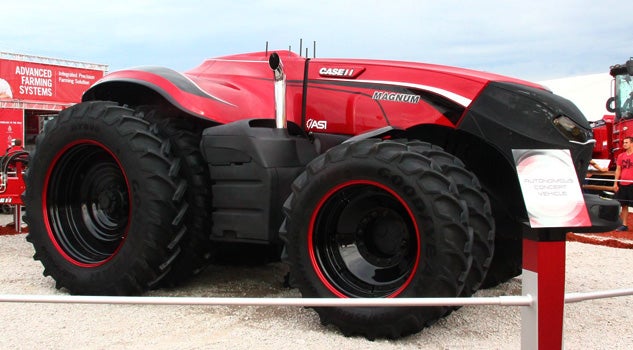 There was a lot to see at the Case IH booth, including the new Nutri-Tiller 955, a strip-till applicator that creates an ideal seedbed, and the Tiger-Mate 255 field cultivator which is capable of speeds up to 10 mph with no loss in seedbed quality, but none were more attendee-captivating as the autonomous concept tractor. Based on a Magnum 370 CVT, a machine with 367 rated horsepower and a 22,487-pound rear lift capacity, the thought of farming from your office or living room really brings the future to today. Using a variety of sensors, the Case IH system automatically governs functions such as ignition, acceleration and deceleration, engine rpm, steering angle, transmission, rear linkage (front if so equipped) raise, lower and PTO engagement and disengagement, differential lock/unlock, and horn operation. The interactive user interface allows the operator to remotely modify operational parameters and receive alerts for things like low fuel, wheel slip, invalid GPS position and off-path error. Sensing and perception is through several technologies, including light detection ranging (LiDAR) which does not use visible light and allows day/night operation, an array of radars to detect objects which reflect energy back, and forward/rearward RGB cameras which provide a live video feed. If an unidentified obstacle is encountered, the tractor will stop and await further instructions from the user interface, or automatically restart if the obstacle is removed from its path (if that setting has been selected). How far down the road will this technology become readily available? That is not clear. Though the autonomous concept tractor has successfully been used in the field, accomplishing tasks such as running a planter, there are legal and other issues to work out. There is also something to be said for jumping in the tractor and scoping out say a new field. With the Case IH concept, that would require a separate tractor, as there is no provision for a rider/operator.
JCB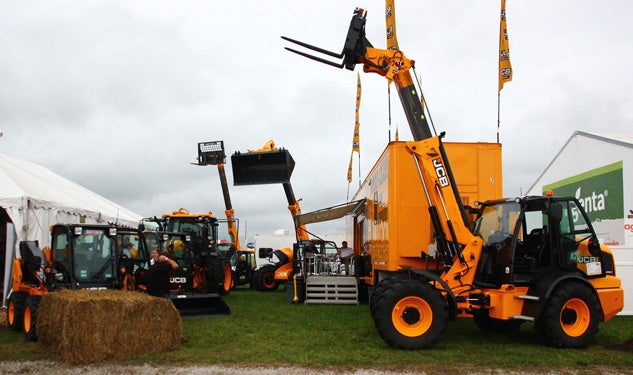 The big news at JCB isn't so much new products (there were none, though new additions are expected later in 2016), but the way the UK-based manufacturer continues to break into the North American agricultural marketplace with its Fastrac 4000 series tractors and TM220 articulated telescopic handlers. Also unique to JCB is its skid-steer design, which puts the lift arm to a single side, enhancing visibility and allowing easy side access without having to climb over a bucket. For anyone who has climbed in and out of a traditional skid-steer during a busy day, the effortless ease of access makes consideration of this design well worthwhile. Tractor.com readers can look forward to more JCB equipment reviews as machinery becomes available.


Kubota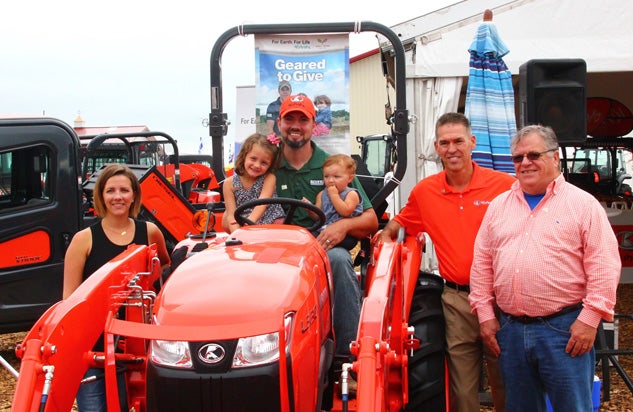 The Kubota booth at FPS covered just about its entire extensive lineup from BX subcompact tractors to commercial excavating equipment to its largest M7 row-crop machines. And though those displays garnered a lot of attention, it was the "Geared to Give" presentation through the Farmer Veteran Coalition (FVC) of a new L-series tractor and loader to Aaron White of White Stock & Produce in Carlisle, Iowa that warmed everyone's hearts. FVC is an outgrowth of successful organic farmer Michael O'Gorman, who in May of 2007 put together a gathering of California farmers to talk about creating jobs for returning veterans. That gathering rapidly gained momentum and by 2008 O'Gorman had quit his day job to work full-time at FVC. Today over 4500 veterans have signed on to FVE programs with 72% being post-9-11 veterans and 20% ethnic minorities. On hand for the key presentation were Kubota's VP Sales, Marketing & Support, Todd Stucke, Michael O'Gorman, and Aaron White with his wife Dana, and three children. The White family has 150 acres of row crop, a garden, and a cow-calf operation. Aaron is a fifth grade teacher and a Marine who served his country from 9-11 until May 2005 in posts such as Japan, Arabian Gulf and Afghanistan. A more adorable couple could not have been found, nor a more worthy cause for Kubota to support.
Buyers Guides
Our Partners