2016 Kubota Dealer Meeting: Part 2
New tractors and attachments highlight the 2017 Kubota lineup
By Geof Fowler, Oct 18, 2016
After an early morning breakfast Thursday, attendees at the 2016 Kubota dealer meeting were bused to a nearby distribution center where field demos took place. Our time began with the all-new Z400 machines, which are aimed at the homeowner market where up to two acres are mowed. Though these are entry-level machines, they still come with Kawasaki engines, 24" rear tires which allow a 10 mph speed and deliver better traction with less ground compaction, and a K-lift system that allows easy cut height adjustment without having to leave the seat. At the top of the line, the new ZD1511F with 30.8 hp diesel power, 80 lb-ft of torque, air-ride suspension seat, hydraulic deck lift, low center of gravity for stability, and choice of 72" side discharge or 60"/72" rear discharge decks with up to 18,400 blade tip speed; just the ticket for the most demanding commercial applications.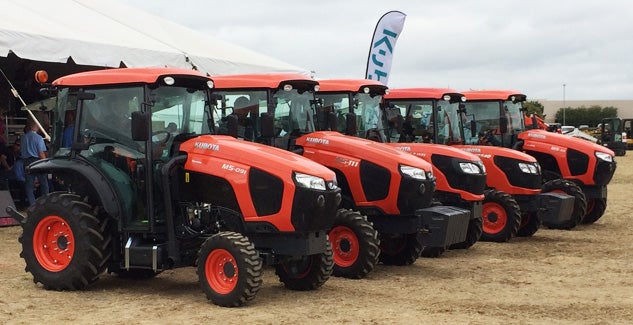 Next up was a demonstration that included M5, M6, and M7 tractors. New for 2017 are several M5 models, available in narrow and low-profile configurations, ideal for vineyard applications, but equally well-suited for tasks such as snow removal. Standard features now include economy PTO, 18.1 gpm hydraulics, 40-degree tilt steering range, 24x24 transmission with a declutch button. Options include up to five rear remote circuits with inside cab control, and an air ride seat. The popular M108S first introduced in 2006 is now replaced by the M6S-111 and comes standard with a 16x16 swing shift transmission which offers four gears in an "H" pattern along with a hydraulic high/low synchronized range shift. When those eight speeds are not enough, moving an auxiliary range lever adds eight more speeds (16 total, forward and reverse). Other features include an electro hydraulic shuttle, a button controlled clutch off switch (cab models), hydraulics flowing up to 17.2 gpm, and A/B engine rpm presets.
2016 Kubota Dealer Meeting: Part 1
For the 2017 season, four new RA wheel rakes will be available. These will be built by and through the newly-completed Kubota/Great Plains acquisition. Next, an M6-141 pulling Kubota's new DMC8540R disc mower/conditioner was brought in. THE DMC8540R offers a 13' wide cut and full width conditioning, promising even windrowing and a more uniform dry-down. Finishing up the M series demonstration was a M7-151 pulling a BV4580 baler. The baler was an early-production model that had some 30,000 bales under its belt. Attendees were told that the silage industry was strong and driven by the need for more nutrients and proteins to make for healthier cows. The BV4580 will be available in the Jan/Feb timeframe.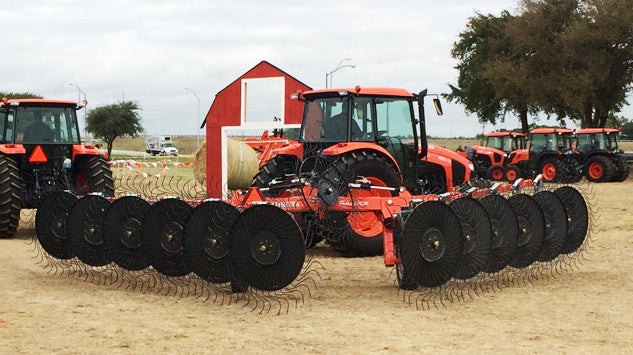 Next up were demonstrations by the Construction Machinery group which began with the KX033-4 compact excavator. The KX033-4 replaces the KX91-3 and offers a 10' 6" dig depth and an impressive lifting capacity over-side. The demonstration brought in several competitor machines which were able to lift a heavy dolly over the blade but dropped the load to the ground when swiveled sideward. The KX033-4 was able to rotate the load in a full 360-degree arc without tipping. Other improved features include a four-roller track system vs. the three-roller system used in the KX91-3, easier maintenance access through an increased size, improved front window opening, and a diverter valve for an auxiliary attachment such as a hydraulic thumb.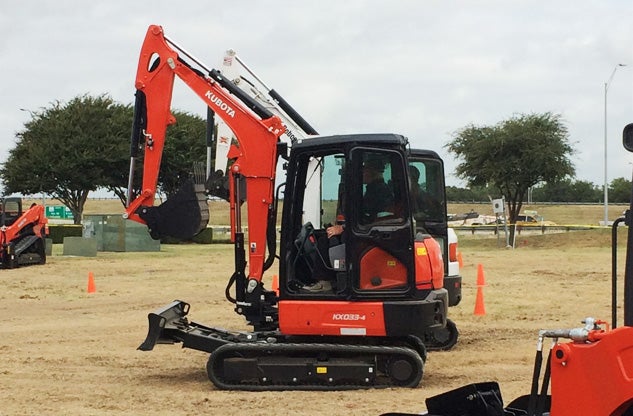 The last field demo station was one that would be of high interest for Tractor.com readers – the all new BX80 series subcompact tractors. Kubota pioneered this class of tractor in 2000 and thousands of homeowners, landscapers and hobby farmers have discovered the value, comfort, versatility, durability and ease of use delivered by BX machines. Though the competition was slow to catch on, most now offer quite good subcompact tractors, so the outgoing BX70 series is replaced with BX80 models with that in mind. The BX80 series will again be a four-model lineup.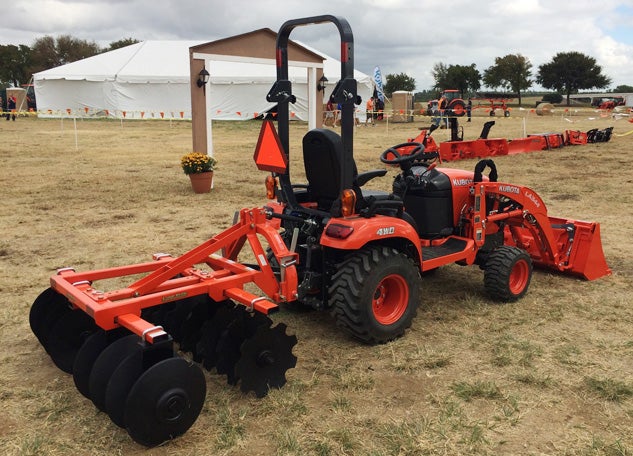 The 18 hp BX1880, with a below $10K beginning price point, offers deluxe features such as having the loader joystick incorporated into the fender cowl, utilizes the same frame and chassis as its more powerful brothers, 8.3" of ground clearance, 81.9" ROPS height (up) that will fit under most standard garage doors, retractable seatbelt, full opening metal hood opening/closing on a gas strut, 12V charger, storage tray with lid, left side brake pedal and a modern, illuminated instrument panel. Moving up from the BX1880 is the 23 hp BX2380, which brings a number of additional features, including a high-back reclining deluxe seat with adjustable armrests, tile steering wheel, cruise and control. The BX23S is a factory tractor-loader-backhoe (TLB) package based on the BX2380 but without the deluxe seat as the seat needs to swivel for backhoe action. The BX2680 comes with a 25.5 hp engine (19.5 PTO).
As good as the improvements to the BX80 series, it is what's new with the attachments that really captured our attention. The LA340S (quick attach loader) can be attached/detached with the driver never having to leave the operator platform. While other manufacturers have quick attach/detach loaders, attaching/detaching the hydraulics is something usually waltzed over. Not so for the optional Kubota Swift-Tach system, which allows the operator to do so without ever leaving the platform. The system is no-spill and attaches/detaches all four couplers at the same time. We watched a demonstration of a BX2680 and two competitive machines. Though the competitive machines' loaders can be take on and off easily, the Kubota system does so much easier and faster, and wins the ease of use race hands down.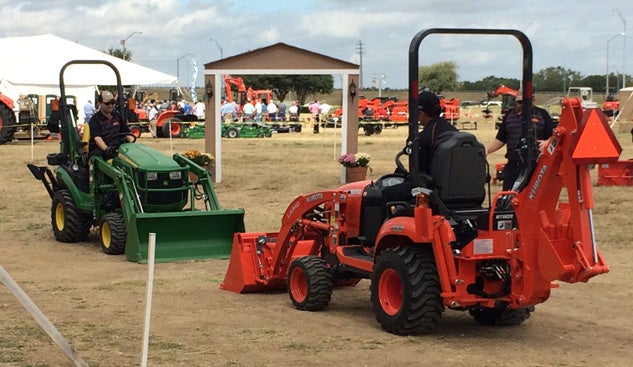 Next a BX23S was driven in. The BX23S was equipped with the LA340S loader and the new BT603 backhoe. The BT603 is a Swift-Connect system that requires only a single lever to attach/detach the backhoe from the tractor. The BT603 also uses the same no-spill coupler as the LA340S loader. Attaching/detaching a loader and backhoe has never been so effortless and easy. Kubota plans to clear out the BX70 inventory sometime in the first quarter of 2017 with BX80 models hitting dealer stocks in the May/June timeframe. Tractor.com readers can be sure we will be bringing reviews of these new models as soon as they are available.
Our wrap up session with Todd Stucke and Kubota Product Marketing Directors continued on with the theme of Kubota listening to their dealers and customers, developing equipment that serves those needs, never wavering from building-in the highest quality no matter if the model is deluxe or value branded, and continuing to connect at all ends of the partnership. Kubota Connect; it says it all.
Buyers Guides
Our Partners