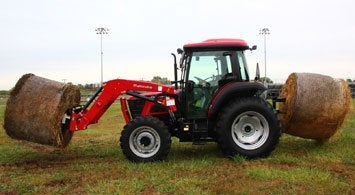 With whistles whetted by PowerPoint presentations at the Thursday sessions covering the largest product launch in Mahindra history, Tractor.com spent most of Friday at the Ride & Drive fairground site discovering what was below the skin of many of the new models.

eMax and Max Subcompacts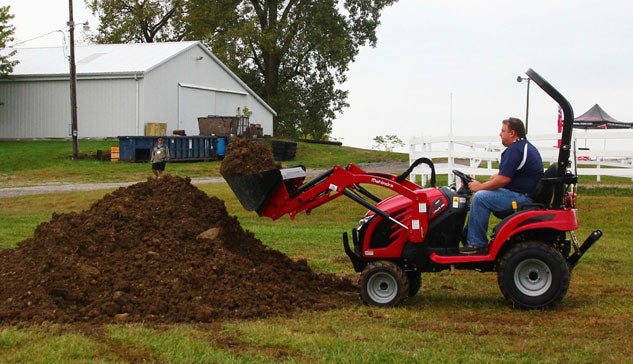 The subcompact lineup for 2018 will have five models, three branded as economy tractors (eMax 20S, eMax 22L and eMax 25L) and two as premium offerings (Max 25XL and Max 26XLT). The new eMax 20S (open station and cab) gets power from a Yanmar three-cylinder diesel making 19 horsepower with a two-range HST transmission controlled by a treadle pedal. The eMax 22L is open station-only and powered by a Kukje three-cylinder diesel making 22 horsepower with the option for a gear or HST transmission, the latter controlled by side-by-side pedals. The eMax 25L can come in open station or cab configurations also powered by Kukje engines, but making 25 horsepower and only with a HST transmissions.
The premium offerings also come with Kukje power, with the Max 25SL open station and HST only, and the Max 26XLT open station variant with a choice of HST or shuttle transmissions. All Max 26XLT cab tractors will come with HST transmissions. Kukje power replaces engines previously from Daedong and are larger displacement engines running at lowered engine rpms. All engines used by Mahindra are EPA Final Tier 4 (FT4) compliant without the need for diesel particulate filters (DPF).
At the Ride & Drive, we started with the eMax and Max tractors, but spent the majority of time with the new eMax 20S. The new Mahindra seats get high marks for comfort while making a style statement. Lift capacity on the 20S (617 lbs with skid-steer connection system) loader was surprising, given that the little subcompact did not have a rear implement or ballast box to offset the weight. The industrial tires (18×8.5-10 front and 26×12-12 rear) certainly added to the feel, and are larger than the tires used by some competitor entry-level models. One big difference between the 20S and the other Max offerings is that the joystick on the 20S is mounted on the loader stanchion vs. integrated into the fender cowl for the other models.
1600 Series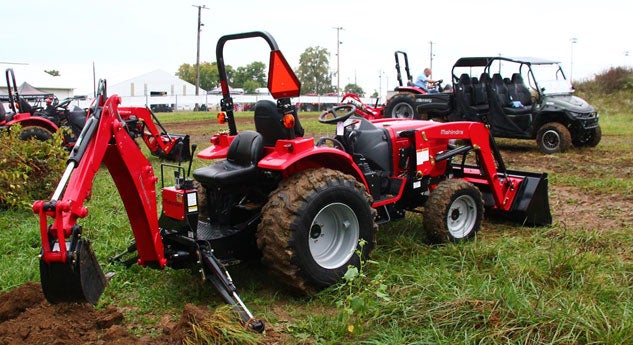 The 1600 series replaces the 1500 series, which have been Mahindra's most popular tractors. The 1626 and 1640 are direct replacements for the 1526 and 1538. The 1635 is an all-new model replacing the 1533, but using the 1626 frame size. Notable improvements include a USB charger port, new seat, tool box, new style grille and headlights, and integration of the loader joystick into the fender cowl. Lower link arms have a telescopic option (standard on the 1640). Frame size on this series is larger than on the eMax and Max tractors. 1600 series tractors utilize Mahindra engines.
We drove a 1626 TLB (tractor-loader-backhoe) out to the fairground north forty to dig some holes and trenches and found the hydraulics responsive even at idle, but really coming alive around 1700-1800 rpm. Migration of the joystick from the loader stanchion to the fender cowl, is a huge step forward in cockpit ergonomics.
2600 Series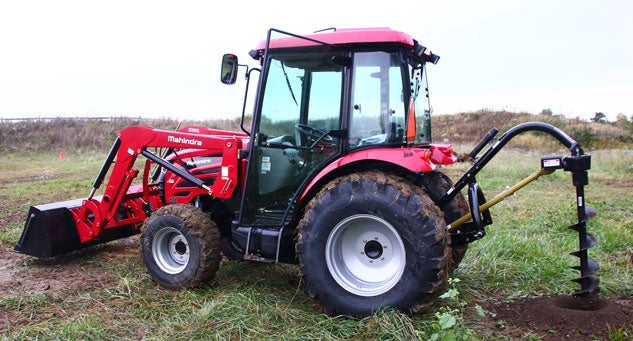 We never understood why the outgoing 2500 series (economy) numbering placed it a step below the 1500 series (premium), but the storyline continues with the 2600 series which has three models: 2638, 2645 and 2655 and two frame sizes. These tractors get a new grille and headlamps, comfort seat, right fender cup holder with two storage trays and 12V outlet, and joystick fender cowl integration.
We drove a 2655 cab tractor, outfitted with a post hole digger, out to the north forty to do a little digging and not surprisingly found the rich Indiana soil no match for the package capabilities. dBA reading inside the cab was 82.
3600, 4500 and 5500 Series
Tractors from these series remain basically the same with the 3600 series a refreshing of the 3500 series and the four-cylinder 4500 series and the three-cylinder 5500 series unchanged. The 3600 series can come with an air ride seat in cab configurations and a curved boom loader. 5500 series tractors now have standard draft control and a five-year/3000-hour no-deductible warranty.
6000 and 7000 Series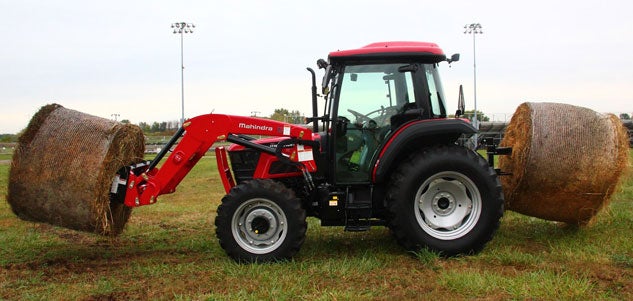 The 6000 and 7000 series are a ground up design specifically for the North American market. Cabs for 6000 and 7000 tractors are identical. The 6000 series comes in two horsepower variants: 65 and 75, and in open station and cab configuration. The 6065-2WD is the only two-wheel drive model. An EPST (15 x 15 electronic power shuttle) transmission with full synchro mesh on the gears (five) and constant mech on the ranges (three) is the sole transmission offering. A 540E PTO setting allows for lower fuel consumption and decreased sound levels. Cat I and II 3PH lift control is by position and draft. 6000 series tractors do not require diesel exhaust fluid (DEF) additions, 7000 series machines do.
We drove a 6075 cab tractor outfitted with optional instructor seat and a bale spear on the front loader and a second spear on the 3PH and moved around some hefty round hay bales. The 6075 handled the bales with power and capacity to spare. We found the shift-on-the-go in-range EPST transmission a joy to use and even did a series of high speed direction changes (not recommended) without protest. We also give the cloth air ride seat that reclines and has adjustable armrests high marks for comfort. dBA reading inside the cab with the A/C on was 80.
7000 series tractors come with a 4-cyl engine vs. 3-cyl, have a 5.3 gallon DEF tank, have higher hydraulic flow and 3PH lift capacity (5720 lbs vs. 4840 lbs), come with wider tires, and have a longer wheelbase (94.5" vs. 84.7/87.4").
8000 Series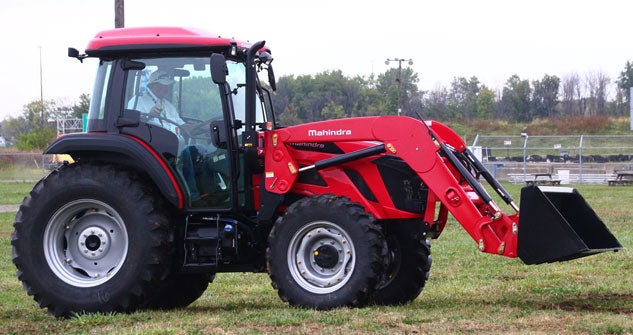 8000 series tractors are cab only, come with 90 and 100 horsepower engines (still no DPF), and are built on a longer and wider platform than 6000/7000 series machines (9" longer and 3" wider). Though there is a DEF tank (5.3 gallons), there is no DPF. The 8000 series also has a 540/1000 dry sump (no mess) PTO with easy changeover (snap ring). Wheelbase is 95.6". The single transmission choice is a 12 x 12 PST (power shuttle). Loader lift capacity is 4200 lbs to a height of 139" with a self-leveling option that can be defeated via pushbutton. 8000 series tractors are built by Mahindra. A nice feature for those in cold climates is the cooled EGR valve on the hot side, so the valves won't stick in the winter.
9000 Series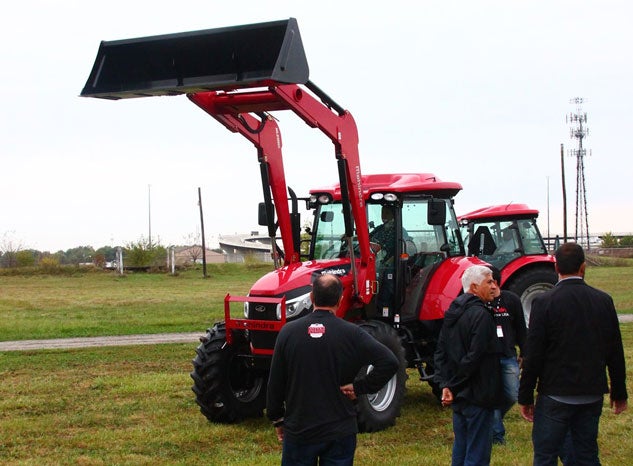 The 9000 series is a further foray by Mahindra into higher horsepower tractors. Two models are available, the 110-horsepower 9110 and the 125-horsepower 9125. All 9000 series tractors are cab models and are available in S (standard) and P (premium) configurations. Hydraulic output for the TYM-manufactured tractors is 30.45 gpm (9.25 power steering and 21.2 implement), giving the 3PH a lift capacity of a whopping 9460 lbs. Two electronic power shuttle transmissions are offered for S tractors, a 12F x 12R or a 24F x 24R with eight creeper gears. P models get an electronic power shift 32F x 32R transmission with four gears over four ranges with Hi-Lo (two speed) and 8F x 8R creeper gears offering 0.4 to 0.8 mph speeds at 2300 rpm.
Wrap Up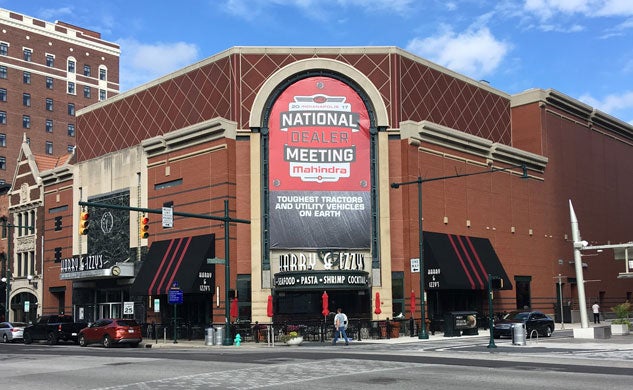 After the Ride & Drive, Tractor.com attended a suit & tie cocktail party where awards were handed out for dealers for varying years of loyalty, several in excess of 15 years. When you think of how far along Mahindra has come in that relatively short period of time, overtaking New Holland for the #3 sales spot, and consider the impressive and wide product launch, one has to wonder where Mahindra will be in another 15 years.