35th Annual Antique Engine & Tractor Show Report
Old iron never gets old
By Geof Fowler, Photography by Geof Fowler, May 28, 2012
A great weekend with the Scantic Valley Antique Engine & Tractor Club and MyTractorForum.com friends proves old iron never gets old.
On Saturday May 19th and Sunday May 20th, 2012 the 35th Annual Antique Engine & Tractor Show was held at the Four Town Fairgrounds in Somers, Connecticut. Several Tractor.com reviewers had heard of the event, but yours truly had not. I soon learned that was my loss and one not to be repeated.
Arriving at the fairgrounds Friday mid-afternoon, MyTractorForum.com moderators were already there with a tent and were putting out shirts, MTF cards and other goodwill items, along with a jar for drawing sponsor prizes. With everything ready for the morning kickoff, a fun evening at the local 99 Restaurant followed where moderators who knew each other mostly though emails and private messages were able to get more acquainted. Saturday the show opened at 8:00 am with a cloud free sky. The perfect weather would continue the entire weekend. Don't forget that sunscreen. Exhibitors entered for free as did those under the age of 16. Gate admission was only $5 and parking was free.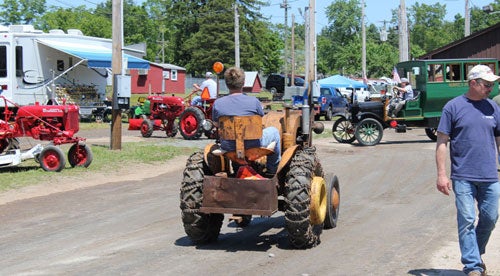 A fun parade Saturday morning showcased some still fine-running old iron and produced a wide range of favorites – mine was the Avery Gas-Oil tractor whose operator got a real workout cranking the controls. Others couldn't get enough of the Oliver Super 55 or the raft of McCormick Farmalls, one of which was a rare 1954 equipped with torque amplifier and independent PTO. Sweet! And if Ford tractors hold a nostalgic place in your heart, the stable Archie Tanner brought was quite impressive – including a 9N yours truly would have liked to take home. The 1956 Farmall "200" – just say gorgeous – owned and restored by Ralph Winn and Cory Jones was also worthy of high mention.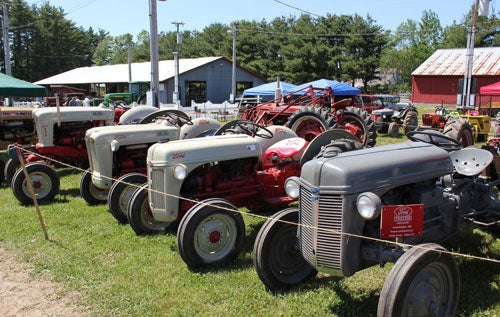 No tractor meet would be complete without a tractor pull and at the Four Town Fairgrounds there were plenty to choose from. If large antique tractor pulls were your thing, all you had to do was to head on over to the fenced in field to watch John Deere Gs do battle with Farmall M 560s and 817s and Massey Harris 44s. If lawn and garden tractors pulling concrete laden sleds got your juices flowing, all you had to do was drift on over to the Star Memorial Ring where the 4H Piston Pushers were putting on quite a show. The leader of the Piston Pushers runs with a handle at MTF (Hugh-SS/16). Not surprisingly, Hugh piloted a Sears SS/16 loaded with plenty of weight that handled the concrete loaded sled quite nicely. More pulls were arranged by the Dundee Creek Doodle Bug Club on Saturday and the New England Doodle Bug Club on Sunday. Doodle Bugs are low-budget, home-built pulling machines. Most don't pack a whole lot of power but are geared very low. Because of that, many will sit there and bounce the front up wheels off the ground for a while trying to get the sled moving. Once the sled starts moving the front usually stay down. It's one of those always fun-to-watch events.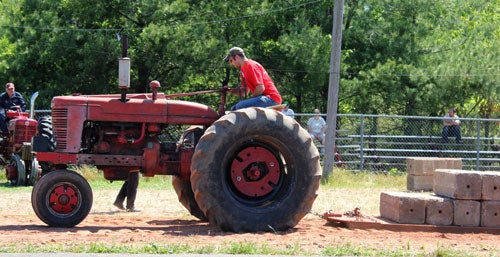 Strolling around the fairgrounds, there were plenty of friendly vendors hawking their wares. If you came to the Antique Engine & Tractor Show looking for a particular part to complete your pet project – a spark plug for a 1947 John Deere G or a sicklebar mower for an Allis Chalmers tractor – you found plenty of booths with hard-to-find individual components for sale all they way up to project tractors and even fully restored ones that for the right price you could take home. One booth even had a beautiful (though a reproduction) Schwinn Stingray bicycle for sale that brought back lots of fond memories.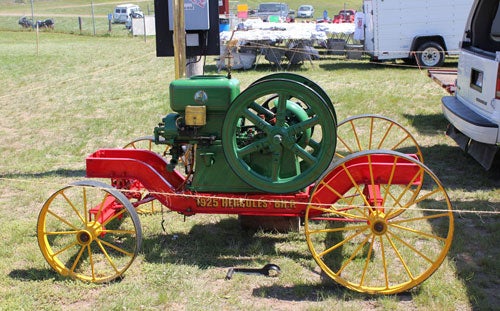 At the MTF booth a banner was on display that has traveled quite extensively and has been autographed by many. At the Four Town Fairgrounds more familiar names were added including: tiretrx, Ken in NJ, BLIND REF, BOSOX, Ingersol444, JDFANATIC, Hugh-SS/16 and DMAC. MTF T-shirts were popular but I heard a few comments about the pick of black shirts during the heat of the day. Guess they'd better order up some in white. MTF hats were nice too.
When the day wound down Saturday, the MTF gang with a few new friends gravitated to the Enfield Red Robin for some good eats and a beer or two. So much fun was had that even politics and sports differences couldn't spoil the evening. BLIND REF came from the farthest distance (East Texas) and with his infectious grin and down home accent, made more friends – and probably insurance contacts – than you can imagine.
Sunday was a day new and old friends said goodbye but such a success was the event that many were already making travel arrangements for next year's 36th Annual Antique Engine & Tractor Show. I know we're planning to be there. For more information about the Scantic Valley Antique Engine & Tractor Club and more upcoming events, you can visit the official website at http://svaec.webs.com/.
Related Reading
2012 World Ag Expo Report
Shopping at Farm Shows
Buyers Guides
Our Partners