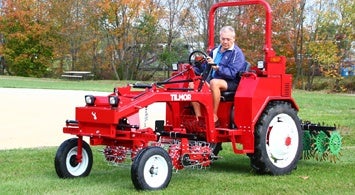 It was back in the summer of 2015 that Tractor.com ran a "Getting To Know Ventrac" piece. Then, the Orrville, Ohio-based manufacturer employed 150 and was producing around 1200 all-wheel drive tractors annually. Longtime readers will remember a small tidbit in that 2015 article, hinting at a game-changing new piece of equipment. A confidentiality agreement prevented us from saying much, except to trust us, and that when it could be announced, the game-changing piece of equipment would be big news.

Well, the time for silence is no longer and we're pleased to bring our readers coverage of Tilmor and what it means to small farmers across the globe.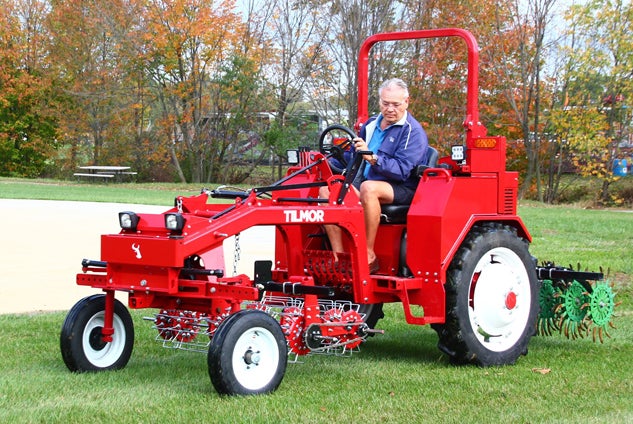 So, what exactly is Tilmor? In our words, Tilmor is a business venture aimed at aiding a marketplace that big manufacturers have little or no interest in – that of the small farmer or producer. And while it is a business venture, its roots are in the altruistic leanings of Steiner family members whose life experiences and exposures have seen a need to bring much needed assistance not only to Third World Countries where the small farmer is crucial to people's health and survival, but also to modern nations where interest in organic farming with reduced reliance on pesticides is fast gaining ground.
The Tilmor product unveiling took place at the Venture Product's Bridgeway Training Center, a modern facility accessed by a footbridge. There, select dealers, Ohio Economic Development partners and media were treated to a presentation by Tilmor Project Lead Lydell Steiner, CEO Dallas Steiner, and Customer Advocate Dustin Steiner. First up was a video showing the new Tilmor tractor in action and highlighting some of the attachments/implements that will be available, including a mower for cover crops, planters, finger weeders, basket weeders, S-tines, moldboard plows, and plastic laying, edging and removing equipment.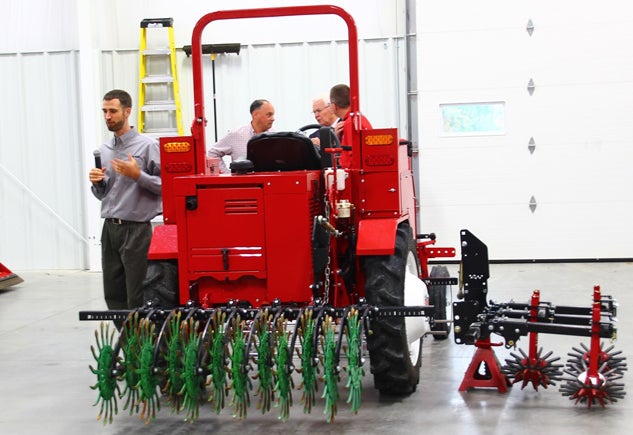 The Tilmor platform is a modern progression of simple but productive implements mounted on tool bars that for many years have been used on tractors such as the Farmall Cub or Allis Chalmers G. The combination of a tractor with good below-foot and forward visibility with tools mounted in those mid and forward positions were, and are, tailor-made for small farmers. And those tractors have proven to be reliable, with many still being used in the field and some as old as 50+ years. Parts, though, are becoming scarce, and, as implements wear and break, many farmers are forced to spend more time on repairs and less in the field.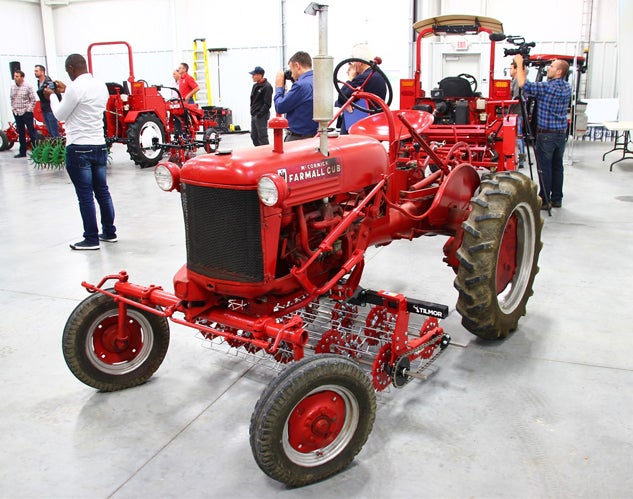 Enter Tilmor with the website Tilmor.com. There visitors can find clickable links to Who We Are, Our Vision, Implements, Listening to You, and Tractor. Under the implement section you'll find toolbars for Farmall Cub, Allis Chalmers G, and Kubota tractors, as-well-as tractors outfitted with Cat I three-point hitches (3PH). Initially, only tool bars, and finger and basket weeders will be available for order beginning Nov. 1st for January ship dates. But with manufacture and distribution backed by Ventrac, who's 225 employees today ship more than 2500 tractors annually with an implement ratio of 3.2:1 (8000+ implements), small farmers now have an equipment resource and implement lineup that will certainly expand in the coming years. Along with those equipment resources, the Tilmor.com website can also be expected to be a place where farmers can share stories, make suggestions, and learn about farming. And with the many newcomers to small farming, especially in the organic marketplace, this teaching resource will certainly help address a growing need.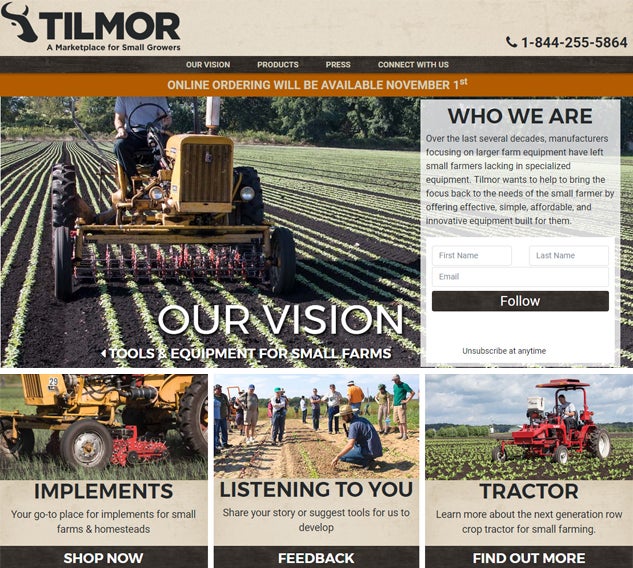 Tractor.com readers will naturally be interested in the Tilmor tractor. What are the details, what is the cost, and when will they become available? The Tilmor tractor (a name or model not yet announced) is a rear-wheel drive tractor with power by a 24-hp Vanguard air-cooled gasoline engine or 23-hp Kubota diesel. Steering is manual as-is-the 8F x 2R (two-range) gear transmission which Ventrac has developed specifically for Tilmor requirements. Hydraulics raise the mid and rear implements, the latter which is a modified 3PH design with the upper link offset to the right. The tractor we drove (more on this below) was outfitted with two auxiliary circuits sending hydraulic power to the rear and front. Controls are sparse, but exactly what is needed, with a steering wheel that can be adjusted from a center location to a lower left position on a slight radius. On the floor is a clutch pedal, and split brake pedals to assist in tight turns or helping get the tractor unstuck. Tractor wheelbase is 86".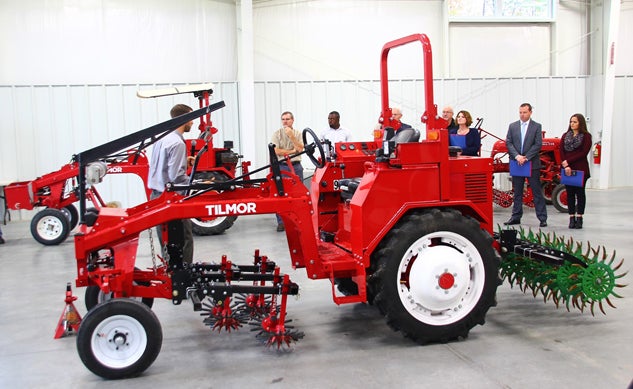 For ease of toolbar attachment/removal, there is a hand winch/boom that is removable, and makes changes a short exercise. There is also a rear/front receiver hitch. Safeties are notable additions since we first saw the Tilmor tractor in 2015. Today, those additions include a seatbelt and foldable ROPS, flashers, and LED lights. As the actual production date grows closer, don't be surprised if more features along those lines are added. Which brings us to cost. In 2015 a range of $10-12K for the base tractor was mentioned. Iterations bringing the tractor to the current design state along with the mandated safeties have added potentially another $3-5K (final pricing has not been set). Availability is expected in 2019.
So, how does the Tilmor tractor drive and handle? Much better than a Farmall Cub or Allis Chalmers G. But is it on par with the driving experience today's users expect? In short, yes. We found the floor mounted range (Low-N-High) and gear shifters easy to use, clutch and brake operation low-effort, hydraulic lift lever positioning convenient, and steering light. We measured a turn radius of 132" (inside rear tire to inside rear tire) without engaging brake assistance. Rear tire spacing is 50" to 78" on center with adjustment increments every 4". We also ran a mid-mounted basket weeder on corn stover and then a mechanical rear tiller and were impressed with the operation and ease of use of both. Not being familiar with the throttle needs and clutch engagement, we nearly stalled the tractor shifting into high range and 4th gear, but chalk that up to operator inexperience – the Kubota diesel provides plenty of power. Top speed in high and 4th has to be in excess of 14 mph, which was a pleasant surprise on a tractor that most likely won't see multiple field use. More important, though, are the speeds required to work the land. Here the Ventrac 8F x 2R transmission is sure to shine.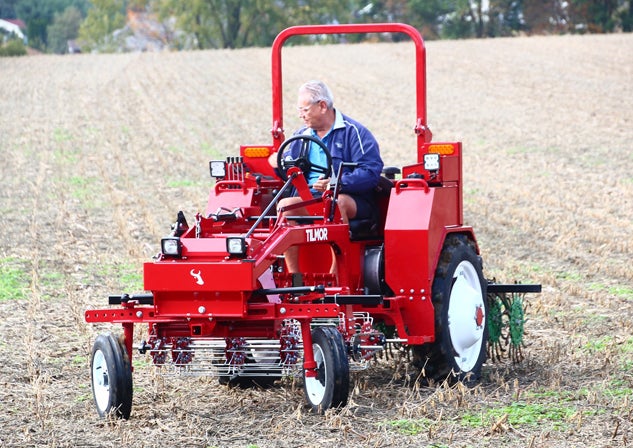 Tractor.com applauds Ventrac for recognizing and making bold moves to service a market, that though small, is important socially and for many, economically. We look forward to getting behind the wheel of a Tilmor tractor in 2019 as it becomes available, and experiencing its full cultivation capabilities.