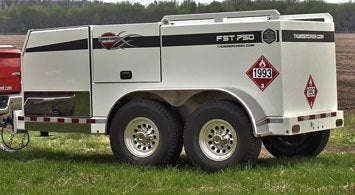 Thunder Creek Equipment, a Pella, Iowa family-owned manufacturer, is well-known for its fuel storage and dispensing solutions. The current FST series of trailers brings the convenience of carting 500/750/990 gallons to the worksite along with the productivity enhancing ability to dispense fuel at a rate of 40 gallons per minute. With the requirements of Final Tier 4 (FT4) emissions compliance, adding a Diesel Exhaust Fluid (DEF) dispensing system was a natural progression.

But not so fast, TCE's Luke Van Wyk told Tractor.com at the recent Farm Progress Show, where the TCE booth garnered a lot of attention. According to Van Wyk, DEF is not just another fluid; it is a consumable (aftertreatment) fluid and not a fuel additive. As such, it needs to be thought of differently than oils, fuels and coolants. ISO 22241 specifications cover those needs quite nicely, but unfortunately, many users of DEF do not take the time to educate themselves as to what practices are acceptable. Manufacturers of DEF must comply with ISO 22241, so the purity of what is being shipped is controlled, but the subsequent steps getting the fluid into the farm machinery is often where controls break down.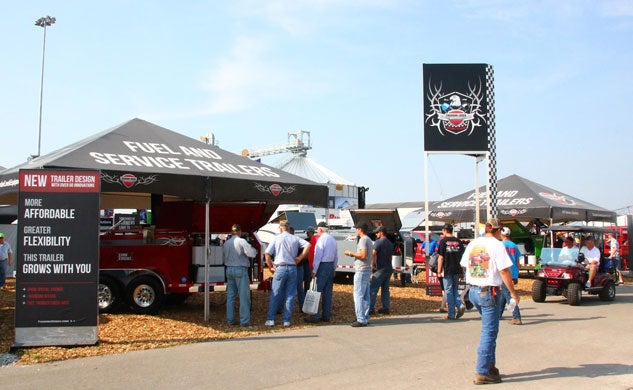 What exactly is DEF? DEF is a fluid consisting of exactly 67.5% deionized water and the balance high-purity (pharmaceutical) urea that helps along the process of converting NOx to water vapor and hydrogen. Urea is fertilizer and as such is highty corrosive, requiring stainless steel or plastic for handling. And the reason for deionized water? Tap water contains more contaminants than DEF can be allowed to have. DEF flows through injectors at high pressure and quality is important so the injector doesn't plug up. Micro contamination is even worse. Elements such as iron, copper, nickel, and chromium in amounts as little as .002/million – or 1/10 of a teaspoon – are enough to take an entire tanker out of spec. Out-of-spec DEF poses a danger not only to the injectors, but to the precious metal catalyst charged with converting the NOx. Impurities corrode the catalyst from the inside out. Replacing the catalyst on high horsepower tractors can run as much as $15-20K and lead to long periods of costly downtime while voiding manufacturer warranties. A first sign of SCR contamination is the use of increasing amounts of DEF.
RELATED: Diesels: Tractor Engines and the EPA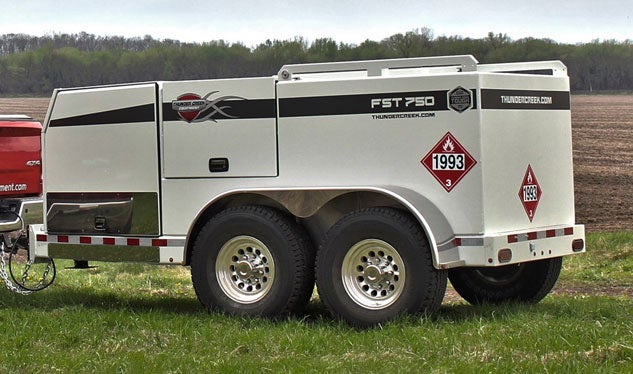 If you're getting it that taking a high-purity fluid and putting it into just some jug and then transferring it into that expensive diesel powerplant isn't a good idea, you'll understand why Thunder Creek's Farm Progress Show booth was such a popular stop. To combat DEF handling contaminants, TCE begins with a sealed system that gets flushed out with deionized water. The hose is specially sourced and is zinc, chrome and nickel free. The open fill cap is sealed and the Micro Matic RSV coupler, made from stainless steel with auto trip, ensures there is no contamination while tapping or disconnecting a DEF container. Even the vent system is filtered. FST purchasers can be assured the same quality DEF purchased from the manufacturer will be dispensed to the farm machine without exposure to the elements and in a highly efficient manner.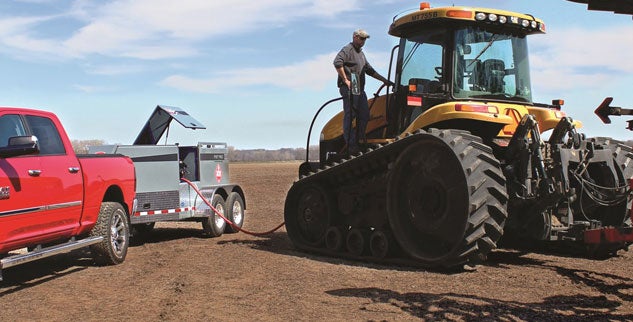 The FST series comes in three deluxe configurations, with the FST500 holding 500 gallons of diesel fuel, the FST750 750 gallons, and the FST990 990 gallons. Each model rides on dual axles, with the axle carrying capacity matched to the corresponding GVWR weight. Electric brakes on each axle are standard. Order the Signature Package (packages can save as much as 20%) and the purchaser gets 100 gallons of DEF capacity, a separate dispensing pump and reel, and a solar battery charger. Order the Pro Package and a WorkSight LED light tower, 30-gallon auxiliary oil tank with 3 gpm pump, front 5-drawer tool chest, electric-hydraulic jack, and stainless steel fender/trim upgrades are added. All options are of a modular design, so after the initial purchase, field installation of an extra that was missed or now desired is simple.
RELATED: How To Maintain A CUT/SCUT Tractor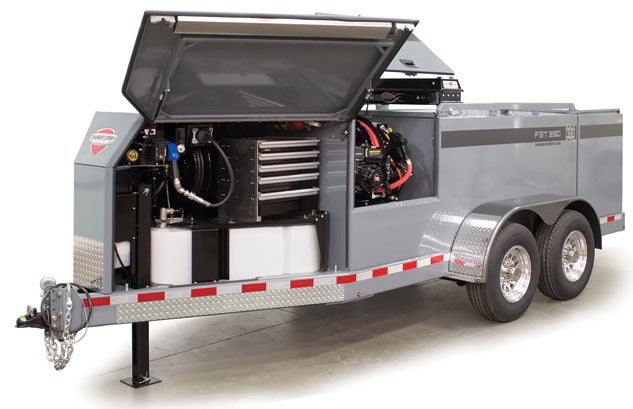 Van Wyk went on to clarify some DEF shelf-life inaccuracies that have become popular folklore. The first was that DEF tanks should be emptied in the winter. Doing so is a sure way to leave behind crystallization contaminates. Instead, it's better to use a DEF tank heater. Good practice would be to turn on the heater 30 minutes before dispensing and use. DEF will freeze at temperatures at or below 12#F. We asked about DEF shelf life since there seems to be so many opinions on the subject. Van Wyk told us that the shelf life was dependant on the storage temperature, but that DEF in a farm environment should last 18-24 months. Another DEF fallacy is that agricultural (not pharmaceutical) grades of urea are acceptable for use in SCR emissions systems. Agricultural grades of urea contain aldehydes and excessive levels of biuret. Use of agricultural urea in an SCR system is likely to result in an expensive failure. Some signs of failure could be immediate and others might take time, but premature failure will always be the result.

TCE FST systems, depending on the package selected and options added, can range in price from $10-$30K and come with a three-year warranty. Options include a DEF heater, bigger reels, digital metering, spill containment kit, work bench with vise, welder/generator combos, and rear utility box. And to match your fleet or desire, FST systems can be had in gray, black, red, white, green, blue and two shades of yellow.
If you're not taking DEF dispensing seriously, now is the time to start. And if you're in the market for a total DEF handling solution, check out the Thunder Creek Equipment lineup.
Visit ThunderCreek.com for more information.