2013 Case IH Steiger Rowtrac Lineup Preview
New Steiger Rowtrac 400 on display at National Farm Machinery Show
By Geof Fowler, Photography by Case IH, Mar 04, 2013
Steiger history dates back to 1958 when John Steiger built his first tractor, a high-horsepower, 15,000-pound machine that saw daily use on the family farm. In 1963, Steiger & Sons began producing tractors with the first machines painted a distinctive light green color. In 1982, the Steiger Panther 2000 debuted, the first tractor with a 12-speed powershift transmission, electronic controls, deluxe cab and Pressure Flow Compensation (PFC) hydraulics.
A struggling economy hit Steiger hard enough that the company was forced to file for Chapter 11 bankruptcy protection in 1986. Tenneco, the then parent of Case International (IH), purchased Steiger and the brand began is resurgence. New innovations were introduced, including the 360-horsepower Steiger Quadtrac in 1996 and Steiger STX500 Quadtrac in 2005, which could plow an amazing 792 acres in 24 hours. Now a division of Fiat Industrial SpA, over 40,000 Steiger tractors have been sold worldwide.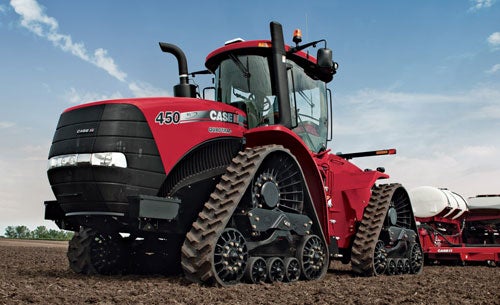 At the 2013 National Farm Machinery Show (NFMS) in Louisville, Ky., where a lot of new technology was on display, the Case IH booth with its newest Steiger Rowtrac 400 garnered its fair share of attention. The Rowtrac lineup consists of three models, the 350, 400 and 450. Borrowing technology from the Quadtrac drive system, the Rowtrac adds a mount at the end of each roller beam that controls pitch roll and yaw, while two mounts in the center handle the primary vertical load. The upshot of this technical wizardry is that while the tractor oscillates in the middle, each track can move independently.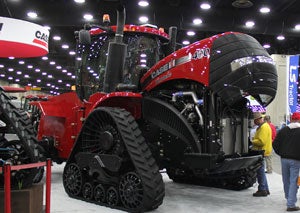 The Rowtrac suspension is also different than on the Quadtrac with rubber "donuts" acting like shock absorbers that help keep the tractor accurate on the row. The independent oscillation has a range of up to 10 degrees up or down for better ground contact. Credit Case IH engineers for fitting this technology into a narrow undercarriage suitable for row-crop applications. What does this do for the farmer focused on productivity? Tracks put more power to the ground, improve traction, and allow the user to cover more ground in less time, even in less than ideal conditions. And the ability to work in less than ideal conditions means they will be able to plant seed earlier. Early seed planting results in a better environment to germinate and develop strong root systems. Better traction = less slippage = less compaction = earlier crop emergence = better possibility of greater yields.
The narrow track used on Rowtrac machines can easily be adjusted for North American row spacing (20", 22", 30" and 40" row spacing are all accommodated). Wheelbase on Rowtrac models has also been stretched from 154" to 160", making for better transfer of power and delivering less ground pressure.
Ride quality is also improved and that ride is something to be enjoyed from the Steiger Surveyor cab, touted as the largest, most comfortable cab on a row-crop chassis. Using a combination of coils, shocks and stabilizer bars, the Rowtrac boasts automotive ride quality. According to Case IH, this results in less operator fatigue but also better signal to the Advanced Farming System (AFS) auto-guidance system (electronics acquiring signals don't like to be jostled about any more than you). And sound levels inside Surveyor cabs are low enough to allow cell phone conversation. Other niceties built in are an automatic climate control system, front and rear pull-down sunscreens, foot rest pegs, a buddy seat that folds and is roomy enough for a laptop and an operator's seat that swivels 40 degrees. The right armrest is also worthy of mention, with vital controls all within easy reach. For ease of access, the armrest swings out of the way and there is a flip up console lid that makes for more work space when those controls don't need to be accessed.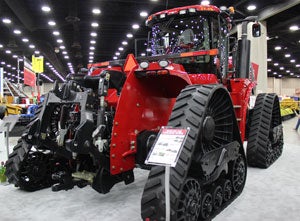 Powering the Rowtrac lineup are the latest Case IH FPT powerplants that achieve EPA Tier IV compliance using Selective Catalytic Reduction (SCR). Case IH says fuel consumption is up to 10 percent less than on a comparable horsepower Tier III tractor. At the NFMS we overheard a Steiger owner mention that his fuel usage had dropped to 23-24 gallons per hour from 30. That's the kind of improvement a farmer needs to make the Tier IV plunge.
Rowtrac 350s get 6-cylinder 8.7L turbocharged engines that have air-to-air aftercooling. Rowtrac 400 and 450s get 6-cylinder 12.9L engines with the addition of wastegates. Power take off (PTO) horsepower is 290, 340 and 385 respectively. All FPT powerplants are 24V and are mated to full 16F/2R powershift transmissions with 16H range achieving transport speeds up to 25 mph.
Hydraulics flow 42 gpm in the standard configuration and 57 gpm using the high flow option. With parallel twin flow pumps a whopping 113 gpm is achievable (35 gpm max at a single remote). Rowtrac tractors come standard with four remotes with up to eight possible. Valves are flow-compensated for temperature and flow and are of quick connect design. Not surprising, three-point hitch (3PH) lift capacity is 20,000 lbs.
The AFS system briefly touched on above offers auto-guidance for better accuracy and increased efficiency. Able to operate in forward and reverse, the system automatically lines up the next guidance line while backing up. A nifty color touchscreen interfaces nicely with the operator.
Downtime on a row-crop machine means loss of productivity and Case IH engineers have designed Rowtrac machines with this in mind. All servicing can be accomplished from ground level and see-through covers make visual fluid checks a snap. Oil change intervals have been extended to 600 hours. The Diesel Exhaust Fluid Tank (DEF) on Rowtracs is 46 gallons.
Steiger Rowtrac tractors are excellent for primary and secondary tillage and field applications such as planting, side-dressing and fertilizing. 60' field cutters and 80' planters fall well with their capabilities. If row-crop productivity is on your mind along with Tier IV compliance, check out the Steiger Rowtrac line up.
Related Reading
2012 Case IH Farmall 75C Cab Tractor Review
2011 Case IH Overview
2013 Yanmar T-80 Comfort Cab Track Review
Buyers Guides
Our Partners