2014 John Deere 7290R Review
Row-crop tractor is a technological marvel
By Geof Fowler, Photography by John Deere, Sep 05, 2013
The John Deere 7R Series tractors were first introduced in 2011 and were a natural progression of the 7030 series. Both of these series have been proven performers for a wide range of chores around the farm or ranch. For 2014, the revamped five-model lineup includes the 7210R with 210 HP, 7230R with 230 HP, 7250R with 250 HP, 7270R with 270 HP and the subject of this week's test, the 290 HP 7290R.
Each model boasts 10 to 20 more horsepower over the previous model, along with more torque, while meeting EPA Final Tier 4 (FT4) emission requirements. We got an inside view as to how customer needs are driving John Deere technology development at the 2014 New Product Intro event held on Aug. 21 and 22 at the Columbus, Ohio convention center, and foremost was engine power.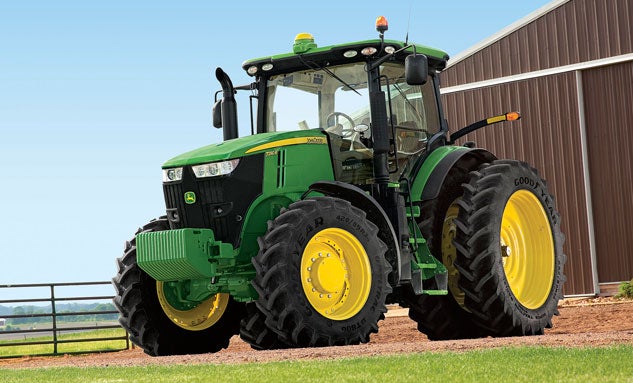 To meet those FT4 requirements, John Deere opted to go with a SCR/AOC (selective catalyst reduction/ammonia oxidation catalyst) after treatment system that works in conjunction with a DOC/DPF (diesel oxidation catalyst/diesel particulate filter) system. In case you're thinking John Deere achieved FT4 requirements by just adding these systems and that is all that is new with these new PSS engines, you would be wrong. For 2014, the coded EGR, variable geometry turbochargers and common rail fuel system are all new.
As explained by representatives of the 7R development team, Ryan Hough, Jarrod McGinnis and Holli Brokaw, there is a "sweet spot" for reducing NOx. Engineers can take a path solely focused on fuel consumption and worry about NOx down the line, but then after treatment burns more DEF (Diesel Exhaust Fluid). John Deere has taken a position that FT4 requirements will be met with total fuel (diesel + DEF) consumption remaining the same or actually decreasing. In the case of the 7R series tractors, internal testing shows total fuel consumption has decreased about 2% over the previous generation tractors. And when ordered with the e23 transmission (more about this option below) total savings rockets to about 6% over an IVT (infinitely variable transmission) equipped tractor.
VIEW: 2014 John Deere New Product Intro
John Deere has also paid attention to DEF usage calculations, with the goal that it be simple for the farmer to calculate and to accordingly plan purchases. For 6.8L engines the DEF usage is 0.1 gallons per hour. For 9.0L engines that number is 0.2 and for 13.5L engines that number is 0.3. This means a 9.0L 7290R owner would know that over a 100-hour operating period, 20 gallons of DEF would be needed. 7R tractors come with 6.8-gallon DEF storage tanks.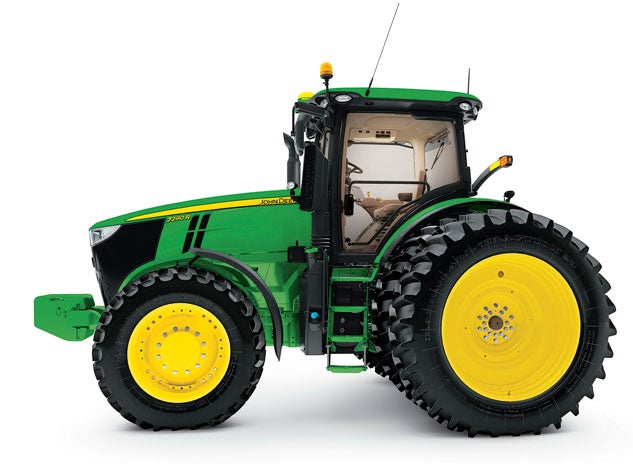 A last note on FT4 systems; the exhaust filter used – essentially a filter used to trap fuel that did not burn during the combustion cycle – is designed to last the life of the tractor. The DOC system requires no regular maintenance, but the DPF system that collects residual ash will require professional servicing. EPA recommendations are that this be done every 4500-5000 hours, but John Deere suggests a 15,000-hour service interval may be achieved.
On 7R PSS engines there are three filter cleaning cycles: Passive, Active and Parked. The first two occur seamlessly to the operator but the Parked cycle requires the tractor to be parked while activated. Fortunately, the Parked cycle should only activate when the automatic (Passive and Active) cycles have been disabled for long periods of time. Filter cleaning intervals are determined though prescribed time estimates, DOC/DPF sensors and particulate buildup based on load conditions. Sounds complicated – and it is – but EPA regulations mandate that at some point you will need to get used to it.
Big news for the 7R series is the availability of the new e23 power shift transmission. The e23 has 23 equally-spaced forward and 11 reverse gears. With the advantages of an IVT, the smoothness and simplicity of a power shift, and a standard system that optimizes fluid economy during field operations and transport, this is sure to be a popular choice when ordering. E23 transmissions come with three modes: a manual mode that is gear centric, a full auto mode that is speed centric (i.e. set ground speed) and a custom mode that is also speed centric. E23 transmissions also allow two different operator selectable engine speed settings. These defaults can be for field settings and then transport, or a variety of programmable needs. Transport speed (26/31 MPH depending on selected option) is reached in gear 20. Heavy tillage can be accomplished at an engine RPM as low as 900. A left hand power reverser stalk is standard, but our test tractor had the right hand control integrated in the CommandARM console (more on the controls and electronics later).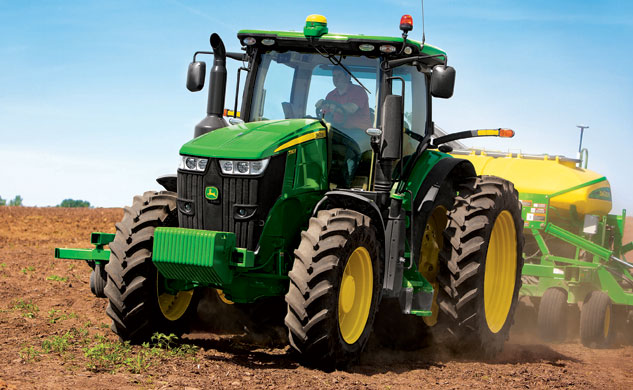 Our 7290R test tractor came fully optioned. Beginning with the CommandView III cab that was nearly whisper quiet and operator controls integrated in the redesigned CommandARM center, the technology list was long and impressive. We found the new cab to be roomy, with plenty of room for two. It was eerily quiet due to design improvements that include the use of a laminated front windshield, outfitted with comfortable leather clad seats (the driver's swivels 40 degrees right for better visibility over three-point hitch (3PH) and behind the tractor operations). A thumbs up goes to the in-cab refrigerator option that is sure to be appreciated during a long day in the field.
COMPARISON: Read our review of the John Deere 6125R Cab Tractor
Electronics available today are mind-boggling and John Deere is right on top of this revolution. But is all this technology needed, or is it just a gadget trend? At a new product breakaway session, guest speaker Dr. John Fulton, associate professor/extension specialist of the Biosystems Engineering Department at Auburn University, postured that the days of a farmer "making it" without the collection of, and then application of data, are numbered. Dr. Fulton pointed out that though data has been harvested for 20+ years, it has remained onboard the tractor for as long. To bring success to 21st century farming, where it is projected that production will need to doubled by the year 2050, integration of data followed by the application of that data into field decisions is what is going to be required. The thinking is such that to achieve those productivity gain needs, researchers need to focus on the individual corn plant.
Questions being asked include: How accurately can it be planted/oriented? What are the defining attributes of leaf, ear, stalk, tassel, and root mass? How do the various growing conditions such crop, soil, weather, and irrigation in a specific area of the field determine crop success?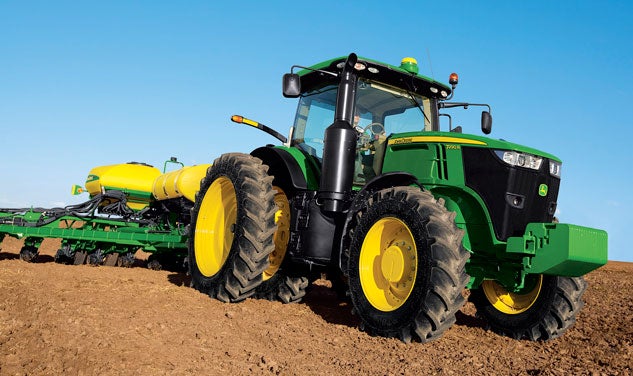 With data calculated requiring as much as .5KB per corn per year and a 2GB thumb drive needed for 2260 acres, the need for centralized data management is a necessity. Dr. Fulton mentioned turn compensation as an example, a technology now being used during the important stage of planting where curves and varying topography complications are compensated for. Currently these systems reduce missed or overseeded areas by non-turn compensated machinery from 8-20% down to 3%. No one is sure what farm equipment 10 years down the road will employ, but bringing the data collection down to the level of the individual corn plant will drive manufacturers to develop new technologies to aid what is discovered. Technology and management of data are the keys to 21st century farming success.
As mentioned, our test 7290R was fully loaded, including systems such as FarmSight, an integrated link of equipment, technology and the John Deere dealer (including capability for off-site dealer diagnostics); AutoTrac, universal guidance that reduces overlap, allows higher operating speeds and can even compensate for curved passes plus get hired operators up to speed more quickly; and the implementation of MyJohnDeere.com, which Intelligent Solutions Group members, Kathy Michael and Chris Batdorf, described as an international airport. Cloud-based, MyJohnDeere utilizes aps to interface with your smart phone and brings all the technology full circle so the gathering, transfer, management, sharing, and protection of your data is fully integrated.
Climbing up and getting behind the wheel of the 7290R was, even to Tractor.com testers, a little intimidating. Fortunately, a John Deere representative walked us through all the technology until we were at home. And home is what the cab environment felt like. Incorporated in the CommandARM that moves (swivels) in unison with the operator seat, are intuitive controls over major functions such as throttle, AUTOTrac resume, transmission speed and direction, SCVs (selective control valves), PTO and 3PH are made all the more graphic by the 10" 4600 LCD touch-screen display.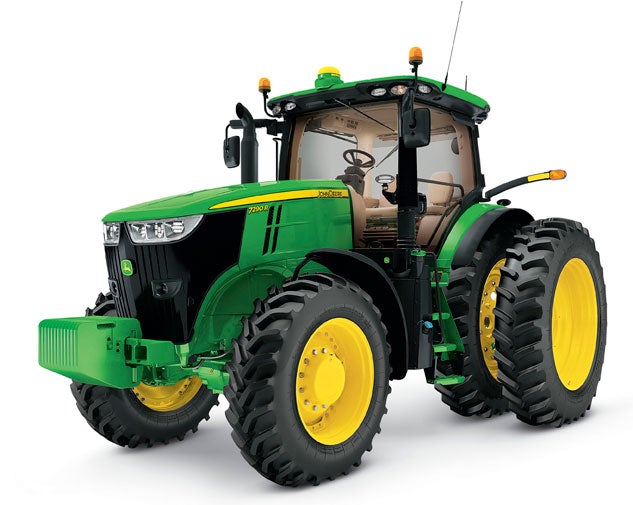 Maneuvering the 7290R into the ride and drive test field struck us with a sense of engineering achievement. The ride was comfortable on a less than perfect track, the tractor remained quiet, even at PTO speed, and the Active Command Steering (ACS) anticipated those fore/aft changes and reacted for a smooth ride. Steering input was two-finger sensitive and we immediately got the feeling hours behind the wheel could be something looked forward to. The CommandARM throttle control worked intuitively, even while cruise was engaged, and required less than full attention to control the spacing between our tractor and the one in front.
COMPARISON: Read our review of the Case IH Farmall 120A Open Station
We especially liked the digital readout located in the right cornerpost upright. Graphical readings for fuel level, engine temperature, oil pressure, engine speed, gear and range selection, and ground speed were just a glance away.
Pricing at the time of this review had not been finalized. The outgoing 7280R that the 7290R replaces came with a MSRP of $238,075 and could easily be optioned to over $300K. We can't imagine the 7290R with its mandated FT4 fixes coming in anything but a higher price, but it will be interesting to see what that is when final pricing becomes available.
If you are a farmer or rancher with the need to maximize the output from every acre of your operation, tractors such as the 7R series with their built-in efficiencies and integrated electronics should be of high interest. If so, keep your eye out as these machines will soon begin to hit dealer stocks.
Buyers Guides
Our Partners