2014 John Deere X758 4WD Signature Tractor Review
The ultimate heavy-duty lawn and garden tractor goes Tier IV
By Geof Fowler, Photography by John Deere, Jun 06, 2014
The John Deere X series, built in Horicon, Wis. and field tested at the 400-acre Swan Road "farm" (more on this later) seemingly has a tractor for every homeowner need and budget. Beginning with the six model X300 series where innovations such as rear discharge mowing decks, four-wheel steering, power steering, and hydraulic lift can be had, and through the four model X500 series where even heavier duty transmissions and liquid cooling (depending on model) become available, X series tractors cover all the bases. But if you are looking for the "ultimate" heavy-duty lawn and garden tractor, the X700 series is where it's at.
The X700 series consists of three two-wheel drive models (X710, X730 and X750), three four-wheel steer models (X734, X739 and X754), and two four-wheel drive models (X738 and X758). Power is delivered by a carbureted 22 HP liquid cooled V-Twin (X710), 25.5 HP EFI liquid cooled V-Twins (X730, X734, X738 and X739), or 24 HP three-cylinder liquid cooled diesels (X738 and X758). For the ultimate in maneuverability and traction, the X739 comes with both four-wheel steering and four-wheel drive. But alas, to keep the tractor below the weight limit where a ROPS is required, the X739 does not include a diesel option. Too bad, that would really be the ultimate tractor.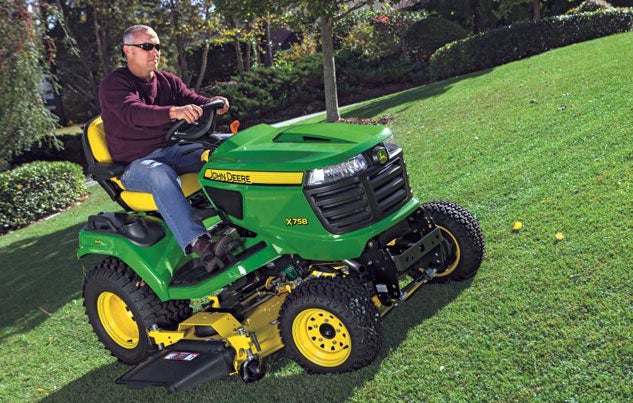 The test tractor Farmington Valley Equipment in Farmington, Conn. made available to us to review is the diesel powered X758. The X758 is EPA Final Tier 4 (FT4) compliant, and by keeping it below the 25 HP cutoff, able to meet those stringent requirements without the need for complex, cost-increasing electronics. Manufactured by Yanmar, the 3TNM74 powerplant displaces 60.6 ci and utilizes indirect injection. Engine output is sent via shaft to a single-range hydrostatic transmission, properly cooled by a transmission cooler and not a fragile plastic fan, and modulated by a twin side-by-side pedal arrangement that is among the best in the business. The pedal arrangement offers fine and infinite modulation over the entire 0-8.5 mph forward and 0-6 mph reverse speed ranges. An 8cc pump powers the power steering, implement lift, and front wheel drive hydraulic motors.
COMPARISON: Read our review of the John Deere X739 Signature Series
And it is that 4WD system that is at once class-leading and yet controversial. While purists might bemoan the fact that the system cannot be engaged or disengaged, but rather is on the moment the key switch is twisted to run, the truth is that the John Deere full-time 4WD system works so well you don't even know it is on until you hit that traction deficient condition. The system automatically adjusts the speed of each front wheel while turning allowing the outside wheel to turn faster and not damage turf. The turning radius of the X758 is 25", which is the same as on two-wheel drive models, and with a 60" mid-mount mower (MMM) deck, the uncut circle left is 28".
Climb up into the tractor (John Deere marketing likes boast that an X700 owner climbs into and not onto their tractors) and the operator is treated to a substantial, comfortable and ergonomically engineered layout. The seat, which is a 21" tall high-back design, is cushy with full suspension, has 7" of fore/aft travel, and reclines for near living room comfort. The dashboard is backlit and reminiscent of the ones used in your automobiles and is readable in direct sunlight as well as at night. Control knobs and levers are color coded and there is a tool box/tray on the right fender along with a universal cup holder and 12V outlet. John Deere engineers have even thought of a wire recess so your iPhone can be inside the tray protected from the elements while it charges. As expected in an "ultimate" tractor, the steering wheel tilts for operator comfort, and cruise control is standard fare.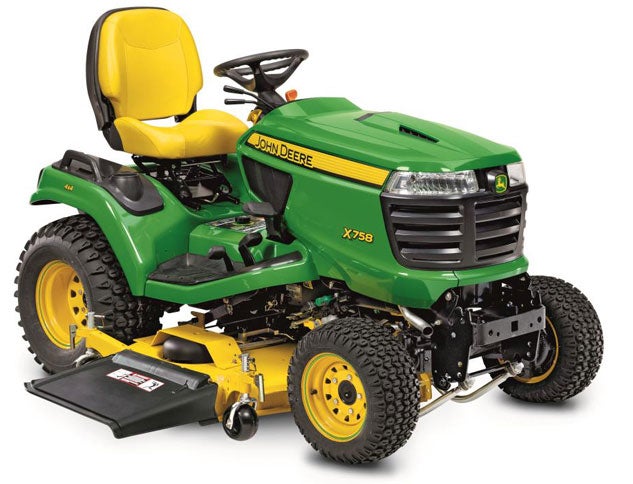 Starting the Yanmar powerplant (a glow plug indicator on the dash lets the operator know when) is a smokeless affair, with the 3TNM74 settling into a quiet 80 dBA idle. Our test tractor had not yet been equipped with a mid-mount mower (MMM) deck, but prospective purchasers can choose between the 48" Edge Xtra, or the 54" or 60" high-capacity models, which are a little lighter than the acclaimed seven-iron decks (to stay below ROPS weight requirements) but are basically the same with nine-gauge material used instead of seven-gauge. High-capacity decks remain 5.5" deep and come with 1" cold forged spindles. A washout port is included, but we remain skeptical about pouring water on metallic components – regardless of current widespread use. Decks are drive over for easy installation and can be optionally equipped with an auto-connect feature that makes installing or removing the MMM simple and fast. And unlike the auto-connect feature on 1-series tractors, the auto-connect does not have to be removed to swap over to a front blower or rotary broom.
COMPARISON: Read our review of the New Holland Boomer 25 HST
Other niceties include bright 37W halogen headlamps incorporated into sleek, modern lenses, back up lights that can double as work lamps, new one-piece hood design that keeps debris from the engine and allows the use of an easy slide out filter, front receiver hitch, mechanical auto-bleed system, internal wet disc brakes, and differential lock. Options a prospective purchaser might consider are the Cat-0 or Cat-I three point hitch (3PH) and 540 RPM rear power take off (PTO). That brings us to the one feature we least like to see. John Deere calls it RIO, or reverse implement option. In the X758, this means either pulling up on the PTO knob to continue to mow (or blow or sweep) while backing up, or depressing a left-side RIO button. While we understand the horrors of backing up while mowing without looking rearward, pressing a button doesn't guarantee the operator will do anything more than look at the dash where the RIO controls are positioned.
As John Deere celebrates over 50 years in the lawn and garden marketplace, prospective purchasers can also celebrate the testing that goes into product development. At the Swan Road "Farm" tractors are punished, mowing 18 hours a day in grass depths as deep as 24". Tractors are tested to start at -20F and continue to run and perform at 140F. It's one of the reasons John Deere can offer a four-year, 700 hour bumper-to-bumper warranty.
The X754 weighs 1038 lbs (without MMM) and measures 75" L x 51.2" H and rides on a 55.7" wheelbase. Heavy duty all-purpose (HDAP) tires are standard and come in 8x8.5-10 front and 26x12-12 rear sizes. MSRP for the X754 base model (48" MMM) is $13,399.
COMPARISON: Read our review of the Craftsman CTX 9500
If one is in the market for the "ultimate" heavy-duty lawn and garden tractor, the X754 has to be on the short, short list. If you're in the vicinity of Farmington, Conn., you can't go wrong visiting with the friendly, knowledgeable folks at Farmington Valley Equipment. And if an X758 should show up in your garage or shed, whenever it's taken out, you can be sure that you'll be the envy of your neighborhood.
Buyers Guides
Our Partners