2017 John Deere 5075E 4WD Open Station Review
Capable economy utility tractor with many deluxe features
By Geof Fowler, Photography by John Deere, Jan 06, 2017
The John Deere 5E series consists of six tractors, four sharing three-cylinder PowerTech 3029, and two sharing four-cylinder PowerTech 4045 engines. Horsepower for the series ranges from 50 to 100, while power take-off (PTO) ratings are from 37 to 85. Three-cylinder models share one frame size while four-cylinder are just a little larger. We chose the most powerful small frame model, the 5075E, for this review.

The four three-cylinder models, 5045, 5055, 5065, and 5075E, all share the same basic 2.9L/179 cubic inch engines and are turbocharged, delivering 50, 59, 67 and 73 gross horsepower, respectively. Why John Deere didn't go with the 5050, 5059, 5067 and 5073E model numbering we aren't sure, but model numbering these days can sometimes leave one scratching their heads. Regardless, these engines are EPA Final Tier 4 (FT4) compliant through a diesel oxidization catalyst (DOC) and diesel particulate filter (DPF) system. Additions of a diesel exhaust fluid (DEF) are not required, saving the need for that second fluid to be on hand. As with any DPF system, over time particulates will build up and a regenerative cycle to burn off the accumulation is required. With the regen switch in the automatic position, no operator input is required to initiate the burn off cycle, nor is tractor operation hindered in any way. The function of the switch is to postpone cycling when the tractor is in a confined space or during servicing. Output for the 5075E is 73 gross and 57 PTO horsepower with 182.6 lb-ft of torque available at 2100 rpm.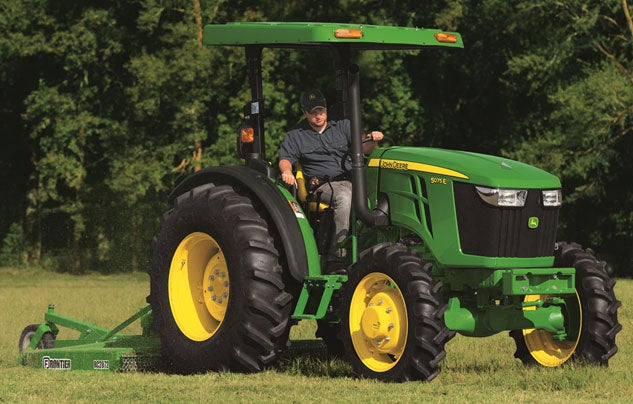 Standard transmission is a 9F x 3R synchro shuttle, with three gears over three ranges. Our test tractor was outfitted with the optional 12F x 12R PowrReverser transmission, which has four gears over three ranges. Directional changes with this transmission are accomplished using a left hand turn signal-like stalk located just below the steering wheel rim and do not require the use of the clutch. The four gears are arranged in a "H" pattern and are synchronized for on-the-go shifting. The ranges, A, B and C, are not synchronized and therefore require the tractor to be stopped before making a range change. The transmission itself uses constant-mesh, helical gears which are quieter, tough, and highly reliable. An added plus is the positive pawl park, which eliminates the need for a hand brake and prevents clutch damage and subsequent repair caused by leaving a park brake accidently engaged. Output from the transmission is sent to a heavy duty rear axle with inboard planetary drives.
COMPARISON: Read our review of the 2016 Kioti NX4510
Hydraulics run through an open-center system using two pumps, one supplying power to the power steering system and flowing 6.8 gpm at 1958 psi, and the second providing power to the implement system and flowing 11.4 gpm at 2828 psi (18.2 gpm total). The output is generous enough to power hydraulic motors and comes standard with a single rear spool-type selective control valve (SCV), with the option of adding a second. For operation of a front-end loader (FEL), up to two SCVs controlled by a joystick are optional. Open station tractors don't get the nice pistol grip handle found in cab models, but instead come with a ball handle that is still perfectly ergonomic. Both cab and open station models have the joystick mounted to a "canister" that is located between the operator's knee and right fender. While not quite as nice as the joystick incorporation into the fender cowl as found on 5M "deluxe" tractors, the design and placement is ergonomically friendly and nicer than on tractors where the joystick is mounted atop the loader stanchion.
Three-point hitch (3PH) lift capacity is 3192 lbs at the industry standard of 24" behind ball ends. Cat II configuration is standard, but is convertible to Cat I. For ease of attachment, the lower link ends telescope while the stabilizer chains/turnbuckles are located outboard of the link arms. A sway bar option is also available. Position and draft control are both standard, the former allowing an operator to return the 3PH to a selectable position time after time, while the later senses load to the top link and raises or lowers the hitch to maintain a constant engine load. The position control has 3/8" precision while the draft sensing top link has three positions for added versatility.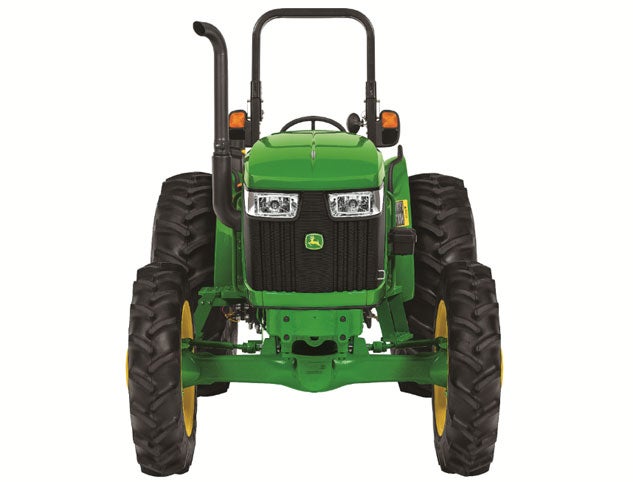 A 540 rpm rear PTO is standard, with rated power coming at 2100 rpm. Select the 12F x 12R PowrReverser transmission and a 540E (economy) mode is an added plus. While selected, 540E drops the engine rpm to 1600, while still maintaining 540 rpm at the PTO. Fuel consumption is reduced up to 30% while in this mode. The PTO is electrohydraulic and actuated by a push-pull switch found in the fender console also housing the cup holder.
Climb up into the operator platform via steps provided on both sides and you will find a flat floor with control pedals suspended for maximum foot space, a comfortable vinyl seat with operator weight adjustment from 130 to 300 lbs (an air-ride seat is only available on four-cylinder models) and a retractable seatbelt, ergonomically-placed controls and a nice dash panel that includes an LCD center readout. John Deere calls the placement of the operator seat part of a straddle mount operator station. The design allows the seat to be positioned further forward and lower for better ride and visibility.
COMPARISON: Read our review of the 2016 Kubota L47 TLB
Firing up the powerplant resulted in a quiet, smokeless idle. Our handy dBA meter went on the fritz so we weren't able to verify sound levels, but our testers all felt the quietness and minimized vibration was on par with any leading 73-horsepower FT4 tractor on the market. All 12F x 12R equipped 5E tractors are 4WD, and while engaged reminds the operator with a green indicator light on the dash. The 5075E has a 55-degree axle for surprisingly tight turns—10.2' with brakes applied/11.5' without – with up to 10 degrees of axle oscillation for those really uneven field conditions. John Deere calls its 5E tractors balanced and nimble with high horsepower to weight rations, and we would not disagree.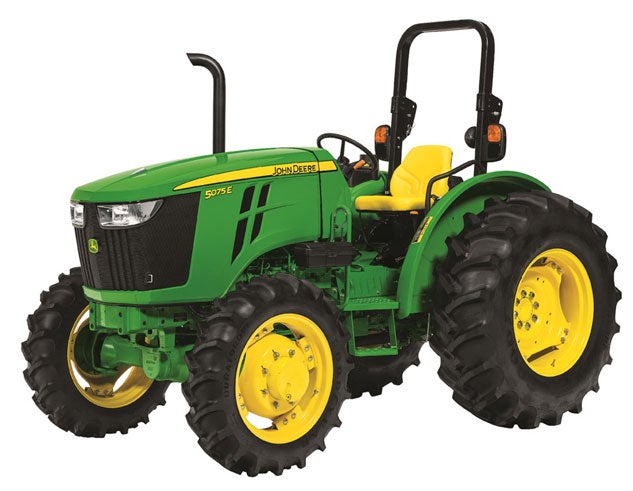 Ease of maintenance is also built into the 5E design. The hood is one-piece and tilts high for easy access, the combi-hydraulic oil cooler swings out for cleaning, the engine coolant tank is a see-through design for easy visual level checks, the engine oil and filter has a 250-hour service interval (300 hours if Torq-Guard Supreme Plus 50 oil is used), and the hydraulic oil reservoir (18-gallons) can be checked/filled from the rear of the tractor.
COMPARISON: Read our review of the 2016 Massey Ferguson 4710
There are four compatible loader options, the 512NSL (non-self-leveling) which can lift 2453 lbs to a max height of 113", the H240MSL (mechanical self-leveling) which can lift 2580 lbs to a max height of 132", the H240NSL which can lift 3523 lbs to a max height of 132", and the H260NSL which can lift 3754 lbs to a max height of 137".
Our 5075E was so well equipped that we came up with just a few option boxes we might check off if we were considering a purchase: the field install horizontal exhaust, the cold weather 120V heater with screw-in element, and the single rear 37.5W halogen ROPS mounted work light.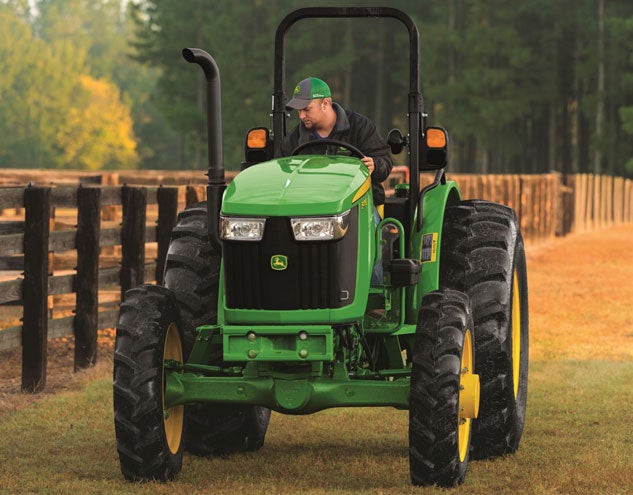 The 5732-pound 5075E measures 137.8" long by 57.3" wide and is 66.9" to the top of the hood. Height to the top of the upright ROPS is 98.4" and when folded down is 78.5". Front axle clearance is 13.4". Rubber on our 4WD 5075E was 9.5-24 R1 front and 16.9-28 R1 rear. John Deere approves biodiesel up to B20 as long as the mix meets ASTM D7467 standards and is used in conjunction with an approved conditioner. Warranty is three years/3000 hours bumper-to-bumper and five years powertrain. MSRP for a 5075E begins at $27,203 with our as-tested tractor having another $10K in upgrades (12F x 12R transmission, 4WD, dual front SCVs, 16.9-28 front tires).
For an agribusiness in the market for capable utility tractor that is easy on the checkbook and comes with enough features identifiable to "deluxe" tractors, the 5075E would be well worth checking out.
Buyers Guides
Our Partners