2016 Kioti NX4510 Review
Kioti's high end utility tractor
By Geof Fowler, Jul 13, 2016
The Kioti NX series is comprised of four deluxe models based on the same sized platform and ranging from 45 to 60 horsepower. NX models are available in cab or open station configuration and with choice of a 24 x 24 synchro shuttle or hydrostatic transmission. In the past, and especially for those not familiar with the Kioti lineup, the series designations used could be confusing (CS, CK, CK10, DS, DK, DK10, NX, RX and PX). Today, that lineup has been narrowed down, though we still wondered how different a 45 horsepower NX machine might be when compared to the 45 horsepower DX we tested back in 2012. Thanks to the good folks at Lock Stock & Barrel in Bethany, Conn., who made both an open station NX4510 and a NX4510 cab variant available, we're able to report our findings.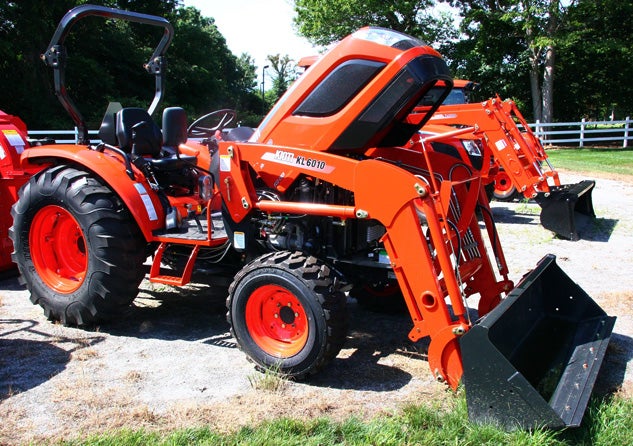 Power for the NX series is by Daedong 3F183T engines that are turbocharged and use common rail injection (CRDI) to achieve EPA Final Tier 4 (FT4) compliance without the need for diesel exhaust fluid (DEF) additions. Displacement across the NX series is 114.4 cubic inches with the three-cylinder engines providing rated horsepower at 2600 rpm. In the case of our test tractors, both of which were equipped with hydrostatic transmissions, the output is 45 gross and 33.9 at the power take-off (PTO). For gear transmission tractors, the PTO output would be slightly higher (37.6) due to the inherent losses common with hydrostatic drives. Onboard fuel is 14.8 gallons with the tank located below the deck level for easy fueling.
COMPARISON: Read our review of the 2016 Mahindra 4540
The hydrostatic transmission used is a three-range unit and controlled by an ergonomically-spaced side-by-side pedal arrangement. The setup offers nice modulation over the 0-16.5 mph travel speed range and is perfect for work with a loader where repetitive directional change is required. Kioti outfits the hydro unit with "linked pedal," which when engaged synchronizes engine rpm to the pedal position. This is an especially nice feature that can save fuel when compared to setting a constant engine speed that may or may not be the most efficient.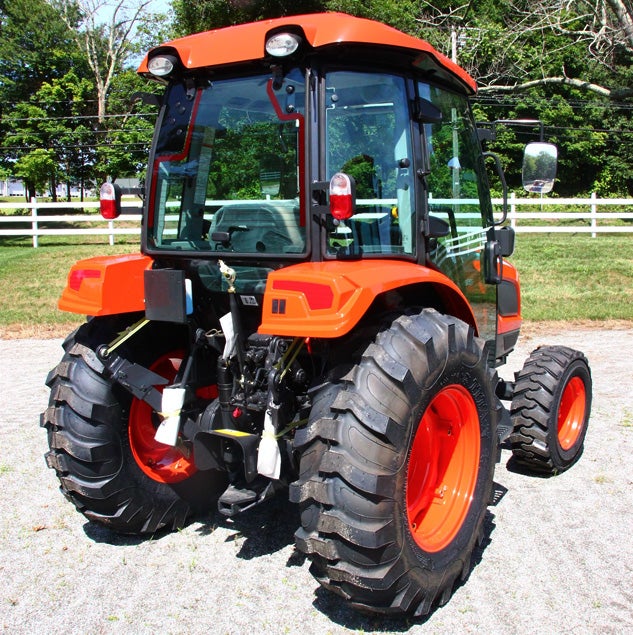 Hydraulic flow is 17.9 gpm, giving the Cat I three-point hitch (3PH) a lift capacity of 3177 lbs at the industry standard of 24" aft of hitch. Position control is standard, as-well-as draft control, the former which allows an operator to repeatedly return implements to a preset height, while the latter varies implement depth according to load. And for added draft sensitivity, there are two upper link arm positions. Lower link arms have telescopic ends for ease of attachment and the outboard stabilizers telescope for quick cinching up of slack. Up to two rear remotes are supported (optional). Another nice feature is the outside rear 3PH lift lever. A 540 rpm hydraulic independent rear PTO is standard (2000 rpm mid optional) and the NX is equipped with Auto PTO, which when engaged will disengage the PTO when the implement is lifted such as during a headland turn and automatically reengage the PTO when the implement is again lowered. An option to consider is Turn Assist, which drops engine rpm by 10% when turning sharply for more precise positioning and improved fuel consumption.
Climb up onto the operator platform (or into the cab), which is flat and rubber isolated, and you'll find a layout roomy for anyone shy of a giant. A deluxe suspension seat is fully adjustable for position and operator weight and includes fold up/down armrests and a retractable seatbelt. As expected in a deluxe tractor, the steering wheel tilts for operator comfort. Control layout between the open station and cab tractors is nearly identical with only small differences, the most notable being the finished fender/arm console controls on cab models (open station models have the controls in-between the fenders and seat) and the switches/controls placed on the right side cab pillar.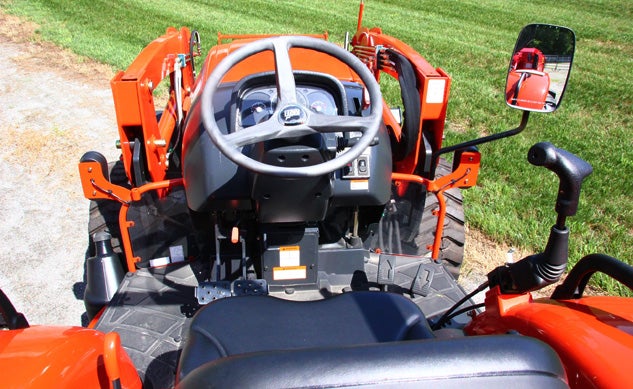 In addition to the abovementioned electronic niceties, the NX comes with two other productivity enhancers: PTO Cruise and No Stall. PTO Cruise is a true speed cruise control, which when selected maintains a precise speed not affected by ground conditions or load. For easy adjustment, there is an automotive-style +/resume, -/set switch. No Stall protects against instant engine stalling while encountering a momentary load spike. No Stall also allows an operator to set a maximum safe speed. And to modulate forward to reverse transition abruptness, there is a sensitivity dial control. When we last tested the DK45, there was a noticeable hesitation going from forward to reverse. Dialing down the sensitivity on the NX, we could duplicate the hesitation, which would be useful in situations such as when carrying a heavy bucket load, or speed it up for tasks such as mowing or snow blowing.
COMPARISON: Read our review of the 2016 Kubota L4701 HST
Firing up the Daedong powerplant results in a quiet, smokeless ~ 1000 rpm idle. We measured 74/80 dBA idle – 85/90 dBA PTO on the open station tractor and 70/75 dBA idle – 80/85 dBA PTO on the cab model. The cab tractor was not yet equipped with a loader, but the open station model was outfitted with Kioti's model KL6010, which can lift 2761 lbs. to a max height of 108.3", has a dump clearance of 82.7", and a dig depth of 8.5". Max breakout force is 3727 lbs. at 2556 psi while drawing 10 gpm from the hydraulic circuit. Kioti matches a 72" bucket with replaceable cutting edge to a standard skid-steer mount. Cycle times at 2600 rpm are 4.5 seconds full lift, 2.8 seconds full lower, 4.1 seconds full dump, and 3.0 seconds full curl.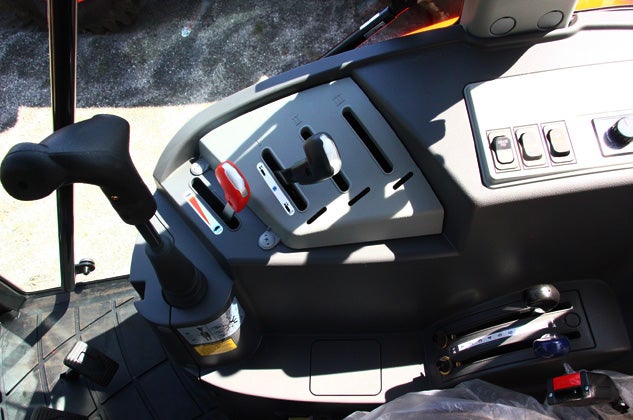 For users requiring a backhoe, a KB2485 is the right match for the NX and can dig to a 94.4" depth, has 136.1" of reach, 180-degree swing arc, 3748 lbs of digging force, 2205 lbs at the dipperstick, and can accept buckets ranging from 9" to 36".
Open station NX4510 models come with a right side mirror, which is sure to save some craning of the neck and should be a standard feature for all manufacturers (our opinion, though some would say it is just something to catch on and rip off), a water-resistant lid to cover the fender control switches, a cupholder that doubles as a cover for the fusebox, a folding ROPS and grab handles on both sides.
COMPARISON: Read our review of the 2015 Branson 4720h Open Station
Cab NX4510 tractors come with side view mirrors (rearview optional), A/C, a front wiper with a two stream washer (rear optional), quarter panel windows that open, a rear opening window, doors that open on both sides and a sun visor.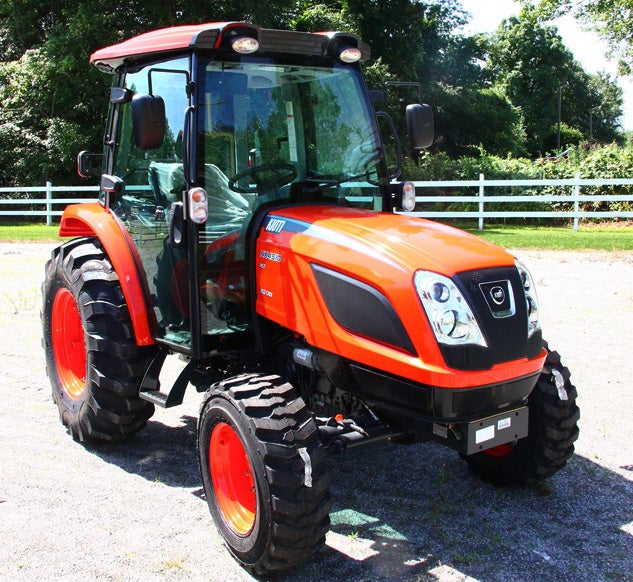 Turn radius for the 4314 lb (cab) – 3989 lb (open station) NX4510 is 9.8' with brakes (split) applied. Measuring 139.6" long by 65.6" wide and 103.1" high (cab) – 94.1" (open station), and riding on a 75.6" wheelbase with 10-16.5 front and 14.9-24 rear industrial (R4) tires, the NX is just a little more (except ground clearance) over the DX: length, width, height, wheelbase, weight and, naturally, dollars.
For an agribusiness in the market for a deluxe 45-horsepower tractor, the Kioti NX4510 would be well worth taking a look at. And, for those in the vicinity of Bethany, Conn., a stop by Lock Stock & Barrel is highly recommended.
Buyers Guides
Our Partners