2015 Branson 4720h Open Station Review
Our maiden voyage in a Branson tractor
By Geof Fowler, Photography by Branson, Mar 13, 2015
At the 2015 National Farm Machinery Show (NFMS) held in Louisville, we were able to spend time with many more manufacturers than in prior years, including several we have had little or no experience with. One of those marquees is Branson Tractor, which we had heard good things about but never found time to review. Thanks to Foskett Equipment in Woodstock, Conn. and Harold Foskett Jr., who founded the business over 38 years ago, for making a Branson 4720h available and ending the drought.
COMPARISON: Read our review of the 2015 Mahindra 2540 Shuttle
Branson Tractor is a division of Kukje Machinery, a South Korean heavy equipment manufacturer that was formed in 1968 as Korea Agricultural Machine Company. In 1978 the name was shortened to Kukje. Since then, Kukje has signed technological agreements with Yanmar, John Deere, Cummins, and Zetor, to name a few. Some readers may be familiar with the Century brand, which was also manufactured and distributed by Kukje. And in 2009, the Branson brand was merged with Montana. Though tracking the genealogy might seem a little challenging, the end result is that many Kukje tractors have been manufactured, supported, and continue to provide capable performance and value. Today, Kukje manufactures tractors ranging from 24 to 80 hp for a variety of agribusinesses, but has developed a special niche with hobby farmers.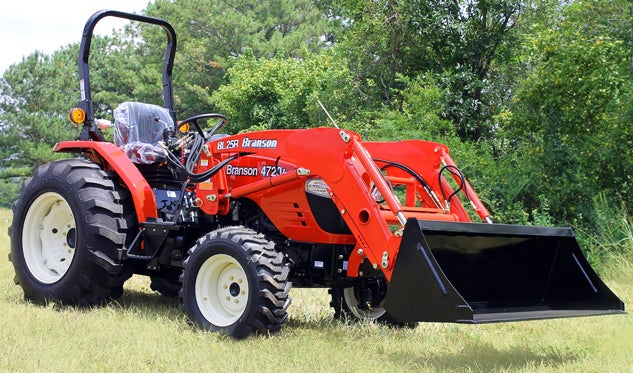 The Branson 20 Series is comprised of five models ranging from the 31 hp 3120 to the 55 hp 5220. In the middle of the series is the 4720h we begin with. Each 4720h is powered by a Kukje/Cummins naturally aspirated A2300N2 four-cylinder stroker diesel displacing 2.3 liters. Gross horsepower is 47 at 2600 rpm, with 42 available at the power take off (PTO). Power is sent to a three-range hydrostatic transmission modulated by a side-by-side twin pedal arrangement that offers excellent modulation over the infinitely variable 0-14.8 mph forward and 0-14.2 mph reverse speed range.
COMPARISON: Read our review of the 2014 Kioti DS3510
Hydraulics run through a twin pump arrangement that flows 4.8 gpm to the hydrostatic power steering system and 8.9 gpm to implement needs (13.7 gpm total). This gives the Cat I three-point hitch (3PH) a lift capacity of 3306 lbs at link ends. Position control is standard, so an implement can be repeatedly returned to an operator selectable position. The rear PTO can operate at 540 and 790 rpm with 540E reached at just 1700 engine rpm. The 790 rpm setting allows an even wider range of rear powered implements to be used. And for ease of attachment, the 3PH lower lift arms telescope as do the outboard stabilizers.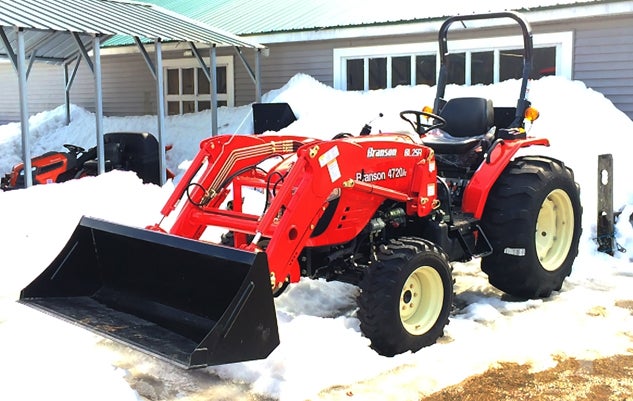 Climb up into the cockpit (there are steps on both sides) and the floor is flat with only a small transmission tunnel and plenty of space for large feet. That spaciousness extends to the room between the fenders. Early 4720h tractors came with the joystick mounted on top of the loader stanchions, but for 2015, the joystick has been nicely integrated into the right fender cowl. The rest of the controls are conveniently laid out, color coded for quick identification, and with a backlit dash that has clear automotive influences. The seat is a comfortable high back model with adjustable suspension. Split brake pedals are located to the left to aid tight highland turns or help work the tractor out of sloppy, muddy conditions. Other niceties include plexiglass splash panels protecting operator feet from the elements, molded cup holders located on the left fender top, and tilt steering wheel.
COMPARISON: Read our review of the 2014 John Deere 4052R Open Station
Branson matches the 4720h to its BL25R loader, which offers a 2,100 lb lift capacity to a max height of 103.8 in. Dump clearance is 79", so most trailers and pickup beds will be well within reach. The system operating at 2,489 psi. has a breakout force rating of 3,531 lbs. A 67 in., 9.18-cubic-foot (struck) skid-steer compatible bucket comes standard with the entire system quick connect/disconnect with built in park stands.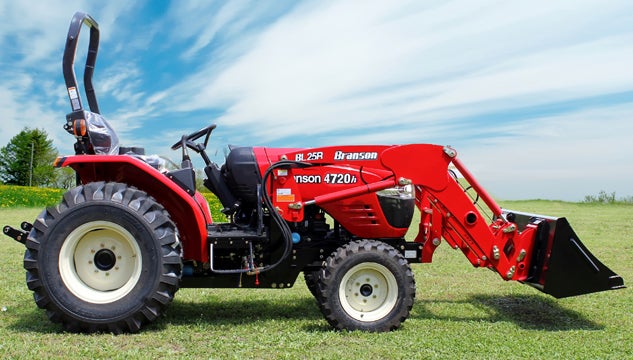 For owners requiring a backhoe, the model BH860 is the choice. This is a subframe-mount backhoe for stability and strength that offers a 103.2 in. dig depth and 134.4 in. of reach. Swing arc is a full 180 degrees with the backhoe hydraulics operating at 2346 psi. Dig force at the bucket cylinder is 4435 lbs and at the dipperstick is 2,694 lbs.
The base 4720h weighs 4,118 lbs and comes with 10 x16.5 front R4 (Industrial) and 420/70-24 rear R4 tires (R1 Ag and R3 turf options are available) riding on a 71-inch wheelbase. Overall length of the tractor is 130 in. x 64-72 in. wide. There is 12.7 in. of ground clearance and height to the top of the foldable ROPS is 98 in.
Branson warrants the 4720h bumper-to-bumper for two years with extended engine and drivetrain coverage to four years/2000 hours. The test tractor Foskett Equipment made available to Tractor.com is listed for sale at $22,100. That should have anyone in the market for a 47 hp tractor and loader taking notice; something the competition should be doing as well.
Buyers Guides
Our Partners