2015 Mahindra 2540 Shuttle Review
Mahindra's newest Compact Utility tractor
By Geof Fowler, Photography by Geof Fowler & Mahindra, Feb 04, 2015
While on a field trip to get acquainted with the new factory Max Series cabs from Mahindra, we noticed a 2540 model that was complete news to the Tractor.com staff. A quick internet search then yielded nothing, which was odd as the Mahindra folks are marketing pros and miss few opportunities to promote their products, especially new ones.
Looking closer, the 2540 appeared to occupy a similar footprint to the 4010, which the good folks at Ellington Agway in Ellington, CT confirmed was indeed based on that tractor. Longtime Tractor.com readers will recall the 4010 we tested back in 2012 when the new 10 series was introduced. That test tractor was HST model, so we were all the more interested to find out how a shuttle transmission variant might perform and what else might be new.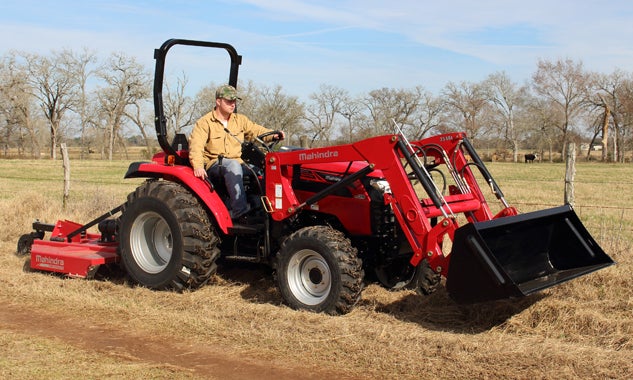 In the few weeks since that day, the Mahindra website has been updated to include the 2540. The linked spec sheet does take the viewer to a 10 Series PDF, but there is plenty of new material on the webpage that is supported by our own observations.
COMPARISON: Read our review of the 2014 John Deere 4052R Open Station
The 2540, much the same as the 4010, is manufactured by TYM in South Korea to Mahindra specifications. But whereas the 4010 was powered by a three-cylinder, 111.4 cubic inch Daedong, the 2540 gets a four-cylinder, 166.7 cubic inch Mahindra mCRD engine that is EPA Final Tier IV (FT4) compliant. Gross horsepower output goes up by two to 40 with 35 hp at the power take off (PTO). As common with Tier IV technology, the new engine is also markedly quieter. A neat tidbit about Mahindra's path to FT4 compliance is that no diesel particulate filter (DPF) is required. This is true for the entire Mahindra horsepower range, up to and including the new mForce 105, which we soon hope to test. Also to be appreciated is that 2540 owners will get to forego the added inconvenience of having to have diesel exhaust fluid (DEF) on hand. This again is true across the Mahindra horsepower range, with the exception of the mForce 105 which uses a Doosan engine and will require DEF additions.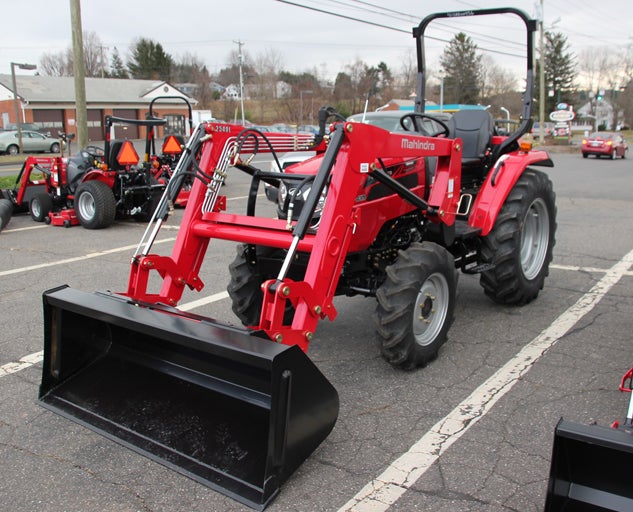 Power from the Mahindra mill is sent to a 12F x 12R constant mesh mechanical shuttle transmission. The prior generation 4010 when equipped with a gear transmission was a 9F x 3R with no shuttle, so this is a huge improvement. For the new transmission, engagement, shifting between gears, and between forward and reverse all require the operator to depress the clutch pedal first. The good news is the left hand turn stalk-like lever makes directional change a fingertip (and left foot) snap. Max forward speed with the new transmission is significantly higher and is now 20.3 mph.
COMPARISON: Read our review of the 2012 Mahindra 4010 4WD HST
Hydraulics run through an open center twin pump arrangement flowing 8.2 gpm to implement requirements and 4.5 gpm to power steering needs (12.7 gpm total). This gives the Cat I three-point hitch (3PH) a lift capacity of 2646 lbs. (Mahindra rating comes at the lower link arm attaching pin point). Position control is standard fare, so an implement can be returned to a pre-settable position time after time, but you'll have to move up to a 2565 to get draft control. Two rear remotes are supported, though that is an option. Lower link arms are fixed with outboard turnbuckle stabilizers.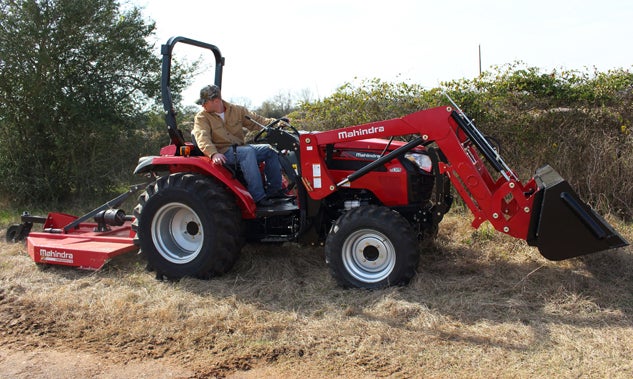 The roomy cockpit is accentuated by a flat floor and features a comfortable high-back suspension seat that is adjustable to compensate for operator weight. We found the control layout ergonomic with generously spaced color coded levers. On the floor there is a clutch pedal to the left, split brakes on the right along with a foot throttle (there is also a hand throttle). The dash panel is a nice two cluster arrangement with a needle tachometer dominating the left and needle fuel and temperature gauges occupying the right. An LCD insert on the upper right lets the operator know things such as engine hours. Finally, the steering wheel tilts for operator comfort.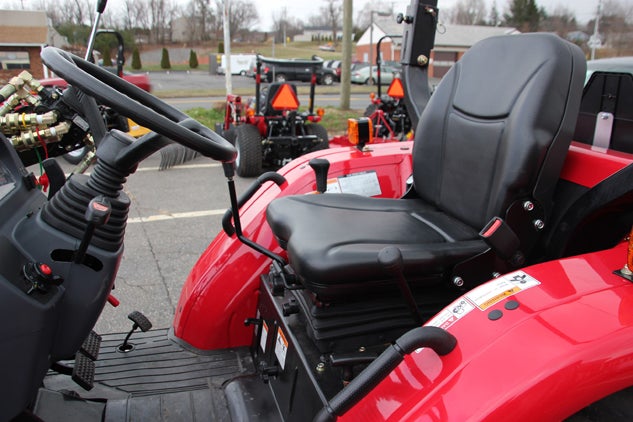 View over the sloping hood (made from steel) is quite good, though the hefty, squarish loader frame impedes vision a bit more than with a curved boom loader. Not surprisingly, that same configuration does limit headlamp extension, though anyone planning serious night use should consider adding available ROPS lighting.
COMPARISON: Read our review of the 2014 Kubota L3800 HST
The loader used for the 2540 is Mahindra's model 2540L, which is a rebadged ML140 or ML141 and a good thing. Lift capacity is 1,971 lbs to a max lift height of 101.9". Dump clearance is 73" so most pickup truck beds would be accessible with this combination. The 2540L comes standard with a 66", 10.8-cubic-foot bucket, which is well matched to the tractor's capability. Full raise can be accomplished in 4.3 seconds, full lower in 3.0 seconds, full dump in 3.5 seconds, and full curl in 2.6 seconds. With 3,611 lbs of breakout force and 4.8 inches of digging depth, this is a combination rearing to do some work.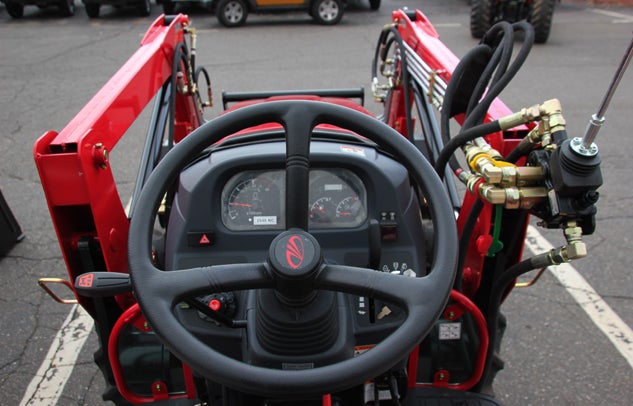 Our test tractor was outfitted with 8.0 x 16 front and 12.4 x 24 Ag (R1) tires, which gave the 2540 a wide, stable, and aggressive platform. For those wishing for a little less turf impact, Industrial (R4) tires are available and come in 10-16.5 front and 43 x 16-20 rear sizes. Turning radius with brakes applied is 7.87'.
The 2540 is backhoe compatible. Currently the literature lists the Mahindra ANHBH76 backhoe as the suggested model, but following the renumbering of Mahindra's product line including the loader, don't be surprised if a new model is in the works, perhaps something like BH2540. The ANHBH76 comes with a 92" dig depth, 112" reach and a swing arc of 180 degrees. Operating at a system pressure of 2,248 psi, bucket digging force is rated at 3,080 lbs with 2,160 lbs of force at the dipperstick.
The 3,524-pound 2540 (tractor only) measures 119.3" long by 59.8" wide and 94.4" to the top of the ROPS, which folds for storage. Aimed squarely at purchasers who might look at a Kubota L3200/L3800 or LS i3040, the 2540 with a MSRP of $22,950 should be considered a worthy contender. Factor in Mahindra's five-year warranty, "Value", "Rock Bottom", and "Cash Back" incentives, and anyone in the market for a capable 40 hp tractor would do well to consider the 2540. For anyone in the vicinity of Ellington, CT, Ellington Agway would be a friendly place to start.
Buyers Guides
Our Partners