2015 Kioti RX7320PCCR Review
This deluxe power shuttle cab tractor impresses
By Geof Fowler, Jun 19, 2015
The Kioti RX lineup of deluxe utility tractors consists of three models ranging from 66 to 73 gross horsepower. When you factor in the open station, cab, synchro shuttle, power shuttle, and power shuttle with creeper variants, that lineup increases threefold.
In February of 2014, we tested a RX7320 with a 12F x 12R transmission and came away impressed. For some applications, though, such as seeding and spraying, the 1 mph minimum forward/reverse speed of that combination would be a little on the quick side. And since a RX7320 cab tractor would be a perfect seeder/planter platform, we wondered how a 24F x 24R creeper-equipped machine would perform. When the good folks at Lock Stock & Barrel in Bethany, Con. made a RX7320PCCR available, we were well on our way to finding out.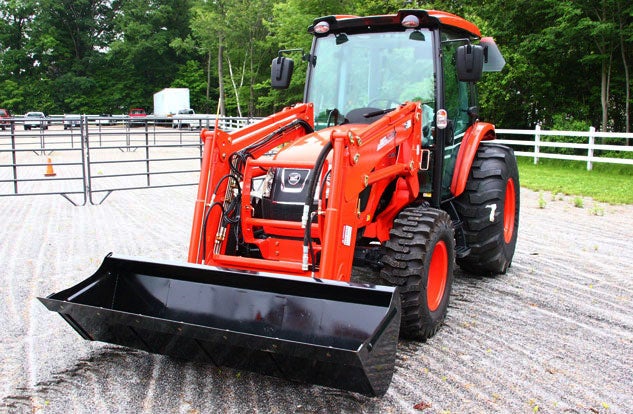 Powering the RX7320PCCR is a Daedong 4F243T 4-cylinder 148.6ci diesel engine that is EPA Final Tier IV (FT4) compliant. Using high pressure common rail diesel injection (CRDI), a catalyzed continuous regenerating trap (CCRT) and engine control unit (ECU), emissions compliance comes without the need for diesel exhaust fluid (DEF) additions. A useful feature that helps save fuel is a Torque Compensation setting, which maintains a consistent level no matter what the load demand is.
COMPARISON: Read our review of the 2014 Kioti RX7320 Power Shuttle Cab
Power from the 4F243T is sent to a 24F x 24R power shuttle transmission. Gear selection is through a left hand shift lever using a traditional H pattern with one and three at the top and two and four at the bottom. Above the gear selection lever and by the operator's hip is a sliding range lever, also arranged in an H with Low, Medium and High ranges to the left and Low, Medium and High creeper ranges to the right. Gear and range selection and engagement requires the use of the left foot clutch pedal, but once the RX7320PCCR is underway, directional change is accomplished without clutching using a turn signal-like stalk positioned at 9:00 just below the steering wheel rim.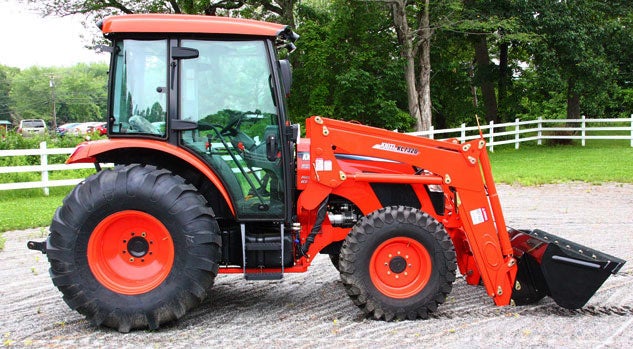 Hydraulics run through a twin gear pump arrangement flowing a total of 19.2 gpm. Using external hydraulic cylinders, the Cat II three-point hitch (3PH) can lift 3,898 lbs measured at the industry standard of 24" aft. For ease of attachment, the lower lift arms telescope, as well as the outboard stabilizers. A single rear remote is standard (our test tractor was equipped with two), but the hydraulic system will accept up to three rear remotes. Also aiding the hookup of attachments is a right link leveling crank, along with a lift/lower lever for the 3PH so an operator can jog the hitch from where the action is taking place until that stubborn implement drops into place. Position control so an implement can be returned to an exact selectable position repeatedly is standard, as well as draft and mixed control, which adjust the amount of implement attack for maximum efficiency.
Swinging around to the front of the tractor, a light tug on a pull pin is all that's required to open the hood with the one-piece cowl rising on its own modulated by a gas strut. Our test tractor was equipped with Kioti's KL7320 loader, which comes with a grill guard that first has to be folded out of the way for clearance. No tools are required to do this, as there are spring-loaded pins. Once the hood is up, maintenance points are easily accessed.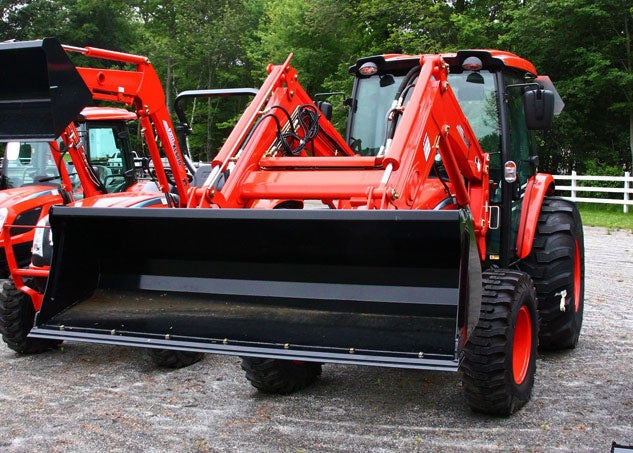 Climb up the twin steps (located on both left and right sides) and the entry doors swing wide with high-end automotive precision – in invitation to enter the spacious cabin. The seat is deluxe all the way, with weight adjustment and plenty of travel. Clutch, split brake pedals and foot throttle (there is also a hand throttle) are all suspended, giving the cockpit plenty of room, as well as making for a good seal against engine/hydraulic noise and the elements. The dash is dominated by a large center tachometer with temperature and fuel gauges to the right and left. Twenty or so indicators cover everything from glow plug cycling to warning when the fuel (25 gallons) is low (a buzzer also sounds).
COMPARISON: Read our review of the 2015 Massey Ferguson 4608
The rest of the controls are well spaced and right at the operator's fingertips. 2WD/4WD is engaged/disengaged by a rocker switch on the right side of the dash, next to the hazard switch and hand throttle. A multi-function switch to the left controls the lights, turn signals and horn. On the console right is the joystick, along with levers for the rear remotes, position, draft and mixed 3PH control. There is also a lever for selecting 540 PTO RPM or 540E RPM for added fuel savings. The right side cab pillar houses rocker switches for outside cab lighting, cruise control, and front and rear wipers (optional), and the yellow power take off (PTO) switch which requires a press of a center button before power can be engaged with a pull. To shut down the PTO, all the operator has to do is tap the button. The left console houses a cup holder and storage tray (also doubles as a fuse/relay box), and there is a 12V outlet on the left side pillar. The rear and side ¼ panel windows also open for ventilation on comfortable spring and fall days.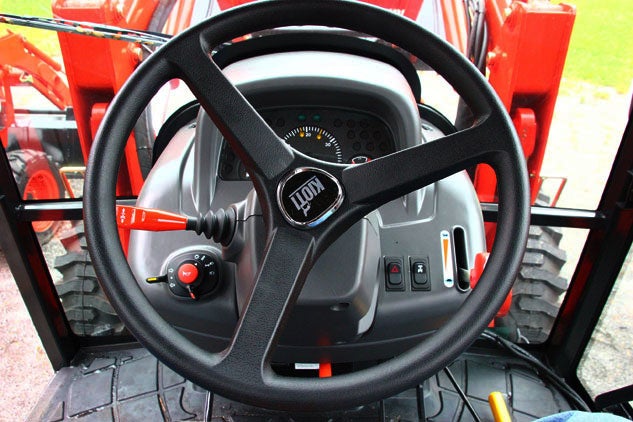 As mentioned above, our test tractor was equipped with Kioti's KL7320 loader, which can lift 3,384 lbs to a max height of 133.9". The KL7320 is a quick attach loader with built in parking stands and comes with a skid-steer compatible bucket attachment system. Mated to an 82", 21.2 cubic foot bucket, we measured cycle times of: 6.3 seconds full raise, 4.2 seconds full lower, 4.7 seconds full dump, and 3.5 seconds full curl. Dump clearance is 102.3" so the KL7320 will clear most pickup beds or trailers. Breakout force is 5,359 lbs and the dig depth is 6.5". A feature sure to be appreciated down the road is the optional reversible/replaceable bucket cutting edge.
COMPARISON: Read our review of the 2014 Mahindra mPower 85P
So how does it all work? Firing up the 4F243T resulted in a 72-75 dBA sound reading at idle with the left side door open. Close the door, and the reading dropped to 62-68 dBA. Heading off to the north forty, the RX7320PCCR drove with the ease of a much smaller tractor. Visibility was quite good; the power shuttle working like a charm with well modulated internal clutching when changing directions no matter what gear or range had been selected. Shifting into the creeper gears opened a whole new range of possibilities. Minimum forward and reverse speeds can be as low as 0.11 mph, perfect for precise metering of liquid and granular materials such as seed, weed control pesticides or fertilizer. Creeper ranges also gear the tractor down to the point where we can't imagine a circumstance where the RX7320PCCR would struggle getting the available 73 horsepower (63 PTO) to the ground.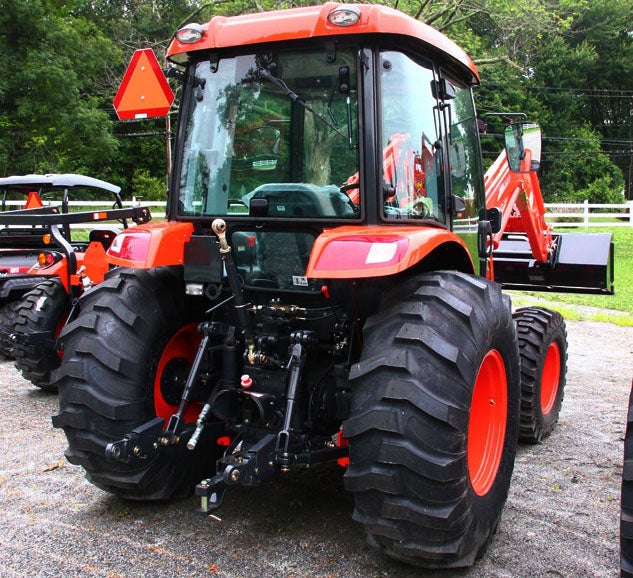 Our 6,162-pound (tractor only) RX7320PCCR measures 146.3" long, by 77.2" wide. Overall height to the top of the cab is 107.5". Rear R4 (Industrial) Titan and front Goodyear tires ride on an 83.9" wheelbase. Minimum turning radius using the brakes is 11.2'. Ground clearance is 17.3". MSRP for the 8,058-pound (tractor, loader and bucket) RX7320PCCR is $50,381. Incentives are available. Kioti Tractor offers a 24-month bumper-to-bumper warranty and extends the powertrain coverage to 48 months.
Anyone in the market for a deluxe 70+ horsepower power shuttle cab tractor with near infinite speed control from 0.11 to 23+ mph would do well to have the Kioti RX7320PCCR on their short list. For those in the vicinity of Bethany, Con., stop by Lock Stock & Barrel and ask for John Kwieraga; you'll find a friendly, knowledgeable, neatly kept and organized dealership that carries an impressive inventory.
Buyers Guides
Our Partners