2014 Kubota M7060 Open Station Review
A 70-horsepower deluxe utility tractor
By Geof Fowler, Photography by Kubota, Sep 19, 2013
We first laid eyes on Kubota's new M60 models at February's National Farm Machinery Show in Louisville, Ky. and were eager to test one out. Fortunately, the good folks at Fleishman Hillard, Kubota's marketing arm, and R & S Rentals and Sales in Torrington, Conn. let us get behind the wheel of a new Kubota M7060.
The M60 series builds on the success of the M40 series tractors with four new models comprising the lineup: the 64 HP M6060, the 71 HP M7060, the 86 HP M8560 and the 100 HP M9960. Not surprising is the addition of new powerplants that achieve final Tier 4 (FT4) emissions compliance (the M8560 and M9960 get Tier 4i designations), at the same time offering more torque at lower RPMs, quieter operation and better fuel efficiency. To meet those new emissions requirements, Kubota has chosen to go with a common rail system (CRS) of direct injection, exhaust gas recirculation (EGR) and a diesel particulate filter (DPF) muffler. This means regenerative cycling of the filter as required and replacement at some point in time.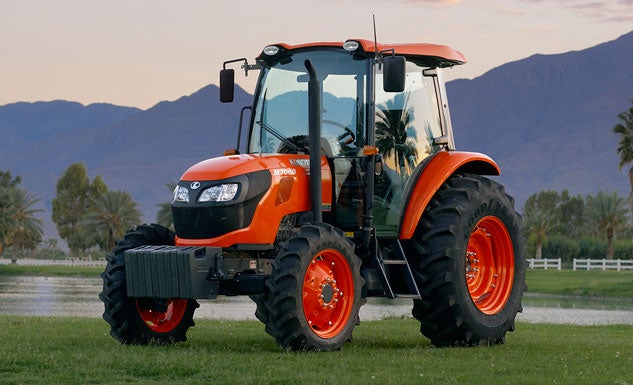 Talking to Tim Ruwet of R & S Rentals and Sales, a family-owned dealership with two locations and over 64 years of experience, we learned that the replacement of the DPF will involve the recycling of the filter but that the hour timeframe is not known. We've heard the EPA recommending 4,000-5,000-hour intervals but other manufacturers suggest the filter life will be more like 15,000 hours. Get used to the uncertainties of the new emissions requirements. One thing is for certain, the new engines carry a price premium and at the same time require dealerships to invest in new equipment to diagnose and service, as well as additional technician training.
COMPARISON: Read our review of the Kubota L45 TLB
M60 tractors come with a choice of three hydraulic shuttle shift transmissions, though only the M9960 can be outfitted with the optional 24F / 24R dual-speed transmission. Standard equipment across the model line is an 8F / 8R transmission with four synchronized gears and two speed ranges. These transmissions can be shifted on-the-fly within the gear set but not between the ranges. Forward/reverse directional changes are controlled by left hand turn signal-like stalk. Select the 12F / 12R transmission on the M7060 (six synchronized gears and two ranges) as our test tractor was so equipped and lots of goodies get added. Beginning with electro-hydraulic 4WD, 12 F / 12R tractors come with H6 rpm control (more on this later), hydraulic wet disc brakes, a transmission lever integrated parking brake, limited slip front differential, 16.2 gpm implement hydraulic flow and a switchable 540/540E power take off (PTO).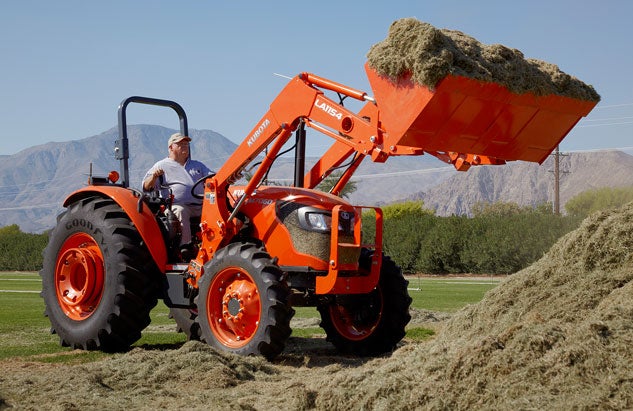 M60 tractors also come with constant rpm engine management. This is an electrically controlled system that frees the operator from having to make constant adjustments to travel speed and throttle. The system works well under most circumstances but does not electrically shift the transmission as on some higher priced row crop machines. Still, the system does even out fluctuations in load and speed and keeps the engine power in the "sweet" spot.
COMPARISON: Read our review of the Massey Ferguson 4608
Climb up into the operator's platform and you'll find the layout simple, efficient and uncluttered. The steering wheel tilts to operator preference and the pedals for the clutch and split brakes are suspended, making for a roomy platform. A foot throttle is also included. Dashboard controls include the shuttle lever, electro hydraulic 2WD/4WD switch, lights and flashers, engine RPM management switch, and touch controls to bring down PTO and engine RPM. The instrument cluster has an analog tachometer to the left and a dual gauge for fuel and temperature to the right. In between is a LCD info center that digitally displays engine hours, ground speed and gear selection. All other controls – the joystick, shift lever, sliding hand throttle, range selector, position and draft controls, rear remote lever (one standard, two more optional) and PTO – are placed ergonomically on the right arm console.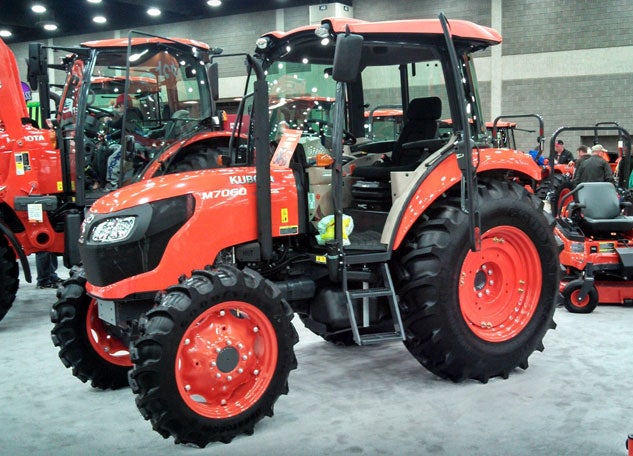 Kubota offers one loader for the M7060, its model LA1154 which our test tractor was equipped with. This is a two-position loader offering a choice of max lift height or max lift capacity. With the pin in max lift height setting, the LA1154 will lift 2,469 lbs (at pivot pin) to a height of 132.7". Dump clearance is 101.5" and dig depth is 5.3". With the pin in max lift capacity setting, the LA1154 will lift 2,928 lbs to a height of 117.2". Dump clearance is 85.5" and dig depth is 4.4". Cycle times are 4.7 seconds ground to full lift, 3.6 seconds full height to ground, 3.0 seconds to curl and 2.8 seconds to dump. Standard bucket size is 72" and the two-lever quick attach system allows easy changeover to pallet forks or a bale spear.
Firing up the engine prompted a quick trip to the car for our dBA meter where the reading only confirmed our gut reaction. At idle the operator sound level read 78.5/81.3, making this one quiet 71 HP tractor. Depress the clutch, move the shifter from park to gear 1, select high range (display shows H1), let the clutch out and nothing happens. Remember, this is a shuttle shift transmission. Pull up the shuttle lever and nudge it forward and the M7060 is off. At idle with gear H1 selected, the M7060 hits 2.6 mph. Slide the throttle forward and H1 exceeds 5 mph. We conclude this is a machine capable of getting a ham-fisted operator or one who is not paying attention into trouble. Top speed in gear H6 is just under 25 mph while limiting engine rpm to a thrifty 1960 rpm.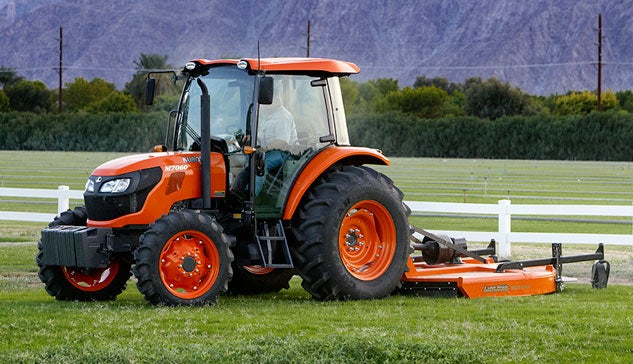 Throttling the M7060 up to 2000 rpm, the dBA meter moves slightly up to 84.2 dBA. For the 10-15% price premium over the previous generation tractor you do get a quieter machine. We wonder if an owner with horses might find the M7060 less disturbing to the herd.
COMPARISON: Read our review of the Mahindra 8560
At the M7060 rear, the Cat II three-point hitch (3PH) is rated to lift 3,370 lbs at the industry standard of 24" and comes with telescopic lower link ends to aid in attaching an implement. Stabilizers are outboard and also telescope for quick adjustment. The lower lift arms, though, do not have the ability to float as on the M8560 and M9960.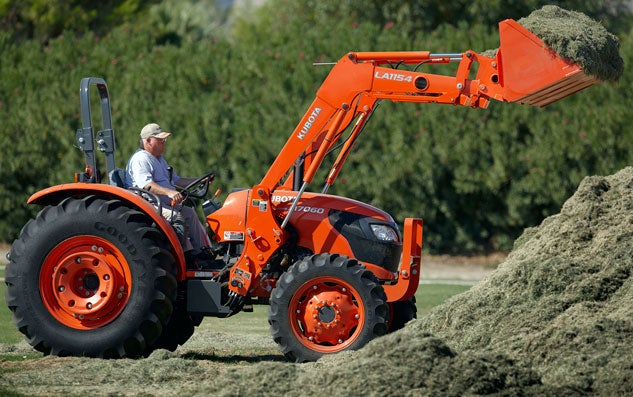 An option worthy of touching on is Kubota's Ultra Grand Cab. Redesigned with more rounded glass and a curved upper windshield both for better airflow and greater visibility, the HVAC system now resides under the operator seat. Standard is a pantograph front wiper/washer, front and rear halogen work lights, outside mirrors, sun visor, cup holder and 12V outlet. Options include a rear wiper/washer, rear defroster, air ride suspension and a radio/CD.
The M7060 measures 138" long and in open station form is 97.2" high to the top of the raised ROPS which can fold to clear low doors or trees. At 73" wide and 5,027 lbs. the M7060 is a substantial piece of machinery. Designated a deluxe utility tractor suitable for raking, disc mowing, handling small round or square balers and other tasks, the Kubota M7060 is worth checking out if you are in the market for a 70-horsepower machine.
Buyers Guides
Our Partners