2012 Mahindra 8560 Cab Tractor Review
Mahindra's flagship tractor can get the job done
By Geof Fowler, Photography by Mahindra & Geof Fowler, Dec 28, 2012
Longtime Tractor.com readers have gotten an appreciation for the Mahindra lineup, where we've reviewed tractors ranging from the
subcompact Max 22
with its compact roots to the
6110 Shuttle Cab
. Mahindra's flagship, the 8560 has been on our short list to test and when we located one at Woodbury Tractor Company in bucolic Litchfield, Conn., this weeks' review became a reality.
The India-made 8560 begins with Mahindra's cast iron chassis, meaning the heavy duty construction of the engine and transmission serve as frame members. This translates into a heavier weight tractor, and as we all know, heavier weight equals more traction and the ability to do more work under challenging conditions. The engine powering the 8560 is a Mahindra 3.3L turbocharged and intercooled direct-injected four-cylinder powerplant that outputs 83 gross horsepower at 2300 rpm. Power take off (PTO) output is rated at 70 horsepower and torque is an impressive 225 ft-lbs, so you know the 8560 has deep power reserves ready to tackle those challenging conditions. Cylinder liners are wet replaceable for extended long-life and for those in cold climates, an air intake cold start aid is built in.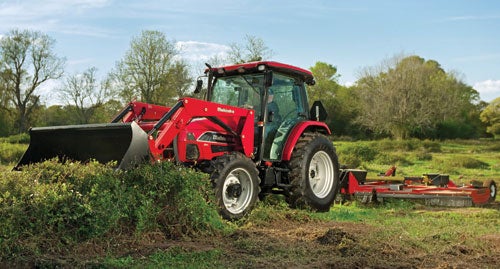 Power is transmitted to the ground by a 12F/12R synchro shuttle transmission actuated by a dual dry clutch with an advanced ceremetallic lining. The 8560 comes with a two-speed fully independent PTO that uses a unique dry reversible shaft for ease of change. 540/1000 PTO rpms are reached at 2186 and 2180 engine rpm respectively. Purchasers will appreciate the selectable PTO, which opens a larger range of available implements such as mowers and balers and the fact that with the wider range comes greater manufacturer price competition.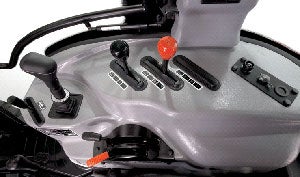 Hydraulics are delivered through an open center full-live system that flows 5.3 gpm to the power steering and 17 gpm to implement needs. This gives the Cat II three-point hitch (3PH) a lift capacity of 5500 lbs. Lower lift arms have telescoping ends and the outboard stabilizer also telescopes for easier implement attachment. Position and draft control are standard and the drawbar is adjustable and swings, giving the operator more choices for implement centering. Two rear remotes are standard and a third is optional with each having detent, float, and kick out – the latter functioning after raise or lower.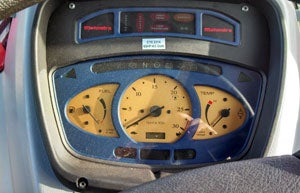 Though an open station version is available, our test tractor was equipped with a cab, which requires an almost 4" increase of wheelbase for the fit. Dual cleated steps allow easy access from both sides with the 21.7-gallon fuel tank under the left step and the battery under the right. The cab's doors open with automotive precision and upon entry, treat the operator to an illuminated cockpit.
Control pedals (foot throttle, split brakes and clutch) are all suspended over the flat rubber-isolated floor. Settling into the deluxe though low-back air suspension cloth seat, adjustable fore and aft and for operator weight and seatback rake, the operator is treated to a near unobstructed 360-degree field of view. The only improvement we'd like to see made would be the better integration of the exhaust stack into the front right cab pillar such as on the Kubota M135X we tested a few weeks ago. Another nit we had heard about was the H-pattern shifter in first or third gear interfering with the operator's right knee while using the foot throttle (a hand throttle is also standard), but this 5'-11" tester found no issue with the shifter placement.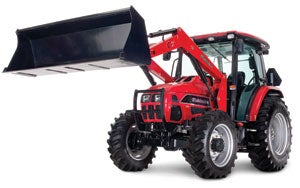 The 8560 windshield has thick laminated glass for insulation from the elements and noise and the glass used in the doors and rear windows is tinted. A nice feature integrated into the 8560 is the slanted window behind the seat that allows the operator to fully see the 3PH, PTO and drawbar. The rear window swings wide for ventilation but the rear quarter windows are stationary, unlike the smaller brother 6110 we tested in October. Other features that a purchaser will appreciate are the folding arm-rests, retractable seatbelt, sun visor, tilt wheel, cup holder, link pin tray, 12V outlet, and if they are a smoker, the ashtray and cigarette lighter.
One feature from the outside, the extra halogen headlamps located in the upper hood that we thought might interfere with lower visibility, did not, and the extra illumination is certain to be appreciated by purchasers, as will be the four forward and two rearward cab lights. We did find the sideview mirrors to be a little on the smallish size...if we were purchasing an 8560 we might look to the aftermarket for an alternative.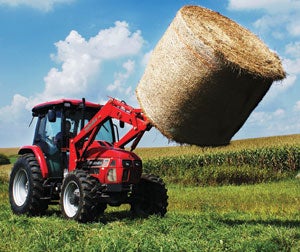 Our test tractor was equipped with the ML285 loader, which seemed well matched to the 8560's size and capability. The bucket measured 84" (21 cubic feet) and is skid-steer compatible, which opens up a variety of implements including bale spears and pallet forks. Max lift capacity is 4100 lbs to a height of 134". Full dump clearance is 102.5", so this combo will clear just about any trailer or truck an operator might use. With 17 gpm flowing to the loader, response times were impressive with raise occurring in 6.2 seconds, lower in 4.1, dump in 3.2 and curl in 2.5 (all at 2300 rpm). The ML285 adds 2090 lbs and at first we were going to report it was not an easily detachable design, but then we spotted the stands stored away in the boom crossmember. Nice.
The 8560 measures 162" long by 77.3" wide and 108.2" from the ground to the top of the cab. Turning radius with brakes applied is 13.96' which is a little less nimble than the Kioti DK90 we tested last week. Purchasers have a choice of R1 Ag or R4 Industrial tires, with the Ags measuring 12.4x24 front and 18.4 x 30 rear and the Industrials coming sized at 12.5/80 x 18 front and 19.5L x 24 rear. The 8560 cab weighs 8122 lbs, so with the loader the total package weight is over five tons. With a five-year warranty, bundling rebates and incentives including 0/0/0 financing through April 2013, if you are in the market for a all-purpose farm, Ag and/or grounds maintenance tractor of this size and class, check out the 8560.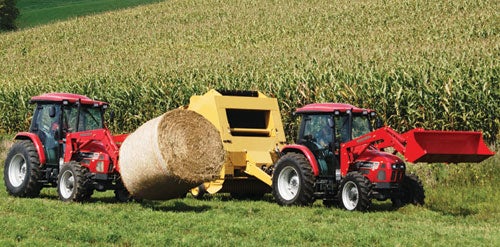 MSRP for tractors currently in inventory (pre-EPA Tier IV) for the 8560 and ML285 package is just over $50,000. When EPA Tier IV tractors hit dealer stocks, these models will be more expensive. With the new models coming out, you may be able to cut a super deal. And if you are in the Litchfield, Conn. area, stop in and talk to Robert Wolff – we found the inventory to be good and his friendly knowledge exceptional.
Related Reading
2012 Mahindra 6110 Shuttle Cab Review
2012 Mahindra 3616 HST Cab and Open Station Review
2012 Mahindra 5010 HST Cab Review
2012 Kubota M135GX Review
2012 Kioti DK90 Cab Tractor Review
2012 John Deere 4720 HSTC Review
Buyers Guides
Our Partners