2015 Kubota BX2670-1 Review
Impressive offering from subcompact king
By Geof Fowler, Photography by Kubota, Jan 30, 2015
Kubota first wowed the world with the BX Series in 1999. The recipe was simple: a tractor not much bigger than a lawn and garden machine, diesel power, sufficient hydraulics, hydrostatic transmission, three-point hitch (3PH) and plenty of get-it-done implements. Since then, the BX Series has gone through numerous upgrades that have kept it at the cutting edge of the subcompact utility tractor (SCUT) marketplace.
Currently the BX70-1 Series consists of three tractor models with four possible variants: the 18hp BX1870-1, 23hp BX2370-1, and BX25D-1 (tractor-loader-backhoe), and the subject of our review, the 25.5hp BX2670-1. Tractor.com got to spend time behind the wheel of a BX2370 in May of 2013 and lauded the many improvements, including the repositioning of the brake pedals from above the right side HST forward pedal to the left, where they could actually be used to help improve the turning radius or work the tractor out of a stuck mess. The BX2670-1 shares the brake pedal repositioning along with a few more improvements. But first, the requisite technical data.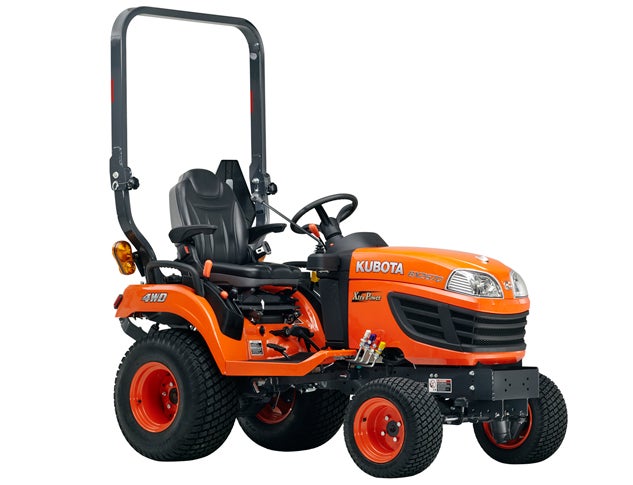 Powering the BX2670-1 is a three-cylinder 61.1 ci Kubota D1005 mill making 19.5 power take off (PTO) horsepower – close enough to that magic PTO number of 20 that opens the door to ground engaging implements designed to do real work. A two-range hydrostatic transmission is controlled by a treadle pedal that saves precious floor space by positioning most of the linkage under the flat floorboard so only the toe (forward) and heel (reverse) pedals protrude. This makes it a little trickier for those that prefer to toe up under the front pedal to reverse, though that method is certainly accommodated. Either way, the system offers well modulated control over the 0-8.4 mph forward and 0-6.5 mph reverse speed range.
COMPARISON: Read our review of the 2014 Yanmar 324 HST
Hydraulics run though a single pump that flows 6.2 gpm for both implement and power steering needs. This gives the Cat I 3PH a lift capacity of 680 lbs at the industry standard of 24" behind pin. There is no position control over the 3PH (for that you would need to move up to B Series machines), instead, Kubota uses a quarter-inch inching control which lifts the lower link arms a quarter inch for each push of the Rockshaft lever to the mid stop. The same goes for lowering the 3PH where a pull of the lever corresponds to a quarter inch drop. Undoubtedly a price point sacrifice; the system is effective, though returning an implement to the same position takes more time than with true position control. Standard is a 2500 rpm mid PTO along with a 540 rpm rear.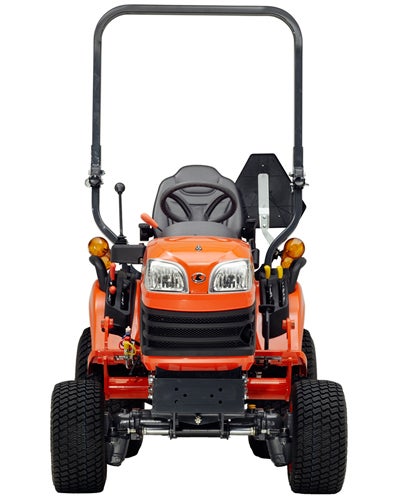 Slip into the deluxe high back seat with adjustable armrests, and those familiar with BX tractors will immediately notice the new steering wheel position, which is less upright and falls more comfortably to an operator's hands. As on the previous generation, the seat adjusts fore/aft and also reclines for that perfect position. Lever layout is ergonomically friendly, with substantial color-coded controls that somehow missed bean-counter cost cutting oversight. A new and improved dash with a needle tachometer is found on the left, LCD fuel and temperature readouts to the right and warning lights (battery, headlamps, turn signals/flashers, and low fuel) are in the middle. The tachometer reads from 0-4000 rpm and in clear increments, but we wonder why Kubota doesn't include a PTO marking as other manufacturers do. Grab rails on both sides, a cupholder on the left, 12VDC outlet below the seat, and metal hood and fenders complete a package which anyone would be proud to call their own.
COMPARISON: Read our review of the 2013 Kubota BX2370 HST
Fire up the D1005 and the BX2670-1 settles into a quiet idle. As the engine warms up, and especially as the rpm increases, the operator begins to appreciate one improvement discovered over those 15+ years: drawing air from the cockpit and to a centrally mounted radiator instead of from the tractor front keeps that operator cooler, and keeps grass and debris from building up, which reduces the possibility of engine overheating.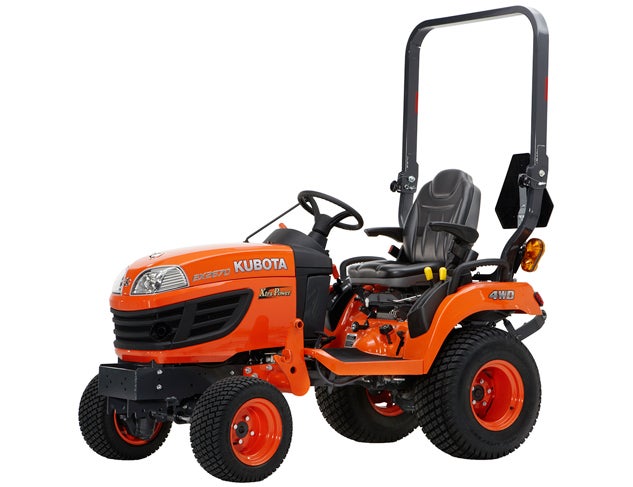 Our test tractor was outfitted with Kubota's curved boom model LA243A loader. This is a quick-attach design with loader stands built in and the option for a quick-attach bucket (highly recommended) that allows quick switchover from bucket to front blade or pallet forks. The LA243A can lift 518 lbs to a max height of 71.3". Dump clearance is 52.4", so most pull carts and even some pickup beds can be accessed. A 48" 4.9-cubic-foot bucket is standard and well matched to the BX2670-1. Dig depth is 4.7" and breakout force is 992 lbs. The LA243A system operates at 1778 psi and when getting its rated 3.7 gpm hydraulic flow, offers cycle times of 3.5 second full raise, 2.7 seconds full lower, 2.4 seconds full curl, and 1.7 seconds full dump. Hydraulic hose connections to the tractor run through an inline four-port valve that is positioned for ease of access. Hose routing on the LA243A is protected within the boom arms.
COMPARISON: Read our review of the 2014 Mahindra eMAX 25 HST
Other niceties include a 6.6-gallon fuel tank, halogen headlamps, folding ROPS, cruise control, and selectable 2WD/4WD. Options include a rear-mounted tool box, ROPS work lights, and the abovementioned quick-attach bucket system. Tire choices are Ag (R1), Turf (R3) and Industrial (R4), with all utilizing 18x8.5-10 front and 26x12-12 rear sizes.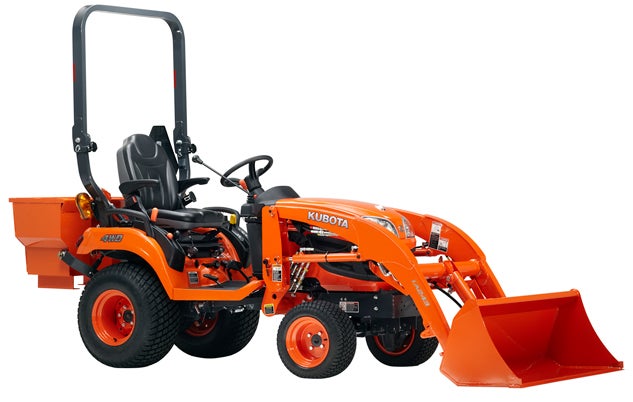 The BX2670-1 measures 95.5" long by 44.5" wide and rides on a 55.1" wheelbase. Weighing 1,466 lbs (tractor alone), there is 8.7" of ground clearance. Kubota stands behind BX tractors with a 24-month/1,500-hour bumper-to-bumper warranty with the powertrain getting extended coverage to 36 months/2000 hours.
For anyone in the market for a SCUT tractor with un-SCUT-like power, the BX2670-1 from the class originator is well worth checking out.
Buyers Guides
Our Partners