2017 Kubota B2601 HST Review
A capable compact utility tractor with a host of implement options
By Geof Fowler, Photography by Kubota, Aug 30, 2017
The Kubota B2601 is part of the Kubota B series, which features six tractors spread over four similarly sized, though not identical platforms, with engine outputs ranging from 22 to 33 horsepower.

This series has proven to be popular with purchasers – and why shouldn't it? – offering diesel power, a full Cat I three-point hitch (3PH), hydrostatic transmission (HST), ability to handle a full size implement, all in a package-size that's still nimble enough to mow.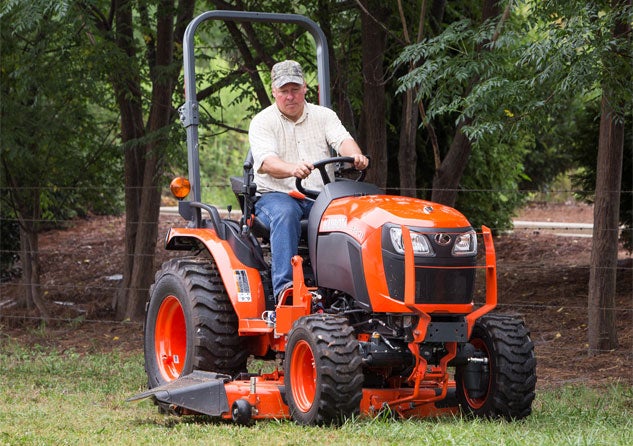 Powering the Kubota B2601 is a Kubota D1105 three-cylinder engine that uses E-TVCS (three vortex combustion system) technology for efficient fuel usage, while still delivering the necessary power and torque. Rated to deliver 25.5 gross and 19.5 power take-off (PTO) horsepower at 2800 rpm, the 68.-cubic-inch mill achieves EPA Final Tier 4 (FT4) compliance without the need for a diesel particulate filter (DPF) or additions of a diesel exhaust fluid (DEF). Onboard fuel is 6.1 gallons.
COMPARISON: Read our review of the 2017 Simplicity Legacy XL
Output from the engine is sent to a Kubota-manufactured three-range HST, which is foot controlled by a treadle pedal. The treadle pedal offers good modulation over the 0-12.7 mph forward and 0-9.5 mph reverse speeds. The arrangement is such that those that choose to operate the treadle in traditional fashion need only to push with their toe on the pedal to go forward then press down with their heel to reverse. For those that are more comfortable taking their heel out of the mix, the arrangement allows the operator to reverse by slipping their toe under the pedal and lifting up. A welcome change moving across the entire Kubota lineup is the relocation of the brake pedal to the left side of the platform, which allows the operator to use tractor brakes to tighten the turn radius, which on the B2601 equates to 6.9'.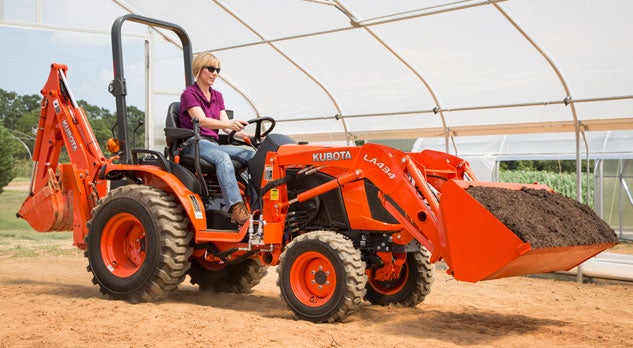 The Kubota B2601 uses an open center, dual pump hydraulic system with a total output of 8.3 gpm to support the hydraulic power steering and implement circuits. That gives the Cat I three-point hitch (3PH) a lift capacity of 1,808 lbs at lift point and 1,411 lbs at the industry standard of 24" behind lift point. Position control is standard so an implement can be returned to an operator-selectable point time after time. A single rear remote is optional. Lower link ball ends are fixed with inboard telescopic stabilizer bars. An independent rear 540 rpm PTO is standard as is a 2500 mid-PTO. A drawbar is also included.
COMPARISON: Read our review of the 2017 John Deere 2038R
Climb up into the operator platform of the Kubota B2601 and into the high-back seat with armrests and you'll find a comfortable, user-friendly layout. Levers are color coded: orange for gearing-related functions, yellow for PTO, and black for 3PH. On the left fender is the PTO selector and engagement lever, transmission range selector, and a cup holder. On the right fender is the 3PH position control lever, 2WD/4WD selector, and a storage tray with a 12V outlet. For comfort the steering wheel is adjustable and for safety there is a retractable seatbelt. Floorspace is ample with just a small transmission hump running down the middle. On the floor right is the treadle pedal, and as mentioned above, the split brake pedals are located to the left. A rate of drop knob (3PH) and differential lock heel pedal are easily accessed. The loader joystick is nicely integrated using a linkage that goes under the seat, rather than into the fender, and falls right where an operator can use it with their elbow resting on the seat armrest.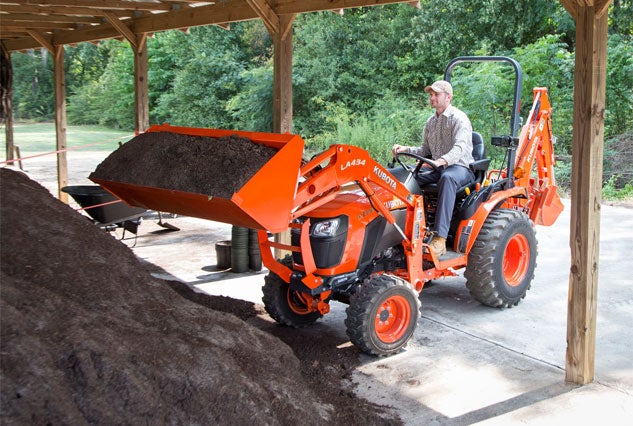 The Kubota B2601 is matched to the LA434 loader. The LA434 is a quick attach/detach curved boom design with the option for a 2-lever, skid-steer compatible coupler. Able to lift 948 lbs to a max height of 78.5" with a dump clearance of 61.7" so the B2601/LA434 combo will clear most pickup or wagon beds. 50", 54", and 60" buckets are available, along with 60" and 72" snow blades and a pallet fork (using the two-lever coupler system).
COMPARISON: Read our review of the 2017 New Holland Boomer 24 Review
For tasks requiring a backhoe, the Kubota model BH70 is available. The BH70 uses a swivel seat and mounts on a four-point quick attach/detach subframe hitch. Dig depth is 85.2" with 116.8" reach and a 140-degree swing arc. A variety of buckets are available with a mechanical thumb as an option.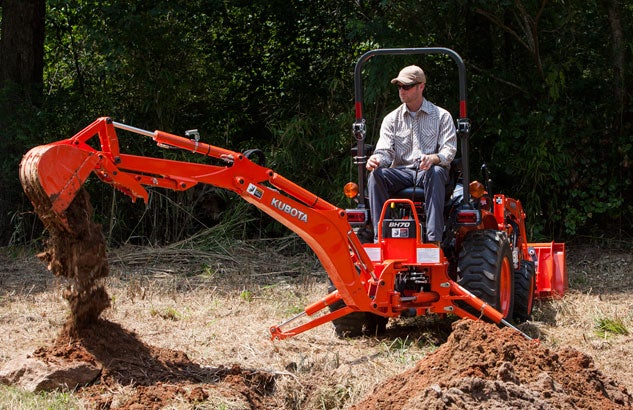 Two finish-cut mid-mount mowing (MMM) decks are available; the 54" RCK54-32 and the 60" RCK60-32. Both use three blades and are drive-over compatible for easy installation/removal. Cut height is 1" to 4" and dial adjustable.
Other Kubota B2601 niceties include a one-piece all-metal hood that can be opened with the loader installed, tool box located behind the operator seat, a backlit, illuminated dash display, and front halogen headlamps with an option for a rear work light. Standard tires are R1 (Ag) Bridgestone Farm Service Lug 7-12 front and Goodyear Dyna Torque II 11.2-16 rear. Optional tires include R3 (turf) 22 or 23x8.5-12 front/31 or 33x12.5-15 rear, and R4 (industrial) 23x8.5-12 front/12-16.5 rear.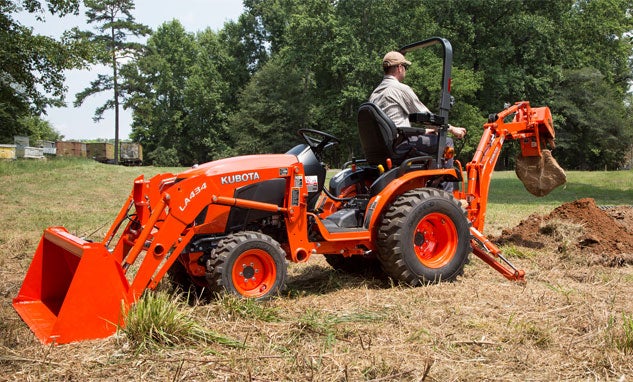 The 1,632-pound (tractor only) Kubota B2601 measures 94.9" long by 49" wide and rides on a 61.4" wheelbase. Ground clearance is 12.8". Height to the top of the foldable ROPS is 85". MSRP is $15,680. Kubota backs up the B2601 for non-commercial use with a 24-month/1,500-hour warranty with extended powertrain coverage to 72 months/2,000 hours.
With a full range of available implements - extended by the available pool of skid-steer attachments if so equipped with the two-lever coupler system - the Kubota B2601 is attractive for a wide range of users, including homeowners, equine/hobby farming, grounds maintenance, and municipal use.
Buyers Guides
Our Partners