2017 Kubota M6S Review
A new general utility tractor series from Kubota
By Geof Fowler, Photography by Kubota, Mar 24, 2017
The Kubota M Series covers mid-size utility tractors with engine horsepower ranging from 46 to 168. Within the "M" umbrella are five subgroups: Special Utility (46-68 horsepower), Deluxe Utility (52-95 horsepower), Mid-Size AG (100-135 horsepower), Special AG (62-108 horsepower), and AG (128-168 horsepower). Count each tractor within the five subgroups and you will need 32 fingers and toes. We're not going to go into the model overlap – that would be a conversation for one to have with their dealer – instead our focus is on the new M6S subseries from the Special AG group.

The new Kubota M6S series replaces the popular M108S, which has been available since 2006, and consists of three models based on the same engine, chassis and cab configuration. Power is from a Kubota four-cylinder 3.8L engine that uses common rail system (CRS) injection, turbocharging, intercooling, exhaust gas recirculation (EGR), a diesel particulate filter (DPF), and selective catalytic reduction (SCR) technologies to meet EPA Final Tier 4 (FT4) emissions requirements. Output is 114 horsepower at 2600 rpm with a power take-off (PTO) rating of 95 horsepower.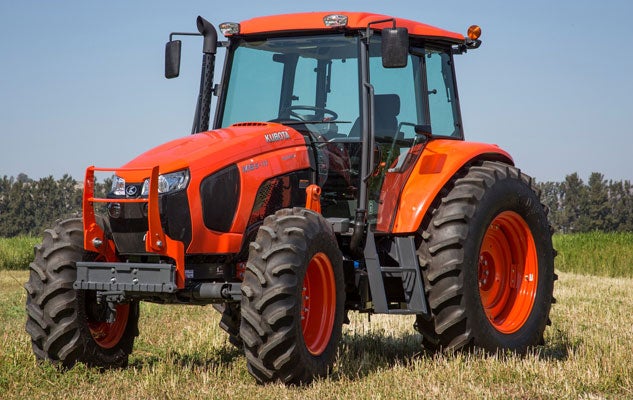 As mentioned, there are three M6S tractor models, the 2WD M6S-111SHC, the 4WD M6S-111SHDC, and the also 4WD M6S-111SDSC. Other than the number of wheels driven, the SHC and SHDC models come with a 16F x 16R transmission which has four synchronized gears arranged in a traditional "H" pattern. A Swing Shift control adds high/low, giving the operator eight gears controlled by a single lever. There are also two ranges, bringing the total number of speeds to 16 forward and reverse. To change direction, a left-hand turn signal-like stalk controls the electro-hydraulic shuttle and does not require clutching. For dialed down fine speed control for applications such as spraying, a creeper option is available which when ordered as so brings the total number of gears for these two models to 24F x 24R. There is also a declutch thumb button on the main shift lever for real single-hand control.
COMPARISON: Read our review of the 2016 New Holland TS6.120
The SDSC model gets the Swing Shift Plus transmission, which adds Dual Speed from the same lever, so there are really 32F x 32R speeds. For more finite speed control, there again is a creeper option which adds 16 more speeds, and bringing the total to 48F x 48R. 4WD tractors also get front and rear mechanical differential lock, vs. just rear diff lock on 2WD tractors. All three models come standard with a rear 540 rpm PTO, but 4WD tractors can be equipped with a 540/1000 rpm PTO as a factory option. Travel speed is 1.3 to 23.5 mph.
At the rear, the standard configuration includes a Cat II three-point hitch (3PH) with a lift capacity of 3858 lbs 24" behind lift point, and two remotes with the first a self-cancelling detent valve and the second a floating detent. A third rear remote is optional as is an external hydraulic cylinder that raises the 3PH lift capacity to 5732 lbs. Hydraulic flow rate is 17.2 gpm (implement). Position control, so an implement can accurately be returned to a selectable position, and draft control, which maintains an even load by adjusting implement draft depth by top link sensors, are both standard. Lower link arm ends telescope for ease of attachment as do the stabilizers for easy cinching up of hitch slack. The drawbar is straight from the larger-of-family M6, so you know the package is meant for HD work.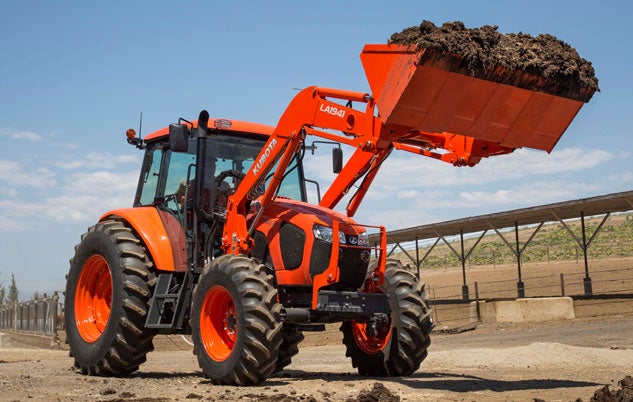 Climb up into the deluxe cab and the operator is treated to a platform with great visibility, tilt wheel with 41 degrees of adjustment, standard air-ride seat, and an ergonomic layout of levers and controls. The right arm console contains the loader joystick, throttle, position and draft control levers, and the transmission shift lever. As mentioned above, the transmission shift lever is arranged in a "H" pattern, but within that pattern is the Swing Shift control which doubles the gear choices by simply swinging the lever to the left or right. For Swing Shift Plus models, Dual Speed (high/low) brings the total gears selectable by one lever to 16. Add the left floor range lever, and the total number of gears is 32.
COMPARISON: Read our review of the 2017 John Deere 5075E 4WD
The left-hand shuttle control requires just a fingertip lift of the lever along with a move forward or reverse to change direction. There are two pre-settable A/B memory rpm settings so the operator doesn't have to fumble to find an engine speed that they commonly use. And to stop lugging in conditions where variances in load exist, there is a constant rpm setting which maintains engine speed no matter the variances. Also, worthy of mention is the positioning of the two-standard rear remote levers. In many tractors, these get pushed rearward to the point where the operator must twist uncomfortably to their right to access. Kubota has managed to position the M6S-111 remotes nicely, though if the optional third rear remote is ordered, that lever would end up in that more uncomfortable-to-access zone.
Two loaders are available, the M41 which is non-self-leveling (NSL) and the M46 which is self-leveling (SL). There is also a Kubota loader with hydraulic self-leveling, which allows the operator to defeat the system for conditions where a non-level bucket position is advantageous. At the time of printing, we did not have Kubota specs on these loaders, but a dealer we talked to at NFMS mentioned a 4300-pound lift capacity, enough so that 5 x 6 round bales can easily be handled by the M6S-111.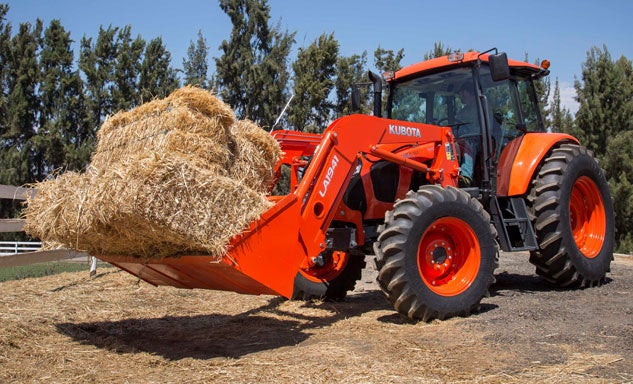 The Kubota M6S-111 runs 13.6R24 front and 18.4R34 tires on a 95.9" wheelbase. Overall length is 163" and the height to the top of the cab is 106". Ground clearance for the 8973-pound (tractor only) is 16.9". Compared to the larger M6-111 which is about 2-1/2" longer, 6" taller, and 816 pounds heavier, the M6S-111, though it can't quite match the turn radius of the M6-111, brings a smaller, more space-friendly package, while still delivering plenty of power and utility.
These general utility tractors should soon be hitting dealer stocks. For an agribusiness in the market for a tractor of this size and versatility, the MS6-111 would be well worth checking out.
Buyers Guides
Our Partners