2016 Mahindra 1538 TLB Long Term Review: Part 3
Wrap up impressions of this capable compact utility tractor
By Geof Fowler, Dec 09, 2016
Over the last four months, we've gotten quite familiar with the Mahindra 1538, its capabilities and strengths (many), along with its weaknesses (few). Over that time, we've accomplished tasks such as grading, leveling, clearing, digging, and stump removal, including three-point hitch (3PH) work like chipping, raking, and light plowing. We have yet to find a challenge that changing the gear range, stepping on the differential lock, or shifting into 4WD couldn't handle.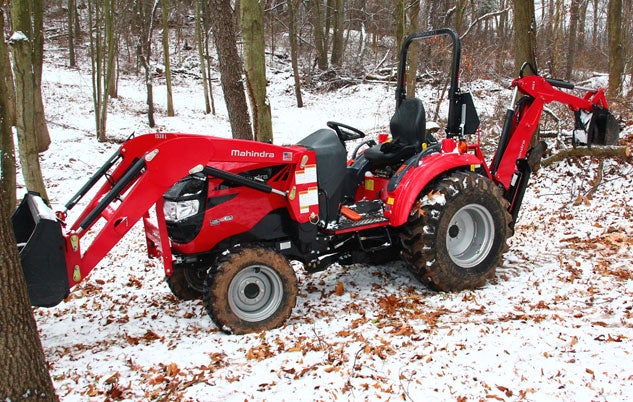 Temperatures over those four months have ranged from greater than 90 degrees to as low as 22 degrees F and never did the four-cylinder 166.7 cubic inch Mahindra engine not start within a half starter crank, while remaining smokeless the entire time. Fuel consumption was a little greater than we expected, but when you factor in the hefty 5,222 lbs the tractor-loader-backhoe package weighs, and that it is being propelled by just 38 horsepower, the usage would not be unacceptable. Add to it that we often cranked up the throttle when a range change would have been a better adjustment, and we're sure a few less drops per hour could be had. Figure usage between a gallon and two per hour.
2016 Mahindra 1538 TLB Long Term Review: Part 1
Also contributing to extra fuel consumption was a little operator impatience. This occurred mostly while doing light loader work. At idle, the hydraulics work fine, but the lower and dump functions are snail slow. Raise and curl work fine. We suspect this is more of a built-in safety than design issue, but during light work we often worked at higher rpms than the tasks actually demanded. Cycle times at idle we measured at 9.06 seconds full raise, 18.96 seconds full lower, 12.03 seconds full dump from level, and 1.15 seconds full curl from level. At 2600 rpm we measured 3.75 seconds full lift, 12.79 seconds full lower, 6.78 seconds full dump from level, and 1.0 seconds full curl from level.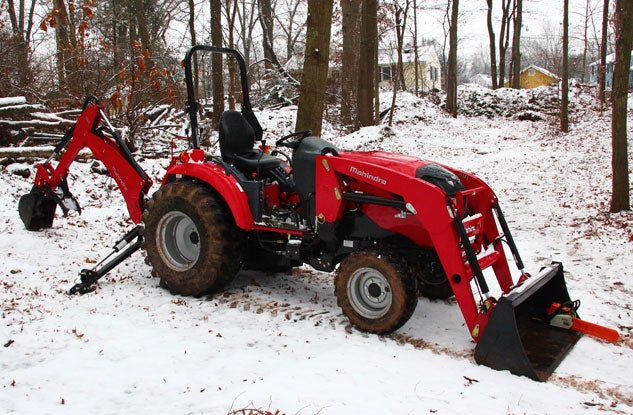 Just for grins we compared those readings from our 2015 test where we did not have a stopwatch and used Mahindra spec sheet numbers. There the full raise was rated to take place in 3.9 seconds, full lower in 2.4 seconds, full dump 2.6 seconds, and full curl 2.6 seconds. Granted there are variables such as load carried (our readings are with an empty bucket), but the differences did make us wonder a bit if there might be some hydraulic restriction, or if the backhoe power-beyond circuit was syphoning off some hydraulic flow. Cycle times aside, the lift capacity of the 1538/1538L (loader) was terrific. As we mentioned in part 1 and 2, the 57" wide loader bucket is definitely small for this tractor and we're sure a 60", and possibly even a 72" bucket, could be handled.
The 1538B backhoe worked like a champ and could effectively be operated at idle. Over the four-month test period the swivel seat, initially a little stiff to change positions, became easier to use. Some we can attribute to our getting used to its particular nuances, but we suspect some "breaking in" also took place. Having a single seat also meant the backhoe controls are that much closer to the operator cockpit, enough so that some repositioning can be accomplished (lowering of stabilizers, positioning of boom etc.) from the operator seat while in the forward facing position. There was some significant leak down of the boom and stabilizers while parked, but checking the owner's manual on page 16, the rates fell well within the manufacturer's acceptable range. Removing the backhoe was always easy and would take just a few minutes. Reinstalling proved to be more of a challenge, though we became more adept at it each time. Our take is that we wouldn't rate the 1538B any less or any more difficult to put on or take off than any other backhoe on the market.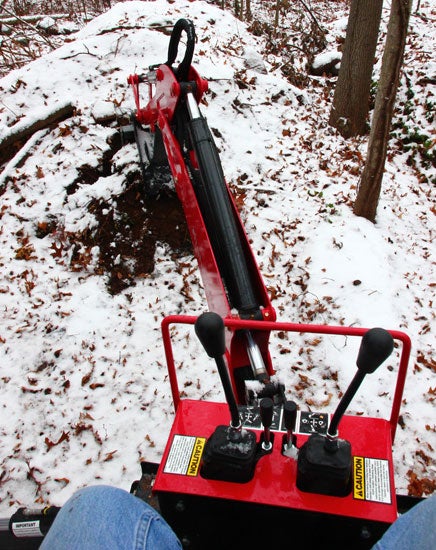 As furnished, our 1538 TLB carries a MSRP of $38,895. For that, you get EPA Final Tier 4 (FT4) 38 horsepower power with no diesel particulate filter (DPF) and requiring no additions of a diesel exhaust fluid (DEF), three-range hydrostatic transmission, tilt steering wheel, loader joystick and engine throttle integration into the fender cowl, 11.1 gpm hydraulic flow capability (total), a backhoe with a 7'-10" dig depth and 127" of reach, a loader rated to lift 1650 lbs to a max height of 8' 3", and 3PH lift capacity of 1764 lbs 24" behind. To put it simply, you get a lot of bang for the buck with the 1538 TLB.
2016 Mahindra 1538 TLB Long Term Review: Part 2
For an agribusiness, landscaper, medium to large size property owner, municipality, or construction contractor, in the market for a TLB so-sized, the 1538 would be well worth checking out. Factor in Mahindra's 24-month/2000-hour bumper-to-bumper warranty and seven-year/3000-hour limited powertrain coverage (12-month/1500-hour bumper-to-bumper and 24-month limited powertrain coverage commercial) and 12-month bumper-to-bumper loader and backhoe (24-month frame) coverage, and you can be assured the manufacturer is confident these machines will perform as expected and over a long life.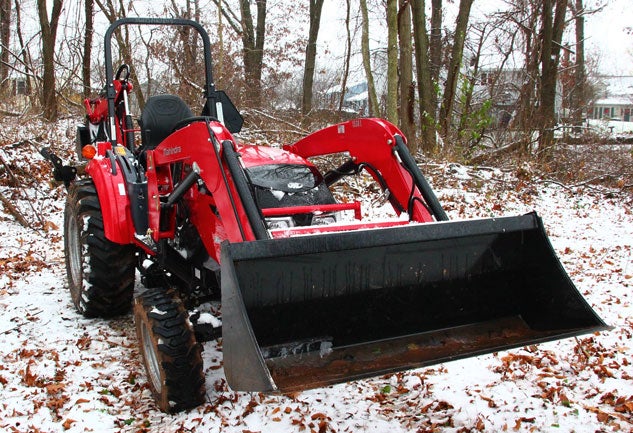 Our test tractor was prepped and delivered by the good folks at Ellington Agway in Ellington, Conn. For Tractor.com readers in the market for a TLB of this size (or smaller/larger) and in the vicinity of Ellington, Conn., Ellington Agway would be a good place to start.
Buyers Guides
Our Partners