2017 Mahindra eMax 25S TL Package Review
A nice snow removal package with four-season versatility
By Geof Fowler, Jan 13, 2017
Mahindra Max tractors created a firestorm when the series was first introduced in 2012. Were they compact utility tractors (CUTs) or subcompact compact utility tractors (SCUTs)? The controversy made for great press, and though the question was never adequately answered, buyers didn't care: the series delivered the performance expected at a surprising price point. Fast on the Max heels came the eMax series. While definitely subcompact tractors, the eMax series still had the heftiness and capacities of larger machines. Long-term Tractor.com readers will remember the eMax 25 HST review we ran in 2014 and how impressed we were with the layout and versatility. With the New England winter settling in in full force, we were excited to receive a call from Goff's Equipment Service in Litchfield, Conn., letting us know a late model eMax 25 set up for snow removal was available for us to review.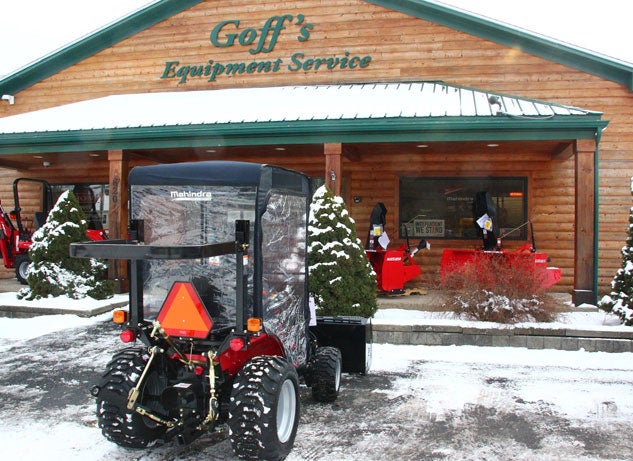 According to Tim Goff, packages are popular with customers. Not only do they add value, but the efficiencies to the manufacturer are such that even better pricing can be passed on to the consumer. For the eMax series, a popular offering is the TL package, which mates the Tractor and Loader to another piece of equipment – in this case a snowblower and soft side cab. But first, let's review the eMax specifications.
eMax tractors are manufactured by Mahindra partner, TYM, and powered by Mahindra 61.5 cubic inch three-cylinder diesel engines that are EPA Final Tier 4 (FT4) compliant. eMax 22 tractors are rated to deliver 22 horsepower while eMax 25 tractors get a few more ponies out of the same basic engine – 25 horsepower. Output from the engine is sent to either a 6F / 2R mechanical gear or a two-range hydrostatic transmission in the case of eMax 22 tractors, or just the two-range hydro unit in the case of our eMax 25 test tractor. Forward/reverse direction and speed for hydro units are controlled by a side-by-side pedal arrangement that offers nicely modulated control.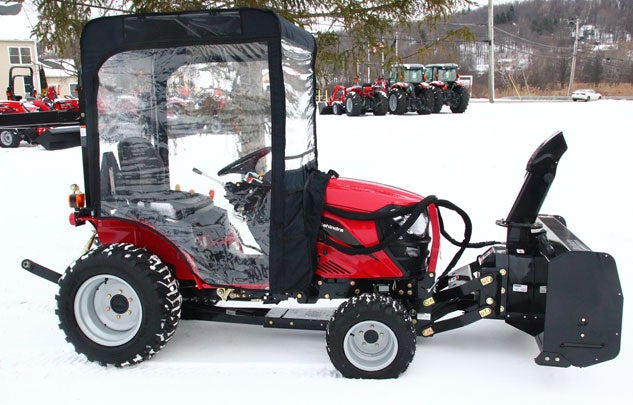 Hydraulics run through an open center system flowing 2.6 gpm to power steering system and 4.5 gpm to implement demand. This gives the three-point hitch (3PH) a lift capacity of 1320 lbs. Supporting the use of a backhoe (backward compatible so it can be added anytime in the future), a single rear remote is a field installed option. Control over the 3PH is via a rockshaft lever, which works fine but does not have the return-ability precision of a system with position control. Lower link arms are fixed and the inboard stabilizers utilize turnbuckles. A 540 rpm rear and 2000 rpm mid-PTO are standard, with a lever select for mid-only, mid and rear, and rear only, both of which are independent. A twist to engage, tap to engage button is located on the right side of the dash with a red indicator light showing engagement.
Climb into the operator platform and the layout is friendly, with color coded levers, switches and buttons, a small transmission hump in the middle, joystick lever mounted atop the loader stanchion, and a useable left side brake pedal. Seat travel is a little compromised – this is a SCUT tractor – but this 5'-10" tester never felt uncomfortable. Atop the right fender console where the rockshaft control lever is located is also a cup holder. Again owing to the limited space, the cup holder is smallish and may not hold that Big Gulp or monster coffee mug, but works well for just about anything shy of that.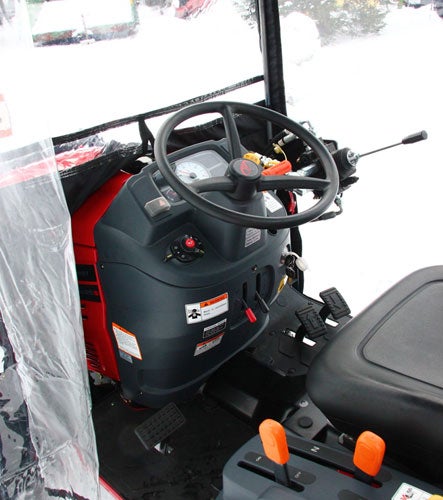 The loader used is the eMax 25L which is rated to lift 900 lbs to a max height of 75" with 2000 lbs of breakout force on tap. Dump clearance for the curved boom loader is 60"with a 5.3 cubic foot/50" bucket standard fare. Cycle times at 3000 rpm are 4.3 seconds full raise, 3.5 seconds full lower, 2.8 seconds full dump, and 2.5 seconds full curl. Our test tractor was set up with the blower installed, so we weren't able to confirm the cycle times. However, the snowblower frame is compatible with the loader so the frame does not need to be removed to switch to snow blowing duty (the frame does reduce ground clearance). As mentioned, a backhoe is available and backward compatible. The eMax 25B has a dig depth of 76.3", 102" reach, 180-degree swing arc, and digging force of 2145 lbs (903 lbs at the dipperstick), with a variety of bucket sizes available.
The soft side cab our test tractor was outfitted with is made by Mahindra partner Bercomac and carries a MSRP of $700. We found the fit as good as any soft side cab, with both sides accessible through zippered doors, and a good quality (read: vision clear) material used that doesn't make one feel as if they are looking out through prescription glasses. There is no heat, but on our sub 20-degree day, the cab inside was vastly preferable to the world outside. Factor in a blowing wind, and any owner would appreciate the protection offered. A dBA reading of 81/91 easily duplicated the reading we measured with the open station (no cab) eMax 25 three years ago, leading us to conclude the cab doesn't add to the sound level.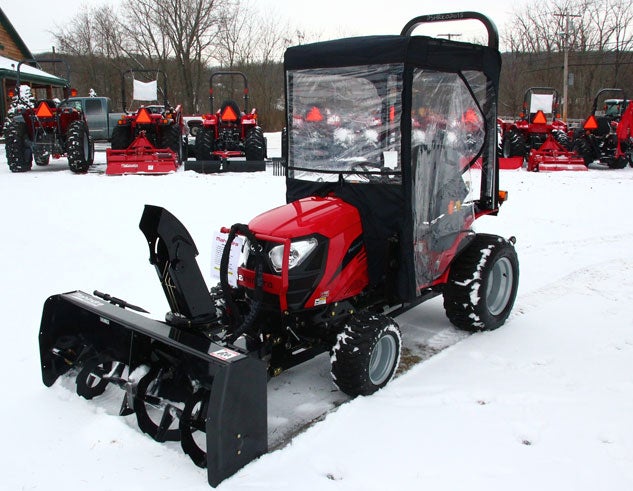 The 56" snowblower mounted to our test tractor was also made by Bercomac and is definitely a heavy-duty unit. The main auger is serrated to cut through the toughest snow and ice, and the second stage impeller a heavy welded steel unit. Hydraulic lift/lower and chute rotation left/right are controlled by the loader joystick. The upper chute deflector adjusts using two knobs. We didn't get to use the blower in anything very deep, but 3" of snow was easily handled at idle and there is no doubt with 19.3 PTO horsepower available that any snow condition encountered would not present a problem.
Since July 1, 2016, Mahindra has upped its powertrain warranty to seven years/3000 hours (two years/2000 hours bumper-to-bumper). With an as tested MSRP of $23,240 (tractor/loader/cab/blower), the eMax package is quite competitively priced. For anyone in the market for a snow removal package with four-season versatility, the eMax would be well worth considering. And if you're in the vicinity of Litchfield, Conn., Goff's would be a good place to start. If you do visit, mirror our thanks for pulling this showroom detailed and clean unit off the floor and allowing us to get it dirty.
Buyers Guides
Our Partners