Mahindra Factory Cabs Review
Factory cabs for Mahindra eMax and Max tractors
By Geof Fowler, Photography by Geof Fowler, Jan 09, 2015
When Tractor.com first received an invitation from Ellington Agway in Ellington, CT to check out Mahindra's new factory-installed cabs for Max and eMax series tractors, our writers looked at each other and said, "factory cabs?" The next thought was that we somehow missed one of Mahindra's frequent marketing-driven press releases. But a quick check of emails didn't produce a neglected release so we did a web search and found only minor mention, with one on an obscure site. Wow, this was a major development for a popular new class of tractor.
The day of our test was perfect. Temperatures hovered in the mid 30s with a wind chill from the north that made it seem even cooler. Sheets of interspersed snow showers reminded us that the so-far mild winter here in the northeast could change at any moment, which is precisely when a cab is most appreciated. Awaiting our arrival were two factory cab-outfitted tractors: a Max 28XL with a 56" front-mounted Bercomac blower and a Max 26XL with a front end loader (FEL).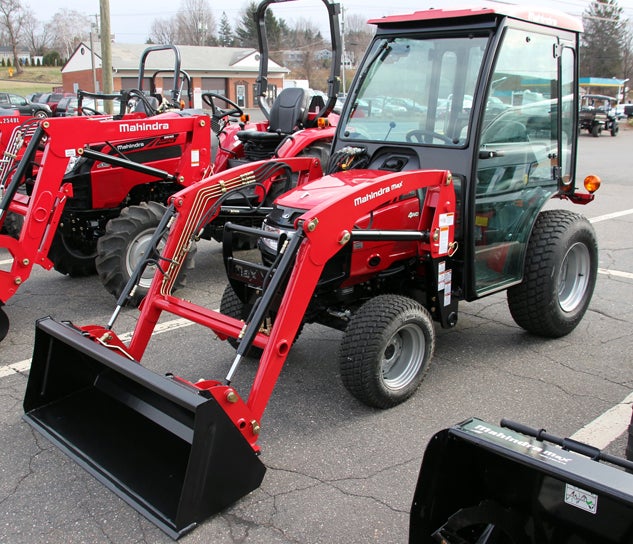 First impressions were quite positive with plenty of glass covered area and a substantially constructed appearance. Moving closer, we noted the factory roll over protection system (ROPS) hoop had been removed, so this was no height increase over the ROPS cab. Hugh Jeffries (Hugh-SS/16 on our sister site, MyTractorForum.com) explained that the cab structure was ROPS certified, so doing away with the ROPS hoop in no way diminished tractor safety. Hugh opened the left hand door (lockable) and pointed out some of the features. The windshield, rear window and right hand cab door (all glass) all open for seasonal ventilation, with the latter opening towards the tractor front to let in fresh, cool air. There is a wiper, interior LED dome lamp, and heater/defroster. Hoses for the FEL/blower are routed to the joystick through an elongated slot just below the windshield, while hoses from the tractor radiator/cooling system run under the cab and to the heater/defroster unit mounted just below the right side window.
Curtis Industries Aftermarket Cabs
Climbing inside the cab, we found the door swung open wide and egress was in no way hampered by the installation of the cab. The heater has two round vents that can be aimed (turned) to direct warm air to wherever it is desired along with a three-position fan switch (High/Off/Low). The heater box does take up a bit of room, but none of our testers thought it interfered with foot control over the treadle pedal or the loader joystick. What the heater box does, though, is exactly what you want it to do – throw off a lot of hot air. We found the cab could go from cold to cozy in only a few moments (after the tractor engine achieved operating temperature).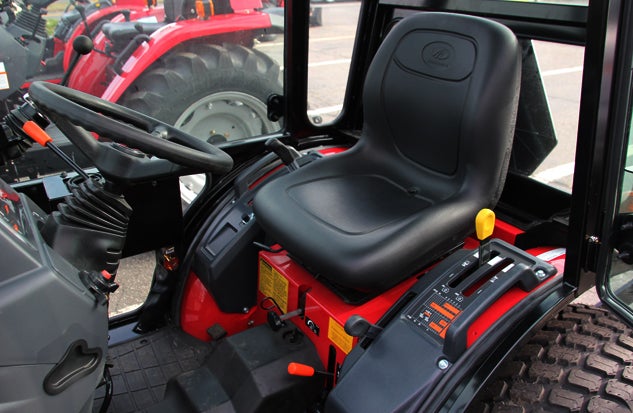 For a cab we suspect was designed after the tractor and not in conjunction, there must have been some foresight to push the fender mounted turn signal/warning lights as far outboard as they are; the fit is commendable. And while some might say this flirts with being a potential snag location, it does make for as roomy an operating platform as possible in a tractor of this size. Other interior niceties include a rearview mirror, with the fuse box also mounted inside the tractor for easy, weather-protected access.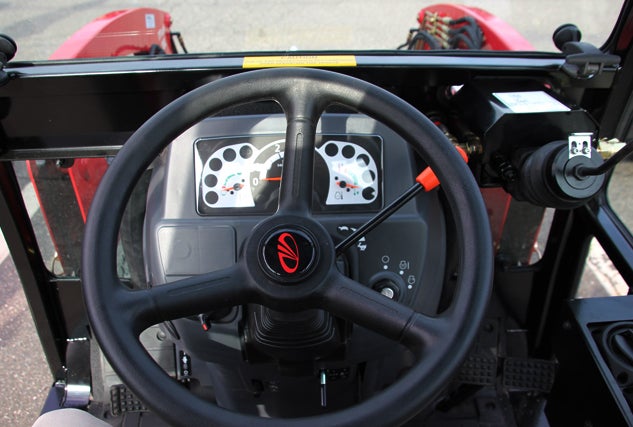 Firing up the Mitsubishi powerplant, sound readings measured 77-88 dBA with the average running 80 dBA. Hugh later provided us an open station 28XL to compare readings, which averaged about 5 dBA quieter. This was right on par with what we expected – remember these are 26-28-horsepower tractors and not mPower 85 cab tractors where power-robbing weight from added insulation that is mostly center of gravity high has little effect (shipping weight on the cab is 425 lbs). Also befitting this class of tractor, Max tractor foot pedals are not suspended. This means there are air gaps in the floorboard, though we found nothing coming though on even this blustery day that made us want to run for our Carhartts.
COMPARISON: Read our review of the 2014 Mahindra Max 28XL 4WD Shuttle
Outside the tractor are front and rear worklights, which we imagine will come in handy during those early morning/late night snow removal times. Side mirrors are an option worthy of consideration ($150), though those too are easy to snag on unsuspecting branches and other obstacles. Other outside options include a rear wiper ($290) and a beacon light ($195). Height to the top of the cab measures 82", so cab-equipped MAX's will fit under most 7' standard garage doors.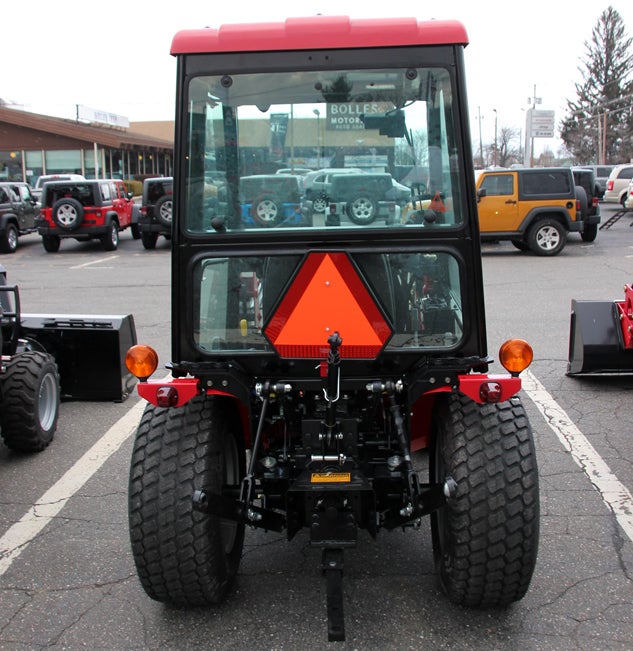 Another thing Mahindra has taken into consideration is the retrofitting of cabs on existing tractors. We asked how difficult this is, which was met with a smile – an acknowledgement of the first-time learning curve – but followed up by how easy the second one was to install and how a homeowner should have no problem removing or reinstalling their cab. Of course, anyone with a factory cab-equipped Max will have to first order the ROPS hoop to do so, as the cab replaces that structure. And likewise, those who have retrofitted their tractors with these cabs will have to reinstall the OEM ROPS hoop before again using the tractor.
How much does the cab run? For a factory installation, the cab adds $6440 and the heater/defroster adds another $709 (MSRP). While this might make you gulp at the added sticker cost, this is a lot of cab for the buck. Mahindra has it designed to precisely fit Max tractors with clearance to allow the hood to be opened while installed, ROPS certification, and full loader compatibility. For anyone with a Max or eMax tractor that is tired of reaching for their snowmobile suits whenever cold weather hits or someone considering a new purchase, these cabs are an important lineup addition and well worthy of consideration. If you're in the vicinity of Ellington, CT, stop by Ellington Agway and ask for Hugh or Matt – you won't find friendlier or more knowledgeable folks.
Buyers Guides
Our Partners