2014 Massey Ferguson 6615 Review
Options galore with Massey Ferguson's new 6600 series tractors
By Geof Fowler, Photography by Geof Fowler, Oct 04, 2013
Massey Ferguson announced its all-new 6600 series tractors in a February press release and we've been eager to get behind the wheel of one ever since. When Broadhead Company, AGCO's marketing folks, told us of a Massey Ferguson 6615 photo shoot taking place in North Java, NY, we quickly made room in our schedules.
Arriving at Java Farm Supply, we immediately got that friendly feeling with each person we came in contact with greeting us and asking if we were being helped. Mike Bookmiller, along with his brother John and sister Donna, are third generation dealers and bring hands-on presence at their three dealerships. With it being harvest time, everything was at a heightened frenzy, but Mike Bookmiller still generously took the time to cover the 6600 series advantages and then take us for a spin.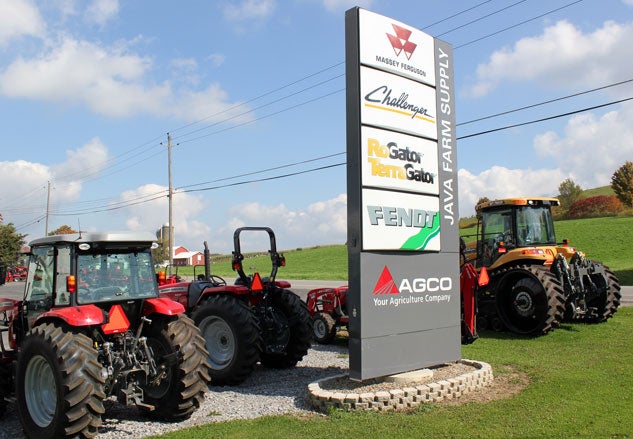 The 6600 series is comprised of three models, the 130 hp 6614, 135/140 hp 6615 and 150 hp 6616. Transmission choices are model selective, and tied to a trim level: Classic, Deluxe and Premium. Order a 6614 and you have a choice of Deluxe or Premium Editions, both with Massey Ferguson's Dyna-VT infinitely variable transmission. Move up to the 6615 and purchasers can choose Classic, Deluxe or Premium Editions, with Classic orders having a choice of Dyna-4 (16 x 16 power shuttle) or Dyna-6 (24 x 24 power shuttle) transmissions, and Deluxe or Premium orders having a choice of Dyna-6 or Dyna-VT transmissions. Order a 6616 in Classic Edition trim and you get a Dyna-6 transmission, while Deluxe and Premium Editions have a choice of Dyna-6 or Dyna-VT transmissions. Dyna-4 and Dyna-6 transmissions come with wet multi-disc clutches, though no clutching is required to reverse direction. Read on to learn more about trim level optioning.
COMPARISON: Read our review of the 2013 Case IH Farmall 105U Cab Tractor
Classic Edition
This trim level gives purchasers their choice of Dyna-4 or Dyna-6 transmissions, and standard niceties such as 4WD, 540/1000 rear PTO, 15 gpm open center hydraulics, mechanical hydraulic valves, mechanical joystick and a T-handle transmission control located on the right hand console.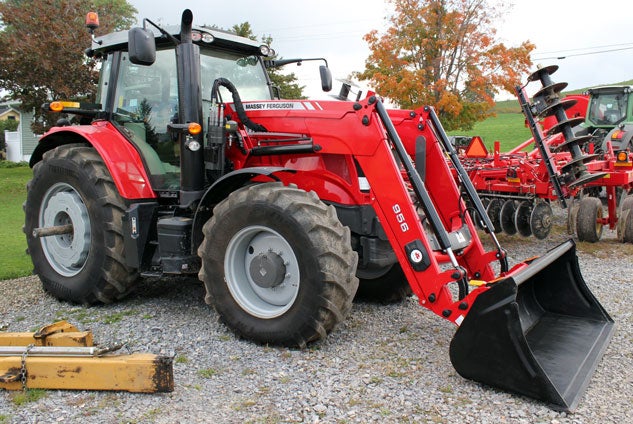 Deluxe Edition
The Deluxe Edition combines the best features of the Classic Edition and adds the choice of Dyna-6 or Dyna-VT transmissions, along with a standard suspended 4WD axle with SpeedSteer, a better rear axle, 540/1000/540E/1000E PTO, 26 gpm open center hydraulics, mechanical cab suspension, deluxe armrest with transmission control, two electronic hydraulic valves in the armrest, advanced electronics with onboard DataTronics, fully Auto-Steer capable and an electronic joystick.
Premium Edition
This trim level is just what the name implies. Upgrades over Classic and Deluxe Editions include multi-pad control, four electronic fingertip hydraulic control valves in the armrest, AUTO-GUIDE installed, hydraulic cab suspension, automatic climate control and electric mirrors.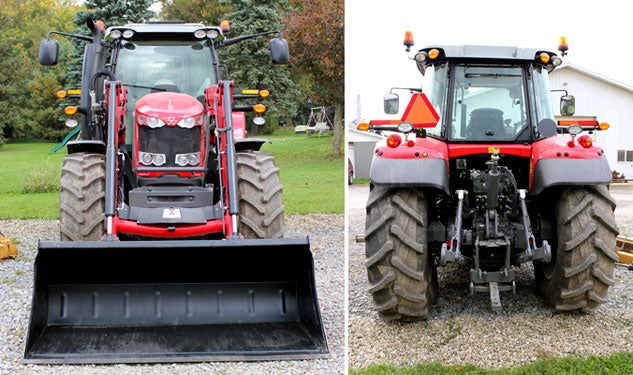 Our 6615 test tractor was outfitted in Premium Edition trim with a Dyna-VT transmission. With this combination the 4.9L four-cylinder AWI engine produces 135 hp gross/110 PTO (if equipped with a Dyna-6 transmission the power output would be 140 hp gross/110 PTO). For those wondering about a four-cylinder powerplant in a 12,500 lb mid-range tractor, these AWI engines pack plenty of oomph while offering better fuel economy. And EPA Tier 4i compliance is achieved without the need for particulate filtration, though we wonder what additions might be in store when Massey Ferguson moves these models to final Tier 4 (FT4) compliance. Diesel Exhaust Fluid (DEF) is required and all of the 6000 series machines come with tanks that hold 9.2 gallons, which are sized nicely to go along with the 61 gallons of onboard fuel. AWI engines are turbocharged and intercooled and use BOSCH high-pressure common rail technology along with SisuTronic EEM4 management to achieve an optimum balance of performance and fuel efficiency.
COMPARISON: Read our review of the 2013 New Holland T6.140
Hydraulics are run through a closed center, variable piston pump system that saves horsepower by providing flow only when needed. This set up provides flow rates of up to 29 gpm at the remotes. In our test configuration, the four rear remotes were color coded: purple, green, brown and black, with the black already used to control an optional hydraulic top link. Connections for the ISOBUS system and Dual Control (front and rear implement) are conveniently located as are switches on the left fender for raising and lowering the three-point hitch (3PH) and for jogging the PTO (switches for raising and lowering the 3PH are also located on the right fender). A standard seven-pin connector can be used for connecting to a trailer. Lift capacity for the Cat II/III 3PH is 11,400 lbs at the industry standard of 24".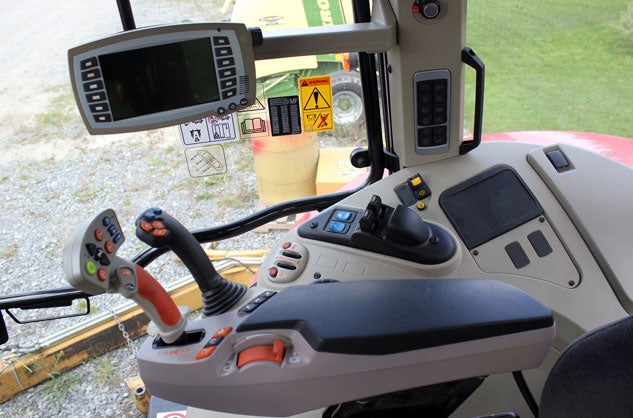 The cab used in the 6000 series is very similar in size and layout to the cab used on the 7600 series. This means a spacious, uncluttered layout that is plenty comfortable for a long day's work. Glass area is maximized, with the slim-waisted console allowing excellent visibility forward, while dual opening doors, quarter panel windows that also open for ventilation, an opening rear window and a rear sight glass complete the 360-degree view.
The console instrument panel has an analog tachometer in the center flanked by digital readouts to the left and right for S1/S2 settings, slip limits, directional travel, speed and RPM, and bar graph readouts for fuel and DEF located just below. With the DataTronics electronics package, the same information is available on a right side color screen that can moved/adjusted for operator preference. Suspended from the console are a clutch pedal, split brake pedals and foot throttle, while the right armrest houses the CVT joystick with intuitive buttons for functions such as F-N-R, PTO engagement, and SV1/SV2 settings. A rotating thumb throttle offers precise RPM adjustment, but on the go, the convenient +/- thumb switches located on the loader joystick are likely to get lots of use.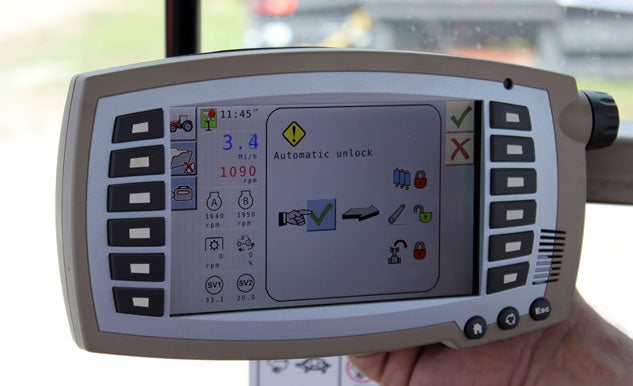 Firing up the AWI powerplant with the doors closed yields a super silent dBA reading of 71 at idle. Bookmiller took us for a spin, demonstrating the intuitiveness of the controls and how responsive the loader is even at idle. We tested the 6615 with the 956 loader outfitted with optional SoftDrive shock absorption system, which combined with the suspended front axle and active cab suspension make for one smooth-riding tractor. SoftDrive can be turned off and on by the operator so precise actions such as pallet stacking or bale handling aren't compromised. Top transport speed is 35 mph, but even moving along at that clip on Route 98, the Trelleborg 520/85R-38 rear and 420/85R -28 R1 tires humming and two guys talking, never did our dBA meter get over 100. Impressive.
COMPARISON: Read our review of the 2013 John Deere 6125R Cab Tractor
The 6615 has a wheelbase of 105" and an overall length of 184.7". The height to the top of the cab is 115.5". Bookmiller told us the 6615 used for the photo shoot and our test was not yet sold, but that the end use would most likely be at a dairy farm, where power, maneuverability, fuel efficiency and reliability requirements make it the perfect choice. Readers that are in the vicinity of North Java and in the market for a performer of this size would do well to check out the Massey Ferguson 6615.
Buyers Guides
Our Partners