2013 Case IH Farmall 105U Cab Tractor Review
Utility tractor lets you get your work done in comfort
By Geof Fowler, Photography by Case IH, Sep 13, 2013
The National Farm Machinery Show last February in Louisville, Ky. was a big deal for Case IH. Not only did it unveil the all-new MY13 Combine, Steiger Rowtrac, Patriot 2240 Sprayer and LB4 Baler models, but new Farmall C and U tractors. We had a chance to review the Steiger Rowtrac lineup back in March and were wowed by the high horsepower, imposing size and equally impressive MSRP, but wondered how the 100 horsepower machines that smaller farms and ranches use might have improved.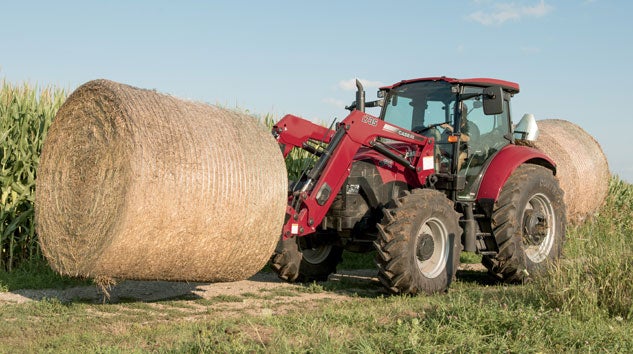 The all-new Farmall U Series is manufactured in Jesi, Italy and consists of two models, the 115-horsepower 115U and the 105-horsepower 105U. Previous Tier 3 compliant 85U and 95U models have been dropped, belying the question whether or not they will be reintroduced with Tier 4 compliant powerplants. We'll keep our eyes and ears open for that answer. Both the 115U and the 105U get 3.4L turbocharged and intercooled four-cylinder FPT series engines that utilize common rail technology, diesel oxidization catalyst (DOC) and diesel particulate filtration (DPF) to meet Tier 4A emissions requirements. Diesel exhaust fluid (DEF) is not required, saving the need to have that additional fluid on hand. Power take off (PTO) horsepower for the 105U is 91 while the 115U is 98, both achieved at 2300 rpm.
COMPARISON: Read our review of the 2013 Case IH Farmall 120A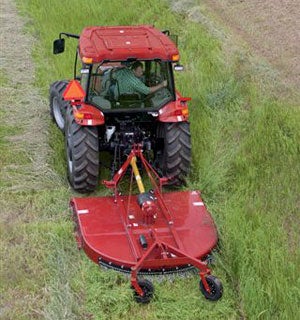 Three transmissions are available, the standard 12 x 12 Power Shuttle (four synchronized gears, three non-synchronized ranges), an optional 20 x 20 Power Shuttle with Creeper (five synchronized gears, four non-synchronized ranges), and an optional 24 x 24 Power Shuttle with Hi-Low (six synchronized gears, four non-synchronized ranges). Our test tractor was outfitted with the 12 x 12 Power Shuttle (the previous generation 105U came standard with a mechanical shuttle), which offers well-spaced gearing all the way to the 25 mph max transport speed. The shuttle is electro-hydraulically powered and allows clutch-free shifting from forward to reverse in any gear. Shifting on-the-go within a gear range is also possible, though a range shift requires a stop.
Hydraulics are run through an open center, dual gear pump that outputs 17.2 gpm (up from 16.1) for implement use and 10 gpm for power steering needs. An optional pump delivering 22.2 gpm to implement needs and 11.4 gpm for power steering is available. Two remotes are standard with the option to add a third. Electronic draft control (EDC), now becomes standard equipment and there is a rear fender switch for both the three-point hitch (3PH) and rear PTO. Lift capacity for the Cat II 3PH is rated at 6,393 lbs at the industry standard of 24" with an optional package to increase that to a whopping 11,949 lbs., also at 24". Lower link ends telescope as do the stabilizers and a Cat II swinging drawbar is standard equipment.
COMPARISON: Read our review of the 2013 Massey Ferguson 5609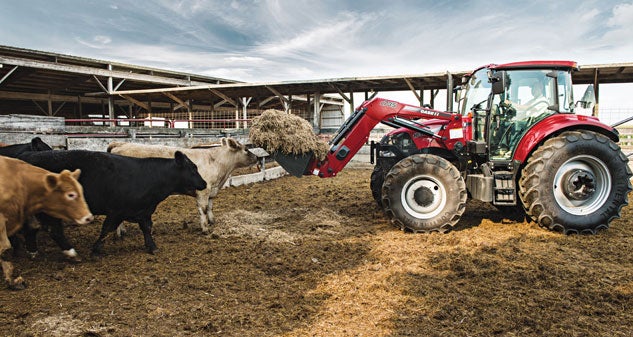 Outside the tractor, the look is definitely more aggressive than the previous generation. The fenders are now rounded with the door glass mirroring the shape, the top is slimmer which has been made possible by the relocation of the HVAC system into the flat-deck floor and the headlamps are larger and in the mind of at least one of our staff, give the tractor a more menacing appearance. The fuel tank is conveniently located at ground level and the capacity has been increased to 37 gallons. Climb inside the cab, also redesigned for more comfort, space and improved ergonomics, and there is plenty of room for two. The instructor's seat, previously an option, is now standard. And though the base driver's seat is probably really nice, splurge for the air suspension seat with 15 degrees of swivel built in. Trust us, it's worth it. Visibility with the new cab is excellent, with 60 square feet of glass. And the rear quarter panel windows that were previously flat are now nicely curved, yet still swing out for conversation or fresh air.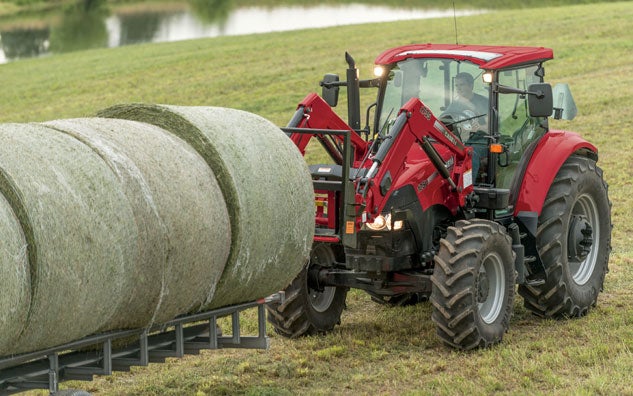 Operator controls are well laid out with the right arm console switches and levers arranged in an ergonomic arc. We found the joystick to be nicely integrated and the gear shifter falling well within arm range. Foot space was excellent with the foot pedals are suspended from the main console. The steering wheel tilts for operator preference and the easy-to-read mostly digital instrument cluster moves as well. Ten adjustable vents keep fresh air circulating.
COMPARISON: Read our review of the 2012 Kioti DK90
Our test tractor was outfitted with the model L735 loader. This is a heavy-duty set up that still attaches and detaches in just a few minutes without tools. Available in non self-leveling and mechanical self-leveling variants (as our test tractor was so equipped), the L735 can lift 3,329 lbs to a max height of 135". Dump clearance is 96.9" so this combination will clear most truck or trailer beds, and breakout force is 4,123 lbs with a dig depth of 6.3". And as expected, the hydraulic hoses are safely routed through the boom frame. Response time was crisp with an empty bucket full raise taking 3.1 seconds and full lower 2.0 seconds. Dump occurs in 2.7 seconds with a full curl taking the same time. Befitting the capacity and capability of the L735, Case recommends 882 lbs of rear ballast.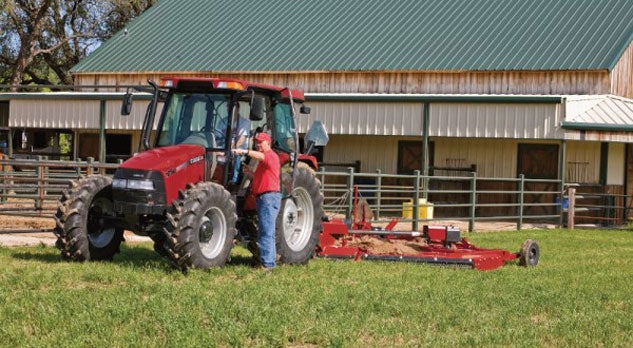 In addition to the transmission, remote, pump and seat options already mentioned, others such as a 540E PTO, choice of tire brand and size, front 3PH with a 3,968 lb. lift capacity, front PTO, rotary beacon light and on-board radar are all available.
The 105U has a 92.5" long wheelbase that rides on 14.9 R24 R1W front and 18.4 R34 R1W rear tires. Length measures 164" with a height of 103". Weighing 9,370 lbs and with a MSRP starting at $72,420, the 105U is well suited for variety of tasks from cutting hay to loader work, all of which in the 105U can be accomplished in living room comfort.
Buyers Guides
Our Partners