2016 Challenger X-Edition MT875E Review
Challenger X-Edition tractors stand out from the crowd
By Geof Fowler, Feb 25, 2016
In 2015 AGCO Corp celebrated its 25th anniversary, having assembled an impressive company lineup that includes Valtra, Gleaner, Massey Ferguson, Fendt and Challenger. The vast range of product AGCO core brands offer include tractors, combines, hay tools, sprayers, forage equipment, seeding and tillage implements. One of those core brands is Challenger, a company founded by Caterpillar and acquired by AGCO in 2002.

Since that acquisition, Challenger products designed with heavy tillage in mind have gone through a number of design improvement stages. On the track tractor side, the MT700E and MT800E series are where the current state-of-the-art can be found. With power take-off (PTO) horsepower ratings ranging from 285 to 425, these workhorses provided a logical base from which to launch a commemorative limited edition series.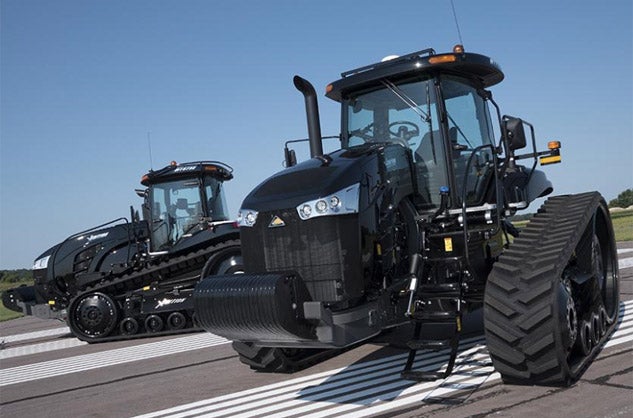 Initially unveiled in Sept. 2015 at the Farm Progress Show held in Decatur, Ill., the sleek midnight-black X-Edition MT875E was an instant hit amongst attendees. The good news is that 50 fortunate U.S. and Canadian residents were given the opportunity on a first-come, first-served basis to place their order for a X-Edition tractor from the MT700E or MT800E series up until Apr. 30, 2016. The bad news, if one could call it so, is that only 50 of these machines will ever be made.
COMPARISON: Read our review of the 2015 Farm Progress Show Report
The MT700E series is comprised of three models, the MT755E, MT765 and MT775E, all powered by AGCO Power 9.8L seven-cylinder engines. Correspondingly, these engines produce 355, 411 and 438 maximum ISO horsepower at 1900 RPM and 285, 310 and 335 PTO horsepower at 2100 RPM. Torque reserves are equally impressive with corresponding peak ratings of 1243, 1334, and 1417 lb-ft coming at 1500 RPM. Aspiration is through twin turbochargers with eWastegate technology. MT700E machines weigh 30,131 lbs with a max operating weight of 39,000 lbs.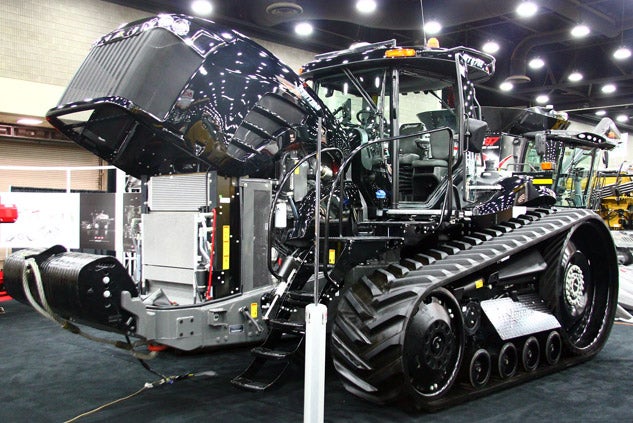 MT700E/MT800E tractors put power to the ground using a Caterpillar drop box-less design powershift 16F / 4R transmission that is designed for fewer losses and yields a max transportation speed of 24.6 mph. Power management for pulling large implements is standard and when engaged automatically upshifts or downshifts depending on the load. A 4:1 reduction creeper gear box is optional and all machines come with Caterpillar differential steering.
MT700E/MT800E tractors utilize a mobil-trac undercarriage designed to improve ground contact, decrease soil compaction and provide a smoother ride. The hardbar suspension is through two Marsh Mellow springs with an oscillating bogie system with suspended mid-wheels. The hardbar stabilizer has an 8-degree range of motion.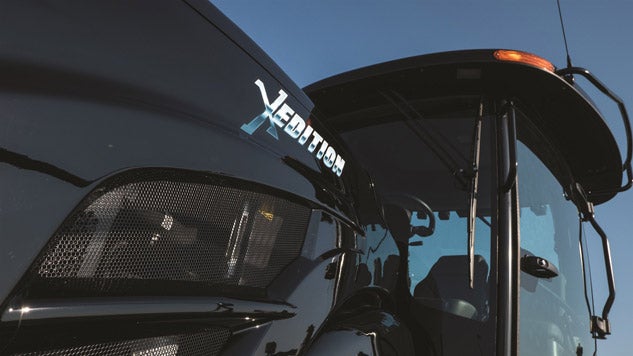 The standard hydraulic system on MT700E/MT800E tractors is a closed-center, pressure-flow compensated (PFC) system that flows 58.1 gpm at 2900 psi to four remotes (up to six optional) with a max flow rate at a single remote of 37 gpm. An optional high-flow pump, also closed-center, is available that flows up to 85 gpm. Standard Cat 3/4N three-point hitch (3PH) lift capacity is 16,000 lbs on MT700E machines and 19,500 lbs on MT800E models. As an option on MT700E tractors, the wide swing drawbar is a roller type that can swing +/- 32 degrees to either side. Drawbar capacity is 12,000 lbs Cat 4 or 10,000 lbs Cat 3. On MT800E tractors, the wide swing drawbar is standard, with an option for a hydraulically position controlled drawbar with float. This option allows for better headland turn control and improved steering. Drawbar capacity is 12,500 lbs Cat 5 or 10,000 lbs Cat 4. MT700E/MT800E tractors all come with 1000 RPM, 1.75" diameter, 20-spline independent PTOs that are electronically controlled. A variety of general and extreme application ag tracks are available, ranging from 16" to 34" wide on MT700E tractors to 18" to 36" wide on MT800E machines.
COMPARISON: Read our review of the 2015 Challenger MT875E
Powering the four model MT800E series, the MT845E, MT855E, MT865E and MT875E, are AGCO Power 16.8L 12-cylinder engines. Correspondingly, these engines produce 494, 536, 591 and 646 maximum ISO horsepower at 1900 RPM and 365, 400, 425 and 425 PTO horsepower at 2100 RPM. Torque ratings are 1604, 1740, 1917 and 2095 lb-ft coming at 1500 RPM. Aspiration is through dual twin turbochargers with eWastegate technology. MT800E machines weigh 42,596 lbs with a max operating weight of 55,913 lbs.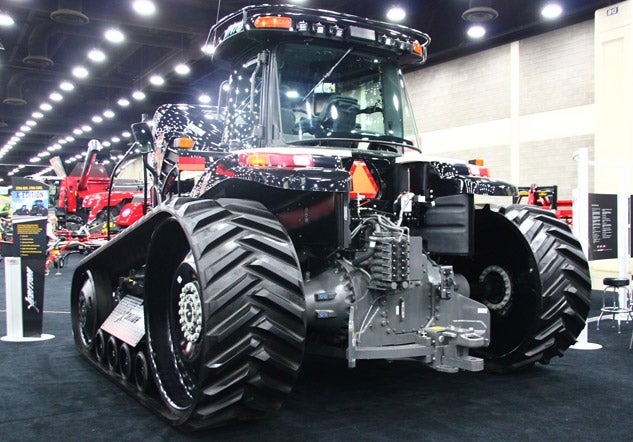 Other differences between the two series are due to the physical size such as onboard fuel, which is 174 gallons standard/249 gallons optional with 23 gallons diesel exhaust fluid (DEF) on MT700E machines and 330 gallons with 30.5 gallons DEF on MT800E models.
COMPARISON: Read our review of the 2015 Challenger MT685E Review
Differentiating the already standout MT700E/MT800E tractors, the Challenger X-Edition upgrades include a midnight-black paintjob that comes with nary an orange-peel and is of show car quality – enough so that one can see their reflection in it. X-Edition owners also get a limited edition serial number plate, deluxe embroidered leather seats that are heated and ventilated, black diamond plate debris deflectors in between the tracks, diamond plate floor inside the deluxe cab, a Delphi radio with Bluetooth connectivity and a hands-free microphone/speaker built into the headliner, Kicker speaker system, a six-plug infotainment powerstrip hookup, adjustable monitor bar with RAM mounts and AGCO's AgCommand Standard Plus telemetry electronics. Other standout features are the ornamental-grade cast aluminum gantry panels and access platforms, as-well-as custom Rigid Industries LED lights that have shown to extend white-bright illumination to implements as wide as an 80' air drill.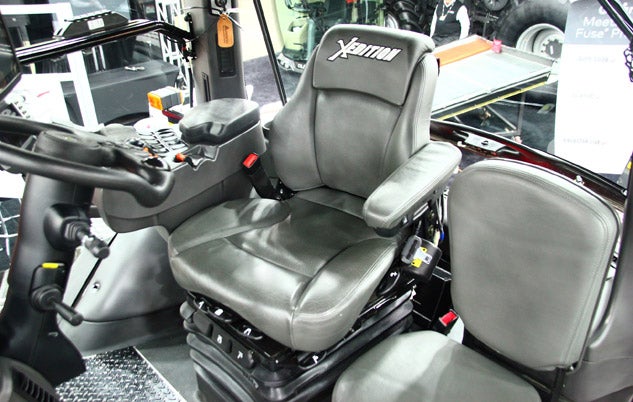 The marketing mantra going along with X-Edition machines is "Trick My Tractor" and it is certainly so. X-Edition machines are sure to stand out, not only for their limited edition exclusivity, but their increased in-field performance, the ability to pull larger implements faster, all the while maintaining a minimal soil-compacting footprint. X-Edition indeed!
Buyers Guides
Our Partners