2014 Simplicity Prestige Garden Tractor Review
Simplicity's premium offering just keeps getting better
By Geof Fowler, Photography by Geof Fowler, Jul 11, 2014
Excluding Z-traks and rear engine riders (RERs), the five-model Simplicity lawn tractor lineup might seem on the light side when compared to some the competition. But when you factor in that those five models really comprise 18 different task-devouring possibilities, you come away with a whole different perspective.
In Dec. 2011 Tractor.com first tested the Broadmoor, and in Oct. of the same year, the Legacy XL. In both cases we came away impressed, but until a chance vacation encounter in 2013 with the good folks at Brentwood Power Equipment Center in Brentwood, NH, our big nit was the lack of dealer inventory. At BPEC inventory is no issue, and at each of our visits, the entire Simplicity lineup has been in stock and ready for a test drive.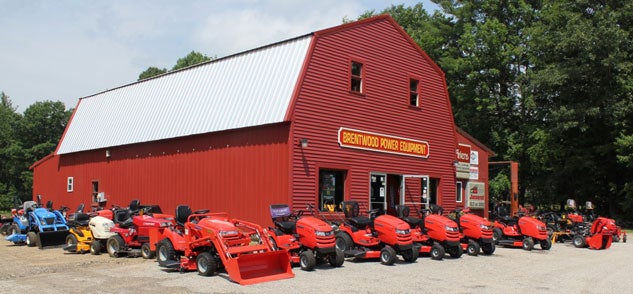 BPEC is run by father and son Dave and Nate Flagg. As in our previous visit, we stopped in unannounced and without any prior notice. Dave and Nate were out taking care of customers, but we were given free reign to check out the BPEC inventory. A Simplicity Prestige with fabricated deck and SCS-4 four-wheel suspension immediately caught our eye – but we're getting ahead of ourselves. First the lineup.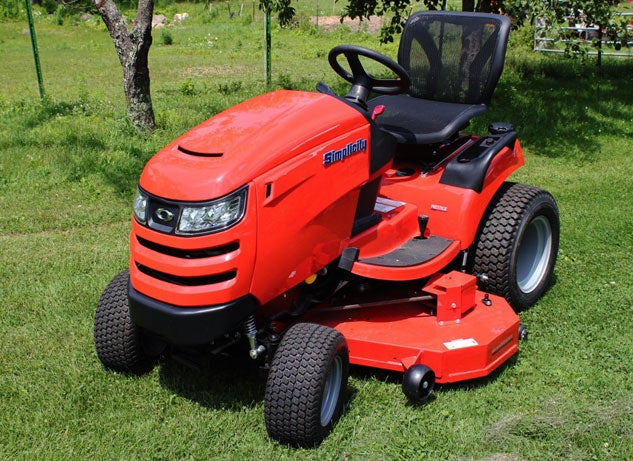 Prestige models come in four variants: 27/50 2WD, 27/52 2WD, 27/54 2WD, and 27/54 4WD. The first number indicates the gross horsepower, the second the deck size, and the third the drive configuration. All 2WD models come with Tuff-Torq K72 High Speed transmissions with differential lock. The 4WD model comes with a Tuff-Torq K664 that sacrifices differential lock for full-time four-wheel drive, along with 2.7 mph in the forward top speed category. 2WD models also come with Simplicity's four-wheel suspension system, called SCS-4. That, along with being the only model to come with a fabricated deck, framed the reason we chose the 27/52 as our test tractor.
COMPARISON: Read our review of the 2014 John Deere X758 4WD Signature Tractor
Engines, not surprising since Simplicity is a division of Briggs & Stratton, are B&S Commercial Turf Series, all air-cooled V-Twins with electric fuel management (EFM). This means starting, whether the conditions be cold or hot, is instant without the need for a choke. Starting is also accomplished through a push button, rather than a key twist, although a key does need to be inserted for safety and security reasons. And these are quiet powerplants, comparably silky smooth as anything else on the market, with rated horsepower coming at 3600 rpm.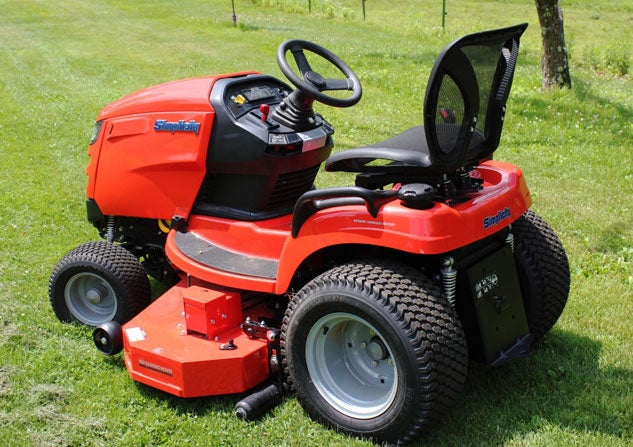 Settle into the comfortable high-back mesh seat, which on the 90F day of our test was greatly appreciated, and the operator is treated to a spacious, ergonomically friendly cockpit. Prestige tractors come with Simplicity's deluxe instrument panel, which includes a color-coded analog tachometer in the center, flanked by digital readouts for fuel, cut height and maintenance intervals, which are resettable, unlike those on some of the competition. There is a switch to electrically adjust the cut height with a lever for the hydraulic lift/lower function. Power steering, power take off (PTO) switch, separate key allowing lockout or use of reverse mowing, parking brake lock, throttle lever, and headlamp control complete the dash layout.
COMPARISON: Read our review of the 2013 Kubota ZG100 Kommander
On the right floorboard is Simplicity's excellent side-by-side hydrostat pedal arrangement that offers well-modulated control over the entire 0-8.7 mph forward and 0-3 mph reverse speed range. On the left floorboard is the differential lock. Cruise control is located on the right fender, along with a generous grab handle. The left fender also has a grab handle, along with a storage tray great for keeping a smart phone safe, which includes a 12V DC outlet. And lest we fail to mention it, the steering tilts for comfort with such a wide range we can't imagine anyone failing to find that perfect position.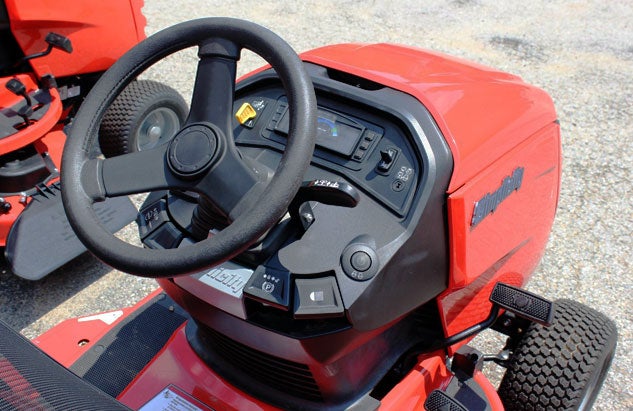 So how does the SCS-4 suspension work? We wondered the same, with one tester having a fresh experience with their wife ordering a bicycle with suspension and ending up feeling like they were riding on a bouncing ball. Potential Prestige purchasers fear not. The SCS-4 ride, while compliant, does a good job of soaking up bumps without introducing bouncy sensations. Turning radius is quite good at 18", with the power steering pump never whining in protest, even when cranked all the way. And when the going gets tough, Prestige tractors come with automatic controlled traction (ACT), which continuously supplies drive power to both rear wheels.
COMPARISON: Read our review of the 2012 New Holland Boomer 25 HST
As with all Simplicity tractors, the mowing experience requires and deserves separate and full mention. Known for the quality of cut, the fabricated deck takes cut quality to another level with enough added reinforcement to come with a separate limited lifetime warranty. Cut height is infinitely adjustable from the driver's seat from 1" to 4", and the 10-gauge deck comes with a full-width striping roller that, along with the front caster wheels riding on the ground, contributes to that perfect no-scalp cut. The deck system also attaches/detaches in minutes without tools. Spindles are commercial gauge aluminum, and there is a washout port. But as with other manufacturer's machines we have tested, we still question the sensibility of adding water to moving metallic components.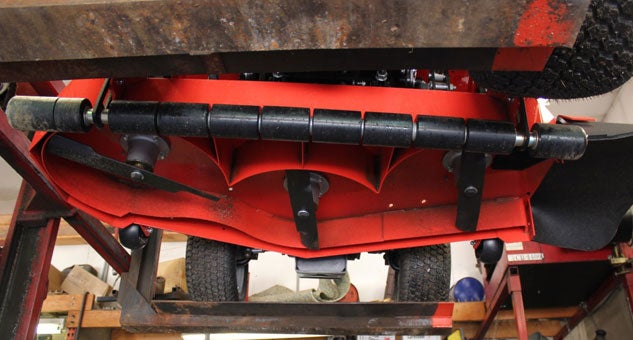 Other niceties? In addition to the abovementioned features, Prestige tractors come with LED headlamps, 3.6 gallons of easily accessible onboard fuel, and a full range of attachments ranging from a turbo grass collection system to single and two-stage snowthrowers.
Measuring 75" L x 62" W x 47" H and riding on 16x6.5 front and 23x10.5 rear turf tires (4WD Prestiges get same size field and track tires), the 27/52 Prestige carries a MSRP of $7,999, comes with a three-year warranty (90-days commercial), and is suitably constructed to be that lifetime machine.
For anyone in the market for a premium garden tractor that is capable, quiet, and comfortable, our advice is that they make sure the Prestige is on that short list. And if they are in the vicinity of Brentwood Power Equipment Center, add stopping in to see Dave or Nate or any of their friendly, knowledgeable staff. As we were parting ways, Dave spoke of sales being so good this year they were going through inventory to the point they were having to reach out to other dealer's stocks. In one case that meant driving up to Maine to get that exact machine, a trip Dave and his family turned into a camping adventure at no added cost to the customer. Such is the attention BPEC customers get.
Buyers Guides
Our Partners