2013 Yanmar Lx4900 Turbo HST Review
Powerful Utility tractor impresses
By Geof Fowler, Photography by Yanmar, Apr 26, 2013
Yanmar's simplified model numbering system uses a series designation followed by three or four digits. In the case of the subject of our interest today, the Lx series, three-digit models get gear transmissions (Lx 410, 450 and 490) with the gross horsepower rating correlated to the first two digits, and four-digits models get hydrostatic power again correlating the first two digits to the horsepower.
In August of 2012 we tested an Lx4100, and in February of this year, an Ex450, coming away from both tests impressed. Those tractors were powered by naturally aspirated four-cylinder powerplants with more than adequate torque reserves. But being those "more power" kind of guys, we wondered how much more grunt the turbocharged big brothers might have. This week we got to find out firsthand.
COMPARISON: Read our review of the 2012 Yanmar Lx4100 HST
The Lx4900 is powered by a 2.0L 4-cylinder mill that is down 0.2L from its smaller brothers by reducing the bore diameter from 88 mm to 84 mm. Though the powerplant is smaller in internal volume, through the wonders of modern turbocharging and using advanced technologies such as direct injection, power output is increased to 48.5 horsepower (as opposed to 41 and 45 from the 2.2L engines powering the Lx4100 and Lx4500, respectively). Max rated output comes at 2600 rpm, a reduction of 100 rpm vs. the larger volume powerplants. More power from less volume at lower RPMs = longer life, greater efficiency and less fuel consumption.
Mated to the 2.0L mill is a three-range hydrostatic transmission. A left fender control selects 3 – N – 2 – N – 1 in a straight line pattern with side-by-side foot pedals modulating forward and reverse over the infinite speed range. Yanmar outfits Lx series hydrostatic tractors with Synchro Throttle. In our August review of the Lx4100 we wrote, "Yanmar also equips the Lx4100 with a feature we were glad to see: an operator defeatable Synchro Throttle. Engaging the Synchro Throttle allows the tractor to keep up with changing power demands without having the operator fuss with the throttle. Nice." The system used on the Lx4900 is identical and as such, received universal praise from our testers.
Hydraulics are open center with dual gear pumps diverting 8.7 gpm for implement use and 6.5 gpm for the hydrostatic power steering (15.1 gpm total). It was interesting that the implement side pump flows 0.3 gpm less than on the Lx4100 and Lx4500, but we could discern no less power operating the loader – a seat-of-the-pants stat supported by the Yanmar specification sheet. The Cat I three-point hitch (3PH) is rated to lift 2,760 lbs. at the industry standard 24" behind. Position control is standard so an implement can be lowered to an exact operator selectable position time after time. Lower link arms are telescopic to aid in ease of implement attachment. The hydraulic system is capable of supporting two additional valves (three total).
COMPETITION: Read our review of the 2013 Kubota L45 TLB
Power output at the power take off (PTO) is rated at 35 horsepower, so implements such as the Woods MD80/DO80 80" multi spindle rotary cutter or the BB845X 84" single spindle cutter are well within the Lx4900 capabilities. We mention Woods implements here, lauding the January announcement of a strategic partnership where Yanmar will market and distribute Woods attachments through their nationwide dealer network. The fit should be good and the consumer will benefit. The rear 540 rpm PTO is standard with an option for a mid 2000 rpm PTO. In either case, an electro-hydraulic clutch engages/disengages the PTO which operates fully independent of tractor ground speed.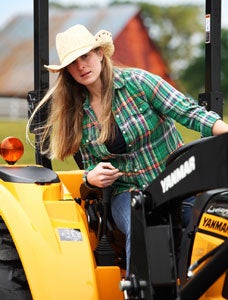 Climbing up onto the operator's station, we found the platform spacious. The fenders might be a little dated in design (think a 1980s tractor) and at first we thought they were metal, but then figured they were molded with generous hand holds. We found the suspension seat comfortable and adjustable for operator weight. The armrests can be folded up out of the way when so desired. Instruments are a mix of analog and digital, with the tachometer occupying center stage. Split individual brakes are on the left floorboard where they can actually be used to shorten turning radius or help get the Lx4900 out of a muddy situation. Tilt steering and two storage areas complete the standard equipment. Cruise control is optional.
Our test tractor was outfitted with the CL600 curved boom loader, mirroring the shape of the Lx4900 hood line which we might think has a sort of snarl appearance with the lighting shape and the yellow and black paint scheme. Aggressive styling gets backed up with aggressive stats – the CL600 has a lift capacity of 2,493 lbs and a max lift height of 113". We measured dump clearance at 87.7" and the dig depth oat 7.5". Cycles times with 8.7 gpm flowing at 2,422 psi were responsive with full raise taking 4.5 seconds, full lower 3.5 seconds, full dump 1.5 seconds and full curl 2.5 seconds. Breakout force is rated at 3810 lbs. The CL600 comes with a 72" skid-steer style bucket that has a 10.9 cubic foot capacity. Loader and bucket weigh 979 lbs, bringing the Lx4900 as tested to 4,597 lbs.
A CB85 sub-frame backhoe is available that can dig to a depth of 103" with a reach of 142". The 1,350 lb. unit operates at 2,550 psi and has a 180-degree swing arc. Dig force is rated at 3,730 lbs and a variety of pin-on buckets ranging from 14" to 36" are available. The CB85 (like the CL600) is a quick attach design that can be removed or installed in minutes without tools. The 3PH lower lift arms do not need to be removed while the backhoe is installed.
RESEARCH: Click here for information on all Utility tractors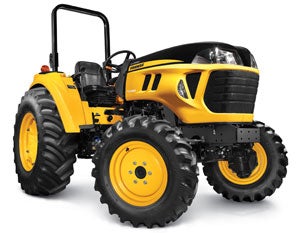 Heading off to the north forty, we got to move a few yards from a dense gravel pile. Our test tractor's rear tires were loaded with RimGuard, which was plenty of counterbalance even transporting the heavy bucket loads. Driving into the pile, we appreciated the hydrostatic foot controls which freed up our left hand to steer and our right to operate the joystick. And as engine load increased as the bucket buried in the pile, the slight whine of the turbo pumping out those extra horses managed to put a smile on our face each and every time. This is definitely a large frame tractor/loader combination we could get used to.
The Lx4900 rides on a 74.8" wheelbase, is 69.5" wide, 125" long and has a ground clearance that measures 16.6". Front 8-16 and rear 14.9-24 Ag (R1) tires are standard (R3 turn, R4 industrial and hybrid Galaxy turf options are available). Yanmar warrants each Lx4900 bumper-to-bumper for two years or 2000 hours with the powertrain extended to five years or 2500 hours.
If you're in the market for a large frame UT, check out the Lx4900 – we think you'll give it 48.5 thumbs up too.
Buyers Guides
Our Partners