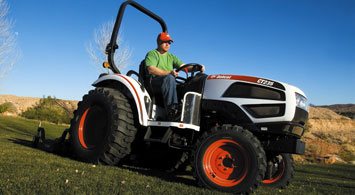 The Bobcat compact utility tractor (CUT) lineup consists of eight models ranging from 22 to 49 horsepower which is spread over four frame sizes. We've already had some seat time last December when we reviewed the 41 horsepower CT440 and in July with the 22 horsepower CT122, so it made sense to test something in between. When we learned a CT235 was being prepped for a local delivery and that the owner-to-be didn't mind us spending some time behind the wheel, the model review decision was made.

The CT225, CT230 and CT235 share the same size frame, which is a step up from the CT122 and a step below the CT335. The only difference between the three models is the gross horsepower with the CT225 rated at 27, the CT230 30, and the CT235 34. The 97.6 ci (1.6L) 3A165LWM powerplant supplied by parent Daedong is Interim Tier IV compliant and delivers 26.5 power take-off (PTO) horsepower at a relatively low 2600 rpm. This is the same powerplant shared by the Kioti CK35, so you know it is a time-tested and proven choice.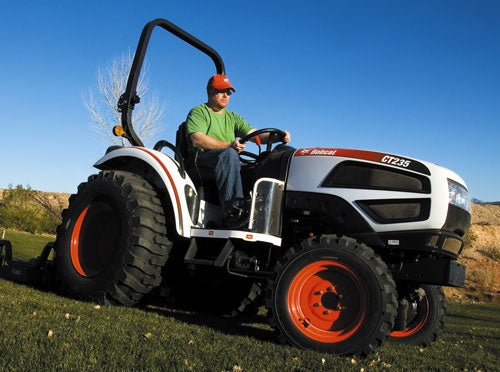 Power from the diesel is sent to a three-range hydrostatic transmission controlled by a treadle pedal arrangement. Those of you that are longtime readers will know a treadle is not our preferred method of controlling forward and reverse motion, but the setup on the CT235, which uses a C-shaped pedal that can be actuated by toe/heel or toe/toe by slipping the foot under the front lip and lifting, works well and accomplishes well-modulated control. Low range forward covers 0 – 3.3 mph, Mid range 0 – 6.4 mph and High range 0 – 13.1 mph. Single-range reverse speed is 0 – 8.2 mph. Differential lock is standard.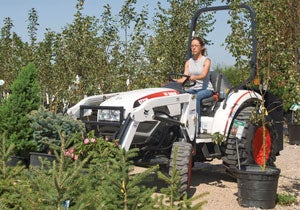 Hydraulic power is from a tandem pump that allocates 4.3 gpm to power steering functions and 7.9 gpm to implement needs (12.2 gpm total). This gives the Category-I three-point hitch (3PH) a lift capacity of 1508 lbs. at the industry standard of 24" behind lift points. Control is by position, so the implement can be returned to an exact operator selectable point each and every time. Our test tractor came with an optional extra rear hydraulic outlet and the CT235 can be outfitted with one more for a total of two. Telescopic rear lower links are standard, which are sure to be appreciated when attaching heavy 3PH implements. A crank controls initial height and pin loaded stabilizer arms adjust easily from outside the arms.
From the operator's standpoint, the CT235 has an open platform with a modern automotive-style dash that is dominated by a large tachometer with PTO rpm clearly marked. Our test tractor was equipped with the optional deluxe suspension seat which we highly recommend to a prospective purchaser. We found the deluxe suspension seat to absorb shock nicely while still allowing some road feel, and unlike some suspension seats, it was not at all bouncy.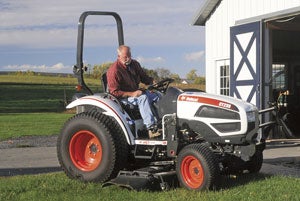 Bobcat integrates joysticks as well as any manufacturer and unlike its Kioti cousins, which are mounted on the loader stanchion and require more operator reach. We found the controls to be well marked, color coded, and ergonomically positioned – with the exception of the 4WD lever, which is by the operator's left heel, and the position control, which is located a little far behind the operator's right hip even with the seat all the way back. Neither are show-stoppers and certainly locations you would get used to, but positioning them a little closer to the operator would have been nice.
Another ergonomic nit is the location of the ignition key. Our tallest tester (6' 4") kept banging his right knee against the key; shorter operators (me) had no problem. Bobcat gets check-plus for outfitting the CT235 with a tilt wheel, retractable seatbelt, folding ROPS, rubber floormat, generous grab handles and a cup holder. The headlamps are automotive bright and feature high and low beams. Cruise control is standard as is a smallish tool box.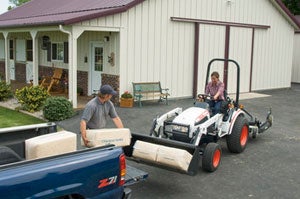 Start up the powerplant (a cold weather glow plug system is standard) and select the desired gear range. We found High to be a transport-only range and not one you could mow in if your property has any degree of slope. If this describes your situation, don't sweat; the Mid range, which still features a 6.4 mph top speed, should easily get the job done. Low puts all 34 horses to the ground and might soon be having you look for a stump to pull out.
Our test tractor was equipped with Bobcat's 7TL loader and 60" Bob-tach bucket (54" and 68" versions are available). Bobcat rates this combination to lift 1605 lbs. to full height of 84.3" (measured at the pivot pins). With 7.9 gpm flowing to loader functions, it was no surprise that response was snappy. The Bob-tach system weighs 132 lbs more than the standard setup, so you do lose 76 lbs. of lift capacity, but you gain the ability to go from a bucket to landscape rake, auger, grapple, snow blower or dozens of other attachments in less than a minute.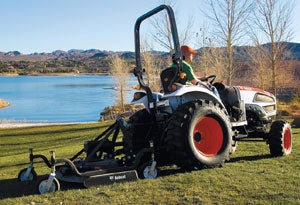 The CT235 hood and fenders are all metal and sure to appeal to the anti-plastic crowd. And the time-saving ability to check engine oil without opening the hood gets our approval. A 2000 rpm mid-PTO is an option, but on a tractor of this size, probably not missed by many. We also like the separation of engine and transmission cooling systems.
The CT235 measures 122.2" long by 55.4" wide and to the top of the raised ROPS is 97". Ground clearance is 11" and the turning radius is 114" with brakes applied. Tractor only weight is 3056 lbs and rides on a 66.1" wheelbase. Bobcat-specific turf tires on our test tractor were 27×8.5-15 4PR front and 43×14-2 4PR rear.
Bobcat backs up its compact utility tractors with a 24-month/2000-hour full warranty with the driveline getting 36-month/2000-hour coverage. But the big news is that a few weeks ago, Bobcat announced it is exiting the tractor business. This probably makes sense as Bobcat concentrates on its core excavator business. It also means that prospective purchasers may be able to cut a smoking deal on a Bobcat tractor. Warranty fears should be non-existent as parts will continue to be supported through the Kioti division. So if you are in the market for a beefy tractor of this size and class, why not see if you can cut that extra special deal? If you do, let us know how juicy it was.
Related Reading
2012 Bobcat CT122 Review
2012 Bobcat CT440 Review
2012 Kioti CK20S HST Review
2012 John Deere 2320 HST Review