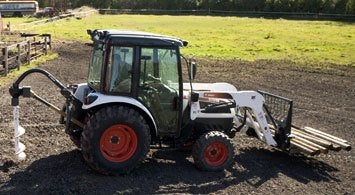 You see the white and black machines with eye-catching orangey-red on access covers, hydraulic cylinders and wheels at construction jobsites everywhere. And you hear testament after testament—if not having experienced it yourself firsthand—of Bobcat's legendary quality, value and performance. But does a Bobcat compact utility tractor (CUT), essentially a rebranded Kioti machine—or is it?—carry with it that same reputation? Read on and find out how we thought the CT440 model stacked up.

First, we'll give a little Bobcat history lesson. Bobcat, though manufacturers of other products as well, is best known for its skid-steer loaders. The earliest iteration of this class of construction machinery was developed by the blacksmith brothers Cyril and Lewis Keller and first displayed at the 1958 Minnesota State Fair. This was where Bobcat's three-wheeled loader caught the eye of Les, Cliff, Roger and Irv Melroe, operators of the Melroe Manufacturing Company, who purchased the rights to the design. Modifications were made, but the three-wheeled design was inherently unstable and ultimately led to the Melroe M400 in 1960, which for the first time was a true 4WD design. Over the next 50+ years, Bobcat continued to improve on that first skid-steer loader until it is the product you see today.
In 2007, Doosan Infracore (formerly Daewoo Heavy Industries) acquired Bobcat. Deadong is another South Korean manufacturer that has produced mechanized farming equipment for more than 60 years. Its Kioti brand was first introduced to the North American market in 1982, and the combination of price and reliability quickly endeared a loyal following. In 2007, Doosan and Daedong formed an agreement to bring Bobcat CUT tractors to the North American market. While the two companies might at first seem to be odd bedfellows, Daedong was given access to Bobcat's vast dealer and rental agency network and Bobcat benefitted by Daedong's tractor technology. The rest, as they say, is history.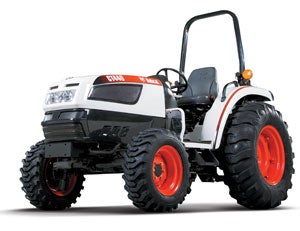 The Bobcat model we chose to review is the CT440, a big, beefy tractor even in the 40+ horsepower class. Sized about the same as a John Deere 4×20 series tractor, the CT440 weighs in even heavier (3847 lbs), and comes with a long list of standard features. Power for the CT440 comes from a 4-cylinder Daedong liquid-cooled diesel that makes 41 gross horsepower through natural aspiration and yields a full 30 horsepower at the power take off (PTO). The CT440 puts that energy to the ground with hydraulic technology Bobcat is long known for, with 6.6 gpm flowing to the power steering unit and 9.5 gpm for implement use—plenty for this class of tractor. The hydrostatic transmission has 3-ranges, in our view a necessity in many applications, and offers just the right ground speed for the task ahead. Low range is stump-pulling tough and dishes out an infinite range of forward speeds to 3.9 mph, Mid covers 0 – 6.7 mph, and the High transport range zips along at up to 16.8 mph. Reverse, when in High range, tops out at 11.2 mph.
Our test tractor was equipped with the 9TL loader which is rated to lift 2030 lbs to its 112.3" lift height. With 54, 60, 68 and 72" buckets available, and a breakout force of 3346 lbs it's easy to see the CT440/9TL combination is ready to get dirty and do some work. We've long been fans of foot operated hydrostatic drives, especially when it comes to loader work, and after moving a large gravel pile we give this combination a big thumbs up. The 9TL comes with a built-in stand and can be removed or reattached in minutes without tools. A level indicator is standard.
We found the operator's platform well thought out, with color coded controls that were ergonomically placed. The fully-adjustable suspension seat was comfortable and combined with the vibration-isolating rubber floor mat, made for a machine you could operate for a full day and not feel as if you had. And the joystick used to control implements such as a loader is neatly integrated into the dash which frees up the right side of the tractor for easy egress—a feature other manufacturers should take note of. As mentioned earlier, the CT440 is a large tractor and nimble isn't a word normally associated with this size machine, but the dual steering brakes make tight turns possible and are a welcome feature should you by chance stray into the muddy stuff and need to work your way out.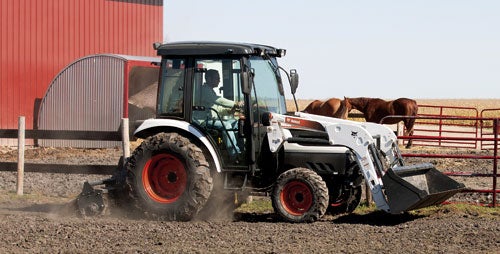 The CT440 three point hitch (3PH) is rated to lift 1870 lbs at the industry standard 24" behind lift point and comes with telescoping lower links which greatly reduce the amount of wrestling needed to hook up an implement. Bobcat has also opted to forego the usual turnbuckle arrangement used to snug up the lower arms in favor of a simplified crank-style adjustment. Both are improvements sure to be appreciated in the field.
Our test tractor was equipped with the optional Bobcat Bob-Tach mounting system which allows easy switching between different sized buckets and pallet forks. As you would expect, the Bob-Tach system shares compatibility with many skid-steer implements. Two backhoes are offered: the 7TB and 8TB with 90" and 102" digging depths respectively. But that brings up perhaps one of the biggest arguments for purchasing a Bobcat CUT; the availability of attachments. Purchase the ones you most often need to use, but if you only need to dig single trench, for example, just rent the backhoe from your dealer and bank the savings.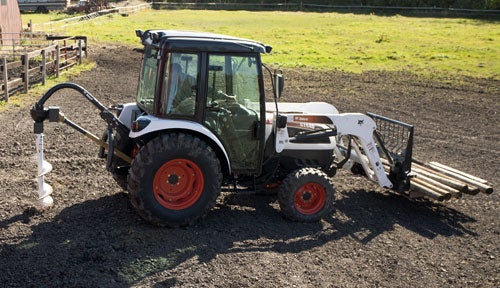 Ease of maintenance was clearly on the mind of Bobcat designers, and little things like the ability to check engine oil level without opening the hood will be appreciated, even with the loader on. Throw in a cup holder, tilt steering, folding ROPS (all standard) and I'll take mine in white, black and orange. In truth, the only fault we could find with the CT440 was the lack of a mid-mount mower (MMM) option, but maybe that is a task best left for a smaller machine. And if protection from the elements is high on your list, Bobcat offers a climate-controlled cab option.
So, is a Bobcat CUT a rebranded Kioti tractor? That's hard to say. Clearly Bobcat has influenced the design and aimed it at a higher end marketplace. The quality of fit, ergonomics, ease of putting on and taking off attachments, and attention to detail all show. But the same can be said of the latest generation of Kioti equipment. The dealer we dealt with told us the two brands couldn't be more different and that Bobcat CUT failures in the field have been far and few between with most being chalked up to poor maintenance and/or abuse. With a two-year warranty and third year of driveline coverage, the CT440 might just be that perfect tractor for your needs.
Related Reading
2011 New Holland Boomer 3045 Cab Tractor Review
2011 Massey Ferguson 1526 4WD Review
2011 Kioti CK20S HST Overview