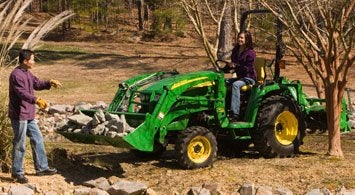 Everyone knows John Deere 3000 Twenty tractors are regarded highly among the medium-sized chassis compact utility tractor (CUT) segment, especially when it comes to creature comforts, ergonomics, and available features. We tested an all-the-bells-and-whistles series flagship 3720 Cab tractor back in February of 2012 and were impressed, but wondered how a 3520 or especially a non-hydro 3320 would compare. Thanks to our local dealer, we were able to get some answers.

The 3320 is the least powerful model in the 3000 Twenty series line up. But don't let that fool you; each 3320 gets Yanmar's excellent three-cylinder 1.6L TNV direct-injected powerplant tweaked to produce 32.8 gross horsepower and with great torque reserve on tap for when the going gets tough. Using direct injection and advanced cylinder design where the fuel is injected directly on the piston tops, the TNV mill meets EPA Interim Tier IV emissions requirements. Running at the rated engine speed of 2600 rpm, the power take off (PTO) output is 25.5 horsepower for models equipped with PowrReverser transmissions, as was our test tractor. If you opt for Deere's popular eHydro hydrostatic transmission, PTO output drops a half horsepower. eHydro is a $1,093 option that may well be worth it to potential purchasers, but it was our intent to test a 3320 in its most basic state.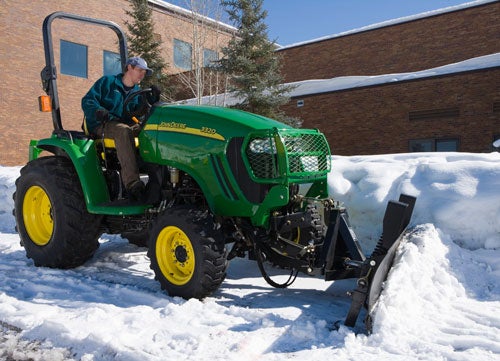 The 12 x 12 speed PowrReverser transmission our test tractor was equipped with uses heavy duty multi-disc clutch packs (clutches are 5" in diameter) and allows clutchless shifting from forward to reverse. This is a system well versed for loader work where the operator drives the tractor into the material pile and at the point forward progress is halted (bucket full), he or she just pulls back the left hand turn signal-like stalk while at the same time lifting and curling the bucket using the joystick control with their right hand. For those not familiar with the system, it may sound a little complicated, but once you get used to it, a PowrReverser transmission ends up being as intuitive as a hydro unit. Dual cone synchros allow on-the-go shifts (clutch required) within gear ranges, though shifts between the three speed ranges are not synchronized and the tractor needs to come to a halt to change from low to medium or high range.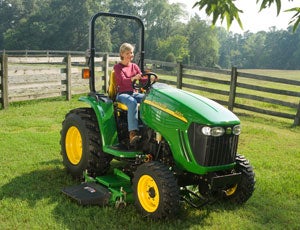 Hydraulics on the 3320 are powered by open center dual pumps that flow 8.6 gpm to implement needs and 5.3 gpm power steering, all at 2500 psi (13.9 gpm total). This gives the Cat I three-point hitch (3PH) a lift capacity of 2,200 lbs at the industry standard of 24" behind center and 2530 lbs at link ends. Control over the hitch is by position, so an operator can return an implement to an exact selectable position time after time. Stabilizers are located outboard from the lower lift arms and telescope for fast, easy adjustment. A three-position drawbar (two operating, one storage) can be adjusted fore and aft as long as a mid PTO is not installed.
Climb into the high-back seat with scissor suspension adjustable for operator weight (115 – 275 lbs) and the operator is treated to a spacious rubber isolated platform with ergonomically laid out controls and displays. Though PowrReverser models don't get MotionMatch, SpeedMatch, digital speedometer, or cruise, they still benefit from Deere technology which includes automotive-style diagnostics. The instrument panel is backlit for excellent visibility at night and includes a large tachometer with PTO rpm clearly indicated and gauges for engine hours, fuel level, and temperature. LEDs for low fuel, air filter restriction, alternator, glow plugs, 4WD engagement, oil pressure, PTO engagement, parking brake, and turn signals/flashers complete the instrument package.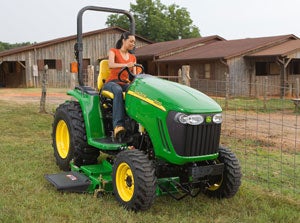 PowrReverser models are equipped with foot and hand throttles for convenience. To avoid interfering with clutch operation, the differential lock pedal has been relocated to the right side. View over the sharply sloping one-piece composite hood (fenders are composite) is excellent and several of our testers noted how much they liked the styling. Steering is hydrostatic power and the wheel tilts for operator comfort and easier egress/access with the steering hydraulic cylinder and rod located under and behind the front axle for protection. Brakes are split and can be locked together or used separately. Turning radius with brakes applied is 8.8'. SCV options include third, fourth and fifth remotes, with the third SCV having electro-hydraulic control for smoother and quicker response. The third SCV is an $898 option. The joystick, which is nicely integrated, has operator defeatable REGEN, allowing heavier bucket loads to be dumped faster.
John Deere has long built safety into its tractors and the 3320 is no exception. The rollover protection system (ROPS) in conjunction with a retractable seatbelt offer good protection, especially in challenging terrain (ROPS should be up and seatbelt fastened in all conditions) and the operator presence system cuts power if it senses the operator has come out of the seat. For those needing to run an implement such as a chipper, if the parking brake is set and the transmission is in neutral, the PTO can be operated without an operator sitting in the seat. One safety feature we cringe at, but in the atmosphere of endless lawsuits can understand, is the addition of RIO (reverse implement option). Tractors with serial numbers above 910000 now come with RIO. Undoubtedly, forum private messages will be filled with advice on how to defeat this intrusive system, which is no substitute for operator awareness and looking behind before backing up. Pushing a button to allow backing up with the PTO engaged guarantees neither.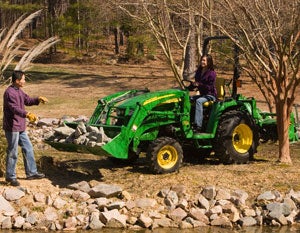 Our test tractor was equipped with just a single option, Deere's 300CX loader. The 300CX is a curved boom design that complements the sloping hood and allows good visibility of bucket position and operation. It is a quick-park design with built in stand, so attachment or detachment can be accomplished in minutes without tools. Grease fittings are engineered to the outside frame and in cups so an owner doesn't have to look to find them or worse yet, miss greasing one or two. As well, hydraulic lines are positioned inside the frame for protection.
You can equip the John Deere 300CX with both 61" and 73" buckets in standard material or heavy duty configurations with options that include a tooth bar, skid-steer carrier, and a 4-in-1 clamshell for added versatility. The 300CX can lift 1,598 lbs to a full height of 102". Dig depth is 5.6" and at full dump the bucket will clear 79.7" so most pick-up trucks or trailers will work fine. Response with 8.6 gpm flowing to the loader is good with a raise time of 3.6 seconds, lower 2.1 seconds, dump 2.9 seconds, and curl 1.8 seconds.
The MSRP for a 3320 equipped with the PowrReverser transmission is $21,166. With Deere's three-year/2000-hour warranty, extensive dealer and parts network, this capable performer might just be that medium chassis CUT you've been searching for.
Related Reading
2012 John Deere 3720 HST Cab Tractor Review
2012 John Deere 2320 HST Review
2012 John Deere 2720 HST Review
2012 John Deere 3038E Review
2012 John Deere 4720 HSTC Review