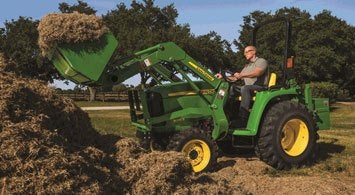 The John Deere 3E series, all 4WD, offers a lot of bang for the buck. The naturally aspirated 31.1 hp 3032E retails for $18,953, while the turbocharged 37.3 hp 3038E and subject of a 2012 Tractor.com review and subsequent long-term test series this past year retails for $20,669. Related to the horsepower ratings and EPA regulations, those models are outfitted with a diesel particulate filter (DPF), which carries with it some extra sophistication and cost. This brings us to this week's test subject, the 3025E, which slips in under the EPA horsepower threshold and does not require a DPF to meet Final Tier 4 (FT4) requirements. As a result, the 3025E carries an MSRP of $17,324.

Powering the 3025E is a Yanmar three-cylinder diesel engine which utilizes the same basic 1.64L block as the 3032E and is also naturally aspirated. Given the designation 3TNV88F-EPJT1, the engine uses high pressure common rail injection (HPCR) and is rated to deliver 24.7 hp at 2400 rpm with a power take-off (PTO) rating of 17.4 hp. Torque output is rated at 51.3 lb-ft and is plenty robust to power the 2222 lb 3025E (tractor only).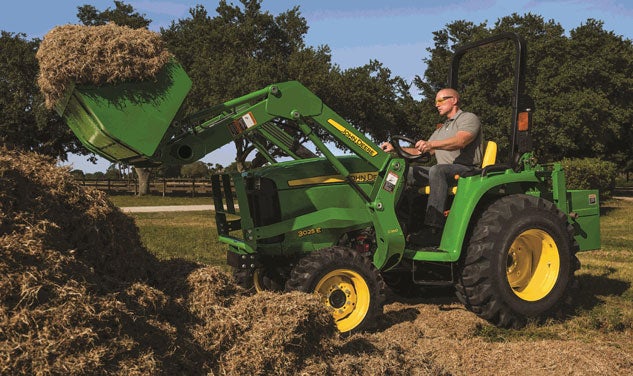 Output from the engine is sent to a two-range hydrostatic transmission made from a strong alloyed die cast aluminum case. Departing from earlier designs using a sight glass to check hydrostatic fluid levels, the case has a dipstick located on the left back and a fluid fill tube/cap located over the right axle. Forward/reverse control is by an excellent side-by-side pedal arrangement many have come to appreciate and know well. Hydraulic output from the open center, dual gear pump, is 4 gpm to the power steering system and 5.3 gpm to implement demand all at 2500 psi (9.3 gpm total).
COMPARISON: Read our review of the 2016 Kioti CK2510 Cab and Snowblower
The Cat I three-point hitch (3PH) gets a lift capacity rating of 1356 lbs measured 24" behind the link arms which have fixed ball ends. Position control is standard, so an implement can be returned consistently to a preset height. Keeping the rear implement centered and from swinging dangerously side-to-side is a pair of outboard turnbuckle stabilizers. The hydraulic system will support two rear remotes as a field install option, though neither will have detents so constant run hydraulic devices such as motors are not compatible. This still leaves plenty of implements that use cylinder style devices, such as a rear blade with hydraulic angling or a rear mounted snow blower with hydraulic chute rotation as possibilities. A single rear 540 rpm PTO (at 2500 engine rpm) is standard but the 3025E does not have a mid-PTO option, so no front blower and no mid-mount mower. Axle capacity, 1760 lbs front and 2160 lbs rear, give hint at the manufacturer intended uses.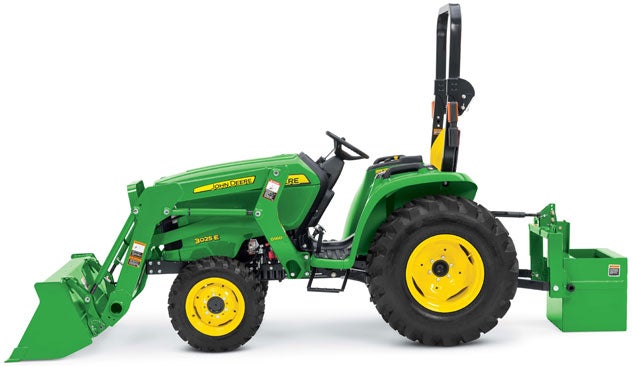 Climb up into the operator platform using the single left hand step and you find a mostly flat floor (there is a small transmission hump) with ergonomically laid out controls. As with other 3E series machines, the left foot brake pedal also serves as the differential lock when halfway depressed. Turn radius using the brakes takes place in a 9.2' footprint. The one-piece seat adjusts fore and aft but does not have weight adjustment or armrests. The seat does tip forward though to protect from the elements while not being used. A tool/gizmo storage tray with a lid is located on the left fender with a ratchet-style hand brake and the range select lever between the fender and seat. The right fender houses the optional cruise control toggle switch and PTO engagement push/pull switch with the 3PH position control lever between the fender and seat.
COMPARISON: Read our review of the 2016 Mahindra 2555 Shuttle Open Station
The dash panel is backlit and easily readable by day or by night. A large tachometer sits in the center with a temperature gauge to the right. The rest of the warnings/alerts is by indicator lights, but there is also a small LCD panel with functions such as engine hours, precise PTO rpm, and onboard diagnostics. A fuel gauge is located on the hood, next to the filler tube/cap for the 6.2-gallon tank.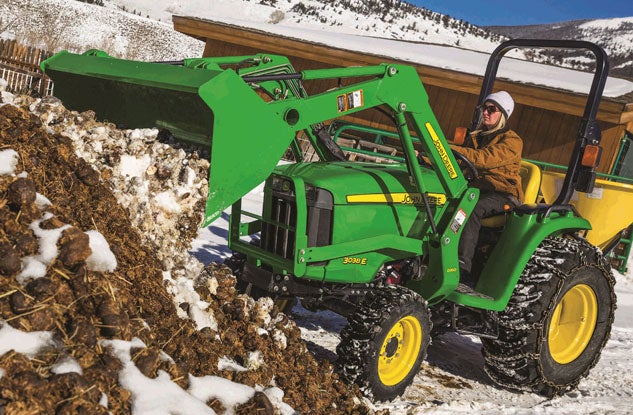 A single loader is available for the 3025E. The D160 base design is fixed (permanent install) but now can be had with the optional DW15872 park stand kit so that constraint (for some) should no longer be a factor. A D160 on a 3025E is rated to lift 1186 lbs to a max height of 84". The loader control SCV joystick is mounted on the loader frame stanchion, so the nice fender incorporation of the "premium" 3R series isn't there; but the location is in no way tiresome, even after long use.
COMPARISON: Read our review of the 2015 Yanmar 424 TLB
The 3025E measures 111" long by 58" wide and rides on a 60" wheelbase. Ground clearance to the front axle is 13". Upright, the foldable ROPS measures 91.4" tall when equipped with R3 (turf) tires, 90.8" when equipped with R4 (industrial) tires, and 91.8" when equipped with R1 (Ag) tires. Tire sizes are: 27×8.5-15 front/41×14-20 rear (R3), 25×8.5-14 front/15-19.5 rear (R4), and 7-14 front/11.2-24 rear (R1). John Deere now warrants 3E series tractor powertrains for six years/2.000 hours (see dealer for complete details). Current incentives now include 0% for 60 months with an additional $2,500 bonus towards an implement (through January 2017).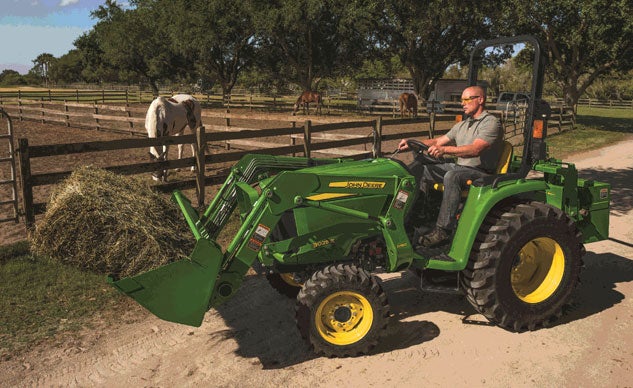 If a 25-horsepower small frame compact utility tractor with niceties such as a hydrostatic transmission and position control but without the need for a complex, cost increasing DPF emissions system is on your horizon, the John Deere 3025E may well be worthy of consideration. The "E" in the 3E series may stand for economy, but the long list of features and niceties really does push the "premium" envelope. And if you just have to have the extra horsepower, there is always the 3032E and 3038E.