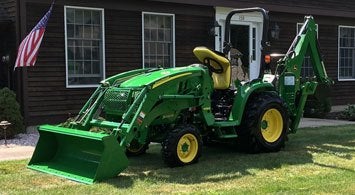 Our John Deere 3033R long-term test tractor arrived with 4.1 hours on the digital hourmeter and outfitted as a tractor-loader-backhoe (TLB) using the model H165 loader and 385A backhoe.

The John Deere 3033R is a "premium" tractor with lineage that includes the 855 of 1986, 4115 of 1996, and 3320 of 2005. These tractors have and continue to hit the sweet spot for rental outfits – heavy duty enough to withstand the use/abuse of long hours and many operators – while still providing the comfort and ease of use appealing to a wide range of users.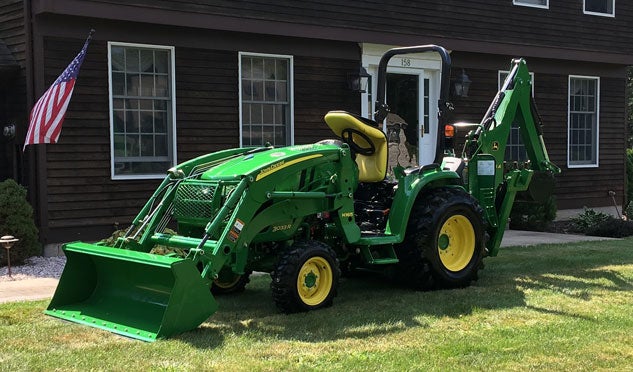 Powered by a Yanmar 3TNV88C-MJT three-cylinder diesel that is EPA Final Tier 4 (FT4) compliant, the John Deere 3033R is the lowest horsepower tractor in the three-tractor 3R series, all of which are based on the same sized chassis. Output at the rated 2600 rpm point, according to the operator's manual, is 31.8 gross horsepower, with 24.3 horsepower at the power take-off (PTO). We say according to the operator's manual because the North American John Deere web advertises 32.2 gross horsepower and the European 32.8. We found a few other discrepancies between the operator manual and the web, though we're nitpicking here and what really matters to a potential owner is how it all works in the field, yard or site.
COMPARISON: Read our review of the 2017 John Deere 3046R
Our three-part long-term test coverage (First Impressions, Midway Report, and Wrap-up) is intended to give that potential owner more significant tools to help make a decision than can be had in a typical short ride and drive situation. But first some technical specifications.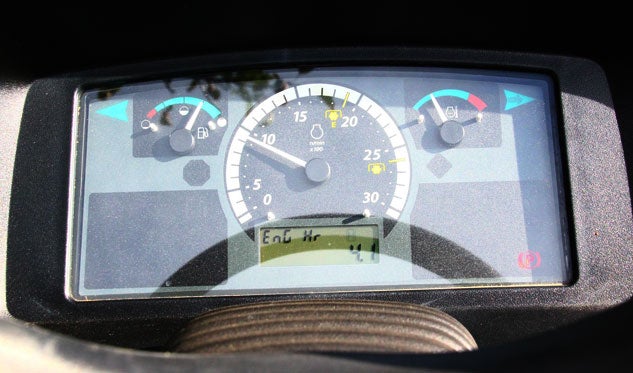 The naturally aspirated 1.642L Yanmar powerplant has an operating range of 950 – 2750 rpm, with 64.24 lb-ft of torque at 2600 rpm and 77.4 lb-ft at 1690 rpm. As part of the FT4 emissions package, a diesel particulate filter (DPF) is under the hood. The DPF under normal use operates automatically (passive), eliminating most of the particulate matter (PM) using the heat of the exhaust stream. Under low use conditions – extended operation at low rpm or low engine load such as might be encountered with backhoe use – a cleaning cycle (active) that raises the exhaust gas temp by injecting additional fuel may take place. In the rare circumstance where additional cleaning is required – typically created by an operator disabling automatic cleaning for long periods of time – the tractor may need to go to a parked cleaning cycle, where the tractor cannot be used until the cleaning cycle is completed.
COMPARISON: Read our review of the 2017 Kubota B2601 HST
There are two transmissions available: a 12 x 12 speed PowrReverser, or the three-range hydrostatic transmission (HST) our test tractor came with. HST tractors are controlled by twin-touch pedals positioned on the right floorboard and with the innermost pedal controlling forward motion and the outermost pedal reverse. The setup offers nice modulation over the 0-4.1 mph "A" range, 0-8.09 mph "B" range and 0-18.5 mph "C" range. Differential lock and 4WD (on-the-go) are standard.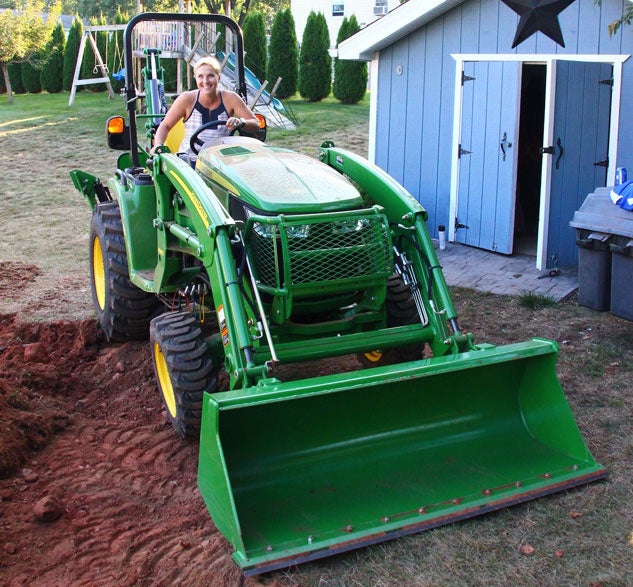 Hydraulic power is through an open center PV axial piston pump operating at 2500 psi and flowing 5.9 gpm to the power steering system and 8.6 gpm to implement demand (operator's manual numbers). This gives the rear Cat I three-point hitch (3PH) a lift capacity of 2530 lbs at ball ends and 2200 lbs 24" behind. An optional front Cat 0 3PH is available with lift capacity of 1300 lbs at ball ends and 815 lbs 24" behind. Our test tractor being a TLB was not outfitted with a front 3PH.
The H165 curved boom loader is a Quick-Park design, designed to be removed/installed in minutes without tools. Lift capacity is 1598 lbs to a max height of 102" with a dig depth of 5.6" and dump clearance of 94". Breakout force rating at the boom is 3327 lbs and 1787 lbs on bucket roll back. Our test tractor came with the 61" heavy-duty bucket with reversible/replaceable cutting edge. Cycle times are 3.56 seconds full raise, 2.1 seconds full lower, 2.96 seconds full dump and 1.75 seconds full curl. We're looking forward to learning how the loader handles some of our planned tasks.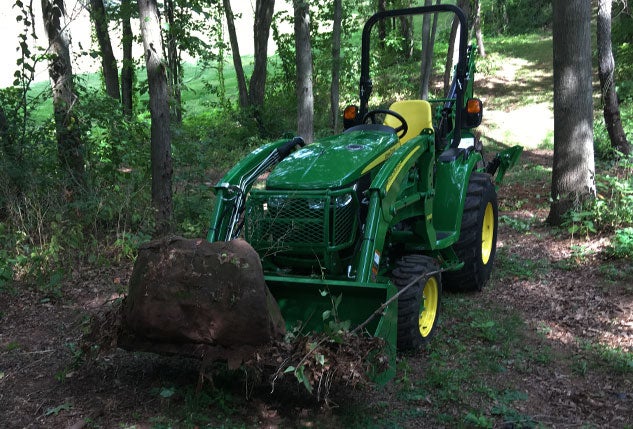 The 385A backhoe is a subframe mount that uses the 3PH lower link arms to attach and maneuver into position. Specs for the 385A are 103" dig depth, 180-degrees swing arc, 140" reach, and breakout force 2449 lbs at the dipperstick and 3752 lbs at the bucket. Our test tractor came with an 18" four-tooth (replaceable) bucket. As with the loader, we can't wait to see how the backhoe handles our tough Northeastern clay/rock soil.
COMPARISON: Read our review of the 2017 New Holland Boomer 47
The John Deere 3033R measures 120.2" long (tractor-only) by 69.1" wide and is 93.3" high to the top or the ROPS, which when folded, reduces height to 72". Ground clearance is 12.2" and the 2900-pound tractor rides on a 68" wheelbase with 15-19.5 NHS Galaxy Marathoner industrial (R4) tires on the rear and 25×8.5-14 NHS R4 tires upfront. Turn radius in 2WD is 8.8'. Onboard fuel is 13.5 gallons.
Our test tractor arrived showroom clean on September 1st on a Farmington Valley Equipment (Farmington, Conn.) truck. Salesperson Dave Eaton walked us through the nuances of the tractor, loader and backhoe and stressed things we should do such as check wheel-nut tightness after a few hours of use. Eaton showed us how to remove the backhoe – a simple, tool-less, couple-of-step procedure – and then advised us to keep the rpms up while using the tractor to keep the PM buildup to a minimum.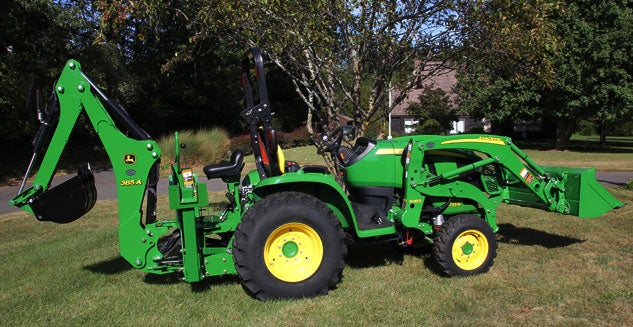 Walking around the tractor, a number of things stood out: the seat has a weight adjustment that applies or lessens tension to springs in the scissor-link suspension and achieves near air-ride comfort. On the H165 loader there are coil springs on each side to cushion/stabilize the load while traveling. The frame looks beefier than the frame used on the 3032E tractor which we'll chalk a lot of the ~ 300 extra lbs for a 3033R to. The John Deere website shows an open station 3033R with a rear fender fuel fill location but our test tractor fill location is below a small door on the higher-up hood-top. We also noticed the hood slope profile doesn't quite match that of the H165 booms. Our guess is that is due to the large DPF filter under the hood, but wonder if the higher hood will reduce loader working visibility. Other than those observations, the John Deere 3033R looks beefy, with well-balanced proportions, automotive or at least advanced design influenced ergonomics, and ready to do serious work.
Coming up we have a few stumps to dig out, two firepits to build, a trench to dig, and a lot of topsoil to spread. In a few weeks we'll report back how the 3033R TLB is performing in the field in our Midway Report, followed a few weeks later by a wrap-up article. Stay tuned as we have some fun getting the John Deere 3033R dirty.