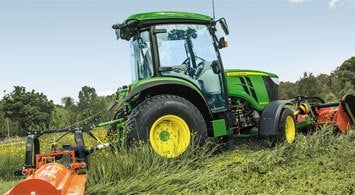 For 2017, the John Deere 4 Series consists of four tractors, the 49-horsepower 4049M, the 66-horsepower 4066M, the 49-horsepower 4049R, and the 66-horsepower 4066R. As with other John Deere series, tractors bearing the "R" suffix are deluxe models while those wearing the "M" or "E" suffixes come with somewhat lesser goodies. This holds true with the 4 series, though one of the big distinctions is that the M tractors are open station models while the R tractors are available with or without a cab.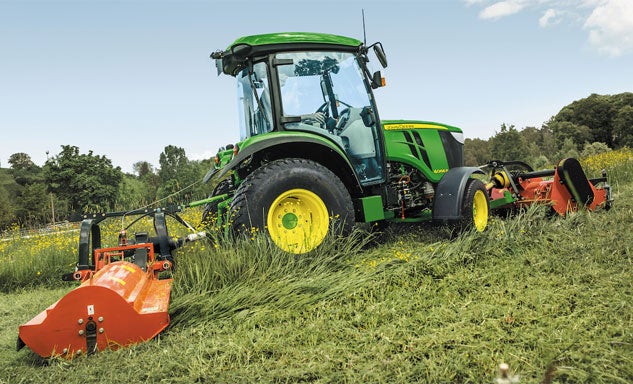 Power for 4 series machines comes from Yanmar four-cylinder diesels displacing 2.0L for 4049 tractors and 2.1L for 4066 models. These engines are turbocharged and utilize common rail injection (CRS), an electronic control unit (ECU), diesel oxidation catalyst (DOC) technology along with a diesel particulate filter (DPF), to achieve reduced operator sound levels, maximum fuel efficiency, and EPA Final Tier 4 (FT4) emissions compliance. No diesel exhaust fluid (DEF) additions are required. For the 4066R, rated power comes at 2600 rpm and is 65 gross and 54 power take-off (PTO). Torque output is rated at 131.3 lb-ft.
COMPARISON: Read our review of the 2017 John Deere 5075E
Two transmissions are available for M tractors, a 12F/12R PowrReverser that allows clutchless directional changes and a three-range hydrostatic (HST) unit. R tractors come only with eHydro transmissions. eHydro transmissions come with all the goodies. That includes: SpeedMatch, which sets a desired maximum travel speed and is great for sprayer or tilling applications; LoadMatch, which prevents stalling under heavy loads by reducing drive speed to compensate for load while still allowing droop control so PTO applications can maintain desired PTO speed; MotionMatch, which adjusts HST reaction response using seven settings; eThrottle, which increases or decreases engine speed to HST pedal position without having to fuss with the throttle; and electronic Cruise which is automotive-like with SET/- and RES/+ buttons.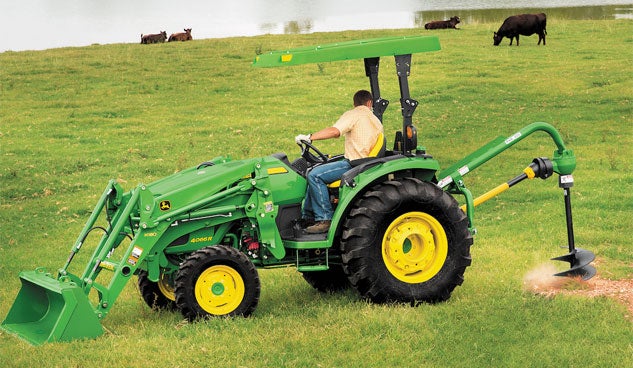 Hydraulics are through an open center dual gear pump arrangement that sends 5.7 gpm to the power steering circuit and 10.2 gpm to implement demand (15.9 total). Position control is standard so an implement can accurately be returned to a preset height with the system able to support up to three rear remotes (optional). Normal PTO speed (540 rpm) comes at 2400 engine rpm. Opt for the field-install 540e PTO (actuated by a lever behind the seat) and rpm drops 70% so 540 PTO comes at approximately 1758 engine rpm. Fuel savings can be as much as 30% using 540e. Hydro oil service interval gets expended to 1200 hours when using Hy-Gard fluids. Filter change and system top-off is still recommended at 400 hours.
COMPARISON: Read our review of the 2016 Mahindra 2565
The Cat I three-point hitch (3PH) is rated to lift 2,520 lbs at the industry standard of 24" behind link arms. John Deere aids apples-to-apples comparison by also stating the lift capacity at link ends (3,130 lbs). Telescopic lower link ends are an option. R tractors come with HitchAssist, which allows the operator to creep the tractor forward/backwards while standing behind the tractor. The right fender has two switches, one for enabling HitchAssist and the other the direction. An alarm sounds while the tractor is moving. Also making attaching an implement easier is the Auxiliary Hitch controls on the left fender which raise and lower the 3PH lower link arms from behind the tractor. For the ultimate in 3PH control, real downforce is available as an option. Think post hole digging made that much easier.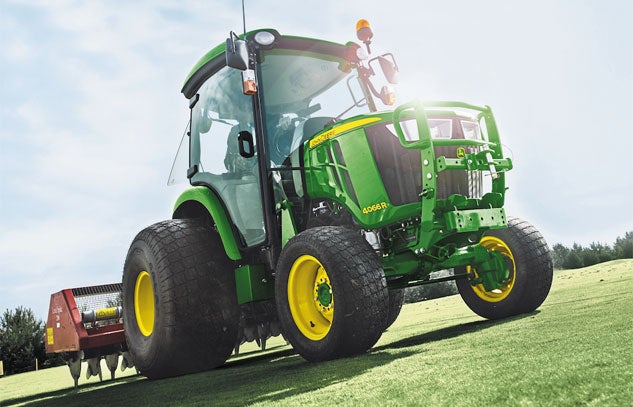 Climb up into the Premium ComfortGard Cab and you'll find a near flat, rubber isolated platform (there is a small transmission hump in the center) with plenty of foot room for even the largest feet. Split brakes are positioned to the left and twin side-by-side HST pedals to the right. And if you thought with all the electronics there would be a myriad of jumbo jet controls, there's not. The left fender console contains a large storage tray and a cup holder. The right contains the joystick, 3PH position control, remote levers if so outfitted, electro-hydraulic PTO on/off switch, and 12V outlet. The dash has a tilt wheel, throttle lever, key switch, electronic dash display with large tachometer, and the eHydro control pod. A ratchet-style park brake is also a nice feature.
COMPARISON: Read our review of the 2016 Kubota L47 TLB
The standard seat has a scissor suspension system that adjusts for operator weight from 115-275 lbs and can swivel up to 15 degrees either way. There is a lot of seat travel range fore/aft. Opt up for the air suspension seat and you lose the seat swivel but gain big-tractor comfort. Weight range extends to 330 lbs. Cab has a dBA rating of 78. The integrated electronic junction box has switched and un-switched possibilities so adding electronic devices is that much easier and convenient.
John Deere matches its D180 loader to the 4066R. The D180 is available as mechanical self-leveling with a lift capacity of 2,213 lbs to a max height of 110" or 2,539 lbs to the same height in non-self-leveling guise. A 4-in-1 bucket is one of the many options. For prospective purchasers who need a backhoe, John Deere matches its model 485A to the 4066R. The 485A has an 8'-6" dig depth with a dig force of up to 3,700 lbs.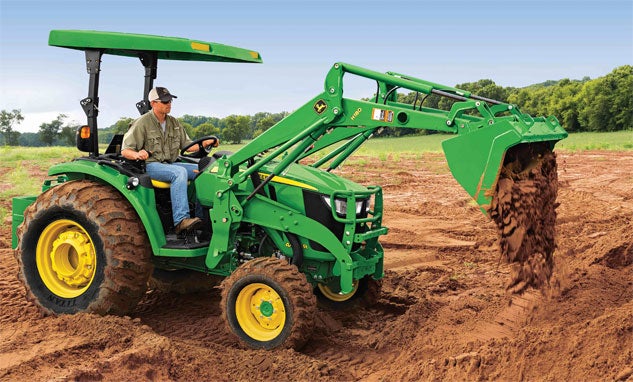 The 4066R weighs 4,675 lbs and rides on a 73" wheelbase. Wheel spacers are available for extra stability for extra tough conditions. Turn radius is 9.19' with brakes applied and 9.84' without. The Grovetown, Ga. manufactured 4066R carries 13.8 gallons of onboard fuel and carries a MSRP of $48,682 with 10-16.5 R4 (industrial) front and 17.5Lx24 rear tires (includes rear wiper and two work lights).
So, what do the M models give up to the R models other than the Premium ComfortGard cab? Not a long list but, fender controls and HitchAssist are no longer available. And the D180 loader is replaced by the lesser capacity D170 (1,760 lbs to a max height of 112.1"). The deluxe swivel seat with armrests, standard work lights, drawbar, cruise also all go. And the fuel tank gets marginally smaller (13 gallons).
For a prospective purchaser of a 66-horsepower cab tractor looking for first rate niceties and ergonomics backed by a manufacturer with more than 175 years experience, the 4600R would be well worth considering. If a cab isn't a requirement and some of the niceties can be foregone, the 4066M carries a base MSRP of $35,142.