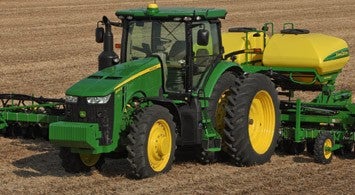 The John Deere 8R series consists of seven common-sized tractors ranging from 245 to 400 engine horsepower with a number of single and dual tire combination possibilities available as well as track options for the four highest horsepower models. The subject of this week's review is the series starting 8245R, one of which was the first 2018 tractor to roll off the Waterloo, Iowa assembly line, and the first tractor made in the 100th year of John Deere engine-powered tractor manufacturing (John Deere tractors prior to 1918 were powered by horses/oxen). Proud owners of that first 100th anniversary tractor are the Purvis family of Naples, Fla.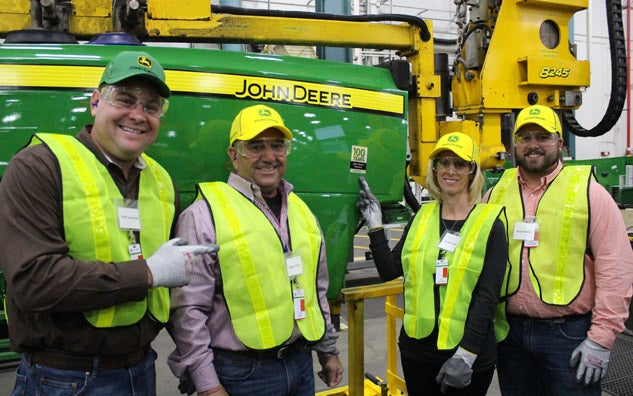 All 8R tractors are powered by John Deere PowerTech 9.0L engines that utilize the latest technologies, including series turbocharging for more low-speed torque, variable geometry turbocharging for better response, and high-pressure injection for max fuel efficiency. A marriage of DOC/DPF (diesel oxidation catalyst/diesel particulate filter), Cooled EGR (exhaust gas recirculation), SCR (selective catalyst reduction) using DEF (diesel exhaust fluid), and air-to-air aftercooling, allows these engines to achieve EPA Final Tier 4 (FT4) emissions compliance. One of the advantages of a DOC/DPF system is that engine heat during normal operation oxidizes the PM (particulate matter) and cleans the system without sacrificing performance or having to go into a parked (downtime) cleaning cycle. Power take-off (PTO) rating for the 8245R is 200 horsepower at 2100 rpm. Intelligent Power Management (IPM) allows a boosted output of up to 270 horsepower and 40% torque rise for demanding PTO and transport conditions.
COMPARISON: Read our review of the 2018 John Deere 5115R
8R tractors get three power-to-the-ground choices, a 16-speed Powershift transmission with APS (automatic power shifting) and no need to clutch for gear changes or to shuttle between forward and reverse, an e23 Powershift transmission with efficiency manager that has 23 evenly spaced gears 15% apart (forward) /11 evenly spaced gears 30% apart (reverse), or an AutoPowr IVT (infinitely variable transmission) with infinite speed control from as slow as 164'/hour to 31 mph transport (requires B-speed rated tires).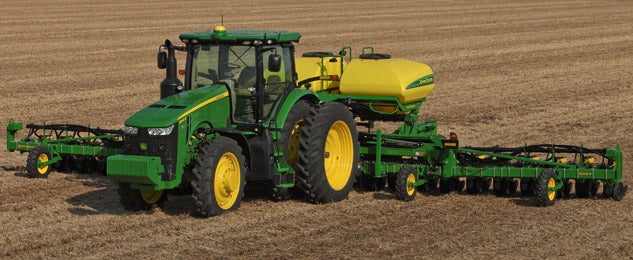 John Deere 8R purchasers can chose between two front axle combinations, a MFWD (mechanical front wheel drive) with electro-hydraulic engagement and max drawbar pulling power, or a front axle with ILS (independent link suspension). Order an 8R with MFWD and you have a choice between 1300 and 1500 series axles with the more robust 1500 series axle capable of supporting duals for increased load-handling, traction, and floatation. The optional ILS system offers a better ride, more flexible ballasting, and a reduction in power hop by automatically maintaining constant ground pressure. The system works mechanically by transferring up to 40% of power through the front MFWD axle using a 6:1 ratio with high steering capacity and high torque in all positions, hydraulically using large suspension cylinders and responsive link arms to maintain ground contact and traction while improving ride quality, and electrically using sensors and solenoids to automatically compensate for ground conditions. The ILS system has a full 10" of travel range and compensates for camber change to keep the inside and outside of the tires perpendicular to drive surface.
Tires by Mitas, Firestone, Goodyear, Michelin, and Trelleborg are available in Group 42 to 49 sizes (59" to 85.5" dia.). For MFWD and ILS equipped tractors, there needs to be a five Group size difference between front and rear tires to maintain proper tire overspeed. So, if Group 42 tires are used upfront, Group 47 tires must be used at the rear. For tractors with 1500 series axles, the difference can be four Group sizes (i.e. 44 front and 48 rear). Base tire size is 420/90R30 front and 480/80R46 rear.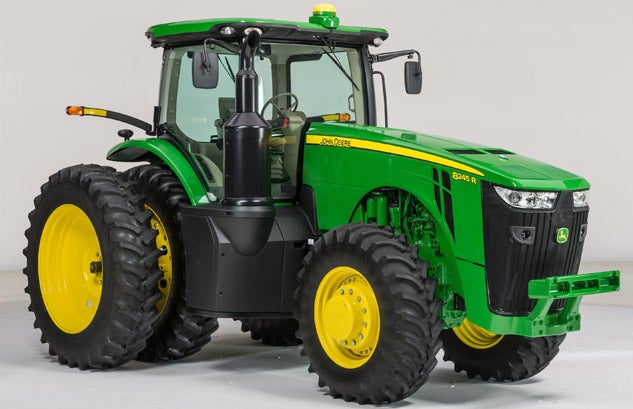 Base hydraulics run through an 85cc closed center system that is pressure and flow compensated and comes with 4 SCVs (selective control valves). Optional is a combination 85cc and 35cc pump arrangement that flows up to 85 gpm and can support up to 6 SCVs. The optional hydraulic setup is ideal for running at lower engine speeds, with 32 gpm available as-slow-as 800 rpm and ramping up to 85 gpm at 2100 rpm. Standard Cat 3/3N three-point hitch (3PH) lift capacity is 14,000 lbs measured 24" behind lift point with a Cat 3/3N option that can lift 18,500 lbs or a Cat 4N/3 option capable of lifting 20,000 lbs. A front 3PH and PTO is optional with a lift capacity of 11,450 lbs measured at front ball ends. An optional Cat 4 drawbar comes with an 11,000 lb. tongue capacity.
COMPARISON: Read our review of the 2016 Kubota M5-111
There are several rear PTO possibilities. Standard is a 1-3/4" 20-spline (involute) 1000-rpm PTO which is good for full horsepower above 150 PTO horsepower and electric speed change to eco-1000. Field conversion kits are available for 1000 rpm using a 1-3/8" PTO, and a 540-rpm six-spline (straight) PTO/1000-rpm 21-spline (involute).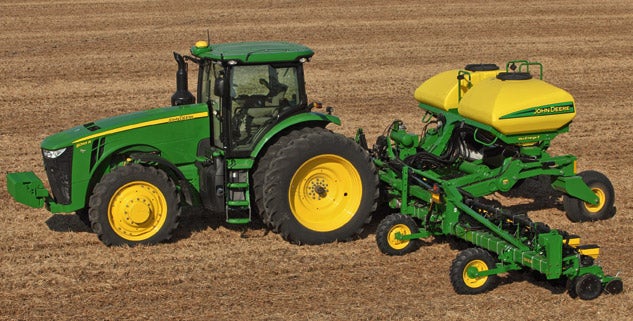 An entire article could be devoted to the CommandView III cab, with passive noise reduction, tilt/telescope steering column with memory, available refrigerator, optional cab suspension, CommandComfort seat with air suspension, lumbar support, fore-aft and lateral attenuation, adjustable backrest angle, adjustable left armrest, 40-degree right swivel, and heated leather option. Also available as an option is ActiveSeat which uses electro-hydraulic technology combined with air ride suspension to isolate up to 90% of vertical movement seen in tractor application. ActiveSeat comes with three levels of switch-adjustable ride firmness: plus, minus, and mid.
Other niceties of the CommandView III cab are behind seat storage, folding instructor seat that doubles as a workspace, swing out rear window, laminated glass, standard radio package, AC with auto climate control, two-speed front and rear wipers with washers, (2) 12V outlets switched and (1) 12V outlet unswitched, and a digital corner post with readouts for fuel level, temperature, DEF level, engine rpm, transmission gear or speed, and iTech functions. The CommandView II cab also comes with CommandARM and integrated 10" touchscreen Gen 4 Command Center display (ISOBUS compatible) with fingertip control over is just about every tractor function available. Cab electronics are JD Link compatible with wireless data transfer, remote display access, and Service ADVISOR remote access.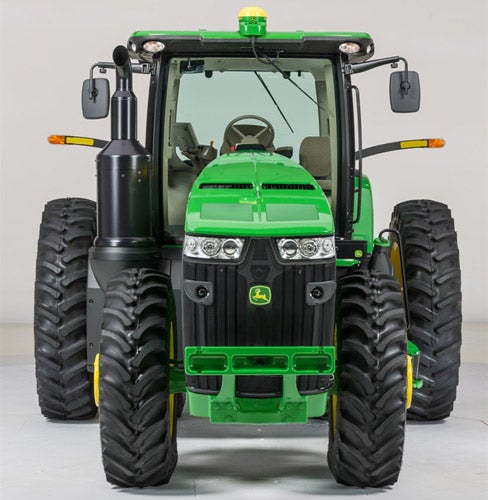 A neat feature available on 8R tractors is ACS (active command steering) which reduces effort in both the field and during transport. The system relies on four key control areas: dynamic road wheel offset which uses a gyroscope to detect yaw and automatically make small steering adjustments for line holding, variable ratio which allows for a 3.5 turn lock-to-lock ratio for quick headland turns, but bumps the ratio up to five for transport control, elimination of steering slop and hand wheel drift which prevents oversteering when operator makes quick adjustments, and variable effort which automatically changes with ground speed for better control. The ACS is protected against single point failure, much as an aircraft has redundant systems, and is designed to get the needed tasks done and get the operator safely from point A to B.
COMPARISON: Read our review of the 2016 New Holland T5.120
For those long days that turn into late nights, two lighting packages are available. The standard package uses 65W halogen beams (six hood, 10 cab) while the premium package ups the number to eight hood, 12 cab, all of which are LED. In either case, the tractor cab lighting offers 330 degrees of coverage with the grill lighting bringing the total coverage to a full 360 degrees.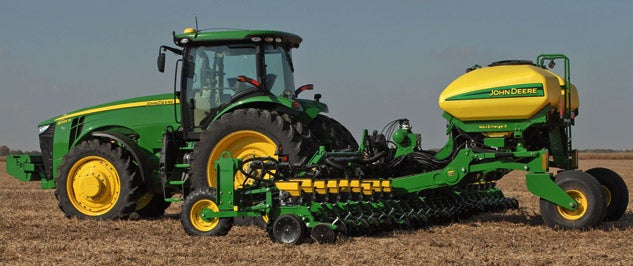 A MFWD 8245R rides on a 121.3" wheelbase (ILS 120.1") and has a front tread width range of 60-88" (ILS 60-144") and a front axle ground clearance of 27" (ILS 23.2"). The 33,091 lb. John Deere 8245R is fully compatible with the L340 large square baler and a perfect match for the H480 loader. Base price begins at $258K with current incentives offering a 3.6% fixed rate for 36 months. For an agribusiness in the market for a 245-horsepower row crop tractor with many standard niceties and a raft of options, the John Deere 8245R would be well worth checking out.