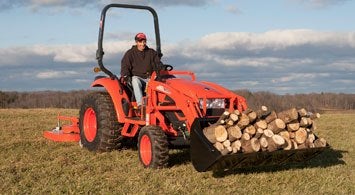 When we field tested a CK20S back in July we were impressed at how Kioti engineers had come up with a package slightly larger than a subcompact, yet injected with as much performance and capability as they had. We also wondered how the larger CK models (CK27, CK30 and CK35) would compare as those models have greater horsepower but pull greater weights and turn taller tires. Kioti recently gave us an opportunity to find out when we tested a CK35 HST.

Each CK35 begins with parent Daedong's 3A165LWM three-cylinder diesel powerplant that is rated to deliver 34 gross horsepower and 26.5 horsepower at the power take off (PTO). The 100.5 ci mill meets or exceeds current EPA, CARB and EEC emission requirements, which allow Tier III/Interim Tier IV (no exhaust aftertreatments) until 2015 at which time full Tier IV requirements kick in and exhaust aftertreatment will be necessary. Operating at an engine rpm of 2600, high output, low fuel consumption, and good durability – all with lessened noise and vibration – are achieved.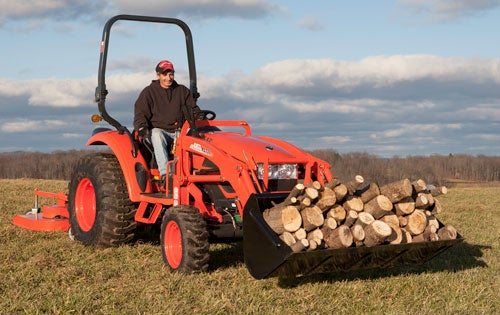 Output from the diesel via shaft drive is to a heavy duty three-range hydrostatic transmission (a shuttle shift transmission is also available) controlled by a C-shaped treadle pedal. While this isn't our most ergonomically favored design, the setup offers well modulated control over an infinitely variable 0-13.7 mph forward and 0-9.15 mph reverse speed range. On the CK series, Kioti positions the split brakes forward and right of the treadle (the bi-metal clutch occupies left-side floor space). This allows the operator to use the treadle in a traditional fashion, modulating forward speed by using one's toe to press down on the front of the pedal and reversing through heel action pressing down – or alternatively slipping one's toe under the pedal front and lifting up to reverse. Either way, the system is intuitive and easy to get used to. As well, by suspending the clutch and brake pedals, it frees up valuable floor space.
Hydraulics are through a tandem pump (unlike the single pump used in the CK20S) separating power steering needs from implement requirements and flowing 12.7 gpm. This allows the Cat I three-point hitch (3PH) to have a lift capacity of 1,764 lbs at the industry standard of 24" aft of hitch. Lower lift arms have telescopic ends and telescopic outboard stabilizers, reducing the wrestling often required to hook up a 3PH implement. Complimenting ease of attachment, all CK series tractors offer position control over the 3PH. This allows the operator to return an implement to a precise, selectable position time after time – a feature especially appreciated when using a rear implement such as a rotary cutter or tiller or rake. A rear 540 rpm PTO is standard on the CK35, but there are options that include an increased 1000 rpm rear output and a 2000 rpm mid PTO. Whichever PTO options are chosen, the system is "live," requiring the clutch to be depressed to engage or disengage the PTO. A second rear remote is another option. And the removable/adjustable drawbar completes the 3PH/PTO/Hydraulics package.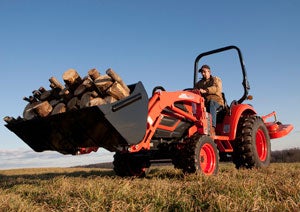 Our test tractor was equipped with the model KL130 front end loader (FEL). This is a curved boom design that mirrors the CK35's sloping hood, resulting in excellent visibility. The loader is also a quick attach/detach design with built-in stands and is skid-steer compatible, opening CK35 owners up to a large selection of readily available implements. Full lift height is 92.5" and lift capacity at that point is 1,155 lbs. Not quite the 1,605 lbs. that its close cousin Bobcat CT235 equipped with model 7TL loader can lift, but maybe now that Bobcat is phasing out of the tractor business, Kioti owners will get the stronger loader. At least we can always wish. We found the loader responsive, much more than the KL120 loader on the CK20S we tested, and enough so that we would recommend any prospective CK35 purchaser to request the rear tires be loaded and that a weight box be included with the package. Remember, shiny side up. Dig depth of the KL130 is 5.3" and we measured a full dump clearance of 73.6" which should clear most trailers or trucks an owner might wish to fill. The standard bucket is a 60" which equates to a 9.5-cubic-foot capacity.
Our test tractor was not equipped with a back hoe, but Kioti model KB2475 is compatible and has a rated dig depth of 89.7", 125.1" of reach, and a 180# swing arc. Dig force is rated at 2,848 lbs and the whole unit, subframe and all, weighs 1052 lbs. A variety of buckets from 9" to 36" are available.
Though it is sufficiently comfortable, the mid-back suspension seat is a noticeable step down from the one found on the Bobcat CT235. Here again is an area of improvement we can hope will spill over to the Kioti lineup. A spring-loaded lever controls adjustment of the tilt steering and is a feature the CK20S did not have. Controls are well laid out and well marked and the dashboard lighting is excellent with the contrasting colors among the best we've seen when it comes to use in bright sunlight and at night. Being the flagship model of the CK lineup, it is no surprise an integrated joystick, foldable roll over protection system (ROPS), retractable seatbelt, cruise control, cup holders, and differential lock are all standard. Our tallest tester (6'4") found the location of the ignition key was exactly was exactly where his right knee landed comfortably, though the rest of our smaller testers had no problem.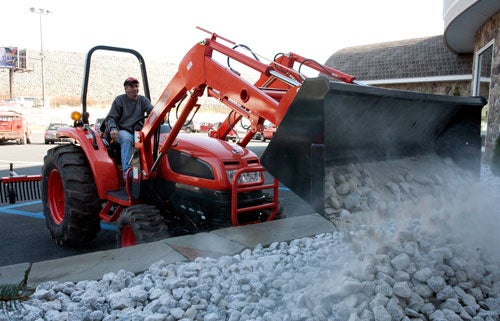 The CK35 measures 122.2" long by 54.6" wide and is 96.8" tall to the top of the ROPS. With 25×8.5-14 front and 15-19.5 rear R4 industrial tires (Ags are optional) riding on a wheelbase of 66.1", we measured a turning radius (brakes applied) of 9.5'. Ground clearance is 13.8" and a barebones CK35 weighs in at 3,114 lbs. Non-commercial owners get a 48-month warranty.
So how did the CK35 fare compared to the CK20S we previously tested? Lbs/hp are similar: 97.18 lbs/hp on the CK20S and 91.59 lbs/hp on the CK35, but with 12 more horses, almost 66% more hydraulic flow, and a three-range hydro, we all felt the CK35 easily handled the additional weight and drivetrain penalty of taller tires, and is unquestionably the more capable machine.
If you are in the market for a small but powerful compact utility tractor, the CK20S would serve those needs just fine. If your requirements call for a little more size, power, and oomph, the CK35 just might be that value-minded package for you.
Related Reading
2012 Kioti CK20S HST Review
2012 Bobcat CT235 HST Review
2012 Bobcat CT122 Review
2012 John Deere 2320 HST Review
2012 Kubota B3200HSD Review