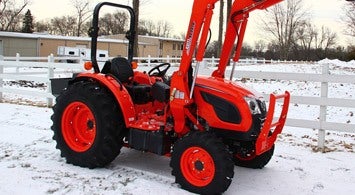 The Kioti DK10 series consists of three tractors ranging from 45 to 55 horsepower and available with either gear of hydrostatic (HST) transmissions. This week we review the 2018 Kioti DK4510, made available to Tractor.com by Lock Stock and Barrel in Bethany, Conn.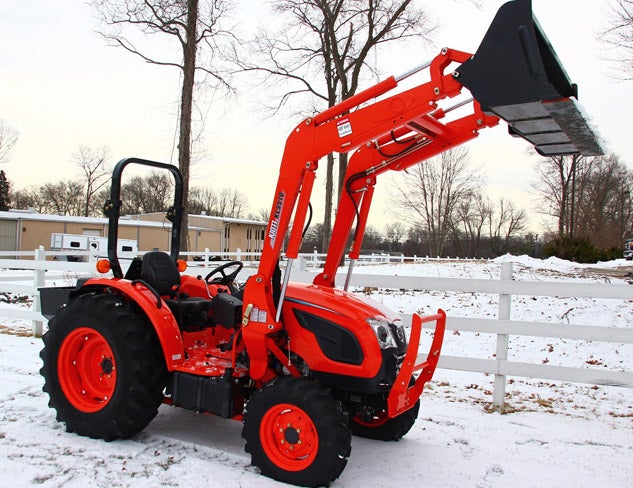 The DK4510 is powered by a Daedong 3F1863T-45 three-cylinder naturally aspirated diesel displacing 111.4 cubic inches. Rated output is 45 gross and 41.6 power take-off (PTO) horsepower at 2600 rpm. EPA Final Tier 4 (FT4) compliance is through ECO Tech technologies which include common rail injection and a diesel particulate filter (DPF), but forego the need for diesel exhaust fluid (DEF) additions. The system uses a "regen" cycle to burn off accumulated soot, but unlike some other systems available, does not have a "passive" cycle, so the regen must be initiated by the operator. All it takes is a press of a button after the warning light comes on, though the tractor is disabled for ~ 20 mins. The good news is that this is an infrequent sequence, on tractors used heavily, perhaps once a year. On those less heavily used, perhaps a couple of times each year.
COMPARISON: Read our review of the 2016 Kioti NX4510
Our test tractor was outfitted with an 8F x 8R gear transmission with the H-Shuttle option. The standard gear transmission has a synchro shuttle, but requires the clutch to be used while reversing direction. With the H-Shuttle option, the clutch is only used to change gears and ranges. The transmission has four gears over two ranges. Speed range is 1.35 – 17.3 mph forward and 1.31 – 16.9 mph reverse. Throttle control is both by hand lever and foot pedal. The PTO is fully independent and the electronics allow for a system Kioti calls PTO Cruise, which maintains a PTO rpm no matter the varying load put on the engine.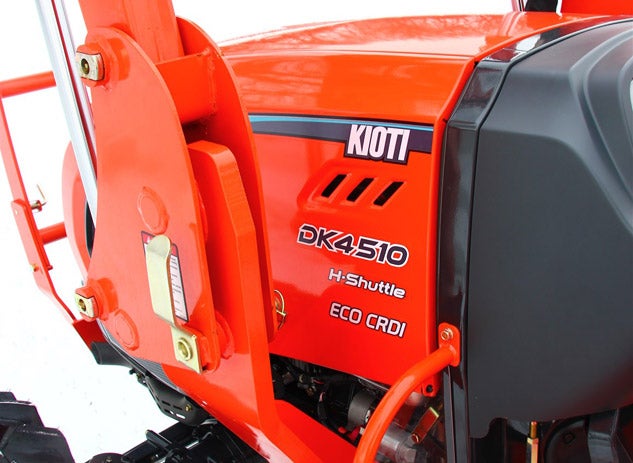 Hydraulics are through a gear pump flowing 14.5 gpm that gives the Cat I three-point hitch (3PH) a lift capacity of 2716 lbs measured 24" aft of hitch. Position control is standard, allowing the hitch to be accurately and repeatedly returned to a preset position. A nice option our test tractor was equipped with is a rear-mounted hitch control lever that allows the operator to raise/lower the hitch from the tractor rear and simplifies the attachment of an implement. Lower link arms are fixed with outboard turnbuckle stabilizers taking up any slack. Up to two rear remotes are supported (optional) by the hydraulic system. A heavy-duty drawbar is also standard.
COMPARISON: Read our review of the John Deere 4066R
Climb up into the cockpit and into the deluxe suspension seat with weight adjustment, and the operator is treated to a basically flat floor with just a small transmission hump in the center. The foot controls are all suspended but we highly recommend the optional deck mat as the snow-covered painted surface was quite slippery. The steering wheel tilts for operator preference and there is a cup holder/storage tray between the seat and left fender. For comfort, stability, and ease of egress, there are handrails on both fenders. A small toolbox is standard and located behind the seat.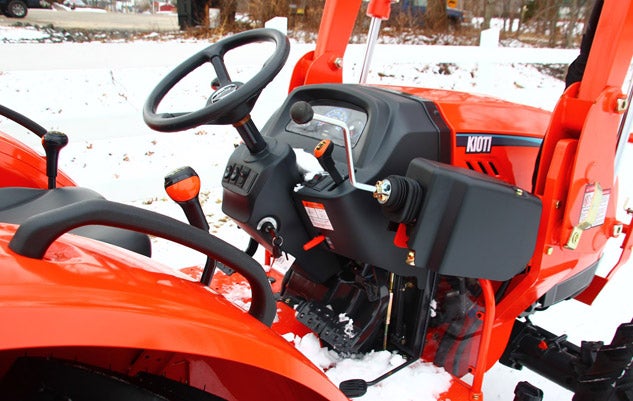 Open the one-piece hood which raises on a gas strut and major maintenance points – fuel filter, air filter (2-stage Donaldson-type), spin-on oil filter, dipstick, and radiator overflow tank – are all accessible. Fuel capacity is 11.9 gallons and is accessed by a filler on the tractor right, just below the floorboard.
Our test tractor was outfitted with the KL5510 loader which can lift 2660 lbs to a max height of 109". Dump clearance is 81.7" so almost every pickup or trailer combinations shouldn't be a problem. Dig depth for the KL5510 is 9.1" with 66" and 72" buckets available. Mount system is two-lever skid-steer style so a wide range of borrowed, rented, or purchased attachments will be compatible. Loader joystick control is mounted on the loader stanchion. Not our most preferable location but certainly not uncomfortable to use. Grease fittings are all through-the-pin, a better lubrication setup and one found on heavy-duty construction equipment.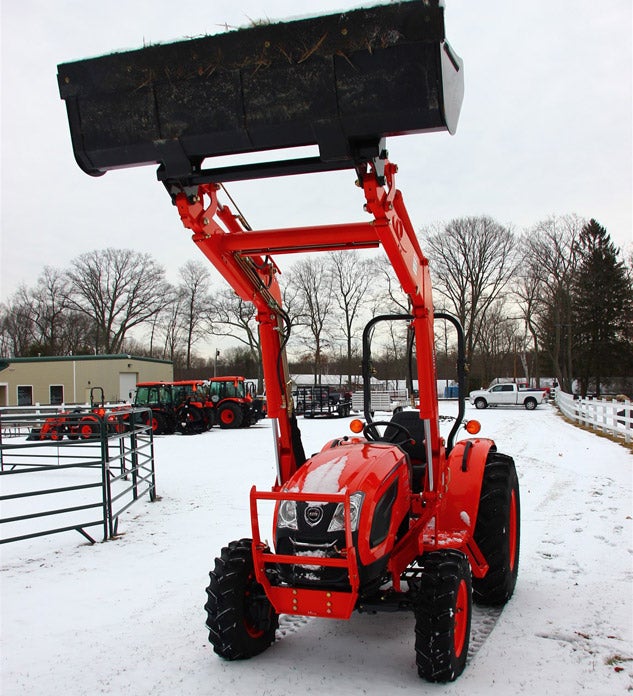 Our test tractor was not outfitted with a backhoe, but Kioti offers the KB2485 for the DK4510. The KB2485 has a dig depth of 94.4", reach of 136.1", a 180-degree swing arc, and operates at a system pressure of 2466 psi. Dig force is 3748 lbs. while at the dipperstick the rating is 2205 lbs. 12", 16", 18", 24" and 36" buckets are available.
COMPARISON: Read our review of the Massey Ferguson 2705E TLB Long Term
How does it all work? Quite well. Firing up the 3F1863T-45 and the tractor quickly settles into an 84 dBA idle. Hydraulics cycle smoothly and can be operated in two directions simultaneously – think lower/dump or raise/curl at the same time. Power steering effort is low, and gear changes are smooth and synchronized. We liked the H-Shuttle and think it is an option to seriously consider.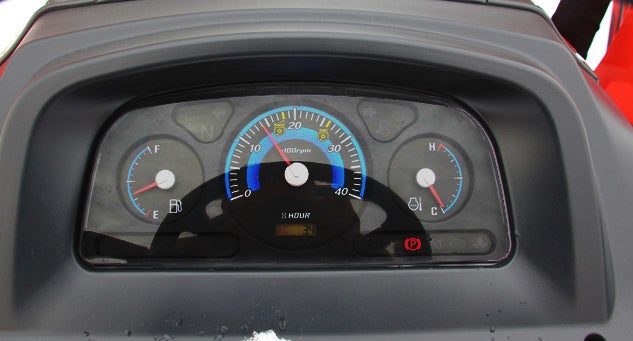 The 3373-pound DK4510 measures 124.3" long by 62.8" wide and is 92" to the top of the ROPS which folds for storage or use in height-challenged conditions. Ag (R1), Turf (R3) and Industrial (R4) tires are all offered. Our test tractor was outfitted with 8-16 front and 13.6-24R rear R1 tires which ride on a 71.3" wheelbase. Ground clearance is 15.2" and the turn radius using brakes is 8.6'. MSRP for the as-optioned tractor/loader/66" bucket is $25,378. Kioti warrants the DK4510 for 24 months bumper-to-bumper with extended powertrain coverage to 48 months. A current promotion good through June 2018 extends powertrain coverage for an additional 24 months (six years).
For an agribusiness, homeowner with acreage, hobby farm, rural lifestyler or municipality looking for a 45-horsepower open station tractor with above average lift capacity, the DK4510 would be well worth consideration. For those in the vicinity of Bethany, Conn., Lock Stock and Barrel with their friendly and experienced staff would be a good place to start.