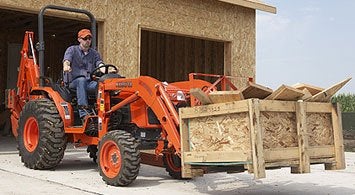 Kubota's B Series is comprised of eight Compact Utility Tractor (CUT) models ranging from 23 to 33 gross horsepower. The B3200HSD that we tested is powered by Kubota's all-new E-TVCS (three-vortex combustion system) four-cylinder diesel designed to deliver greater power and torque and at the same time cleaner emissions. This liquid cooled 91.5ci powerplant makes 32 gross and 23 power take off (PTO) horsepower at a rated speed of 2700 rpms and sends it through a three-range hydrostatic transmission. Hydraulics are open center with the combined flow through the separate implement and power steering pumps rated at 9.9 gpm.

The Category I three-point hitch (3PH) is rated to lift 1300 lbs. at the industry standard 24" behind link arms. Control over position is by Kubota's quarter inching valve, a system that allows the operator to lower the implement and then raise it a quarter inch at a time until the desired implement height is achieved.
The rubber isolated operator's platform is spacious (38.5" across) and with the widely spaced fenders provides plenty room for the operator to work in comfort. Legroom is 19.2". The dash panel is dominated in the center by a white-faced tachometer (PTO rpm clearly marked) with similar but smaller gauges for temperature and fuel to the left and right respectively. Gauges are backlit and activated by the headlight switch. The seatbelt is retractable and in conjunction with the roll over protection system (ROPS), provides a safety zone for the operator.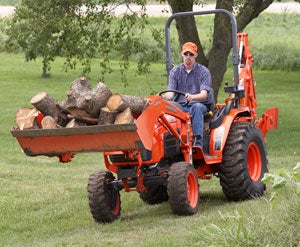 Control levers for the speed range, PTO selector, 2WD/4WD, 3PH, and throttle are color coded and clearly marked. The joystick, which can operate implements such as a loader or front blower, is nicely integrated into the fenderwell but is an option. Control over ground speed is through Kubota's treadle pedal though much of the treadle is under the floorpan. When a treadle pedal is used, we prefer this arrangement as it frees up deck real estate. Our operators are also used to pushing the front pedal down to go forward but instead of lifting and moving their heel to the back pedal to reverse direction, they simply slip their toe under the front pedal and lift up. Either way, control over ground speed is infinite (0-12.3 mph forward and 0-9.8 mph reverse) and the system is well modulated.
Our test tractor was equipped with the LA504 loader which comes with a 54" wide bucket (a 60" is available) and the optional quick coupler system which allows the user to easily swap the bucket for pallet forks and other attachments. We especially like the way Kubota protects hydraulic lines by routing them through the lift arms where possible. Where it is not, the loader stand does dual duty by covering the manifold, making the final hose-end connections. Nice. The LA504 is a curved boom design and combined with the slanted hood of the B3200HSD, makes for quite good visibility during loader work. We found Hydraulic response to be snappy (Kubota rates the ground to full lift height time at 2.8 seconds empty) and even with a full bucket load of gravel, the tractor never felt tippy. Rated maximum lift height is 82.6" to pivot pin and the LA504 can raise 1065 lbs. to the same point. Dump clearance is 65.6" so this combination will clear just about any truck/trailer situation the operator might run into. And when it comes time to remove the loader, the system is a quick-hitch design, meaning this can be accomplished in minutes without tools.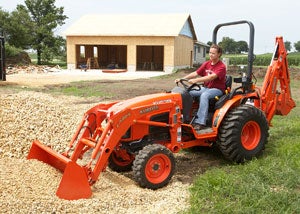 Our test tractor was not equipped with a backhoe, but a model BH76 backhoe is available, offering a 7.68' digging depth and a subframe that is compatible with the loader and mid-mount mower and allows 3PH implement use with the subframe attached. We'll bet a lot of B3200HSD sales will be with the BH76 included factory direct. A mechanical thumb is optional.
The B3200HSD comes with a 540 rpm rear PTO and a 2500 rpm mid PTO as standard equipment. Our test tractor was equipped with the RCK60-27BA mid-mount mower, which is a heavy-duty (348 lbs) three-blade 60" deck (a 72" is also available) and of a floating design. Cut height is adjustable in half-inch increments over a 1.5" to 4" range. We found the cut quality on par with some of the best decks we've tested and the material discharged from the metal side chute appeared finely chopped and with no windrowing between blades.
Our test tractor rode on 7-12 front and 12.4-16 rear R1 (Ag) tires. R3 (turf) and R4 (industrial) tires are also available. The B3200HSD measures 99.2" long (not including the 3PH arms) and 53.8" wide and rides on a 65.6" wheelbase. This translates into a wide tread making for a very stabile platform. Ground clearance is 14.6" and by using the split brakes to aid in turning, gives the B3200HSD a 6.9' turning radius. Not exactly a z-track, but nimble enough within this class. Tractor-only weight is 1764 lbs.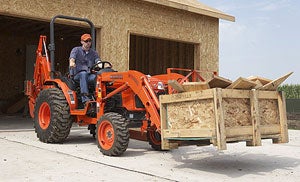 Other niceties include multi-reflective headlamps (though we didn't get to test the B3200HSD at night, we'll bet the owner who does will appreciate them), the serviceability of mechanical components (everything is easy to get to and the design of the hood which lifts fully and makes checking/adding fluids a snap), and a nice-to-have standard cup holder.
Kubota backs up the B3200HSD ($15,398) with a 24-month/1500 hour limited warranty (the power train gets a 36-month/2000 hour warranty). Combined with Kubota's reputation for longevity, this just might be that small-mid sized tractor you have been looking for.
So what does the B3200HSD give up over the B3030HSD that equates to that $3000 difference? Arm rests on the seat, position control on the 3PH, a slightly less heavy duty mower deck, tilt steering, ratchet adjuster on the lower 3PH arms and telescopic ends and stabilizers, and a tool box. To us, the lack of these niceties is by no means a show stopper and if we were in the market for a tractor of this size, we would be hard-pressed to justify the added cost.
Related Reading
2011 Kubota B2620 Review
2012 Kubota Grand L4240 HST Tractor Review
2012 Kubota BX 1860 Review
2012 Kubota GR2120 Review