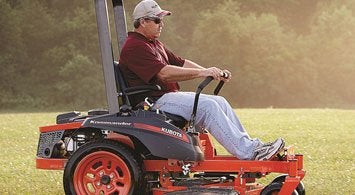 A few weeks ago we sent an email to Fleishman-Hillard, Kubota's marketing arm that went something like this: "Hi Tracy, We'd like to do a Kubota review either for this week or next. Any particular model you'd like to see covered? Anything new? We'll also need pictures to accompany the review. Thanks for your help." Fleishman-Hilliard's response, to our delight, was that not only did Kubota have a new model, but an all-new new series aimed at the residential market.
The Kubota Z Series commercial mowers that range in horsepower from 21 to 32.5 in gas and diesel variants are well known for their performance, reliability and comfort. Kubota's F Series are heavy-duty commercial front mowers with four-wheel drive and many year-round use options and are targeted at estate and golf course use. But up until now, Kubota has not offered a residential zero-turn machine.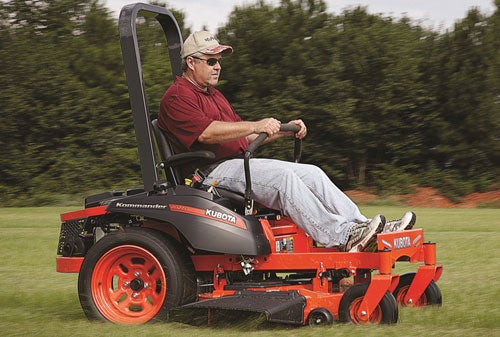 The all-new Kubota ZG100 Kommander Series is comprised of four models ranging from 23 to 27 horsepower. The two economy offerings, the ZG124E and ZG127E, are powered by Briggs & Stratton Pro vertical shaft engines, respectively rated at 24 and 27 horsepower. The upgraded models, the ZG123S and ZG127S, are powered by Kohler Courage Pro engines, respectively rated at 23 and 27 horsepower. In the past, Kubota products have come with sometimes confusing model numbering, but with this new series your Tractor.com journalists welcome the intuitive nomenclature. Let's hope this trend carries over Kubota's entire lineup.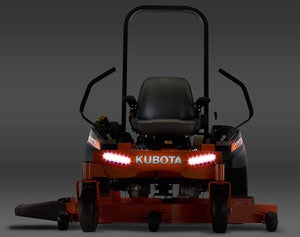 Engine power in the ZG100 series is delivered to the rear wheels through Hydro-Gear ZT-3100 transmissions. These commercial-grade transmissions are protected by relief valves and come with charge pumps for increased durability. The pinions are made from cut steel, also for long life. Hydro-Gear rates these transmissions to deliver 160-200 continuous lbs. ft. of torque with an intermittent reserve range of 300-370 lbs. ft. Kubota hasn't skimped on components with this residential series.
Two mower decks are available: 48" and 54". Both are constructed from 10-gauge (.134") welded steel and are 5" deep, which combined with high blade tip speeds (BTS), makes for a clean cut with even dispersion of clippings. Allowable ground speeds are also increased due to the design's high airflow. Cut height is adjustable from 1.5" to 4.5" in ¼" increments using Kubota's K-Lift mechanical deck lift system and dial cam.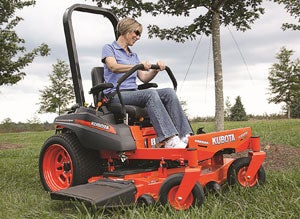 Operator controls: keyed ignition, choke, throttle, power take off (PTO) are all located on the right arm console for one-handed operation. The control levers for forward-reverse-turning are thickly padded and ergonomically positioned. Each ZG100 zero-turn has a low center of gravity which combined with the rollover protection system (ROPS), retractable seat belt and operator presence interlocks, affords the operator confidence that Kubota has designed the series with safety in mind. Deluxe models (S variants) that come with the abovementioned Kohler engines also get deluxe cushioned 18" high-back seats and LED headlights that look like they were taken straight out of an Audi or Mercedes brochure. Tires on all models are of a low-profile design and ride on slotted mag-style wheels. Four storage compartments and two cup holders complete the clearly automotive influenced comforts built in.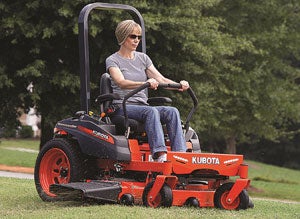 So how far can we expect automotive design to influence yard machine design? We already see traction control on select Kubota, John Deere, and Simplicity tractors. Power steering is standard on many models and the hydraulic motor system used to steer a zero-turn certainly qualifies as power steering. Cup holders, mag wheels, low-profile tires and LED lighting? It makes you wonder if navigation systems will soon map our lawns and come up with the most efficient cut pattern.
ZG100 variants come with a Kubota four-year/300-hour warranty and extended warranties for consumers that cover the entire machine are available. ZG100s are expected to hit dealer stocks late November/early December. The Kubota ZG100 Series retails for betwee $4,499-$5,799.
If you are in the market for a heavy-duty zero-turn mower but can't see paying the price for a commercial machine, check out the Kubota ZG100 Series, we think you'll be pleasantly surprised.
Related Reading
2012 Kubota GR2120 Review
2012 Massey Ferguson GC2400 Review
2012 John Deere Select Series X749 Review
2012 Craftsman CTX 9500 Review
2012 Cub Cadet LTX 1046 KW Review