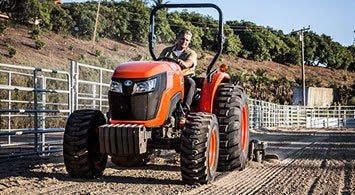 Stop by your Kubota dealer and talk M Series and you might be surprised to find there are 29 models and special use variants available. To make things a little easier to keep track of, Kubota spreads those models over four product groupings: Special Utility, Deluxe Utility, Mid-sized Ag, and Specialty Ag. Less confused? Perhaps not. But be assured, there is a model correctly sized for your specific needs.

Within the Specialty Utility grouping, the MX4700 and MX5100 have been superseded by three new models, the MX4800, MX5200 and MX5800. These new tractors come with Kubota engines that are EPA Final Tier 4 (FT4) compliant and range in power from 49.3 to 61.4 HP.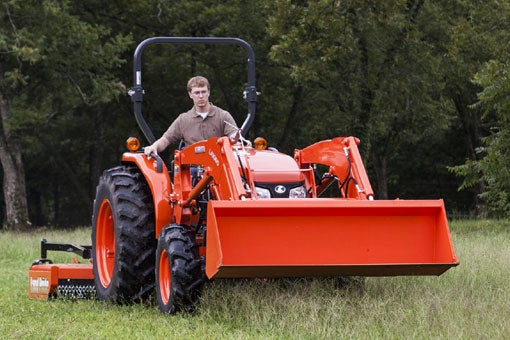 The MX4800, along with other Specialty Utility models, utilizes Common Rail System (CRS) direct injection and Diesel Particulate Filter (DPF) to achieve FT4 compliance. The four-cylinder naturally aspirated mill displaces 148.6 ci and is rated to deliver 49.3 gross horsepower with 40.5 (gear) or 39 (HST) horsepower at the power take off (PTO). The MX4800 can be ordered in 2WD or 4WD trim, and mated to either a gear or hydrostatic transmission. Gear tractors come with Synchro-Shuttle 8F x 8R transmissions that have four gears spread over two ranges, with a convenient left side hand shuttle lever, suspended clutch pedal on the left and similarly suspended split brake pedals on the right. With the shuttle lever, repetitive changes of direction such as during loader work become more efficient.
COMPARISON: Read our review of the 2014 Mahindra 5010
Our test tractor was equipped with a three-range hydrostatic transmission that is mated to a C-shaped treadle pedal. Hydrostatic tractors have the split brakes located on the left side (hurray!), forgoing the gymnastically challenging location above the treadle. Kubota hydraulic servo control over the hydrostat system makes for increased pedal response with lessened effort by the operator and is sure to be appreciated especially during long hours of use. The range selection lever is located left of the driver's seat next to the cruise control and follows an inline pattern of L-N-M-N-H.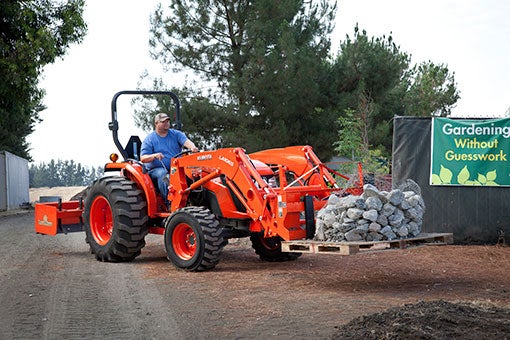 Hydraulics run through a twin pump arrangement flowing 9.5 gpm to implement needs and 4.9 gpm to power steering requirements (14.4 gpm total). This gives the Cat I/II three-point hitch (3PH) a lift capacity of 2,310 lbs at the industry standard of 24" behind lift point. Position control is standard fare, so an implement can be returned to a selectable point time after time. Draft control, which varies the implement depth to maintain a level load, is optional. Standard 3PH lower link ends are fixed, though telescopic link ends along with outboard telescopic stabilizers are a highly recommended option. An adjustable drawbar with a 1.3" diameter pin hole is standard while the hydraulic system can be equipped with up to three rear remotes.
COMPARISON: Read our review of the 2014 Kioti RX7320 Power Shuttle
Climb up into the operator's seat, which is a high-back design with comfortable suspension, and you'll find the cockpit spacious with 30" of elbow room between the fenders. Equally appreciated is the floor that is flat and unencumbered with suspended pedals (the treadle does go through the floor) and control levers that are clearly marked and located in ergonomically friendly positions. There are two grab rails (a complaint over the previous generation MX4700 that has been remedied), and a cup holder located on the right side fender. The dashboard has a definitive automotive feel, with a center cluster housing the tachometer and LCD panel and two outboard clusters to each side that contain gauges for fuel and temperature and warning indicators for other functions.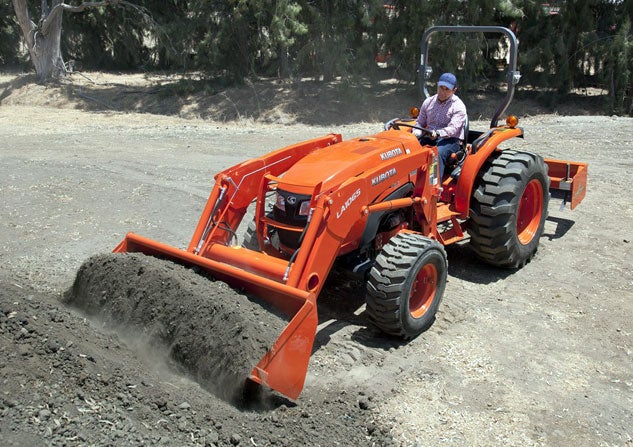 Kubota matches the MX4800 to its LA1065 loader which can lift 2,275 lbs to a lift height of 111.2", has a breakout force (max) of 3,102 lbs, 8.4" dig depth, has the hydraulic hoses routed through the boom, and comes with a two-lever quick coupler for fast attachment/detachment of a variety of implements such as buckets, pallet forks, and bale spears. What we really like about the Kubota hydraulic system is the simultaneous ability to lift/lower while dumping/curling. The system further uses a regenerative circuit to allow fast cycling. We measured 4.4 seconds to full lift, 3.0 seconds to full lower, 2.4 seconds to curl, and 1.9 seconds to dump.
For those requiring a backhoe, Kubota mates its BH92 to the MX4800. With over 9' (109.8") of dig depth capability, 150.4" reach, 180-degree swing arc, and 9.5 gpm of hydraulic flow, this is one productive attachment. Add the optional hydraulic thumb, and the projects possible challenge the imagination. The BH92 utilizes a separate seat, so Kubota designers were freed from space gobbling, complex swivel mechanisms, and the backhoe platform spaciousness mirrors that of the MX4800.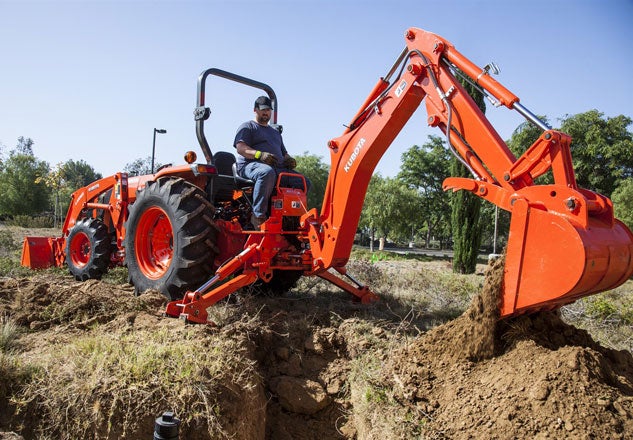 Ease of maintenance has been built in to the MX4800 with a large one-piece hood (steel for metal fans) that opens high on hydraulic dampers, exposing all required filter/lubricant/coolant/battery systems for easy access. Accordingly, the radiator screen can be removed from either side.
COMPARISON: Read our review of the 2014 John Deere 4052R Open Station
So how does it all work? Well in a word. Steering effort is minimal with hydrostatic power assistance while the treadle modulates forward and reverse travel quite nicely. Forward ground speed is infinitely variable from 0-3.7 mph (low), 0-7.3 mph (med), and 0-16.1 mph (high), while the reverse range is 0-3.4 mph (low), 0-6.6 mph (med), and 0-14.5 mph (high). As mentioned above, Kubota has really nailed down hydraulic responsiveness with the ability to seamlessly activate two motions at the same time. After hours behind a loader, this is a feature that is sure to be appreciated.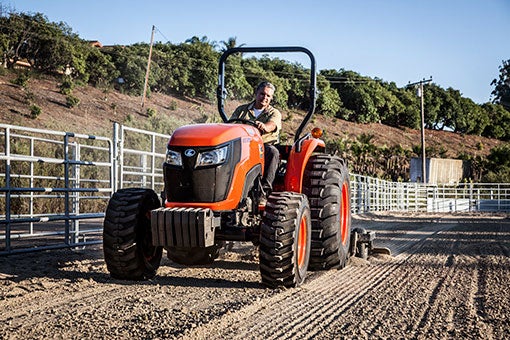 The MX4800 comes with 9.5-16 front and 14.9-26 rear tires that ride on a 74.6" wheelbase. Overall length is 125.2" and with the ROPS in the up position, the tractor requires 95.7" of height clearance. Using the brakes to enhance turning capability, the turn radius measures 8.9'. Current incentives include the Kubota Get Up and Go Sales Event that offers rebates of up to $3K or a rebate of $1600 with 0 down and 0% interest for up to 60 months.
Anyone in the market for a Utility tractor that is sized to be nimble, powered to do heavy work, and with hydraulics to match, the Kubota MX4800 is well worthy of consideration.