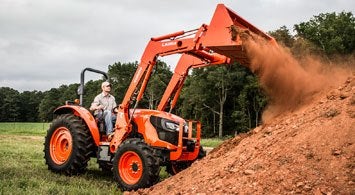 The Kubota M series consists of five Special Utility, seven Deluxe Utility, six Mid-Size Ag, and four Special Ag models ranging from 46 to 135 engine horsepower. New to the Special Utility series is the M5660SU with an added suffix of H for 2WD or HD for 4WD tractors.

Power for the M5660SU comes from a Kubota V2403-CR-TE4 four-cylinder 148.5 cubic inch engine that is turbocharged and has electronic common rail (ECR) direct injection. Rated power output is 57.9 gross horsepower with 50 horsepower at the power take-off (PTO), both coming at a relatively low 2600 rpm. EPA Final Tier 4 (FT4) emissions compliance for the technology chosen by Kubota requires the use of a diesel particulate filter (DPF). This means active, passive and possibly forced regeneration will be part of the tractor operation. The good news, though, is that unless an operator purposefully overrides the regeneration cycle over an extended period of time (requiring a forced and stopped regeneration), he or she will not notice a performance penalty.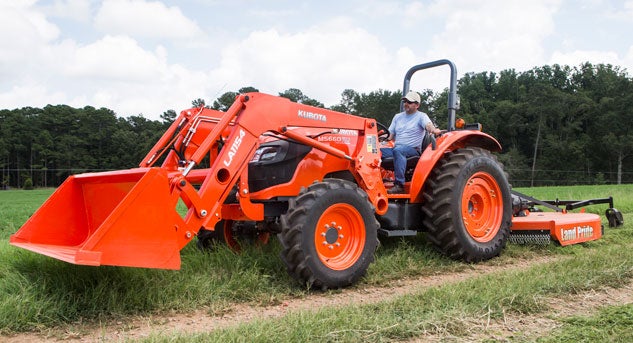 Output from the engine is sent to an 8F / 8R transmission with four fully synchronized gears over two ranges. This means shifts with a range can be accomplished on the run. But it is the hydraulic shuttle that really elevates this tractor to special class. Using the shuttle lever located just below the steering wheel rim, no clutch is required to transition from forward to reverse or vice versa. Modulation is smooth and the setup is tailor-made for repetitive loader work.
COMPARISON: Read our review of the John Deere 3039R Open Station
Hydraulics run through an open center system flowing 10.6 gpm to implement demand. This gives the Cat I/II three-point hitch (3PH) a lift capacity of 3307 lbs at the industry standard of 24" behind lift point. Position control is standard, so an implement can be returned accurately to a preset point. One rear remote in self-cancelling detent (SCD) configuration is standard, with an option for up to two more remotes with a configuration choice of SCD or float detent (FD). To aid in implement hookup, both the lower link arm ends and outboard stabilizer arms telescope.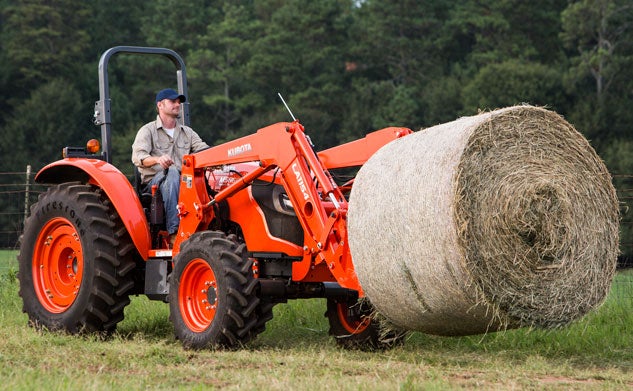 The 540 rpm PTO is a live, independent hydraulic setup with a shaft that can rotate 60 degrees for ease of implement hookup, even when the engine is off. An option to consider is the 540/540E (economy) PTO which maintains 540 rpm with the engine running as slow as 1828 rpm and a max limitation of 2132 rpm, reducing noise, vibration and fuel consumption. The M5660SU is also equipped with a constant rpm management system that maintains a constant travel and PTO speed regardless of terrain. A switch selector engages the system.
Climb up into the cockpit (single step and left hand grab handle only) and into the one-piece high-back seat and you'll find a workday layout – nothing fancy, but everything exactly where you expect it to be. There is plenty of room between the seat and fenders for levers controlling the 3PH, rear remote, gear and range selector, and loader joystick. Additional pedals for the rear differential lock, split brakes and foot throttle are comfortably placed. There is a small transmission hump, but in no way does the floor space feel cramped.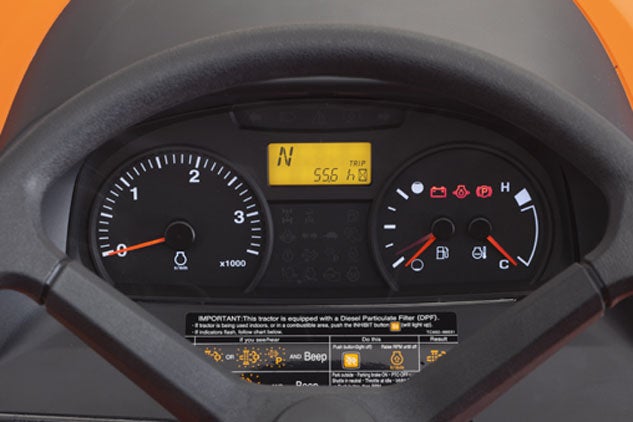 The dash display is a combination of analog and digital. The tach, fuel and temperature gauges flank an LCD and warning light pod with the LCD display readout showing functions such as transmission gear selection, park indicator, DPF regen cycles, and ECU and fault diagnostics.
COMPARISON: Read our review of the 2016 Massey Ferguson 2705E
Our test tractor was outfitted with Kubota's LA1154 quick-mount loader. This is a beefy, slanted boom model, well-matched to the tractor hood line that has four-bar linkage for improved performance, especially while scooping and dumping. A two-lever quick coupler system is used to attach implements such as the standard 72" bucket (84" option) or pallet forks. The loader can be outfitted with a third function valve for a grapple with joystick grip control. The LA1154 also has two positions favoring either lift height or lift capacity. In the "height" setting, the loader will lift to a max height of 130.9" and has a dump clearance of 99.9". Dig depth is 6.8" and lift capacity is 2469 lbs. In the "power" setting, the loader will lift to a max height of 115.7" and has a dump clearance of 84.0". Dig depth is 5.9" and lift capacity is 2928 lbs. Cycle time for full raise is 4.7 seconds, full lower takes 3.6 seconds, full curl takes 3.0 seconds and full dump takes 2.8 seconds. Kubota hydraulics are such that simultaneous functions like raising and curling at the same time are supported.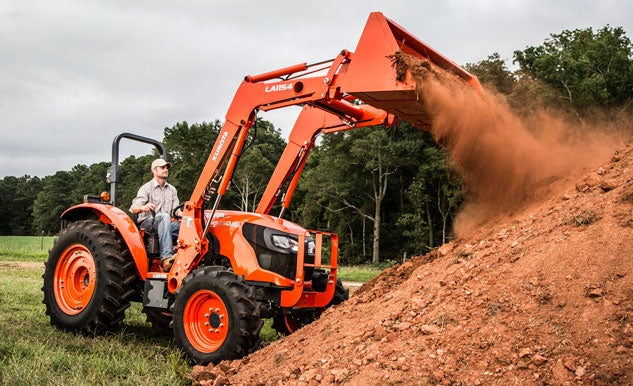 Fire up the engine, which is a smokeless affair, and head off to the north forty and the first thought is how well-spaced the gears and ranges are. In low range, gears 1-4 yield a travel speed ranging from 1.6 to 4.8 mph. In high range, gears 1-4 yield a travel speed ranging from 6.1 to 18.2 mph. Reverse speeds are similar, and as expected, shuttle actuation is smooth and effortless. In conjunction with the nice Kubota hydraulics, this setup is a loader operator's dream come true.
COMPARISON: Read our review of the 2016 Mahindra 2555 Shuttle Open Station
The 4387-pound M5660SU (4WD) measures 136" long by 95.3" to the top of the ROPS (foldable) and is 73.2" wide. The tractor rides on an 80.7" wheelbase and has 16.3" of ground clearance. Turning radius using brakes is 12.8'. Standard tires are 9.5-22 R1 Bridgestone Farm SVC Lug M front and 14.9-28 R1 Firestone (SAT) II rear with turf and industrial options spread over a number of manufacturers.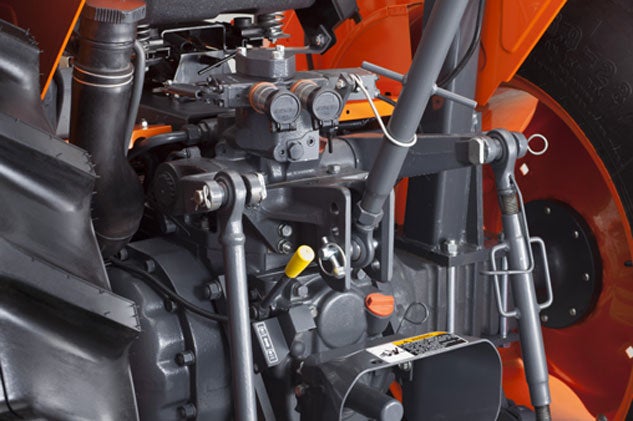 With an MSRP beginning around $30,529, the Kubota M5660SU is well-suited for a variety of applications including small farm, landscape, and municipal mowing.