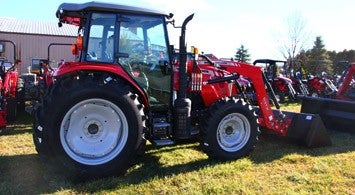 At the Farm Progress Show held in Decatur, Ill. last September, Tractor.com ended up spending a fair amount of time at the large AGCO display where a number of new products were on hand for attendees to see. Of special interest were the all-new Massey Ferguson 2700E and 4600M tractors. Last month we had a chance to get behind the wheel of a 2705E and now, courtesy of Big Boy's Toys in Pomfret Center, Conn., we follow up with a review of the 4610M.

4600M tractors replace the outgoing 4600 series and consist of three tractors available in cab (deluxe and standard) or open station configurations with the choice of two transmissions and 2WD or 4WD. All models are powered by AGCO Power 3.3L three-cylinder engines that are turbocharged and intercooled and use high pressure common rail (HPCR) injection systems.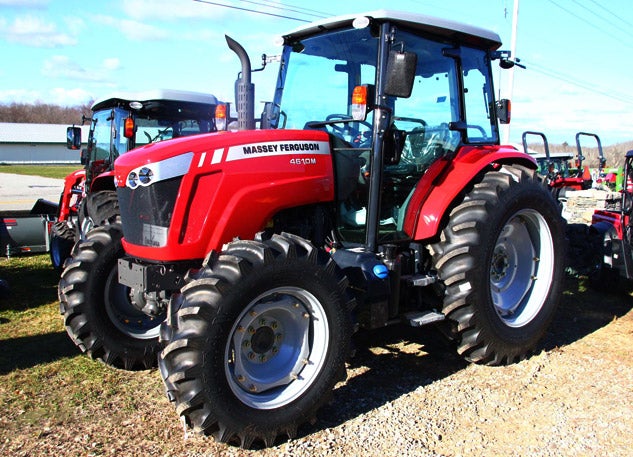 The first tractor in the new series is the 70 HP 4607M, which replaces the 80 HP 4608. Dialing down the horsepower below the EPA magic number of 75 allows Final Tier 4 (FT4) emissions compliance without the need for SCR components and their associated complexity and added cost. The 4607M is rated to deliver 70.1 HP at 2200 RPM with a max rating of 74 HP and a power take off (PTO) rating of 56 HP. The 4609M makes 89.8 HP at 2200 RPM with a max rating of 95 HP and 72 PTO HP. The 4610M subject of this week's test makes 99 HP at 2200 RPM with a max rating of 101 HP and 80 PTO HP.
FT4 emissions compliance for the over 75 HP 4609M and 4610M require the addition of a selective catalytic reduction (SCR) system in conjunction with diesel exhaust fluid (DEF) additions. This type of system treats emissions after the combustion cycle, which does not rob horsepower or torque. No diesel particulate filter (DPF) is necessary, saving those associated costs and complexities. Onboard fuel capacity is 30.3 gallons with the DEF tank displacing 4.2 gallons. Both are conveniently filled at ground level.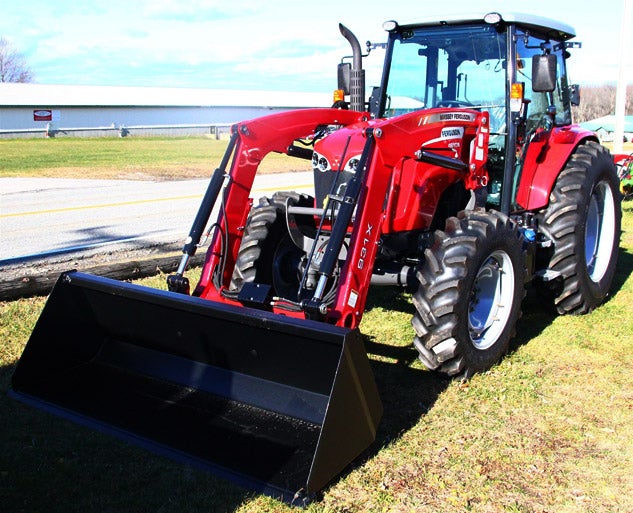 As mentioned above, there are two transmissions available: a 12F/12R and a 18F/18R. Both are power shuttle units, actuated by an electro-hydraulic hand shuttle lever located at 9AM just below the steering wheel rim. Order the base 12F/12R transmission and there are six synchronized gears over two speed ranges. Our test tractor was outfitted with the optional 18F/18R transmission which has six synchronized gears over three speed ranges. A creeper gear option is available for 18F/18R equipped tractors.
Hydraulics run through a single pump open center system that flows 17.5 GPM. The base Cat II three-point hitch (3PH) is rated to lift 3307 lbs at the industry standard of 24" behind ball ends. For requirements demanding greater lift capacity, there is an option that increases lift capacity to 4409 lbs. Lower link ends telescope for ease of attachment. One or two rear remotes are standard with the system capable of supporting up to three. Valve choices are SRN (spring return to neutral), FL (float) or KO/FL (kick out/float). The rear PTO supports both 540 RPM and 1000 RPM with both shafts included as standard fare. Driving the rear R16.9-34 R1 (Ag) tires is a flange type rear axle with inboard planetary final drives.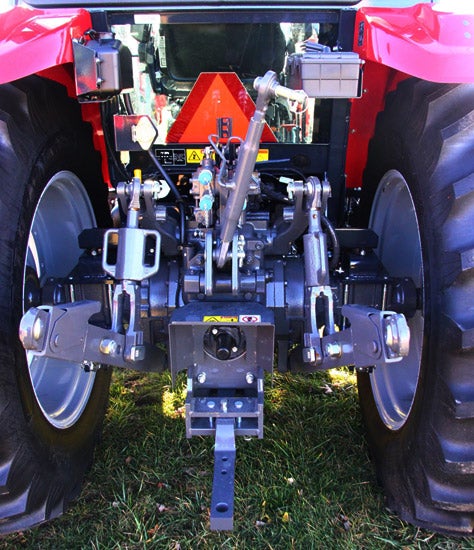 Climb up into the deluxe cab (a non-deluxe cab is available) which niceties include a Grammer air-ride seat, rear wiper and in-glass defroster, front sun visor and retractable screen, outside rear fender hitch controls and LED lighting, and operator's familiar with the 4600 series machines will immediately notice the new console. Incorporated into it now are the throttle lever which previously was located on the dash, rear remote control levers, 3PH lift control, PTO and storage spaces.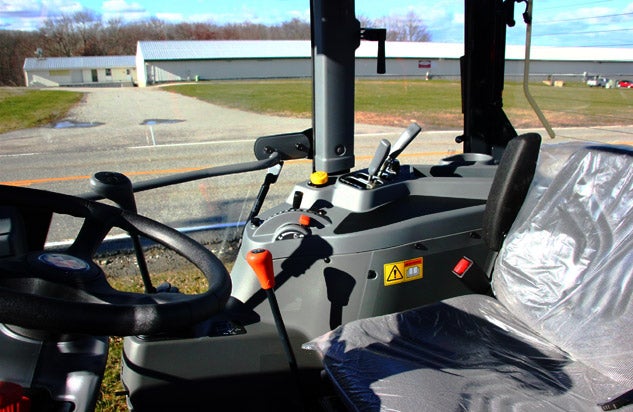 Loader-ready, the joystick is nicely integrated into the console with the package including outside frame rails and a grill guard. There is a cup holder and a coat hook, and the deluxe cab comes radio ready. We measured a quiet 70/72 dBA sound rating inside the cab with the engine at idle. In addition to the super comfortable air-ride seat, the steering column adjusts for operator preference. Floor space is maximized by the flat, rubber isolated floor and suspended pedal arrangement. Included in the deluxe cab are switches for engine RPM management with two preset memory positions (A & B) and a separate rocker switch with a rabbit and turtle to fine tune control.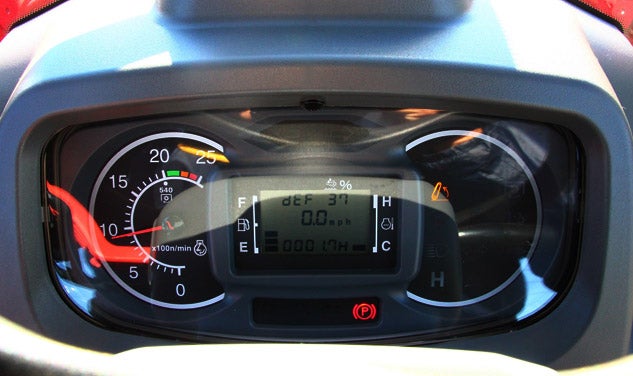 For our review, Big Boy's Toys made available two 4610M tractors, one with a standard cab and no loader and one with a deluxe cab and 931X loader. Both are nice but the deluxe cab is everything the name suggests it is. The 931X is one of two loaders designed for 4600M tractors. The 931X is a non self-leveling model with a lift capacity of 3420 lbs to a max height of 136". For applications requiring a mechanical self-leveling loader, Massey Ferguson offers the 936X which can lift a slightly lesser 2770 lbs. to a max height of 136".
The 4610M measures 150.3" long x 80.7" wide (minimum) and rides on an 89.9" wheelbase. Clearance to the top of the cab requires 102.3 inches.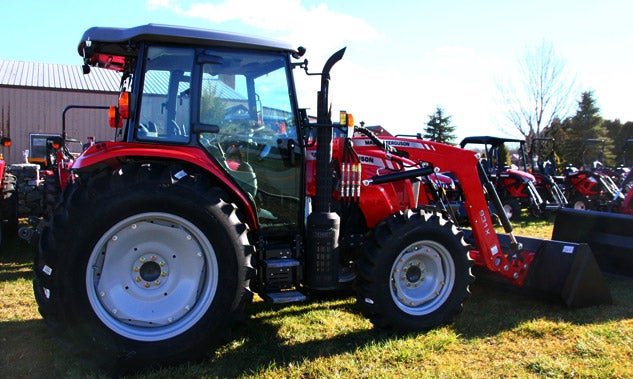 Weighing 7253 lbs (tractor-only), the 4610M should appeal to agribusinesses or hobby farmer/rural lifestyler with loader work requirements, hay production and/or general farm use. Municipalities would also find the 4610M a sturdy workhorse for tasks such as roadside mowing. For applications such as these, the 99 HP 4610M with deluxe cab should check off all the imaginable checkboxes and would be well worth consideration.