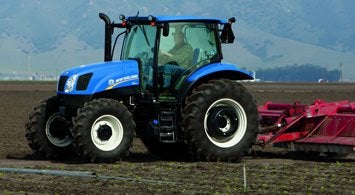 The all-new New Holland T6 Series consists of six models with "have it your own way" four and six-cylinder choices. Beginning with the T6.140, T6.150 and T6.160, which are four-cylinder turbo diesels, and ranging upwards to the T6.155, T6.165 and T6.175, which get six-cylinder powerplants, the new numbering system at first seemed confusing. For example, our test tractor, a 110-gross/90-horsepower power take off (PTO) machine, gets the T6.140 designation.

So why not T6.110 or T6.90? The New Holland dealer we worked with for this test furnished the following explanation. "The new tractors feature Engine Power Management. This allows a boosted output on the T6.140 of 143 horsepower. Since it is a four-cylinder variant, which New Holland allocates the third digit a zero designation – six-cylinder models are identified by a third digit five – you just round off the 143 to 140, or in this case 14."
Unnecessarily confusing? Perhaps, but more understandable when so explained.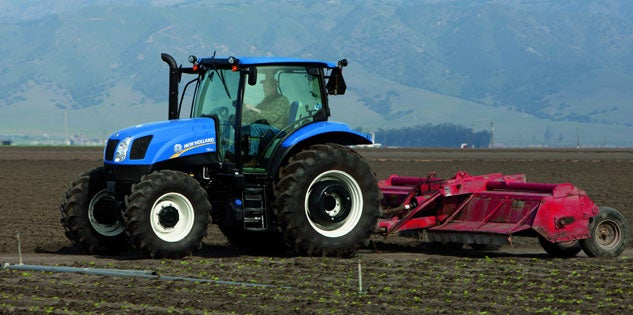 Developed in a partnership with FPT Industrial, these engines use AdBlue diesel exhaust fluid (DEF) as an after-treatment to meet Tier IV emissions requirements. The AdBlue tank holds 9.7 gallons and has a different filler tube to prevent any mix ups with diesel fuel. With the AdBlue tank supplying enough DEF to last through two complete fill-ups, B20 biofuel compatibility, and a nifty idle management feature that reduces engine rpm from 850 to 650 during prolonged idling, the upshot of all this technology is that fuel consumption is reduced by 10% over the previous EPA Tier III engines while still providing large torque reserves (42%) and the boosted power when needed. PTO rpm reaches 540 at an engine speed of 1969 rpm while 1000 PTO rpm is reached at 1893 rpm.
COMPETITION: Read our review of the Case IH Farmall 120A 4WD Open Station
Four transmission options help get the power from these new powerplants to the ground; 16 x 16 Electroshift with power shuttle, 17 x 16 Autoshift transmission available in 25 or 31 MPH configurations, 24 x 24 Dual Command Hi-Lo transmission with power shuttle, and 16 x 16 Autoshift transmission also with power shuttle. Creeper gear variants are available for each transmission choice, doubling speed ranges.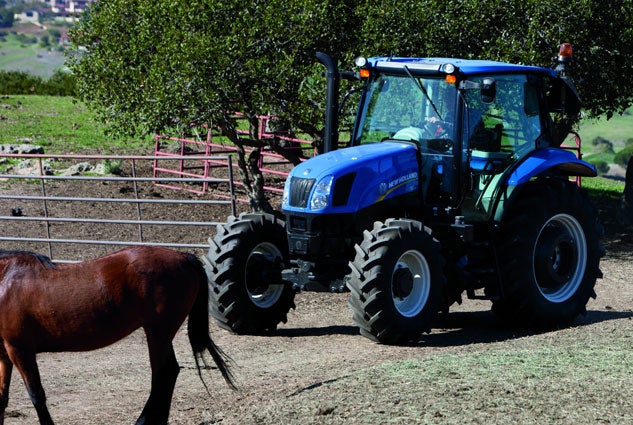 Our test tractor came with the 16 x 16 Electroshift transmission, which features push-button shifting through the four gears in each of the four ranges. Gear changes are actuated through the left hand turn signal-like stalk and require no clutching. Shifting between first and second range and third and fourth range likewise require no clutching, though changing between second and third range does require the clutch pedal to be used. Transport speed with this transmission is 25 mph and first gear, first range yields a minimum speed of 1.41 mph. If the creeper option had been selected, the minimum speed would drop to .12 mph.
Hydraulics get a fixed displacement pump outputting 18.5 gpm for implement use and 12.4 gpm for power steering and services. Order the optional Closed Centre Load Sensing (CCLS) pump and the flow is 26.5 gpm. A maximum of four remotes can be supported and each is controlled by a color coded lever that intuitively matches the color of the rear remote outlet (green, blue, orange and black).
COMPETITION: Read our review of the John Deere 6125R
The three-point hitch (3PH) when equipped with 90mm rams is rated to lift 13,913 lbs at the ball ends and 13,468 lbs at the industry standard of 24". We mention the ball end rating because of the optional front 3PH and PTO, which are popular in Europe and are now available in North America. Rated by New Holland to lift 6,834 lbs at the ball ends, the lower arms fold out of the way when not being used. Position and draft control over the rear 3PH are standard with the later coming with Electronic Draft Control (EDC) where a single raise/lower switch is used to lift and return an implement to position during a headland turn. Quick raise switches are located on both rear renders to help aid attaching 3PH implements and there is an option for a like mounted PTO switch which when pressed for less than five seconds sends a pulsing action making it easier to hook up a PTO shaft. Hold the switch for longer than five seconds and the PTO fully engages.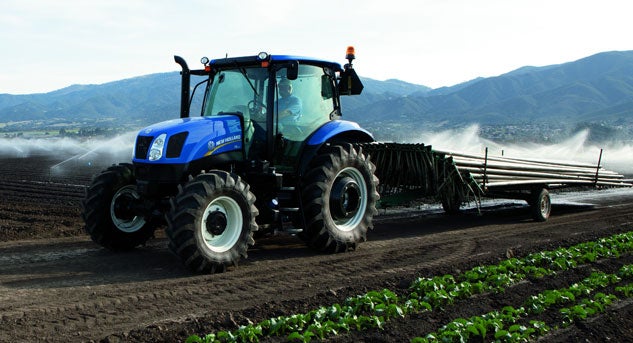 Our test tractor was not equipped with a loader or joystick control, though there are three options. For four-cylinder T6 variants equipped with the SuperSteer option there is the 835TL. Six-cylinder tractors get the 855TL. And all T6 tractors can be equipped with the 845TL model. Lift capacities are 5,720 lbs with a break out force of up to 5,962 lbs. Lift height is impressive at 13'.
As mentioned above, New Holland offers a SuperSteer option. Whereas the standard axle configuration can turn 55 degrees, SuperSteer adds another 10 degrees. Improving the turning radius in tight row-crop conditions can result in as much as a 35% reduction in headland turn time. Either axle selection comes with 4WD and differential lock. Order the TerraGlide option and the 4" of additional travel helps keep traction at the max no matter the working conditions. Another option is the TerraLock automatic traction management system which gives the operator control with three settings; off, full-time and auto. TerraLock comes standard when the tractor is equipped with SuperSteer or TerraGlide.
COMPETITION: Read our review of the Kubota M135GX
The Horizon Cab comes with comfort ride suspension and a standard low-profile roof. Spacious and offering unobstructed 360-degree views, the cab is also quiet with a 71 dBA rating (our trusty dBA meter was in another car so we couldn't verify those ratings but the Horizon Cab seemed as quiet as the on the Massey Ferguson 5609 we tested two weeks ago). An air-ride seat is standard but there are still options; a deluxe air-ride seat with automatic adjustments and an upgraded deluxe air-ride seat with heated cushions and low-frequency air suspension – all of which swivel and adjust for maximum comfort. The dual-zone A/C outputs through 12 vents, each of which can be positioned to aid in cooling or defrosting. Order the auto-temp option and you get automotive-style climate control. An instructor seat is another option and there is plenty of room for one.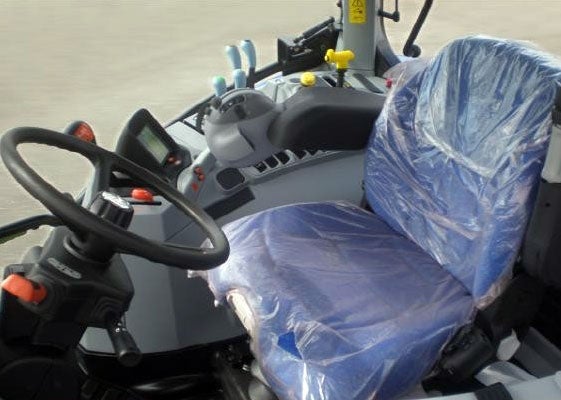 The T6.140 rides on 18.4 R38 rear tires and measures 168.98" long (six-cylinder variants are 9.4" longer) by 85.43" wide and 108.8" high (low-profile configuration). With 18.8" of ground clearance, a 60.2" track and basic vehicle weight of 10,781 lbs, this is one substantial tractor.
Anyone in the market for a 90-120 PTO horsepower tractor would do well to check out the T6 series. When you factor in the Tier IV compliance, available boosted power and New Holland's Top Service commitment to Top Availability, Top Speed, Top Priority and Top Satisfaction, this may just be that perfect tractor suitable for those haymaking, roadside mowing, loader work and row-crop field needs.